The Dayton Art Institute is ready for the next chapter in its long history as one of Dayton's art icons. An exclusive interview with Janice Driesbach, newly appointed director, gives a clear indication that she is more than ready to begin that next chapter.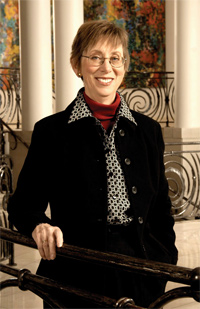 Jan, as she is already known to the staff, is an affable, smiling and most attractive person. She comes to Dayton from Lincoln, Nebraska. There she was director of the Sheldon Memorial Gallery and Sculpture Garden at the University of Nebraska.
I was fortunate to meet and interview her even before she begins her official duties on Jan. 7. It was, also, a day before the movers were to arrive with their furniture to grace their Ridgeway Road home.
Jan was quick to remind me that she comes from Nebraska but grew up in Ohio – Cleveland to be exact. She is now experiencing Dayton for the first time and is full of enthusiasm for the challenges which await her.
When asked to describe her impressions of the Art Institute, she was quick to praise the depth and breadth of its collection, the magnificence of the museum building and the quality of the staff and Board of Directors she inherits from her predecessor, Alex Nyerges.
Her philosophy, the community supports the arts but the arts also support the community, presages her certain success in guiding the Art Institute into the Driesbach era. She reminded me that the next era will be a team effort and her priorities include locating and appointing curators to join with the present staff in presenting exhibitions and programs to fulfill the mission of the museum.
Another of her priorities is to make the imposing image of the magnificent museum building on its hill overlooking the river and downtown the true symbol of Dayton. Those of us who have loved the thrilling view are in complete agreement. She adds that many cities would love to have such a visible symbol of the arts and architecture.
It is obvious that Jan will become an important figure in the entire community scene. Her goal, to get to know the museum and the community, is vital and laudable. She has already met many of her arts' colleagues and has a full schedule of future meetings.
When asked about exhibitions, she reminded me that 2008 is already scheduled. She will begin working on 2009 when she has augmented the curatorial staff. The future exhibitions of the Art Institute should, in her estimation, reflect the mission of the museum, the interests and expertise of the curators and staff, and attract and engage the public at large.
The key wording in her statement – engage the public – is certainly one of the major keys to the success of the museum program. Each exhibition should reflect the art and the interests of the public.
She cited a very successful program in Lincoln in which a photographic exhibit was tied to theater and environmental concerns. The result was an enthusiastic attendance well beyond forecasts.
Jan is also targeting the younger population. Social events, tied to museum exhibitions or the museum collection, can be the key to bringing the youth of the area into the riches of the museum.
Jan eloquently described her attraction to Dayton. She lauded the strong arts of our area, the presence of an independent film theater, a good airport and an affordable environment to attract high quality staff. I can add another attraction – an outstanding new director of the Dayton Art Institute.
The Metropolitan Opera has launched its second season of live television broadcasts of selected Saturday matinees. Last Saturday, their new production of Humperdinck's Hansel and Gretel's fantasy-filled world was seen on the big screen.
The opera, often considered for children, has magnificent music and an engaging plot. The Met's director, Richard Jones, and costume designer, John MacFarlane, took whimsy into the skies.
While live television cannot replace a live performance, the look into the backstage machinations is most interesting and exciting, particularly when beautiful Renée Fleming is the host.
What is most interesting in viewing the stage machinery and activity at the Met, is to realize that the same activity is part of a Dayton Opera production. We are just as professional and artistic as any opera company – the only thing lacking is HD TV and Reneé Fleming.
By some accident of fate, the next Dayton Opera is Verdi's Macbeth opening on Jan. 19. The Met's telecast of Macbeth will be Jan. 12. My suggestion, see them both; you will immediately realize that "Live and On Stage is better!"
---
Attention kids! Help the Oakwood Community Center celebrate Oakwood's first 100 years! Sign up today and help create a Centennial Mural, Donnajean Ruble (retired art teacher) will guide the class participants in planning, designing, drawing, and glazing 6 inch ceramic tile to create a 4x4 foot mural. Participants will also create their own personal 6-inch tile to take home with them after the class finishes.
The class is limited to 20 children, ages 8-12. Classes will meet Saturdays from 12:00 noon - 2:45 p.m., Feb. 2, 9, 16, and March 1 & 8. Upon completion participants will present the Centennial Mural to Oakwood City Council members at a council meeting later in the spring.
Call the Oakwood Community Center, 298-0775, or stop by 105 Patterson Rd. for more information.
---
If you've ever wondered "how do they DO that?" as you watch the intricate patterns and movements of Error! Contact not defined. on stage, now's your chance! Error! Contact not defined., an American music and dance company at home in Dayton, will be offering three series of dance classes, beginning Jan. 14, and three special workshops.
Aimed at adults and teens, the first five-week class series will be offered Jan. 14 through Feb. 11 in the Error! Contact not defined. studio, 126 N. Main Street. The studio is on the fourth floor of the Metropolitan Arts Center, next door to the Victoria Theatre.
All of the one-hour classes will be on Mondays:
Tap 1, beginning and refresher: 5:30 p.m. Taught by Janet Schroeder.
Beginning Clogging: 6:45 p.m. Taught by Josh Fossitt.
Tap 2, more experienced tappers: 8 p.m. Taught by Janet Schroeder.
Each five-week series is just $60.
The second series will be offered Feb. 18 through March 17 and the third will be April 14 through May 12. To register, call 937-226-7463 (SHOE) or visit Rhythm in Shoes online at www.rhythminshoes.org.
---
Dayton Ballet will hold an open audition on Friday, Jan. 25 at 6 p.m. for female secondary corps de ballet who will perform in the March production of Peter Pan (March 14-16, 2008). All performances will be held at the Schuster Center in Dayton. The audition will be held in Dayton Ballet's fourth floor studios at the Victoria Theatre, 140 N. Main St., Dayton, Ohio 45402. Please arrive 30 minutes prior to the audition time.
Only pre-professional or advanced level dancers are asked to audition. Dancers should be prepared to attend a class audition (including pointe) and wear formal class attire. Those selected are required to attend all appropriate rehearsals including Friday nights and weekends beginning February 15, 2008. Pointe shoes will be provided to them for the performances.
For additional information about Dayton Ballet auditions, please contact Kathy Reed, Executive Assistant, Dayton Ballet, at 937/449-5060. For information about Dayton Ballet's 2007-2008 performance season, visit www.daytonballet.org or call 937/449-5060.
---
Rosewood Arts Centre will be offering a variety of art and performance classes for children during the winter season. New classes include Watercolor and More—use household items to experiment with various painting effects and techniques, Beginning Linoleum Block Printmaking— learn the basics of creating reproducible art by carving reusable linoleum templates, and Art Around the World—explore the cultures of South America, Japan, Russia, Mexico, Ireland and Egypt through various media.
Rosewood is also offering favorites such as Stretch and Point and Drawing Anime.
Hours are 8 am to 9 pm Monday through Thursday, 9 am to 6 pm Friday, and 9 am to 3 pm Saturday. Winter art classes continue through March and the spring season youth classes begin in April.
For more information, call (937) 296-0294 or go to www.ketteringoh.org.