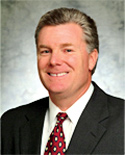 By Ryan Wineberg

In November of 2007, Charles H. Simms of Kettering (OHS class of '78) was elected president of the Ohio Home Builders Association. He began his one year term on Jan. 1, thus continuing his family's legacy of excellence in home building. The Simms family has been building houses and housing communities in the Dayton area for four generations. According to the Charles Simms Development Corporation, the Wright Brothers "practiced flying" at the Simms' family farm, Simms Station, in 1903.What is more, Alexander Simms was a "major developer" of east and south Dayton. Then in 1957 Charles V. Smith "founded Simms Development Corporation," a business, his son Charles H. Simms, would buy in 1996.
According to Vince Squillace, executive vice president of the OHBA, Simms was chosen as president for his "service as an active officer as well as builder in
our community," his dedication to "affordable housing and helping builders throughout Ohio achieve their goals," and his father's past presidency in 1963. This is no surprise considering the accolades that follow the Simms name.
In 1954 Simms Development Corporation won the Practical Builder Trophy, followed by the National Builder Award in 1995 and the 2004 Builder Member of the Year Award for Dayton and the Miami Valley Home Builders Associations of which Charles H. Simms was president in 1999. To be sure, his presidency will be marked by the Simms' family tradition of "quality comes first" service to Dayton and surrounding areas.
---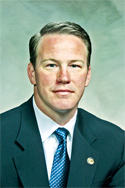 Ohio House Speaker Jon Husted (R- Kettering) today announced he plans to hold open office hours for constituents of the 37th Ohio House District.
The meeting will provide an opportunity for the public to discuss their views and opinions with Speaker Husted on state government issues. All are welcome and encouraged to attend.
The office hours will be held on Thursday, Jan. 31 from 9 – 11 a.m. at the Oakwood Community Center at 105 Patterson Road Dayton, OH 45419.
---
This Martin Luther King Jr. Day, I had the pleasure of spending some time with Capt. Jim Deuser (USN Ret.) of Oakwood. Capt. Deuser recently retired from the US Navy after 28 years of service. As it turns out, Captain Deuser grew up in Oakwood and graduated from Oakwood High School in 1965. After that, he attended Miami University and graduated with a degree in finance and economics.
In 1969, when Capt. Deuser graduated from college the Vietnam War was in full swing, and since Capt. Deuser did not intend to become a teacher or doctor, he was left with few choices. But Capt. Deuser wanted to serve, and did so even though the draft lottery had nearly assured he would not be called up.
After his decision was made, Capt. Deuser sought the help of Congressman Charles Whalen, then a resident of Oakwood as well as A. Northwood—they wrote him letters of recommendation for Officer Training School. After completing the application process—passing the physical and academic tests—he was accepted to Officer Training School. Regarding OTS, Captain Deuser said, "I remember it was 126 days . . . after the first twelve days I thought, I'll never make it . . . [but] they want you to succeed; it's like college and little by little you get it done."
Upon completion of OTS, Captain Deuser was commissioned as an Officer in the US Navy and assigned to the USS Hawkins (DD748) in Norfolk, Virginia, where he worked as an Electronics Materiel Officer. As an EMO, Captain Deuser was responsible for 15-20 men and oversaw the maintenance of the ship. He was then reassigned in 1971 as an Admiral's Aide and Flag Lieutenant to Rear Admiral Philip P. Cole in Sasebo, Japan.
As the Admiral's Aide, he was part of the effort in Vietnam. Admiral Cole's staff was in charge of repair and logistics for the Seventh Fleet ships, or as he described it, "the beans, bullets and black oil." Captain Deuser was also in charge of reading messages that came in for Admiral Cole and then passing them onto him, a job he found exciting because it kept him the thick of US intelligence on Vietnam.
In 1973, Captain Deuser returned to the United States where he says, "It wasn't like it is today; they almost spit on you." He went on to become a Financial Consultant with A.G. Edwards and to marry, but he kept his commission in Inactive Reserve Duty for ten years. In 1983, he returned to Active Reserve Duty, where he remained until November 2007. During that time, he served as the commander of five reserve units in Dayton, Indianapolis, Great Lakes, Illinois and St. Louis. For the last fourteen years, he has been recruiting for the Naval Academy as a Naval USNA Blue and Gold Officer.
I asked Captain Deuser what his service in the US Navy meant to him and he told me his father had served in the Navy during World War II, and when he looks around this country and sees the freedom we have, he knows it has come at a price. He said, "Freedom is not free. Everyone has a contribution to make."
Since this is a centennial series, let's look back at how it all came together a century ago. The history of Oakwood as told by Virgina and Bruce Ronald in the book Oakwood:The Far Hills, published by the Oakwood Historical Society in 1983, traces most of the developments up to the incorporation, but it can only be assumed who were the real spark plugs. What is known is that Harry E. Talbott and John H. Patterson were probably the organizers. They preempted about 100 people in the area who opposed incorporation, so there had been some discussion.
Talbott, one of the country's leading civil engineers, was busy traveling, seeing to the projects which earned him wealth and respect. His wife, Katherine Houk Talbott was at home, seeing to her nine children and using her considerable energy for every cause that came up, no doubt including the incorporating of a village. The other person, John H. Patterson, was involved with the community, using his considerable energy and wealth promoting progressive views on industrial welfare, building and becoming the dominant manufacturer of cash registers, and acquiring hundreds of acres in Van Buren Township. These two were the principals who presented on June 3, 1907, to the township trustees, a petition requesting that 787.26 acres of Van Buren Township be incorporated as a village to be known as Oakwood. This area had about 300 residents, which was a compromise from the 1,000 originally considered, but was scaled back to exclude the "knockers" (those opposed).Talbott and Patterson were made agents for the incorporators for matters relating to incorporation.
The trustees were Clem L. Shroyer, J. H. Kohl, and Charles H. Barton. The trustees, meeting at the residence of Clem L. Shroyer on June 5, resolved to meet at the Four Mile Tavern on Lebanon Pike (approximately at the corner of Peach Orchard and Far Hills Avenue) on June 17. Nothing was done but they met again on June 29 and recited that a petition had been presented by (38) resident electors, a majority being freeholders (property owners). They then declared that the territory be an incorporated village. An election be held on the 15th of July "to obtain a sense of the electors of said territory of the question of incorporation". It further established the school house to be the place for the election. (The school house was number seven, located on what is now W. Schantz Avenue on what later became Sugar Camp) It then provided for notice to be published and posted, and that the County Board of Elections be notified and requested to hold the election.
What wasn't said in the official minutes was that on May 31 the petition had been presented and the township trustees had not acted. This was not the way things should be done according the John H.'s scheme of things, so he had filed a suit in the Circuit (Common Pleas) Court against the trustees for a Writ in Mandamus. Such an action alleges that (a) official(s) of government has/have not performed his/their duties, and seeks to have a court order the official(s) to act. (This is an old Equitable action described in law books, and it's quite likely that most attorneys have never seen one!) But John H. got his troops on the case and got the action he was accustomed to.
Back on June 27, the Circuit Court had ordered (commanded) by a preemptory Writ of Mandamus, the trustees to perform certain acts. Those things required were to promptly meet and take up and act upon the petition. They were required to declare the territory, with the assent of the voters, be an incorporated village. Such election was to be held within fifteen days with notice given by publication and posting. and then to make return of their actions on or before July 27, 1907. Signed, Judge C.W. Dustin. They really got into action by holding the election July 15, as ordered, and making a return at a meeting on July 23, reporting the vote had been 76 to 2 in favor of the incorporation. A certified copy was sent to the Recorder but for reasons unexplained, not recorded as a public record until Jan. 9, 1908.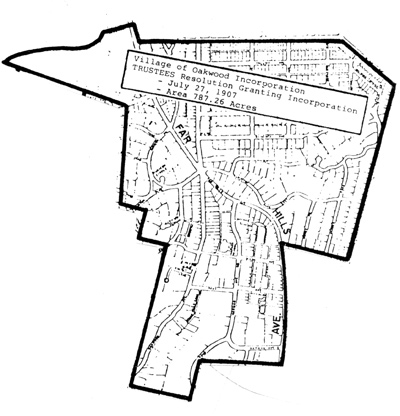 Perhaps the delay was in getting organized for an election of officials. The election of a Mayor, a Clerk, a Treasurer, a Marshall, and six members of Council wasn't held until Feb. 15, 1908. It was held at the Patterson gatehouse at the junction of Far Hills Avenue and Brown Street (Oakwood Avenue). The first Mayor was H.E. Talbott.
As a matter of interest, among the petitioners were Patterson, Talbott, and Trustee Charles H. Barton. Barton denied the allegations of the Petition and was not found to be subject to the costs assessed, but to be subject to the orders contained therein. Among the 38 petitioners were, John Olt, Daniel Gutwein, William H. Mitchell, A. B. Brundrett, George Kling, Adam Schantz, Pierce Davies Schenck, Robert T. Houk, Oscar Olt, H. E. Parrott, H. Stoddard, Frank and C.L. Kohenen, and Fowler Smith. It is little wonder that Patterson became known as "The Father of Oakwood."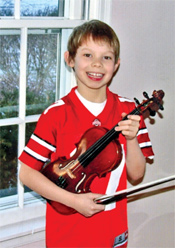 Carson Bohner, a fourth grader at Harman Elementary School, has been a keen student of the violin for the past three years of his young career. He recently auditioned for Dayton Philharmonic Director Neil Gittleman and two other Philharmonic orchestra members for a chance to play in a SPARK (School Partners with Artists Reaching Kids) concert with the Dayton Philharmonic Orchestra this afternoon, Tuesday, Jan. 29, at the Dayton Convention Center Auditorium at 9 a.m. and 12:30 p.m.
He earned the opportunity to perform along with four other student-musicians from the local area, three of whom are home schooled and one from the Discovery House Montessori School. The quintet will play Bach's Double Violin Concerto, 1st Movement.
Carson has also been accepted to take part in the first Chamber Music Weekend for young musicians at Wright State University in the spring. Carson is the son of Michael and Landi Bohner of Oakwood.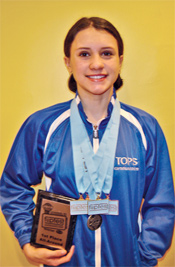 Maggie Murdock captured the Level IV Senior Division all-around (AA) gold medal at the 2008 FlipFest Invitational gymnastics meet held on Jan. 19-21 in Knoxville, Tenn.
Murdock won the AA title (37.80), along with individual gold on beam (9.450) and floor exercise (9.475), and individual bronze on uneven bars (9.275) and vault (9.60).
FlipFest is an annual competition held by Olympians John Roethlisberger and John Macready. Over 2,000 athletes from 14 states competed at this year's event.
Maggie is coached by Melissa LaPeer from Tops Gymnastics in Centerville, OH. She is a seventh grade honor student at Oakwood Jr. High, and the daughter of Dr. and Mrs. Edward Murdock.

The Oakwood Rotary Club, in cooperation with the city of Oakwood, is pleased to announce a new Community Recycling initiative.
Beginning Saturday, Feb. 2, members of the Oakwood Rotary Club will collect unwanted household waste items that are not permitted to be included in the regular weekly city trash pickup.
Items include: Paints, Stains, Thinners, Pesticides and Batteries (All materials must be in sealed containers)
This program will take place once per calendar quarter beginning with Zone 1.
Future collection dates are:
April 26 - Zone 2
July 26 - Zone 3
October 25 - Zone 4
Zones are defined consistent with the city's weekly garbage pickup days:
Zone 1 is Monday's trash route
Zone 2 is Tuesday's route
Zone 3 is Wednesday's route
Zone 4 is Thursday's route
Please call 296-5155 and leave your name and address and the items will be collected between 9-noon on the designated Saturday. Although there is no charge for this volunteer service, citizens wishing to make a tax-deductible donation to the Oakwood Rotary Club Foundation (IRS 501 c3) may do so at the time of pickup or by mail to Oakwood Rotary Club, PO Box 512, Dayton, Ohio 45409.
Questions concerning this program can also be left at phone number 296-5155.
On Friday, Jan. 18, the Oakwood Rotary held a special meeting to honor the women of Rotary. The celebration marked the 20th anniversary of the induction of women into the Oakwood Rotary Club.
On January 8, 1988, Do Winkler (Wagner) and Jane Voisard were officially inducted as the first women members of the Oakwood Rotary Club. Oakwood Rotary Charter member Bill Clymer remarked that Rotary International was "the first service club, the first club to go international, the first club to host exchange students and the first club to induct women."
Club member Harvey Pierce added, "We want to salute the women for making our Oakwood Rotary a family." Charter member Stan Herr wryly observed, "Jane an Do were our first female club members and they are still with us 20 years later. That shows amazing tolerance on their part!" Charter member Ike Eichner congratulated Winkler-Wagner and Voisard, and he encouraged all women to take active leadership roles in the Rotary.
Currently, Rotary International has over 182,000 female members. Over half of Roteract and Interact members are women, and 60 percent of exchange students participating in Rotary Youth Exchange programs are female. Two of the last six Rotary District governors in Ohio have been women.
"I love all of the friendships I have made and the good work of Rotary," said Winkler-Wagner, the publisher and owner of the Oakwood Register. "You feel so helpful on all levels when talented people come together to help others."
Voisard, the former owner and President of the Oregon Group Architects remarked, "There is so much camaraderie in Rotary and it is so easy to serve others in this environment of volunteerism. I have always felt welcomed in this club."
The Oakwood Rotary currently has 130 members, 36 of whom are women. Out of 16 current board members, six are women. Club members Elaine Allison and Polly Petricola have served as Oakwood Rotary Presidents, and in 2007, Debbie Hershey was the first woman to chair the That Day in May Rotary fundraiser.
The celebration ended with a presentation of a special plaque to Winkler-Wagner and Voisard, plus a presentation of roses to all the female Oakwood Rotary Club members.
The Oakwood Rotary Club seeks applications from Oakwood area high school juniors to attend the Rotary District 6670 Annual Leadership Workshop at the Dayton Engineers Club. The all day event will take place on Thursday, March 13, 2008. The one day session offers students from local area high schools the opportunity to meet Rotary leaders and develop team problem solving and presentation skills in a collegial atmosphere.
Applications and more details about the workshop can be obtained from Oakwood High School's Guidance Counsel Office. For students living in Oakwood who attend other high schools you can also contact Oakwood Rotarian Chuck Roedersheimer (293-8105) for applications or ask any Oakwood Rotarian you may know for an application.
Information on past programs and details on this year's event can also be found at the local Rotary District 6670 website – www.rotary6670.org. Information on the RYLA international program is found at www.rotary.org under the tab "RI Programs" and then the tab "Rotary Youth Leadership Awards." Applications need to be completed and turned into the Guidance Counselor office or to Mr. Roedersheimer (349 E. Schantz Avenue, Dayton, OH 45409) no later than Feb. 26, 2008.
The Rotary Club of Dayton is now accepting applications for the Rotary Foundation Ambassadorial Scholarship. The scholarship is for foreign study during academic year 2009-2010. Scholars act as "ambassadors of goodwill" as they study abroad in one of more than 160 countries where Rotary Clubs are located.
Students with permanent addresses in the Dayton area, or studying in the area, who have completed two years of college or two years of recognized vocational work by the time the scholarship period begins are eligible to apply. Graduate students may apply as well. The application deadline is March 3, 2008.
Since 1947 more than 30,000 men and women from 100 nations have studied abroad under the auspices of Rotary Foundation Ambassadorial Scholarships. Today it is the world's largest privately funded international scholarships program. More than 1,100 scholarships were awarded for study in 2007-08. Through grants totaling approximately $26 million, recipients from some 69 countries studied in more than 64 nations.
Contact Diane Welborn at (937) 223-4613, to request an application form.

Some restaurants grow old and fusty, others grow up. Figlio Bistro and Wine Bar in the Town and Country Shopping Center has matured due to the sound instincts of owners, Peter and Laurie Danis.
As one enters, the subdued light and twinkling votives give a serene vibe to the room which is graced by a nine seat, deep-hued granite bar. On one of my visits, Chery Simon, a friend, was having a martini at the bar and pronounced it delicious, even remarking that her glass had been appropriately chilled.
Stepping into the dining room is like floating into a warm cup of hot chocolate with whipped cream on the top. The room has been so enhanced by the deep, rich color on the walls, the moveable drapery panels to offer privacy and the high, square community table which gives topographical interest to the space. One even now notices the pergola effect of the ceiling as lighting and wall color has changed the shadowing effect.
And then there is "the wall"—the place we want to view to have a window into Laurie's amazingly clever mind—as it changes with whimsy. In addition to Peter's personally choosing 1,000 songs for the musical playlist, Peter and Laurie's crowning achievement in decor is the hanging of paintings by George Jones. They are immensely appealing, some with a sassy personality, a vibrancy of color, all lending an almost palpable energy to the room. Periodically the paintings will be rotated at the Danis' other restaurants and some are for sale.
There is no culinary claustrophobia on the new menu. The delicious pizzas and pastas you know remain and new appetizers, entree salads and entrees have been added.
On two separate visits, one with well known pediatrician, Dr. Pat Dempsey, and the other with Sara Rich, undoubtedly the best home cook in the area, we sampled, tasted and in some cases wanted to lick our plates! Mrs. Rich, whose specialty is baking artisanal breads, is hoping for a more full-flavored bread worth the calories. The Peasant Salad is back and on a chilled armetale plate. One evening it was a bit soggy but the second it was perfectly crisp and cold. The Balsamic Salad had a crisp mixture of greens and nice flavor and viscosity of dressing. Could this be served on a chilled plate as is the Peasant Salad? The Hummus appetizer, often served with a baby food creaminess, had the most intriguing texture—just enough to give it a delightful chew. The flavor was a tingle in my mouth and it spread perfectly on the accompanying warm pita. Yum!
The Crab and Corn Chowder, even though audaciously hot for me, was loaded with copious quantities of quality crab, corn and potatoes cossetted in irresistible creaminess. You'll think this tastes really good. Now for the taste-acular hit of both evenings. It was a slam-dunk, a bases loaded, out of the park homerun. We ooh-ed, we aah-ed as we inhaled the Polenta with Wild Mushrooms. The polenta had a beautiful palimpsest of crust while the mushrooms were enfolded in sauce with just the right mouth feel The perfect amount of rosemary and sun dried tomatoes made this resemble an artwork by your favorite pointillist. Honestly, I could have taken a bath in it. Run, don't walk, do not pass go, do not collect $200 until you have the Polenta with Wild Mushrooms.
Some meals are served on an attractive celadon and apricot plate. They are so pleasing against the white linens. The Beef Tenderloin and the Crab Cakes are comforting entrees with the objective of presenting with good taste. The beef, even though underdone, was tender and had a robust flavor and the crab cakes, even though too salty for me, had a nicely caramelized exterior leading to a toothsome cake full of crab, not filler. The Seafood Risotto, which needs to be an a la minute preparation, was oily and lacked definition of flavor. All the D.C's (dining companions) agreed that without a dedicated person to prepare risotti, something else should be substituted here.
Rounding out the evening was Creme Brulee with a surprise of raspberry at the bottom and a top with the right crack factor. It was perfectly executed and all others can be measured against it as a standard. (Don't ever let any restaurant tell you creme brulee should be runny in the center. I've had more than several well known places try. The pastry chef just didn't get in early enough to get the job done so that it would be able to chill properly.) The Tiramisu also is quintessential with the right balance of flavors served at just the right temperature. 'The Red Velvet Cake, also delicious, needs to have the interior icing more carefully prepared by the pastry chef so that the graininess of the sugar is eliminated.
How lucky we are to have two such bright, dedicated individuals sustain us with delicious diversions, a constant process of becoming, and a convivial atmosphere in which to be.
The only thing to make it perfect - if Laurie would grace us on the weekends with her musical talents. Bravo, Figlio, Bravissimo.
Gotta run. Soup's on.
To go:
Figlio (accepts reservations)
South East corner of Town & Country Shopping Center
Stroop/Shroyer/Far Hills Aves.
Kettering, Ohio
937-534-0494
To contact this columnist with questions, comments or suggestions go to: Musicalfeast@aol.com