You've got to believe in The Fantasticks. It has many kudos – the longest running musical in New York history, probably one of the most produced musicals, and an amazing take on French playwright Edmond Rostand's take on Romeo and Juliet.
Full of wonderful music and delightful characters, The Fantasticks has captured legions of devotees. I am one of those.
From my first experience at Antioch College in about 1962, many, many other performances have made the play, its message and its music, indelible. Wright State Theatre's production is no exception. The joy and wonder of this great vignette lives on.
Director Lee Merrill's experience with The Fantasticks is also personal. She watched Tom Jones, a fellow student at the University of Texas, take a homework assignment into theater history. She is also an artist as well as an educator, bringing both sides of the footlights into her interpretations of a work.
She chose a sparkling cast of underclassmen in WSU's Theatre Department. Donald David provided a whimsical set which included a Commedia del' Arte theatre within the stage set.
The result was all "fantastic" as The Fantasticks should be. The cast captured the spirit and performed marvelously. The songs are full of critical lines which, if lost, can spoil the overall effect. Lee's charges were musical, effervescent, loaded with talent and had excellent diction.
The play is an all-star ensemble. Each character is critical to the chemistry of the experience. Each character made the most of the opportunity. As the boy and girl, Will Hutcheson and Kelsey Cathleen Hopkins made us all love them. As the pair of fathers, Zachery Brown and J.J. Parkey's delightful ruse to cement their children into a forever happily married couple worked.
Of course, the handsome villain/chorus/narrator El Gallo had a critical role in the equation. Matt Rush, plenty handsome and very irresistible, made it live.
My favorite characters in the play are the old actor and Mortimer, the man who dies. Somehow, their roles have a quirky and capricious spirit which must be captured and distilled into something special. Greg Mallios and Madeline Paul did it all.
Director Lee made this production a true family affair. The very lively and versatile quartet made music equivalent to a full orchestra. The pianist and conductor was Lee's husband, David Hapner. Her 13 year old daughter Emsie played the cello. The very prominent harp was played by Stephanie Liacuna and Jim Lesley's percussion rounded out the ensemble.
The only problem is that this longest running musical had a very short run at WSU. If you missed it – well you really missed it!
George Balanchine is, perhaps, the most important figure in 20th century ballet. His inventive choreography established the style of dance which launched American ballet into the forefront of the art.
He also established The New York City Ballet as the canvas on which he displayed his art. His ballerinas were tall, lithe and athletically expressive, highly trained and motivated professionals.
In spite of his proclivity for these winsome figured dancers, (he married more than one of them) Balanchine was interested in the emerging dancer. I recall his visit to Dayton Ballet in the late 1960s or early 70s. He recognized in Miss Jo Swarz the same determination to create great dancers that drove his creative efforts.
Decades have passed. We have lost Balanchine and Miss Jo but their work goes on unabated. The legacy of George Balanchine is contained in his choreographic works. Miss Jo's legacy is in the fine professional Dayton Ballet Company and in the spark she gave to those devoted to the development of great dance and dancers.
Both Miss Jo and Balanchine would take immense pride in the work of Barbara Pontecorvo and her Gem City Ballet. Like those halcyon days of Dayton Ballet's emergence, Barbara's young charges are imbued with technical excellence, inspiring choreography and the very spirit which makes great dance and great dancers.
Barbara has always challenged her young and talented dancers. Balanchine's works, highly professional and artistically demanding have been part of Gem City Ballet's standard repertory. For this year's Victoria Theatre concert on January 19th, four complete Balanchine ballets were programmed, compounding the challenge logarithmically.
Serenade, Valse-Fantaisie, Concerto Barocco and Who Cares? were presented with irrepressible joy displaying the remarkable talents of these young dancers. The company was augmented by guest dancers Adam Hundt of Columbus' BalletMet, Jaysin McCollum of DCDC and students of Stivers School for the Arts dance program.
The stars of Gem City Ballet - Victoria Bek, Rachael Bade, Kayleigh Gorham, Amanda Combs and Maggie Carey - would have brought great smiles to Balanchine.These are magnificent young dancers. They are joined by a company of great emerging talents.
When they dance, not every movement is perfect. What is perfect is the magic touch of great art, well taught, inspired and a joy to behold.
The lust-filled romance of Romeo and Juliet has opened at the Loft Theatre. Again, The Human Race has made a classic shine with newness steeped in tradition. A full review will appear next week. Do not miss Brian Crowe's wonderful rendition of this immortal tragedy. The run ends February 17th.
---
Dayton Playhouse, 1301 E. Siebenthaler Ave., will be presenting Gerome Ragni and James Rado's production of HAIR, the musical with music by Galt MacDermot will perform on Feb. 15-16.

All shows are at 8 p.m. There are NO TICKET RESERVATIONS for this production. ALL PRODUCTIONS ARE FREE, but
donations are welcome!
The lobby opens at 7 p.m., the house opens at 7:30 p.m.and it is first-come, first-served seating. This play contains adult situations & language, and will be staged with full nudity. No patron under the age of 16 will be admitted without proper adult consent.
---
Dayton Playhouse is continuing its 3rd FLIP Side Series. Tony Dallas, the director of The Oedipus Cycle (Three Greek Plays by Sophocles), will be holding auditions on Feb. 11-12, at 7 p.m. at 1301 E. Siebenthaler Avenue, Dayton, Ohio. Productions dates are April 4, 5, & 6, 2008.
Cold readings will be held at auditions. No preparation is necessary prior to auditions. Please bring conflicts from Feb. 11-April 6, 2008.
For more information please contact Amy Brown direct at (937)424-8477,
email her at amy@daytonplayhouse.com, or visit us on the web at
http://www.daytonplayhouse.org.
---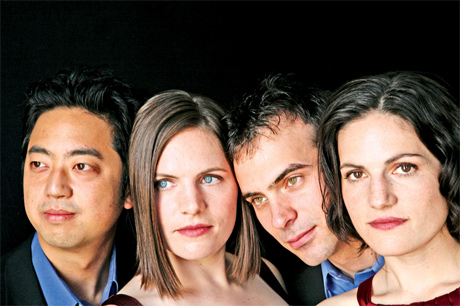 Vanguard Concerts presents the Jupiter String Quartet as the fourth concert in its 2007-2008 series on Saturday, Feb. 9 at 8 p.m. in The Dayton Art Institute's NCR Renaissance Auditorium.
During the 2007-2008 season, the Quartet began its three-year residency with Lincoln Center's Chamber Music Society Two.
For their program in Dayton, the Jupiter String Quartet will perform: Quartet in F Minor, Op. 80 by Felix Mendelssohn, Quartet for Strings, Op. 11 by Samuel Barber, Quartet for Strings (1931) by Ruth Crawford Seeger, Quartet No. 16 in F Major, Op. 135 by Ludwig Van Beethoven.
Adult tickets are $20 and student tickets are $15. Tickets may be purchased at Hauer Music Company, Wright State University Student Box Office, and online at www.daytonartinstitute.org. Tickets are available at The Dayton Art Institute on the night of the concert only. For further information contact Vanguard Concerts at (937) 436-0244.
---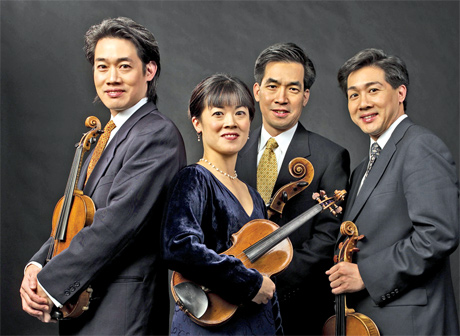 The Ying String Quartet, whose Telarc CD of the Tchaikovsky quartets has been nominated as the best chamber music recording of the year, will skip the Grammy Awards ceremony in Los Angeles to keep their date with Chamber Music Yellow Springs.
For CMYS, they will play the Haydn Quartet Op.71 No.1 and the Ravel Quartet in F, plus three selections from their "Dim Sum" CD of short works by Chinese-American composers.
The concert is at 7:30 p.m. Sunday, Feb. 10, at the First Presbyterian Church of Yellow Springs, 314 Xenia Avenue (US 68).
WSU Professor Charles Larkowski will give a free pre-concert lecture at 6:45 in the church. A simple supper will be offered in the church at 6 p.m.and a gourmet dinner at the post-concert reception.
Tickets at the door are $18 adults, $6 students. To reserve tickets or seats at the dinner, phone (937) 374-8800.
Recital: 12:05 p.m., Admission Free
Luncheon: 12:30 p.m., Cost $8.00
For luncheon reservations call the church office 293-3151
February 13
Frederick Chatfield, organ
February 20
Dan Rivers, singer/songwriter
February 27
Debra Lindley, piano
March 5
Leora Kline, violin
Daira Skriblis, piano
Open to the Public, Handicapped Accessible, Admission Free
For Questions: Debi DeBanto, Communications Coordinator (937) 293-3151 or debi.debanto@christumc
The Oakwood community is invited to the Oakwood Junior and Senior High School bands concert entitled "Music of the Masters."
The concert will be held Sunday, Feb. 10 at 3 p.m. in the Oakwood High School auditorium.
A pre-concert student recital will begin at 2:30 p.m.
Admission is free!
---
The deadline is approaching for Heidelberg College's musical composition contest, a new feature in the upcoming New Music Festival that will celebrate its 20th anniversary in April.
Young composers between the ages of 16 and 22 who currently reside in Ohio are invited to submit original new works written for piano by Feb. 15 to be considered for the competition. The winning composition will be performed as part of the New Music Festival April 11-13. The winning composer will receive an honorarium of $200.
Interested participants should submit pieces between three and five minutes in length, which can be for solo piano, piano four-hand or two pianos. CD recordings are not required for participation, but are strongly encouraged. Electronic or facsimile submissions will not be considered. Clear and legible scores should be postmarked by the deadline.
For the complete list of rules and submission forms, visit www.heidelberg.edu or call the Department of Music at (419) 448-2073.