Ann Hagedorn, best selling author and former resident of Oakwood, discussed her newest book, Savage Peace: Hope and Fear in America, 1919, with members of the Dayton Travelers Book Club on Jan. 28.
Ms. Hagedorn was introduced to the group by Sharon Rab, Oakwood resident, well known local author, interviewer and organizer of the Dayton Literary Peace Awards.
Although Savage Peace, which has been nominated for a Pulitzer Prize, is based largely on declassified FBI and military intelligence records, fascinating stories about ordinary and not-so-ordinary people are carefully intertwined into the flow of the book so that Ms. Hagedorn captures her reader from the beginning to the end of this dramatic account of 1919, a historically significant watershed year in American history.
She drew parallels to the struggles facing the nation today over issues of domestic spying, free speech, immigration and U.S. involvement abroad.
Ms. Hagedorn's previous best selling books include Wild Ride, Beyond the River and Ransom: The Untold Story of International Kidnapping.
Ms. Hagedorn attended Oakwood Schools through the eighth grade. She received her B.A. from Denison, MLS in Information Science from the University of Michigan, Masters in Journalism from Columbia University. She has had a long and successful journalism career as a teacher at Northwestern and Columbia universities, and as a staff writer for the New York Daily News and Wall Street Journal. She is a workshop leader and a guest lecturer at universities around the country including the nationally recognized annual Antioch Writer's Workshop. She presently makes her home in Ripley, Ohio.
---
Innovative InterChange Assoc., an Oakwood based company, has just published a book titled Ascent of the Eagle. The book is the second of a trilogy by author Dr. Charlie Palmgren. The book looks at one of life's great questions, Who am I? And proposes an unexpected answer.
For more than 50 years, Dr. Palmgren, author of The Chicken Conspiracy, has studied human behavior and the conditions required for each of us to seek and live our best as individuals and in relationship with others.
People have searched the world over for the "secret of life." This author's position is that living our best is not a secret. We're all born to be and continually become our best."
For information on Innovative InterChange Associates or to purchase Ascent of the Eagle or The Chicken Conspiracy, contact Kim Snow at ksnow@iichange.com or www.iichange.com or call (937)293-3119. Innovative Inter-change Associates is a consulting firm that offers communication, management and leadership skills training.
---
---
Renowned aviator Nancy Love, the subject of Dayton-area author Sarah Byrn Rickman's new biography Nancy Love and the WASP Ferry Pilots of World War II, once flew a memorable aircraft out of Patterson Field.
The date was Oct. 16, 1944. Nancy and her WASP copilot Barbara Erickson picked up a beat-up B-17 at Patterson Field. Their orders: fly it to the "graveyard" in Amarillo, Texas, where it would be scrapped.
The ship was dirty and much patched. Grease and oil stained the concrete ramp under each engine. But they soon discovered she had a proud heritage. The plastic plate on the instrument panel read: "Genevieve — First Airplane Repaired By Rome Air Depot. Please Advise of Her Escapades, Rome, N.Y., U.S.A."
Nancy and Barbara took special care of this tired old lady of the air, but it
wasn't easy. When they fired up the four engines, Number 4 poured oil on the already saturated concrete. The repairs took most of the afternoon.
Finally they took off from Patterson Field. Heeding a large red sign on the instrument panel that warned them NOT to try to retract the landing gear, they filed a clearance to Scott Field near St. Louis.
Enroute, they were bothered by — and did their best to ignore —aircraft that flew by them signaling, "in a superior manner," that they'd forgotten to pull the landing gear up. A squadron of P-47s whizzed by, the pilots laughing and gesturing from inside their bubble cockpits. "We strongly suspected that the epithet 'women drivers' was being directed at us along with the hand signals," Nancy wrote.
Ever-increasing vibrations in engine Number 1 caused concern. By the time they reached Scott Field, it was "emitting a noisy series of irregular but sensational explosions, causing some interest on the part of spectators."
The two women pilots remained overnight at Scott while the night maintenance crew made numerous repairs. In the morning, "Genevieve" was ready to fly on to Amarillo—her sad destination.
"We became very fond of her," Nancy wrote. "We felt a certain spiritual kinship with her, since we share a common and ignominious fate, we being bound for our 'figurative' grave on 20 December 1944, when the WASPs are to be inactivated."
Nancy wrote to the commanding officer of the Rome Air Depot, Rome Army Field in Rome, New York:
We hope that this account of the final escapade of 'Genevieve' will be of interest. Her saga in combat was an honorable one, as discovered in her battered form #1 A.

Sincerely,

Nancy H. Love, Special Assistant
to Commanding General
Love, the commander of the WASP ferry pilots, was no stranger to southwest Ohio. She served with the Army's Ferrying Division in Cincinnati from 1943 to 1945. The source for this article is the Love biography.
Former Oakwood resident and author Betty Darst, Dayton-area aviation ambassador, will host author Rickman at a pre-release book program Feb. 14 at the Dayton Engineers Club.
Nancy Love's birthday happens to be on that date – Valentine's Day – and the pre-release program will celebrate her birthday with birthday cake and light refreshments being served.
Reservations are requested by calling 426-8114. The Nancy Love and the WASP Ferry Pilots of World War II will be available in the near future at area bookstores or online on amazon.com
Where did the name "Oakwood" come from? I've seen an old article that asserts that it originated as early as 1830, but this is undocumented, and only appears once. I believe that it was originated by the first promoter of our community – " Isaac Haas – the man who bought Oakwood." This is the title given to him by the Dayton Daily News in an article in 1920 by Harriet Gebhart. She traces him to Westmoreland County, PA, where he and his parents came from in 1835. Establishing himself in the tannery and harness business, he joined Patterson Mitchell as a partner on Ludlow Street in 1856.
He became interested in construction when the First Presbyterian Church was built at the northwest corner of 2nd and Ludlow. (This later became the Central Reformed Church and is now a parking garage.) He had bought the property at sheriff's sale and sold it to the church at a profit, but built the church for $1.
He speculated in other property, such as the third block of W. 5th Street, which he developed for several large houses, and in 1871 sold part, which was restricted for use as a railroad station. When the City of Dayton appropriated it in 1964 to extend Wilkinson Street, his heirs divided $30,000 – a nice surprise. He lived at the southwest corner of 4th and Main, later developed for the Reibold Building.
He bought a half interest in 178 acres in South Park and Oakwood from Jonathan Winters who had bought it from the heirs of Col. Robert Patterson at the Partition sale. (See previous article about Patterson). When he defaulted on his part, Winters bought him out, and later sold 100 acres to Adam Schantz (another story). However, Haas retained a tract, on which he built the beautiful stone house for himself which stands at 505 E. Schantz in 1882.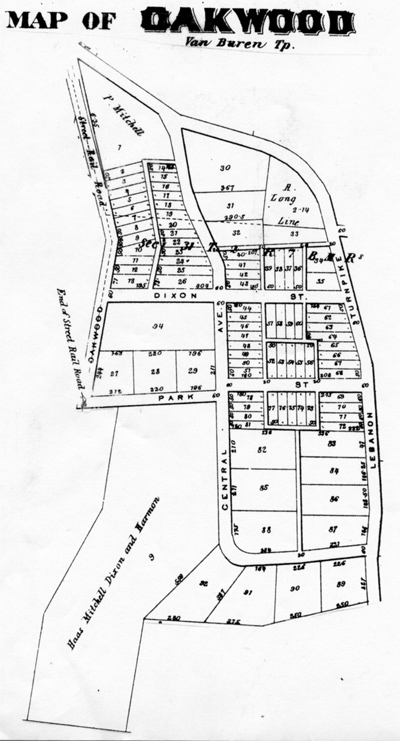 His major interest in Oakwood was the purchase of 78.95 acres, which was developed into the original plat of Oakwood in 1872. He got financial help from his old partner in the tanning business, Patterson Mitchell, and local investor Gabriel Harman and his brother in law William Dixon. They laid out the area into lots and streets and waited for people to come knocking on their door – but they didn't come. By 1875, he was in serious financial trouble and filed an Assignment for the Benefit of Creditors (a form of Receivership), and his Assignee (Trustee) sold his interest in his remaining lots to Gabriel Harman. The original owner's Executor sold Dixon's remaining lots to Mitchell. Harman bought most of the lots from Mitchell and Dixon.
To promote lot sales, they installed a donkey-powered street car which came out from Dayton, up the hill (Oakwood Avenue) to what is now Park Avenue. Here the driver blew a horn to tell folks nearby that the car was available, then rehitched the donkey (later horses) to the other end of the car, rested, and returned to Dayton. Lots 2 and 3 were for a speculation house built by Joseph
Peters to induce sales. The builder gave it up and it still stands at 622 Oakwood Avenue. It was bought by Harriet P. Clegg who developed the Oakwood Street Railway Co.
The majority of lots in this central Oakwood area were owned by Harman and can be traced to him or his heirs. When his widow died in 1899, she left them in Trust to their four children who divided the lots and sold them. Lots # 31 & 32 were taken by Elizabeth Harman Porter who built the large frame house at 620 Harman Ave. Part of the lot became Harman Terrace and part became the Far Hills Apartments. Several of the lots in the first block of West Dixon were sold to John R. Fletcher, who gave his house to the school board for a library. They sold it to Elsie Mead in 1939 for the Little Exchange. The commercial building next door still bears the name Fletcher. The Municipal Building lots were sold by the Elizabeth Harman Trust to a lady who sold them in two years to the village for a tidy profit. Lot # 89 became the Oakwood Manor in 1929. Part Lots 90 & 91 became part of Elizabeth Gardens plat in 1925. Lot # 93 was sold to the Wright Brothers in 1912.

Another speculation of Haas' went sour. He bought 9.93 acres east of Lebanon Pike/Far Hills Avenue from what is now Dellwood to Forrer and back to Schantz. This was caught up in his Assignment for the Benefit of Creditors and was sold in 1876 to a group of investors. They held it for many years before selling it in 1919 to Albert Seibert, whose Oakwood Real Estate Co. platted it into Park Hill, Section 2 in 1928.
Haas suffered a serious stroke in 1880 and was restricted to a wheel chair for the rest of his life. He still owned 17 acres which he sold in 1890 to the Schantz Estate, retaining two acres and the beautiful stone house at 505 E. Schantz which he sold to Herman Mahrt. "The Man Who Bought Oakwood" died in 1897 without seeing his dream of Oakwood come true.
The Oakwood High School Alumni Association is accepting nominations for the OHS Distinguished Alumni Award. The deadline for submission is February 29, 2008. The nomination form may be downloaded from the Oakwood School District web site at www.oakwoodschools.org. Just click on Alumni and follow the prompts. You may also pick up a form at the Oakwood Board of Education building located at 20 Rubicon Road, Dayton, OH 45409.
The OHS Alumni Association developed the award's criteria, nominating and voting processes, and induction standards for this annual award. The inaugural induction ceremony will be held in conjunction with the City of Oakwood's Centennial Celebration Closing Ceremonies being held the third weekend of August 2008.
The Distinguished Alumni Award is a wonderful way to acknowledge fellow OHS Alumni who have made significant accomplishments in their career and community. If you have any questions or would like a nomination formed mailed to you, please contact Rande Rinn Chapman `74, OHS Alumni Director, via email: oakwood.alumni@mindspring.com or call (937) 298-8711.
---
On Saturday, Jan. 26, Girl Scout Troop 612 from Oakwood presented Lt. Jim Tovinitti of the Oakwood Safety Department with baked goods that they made as part of a community project known as Spread the Bread.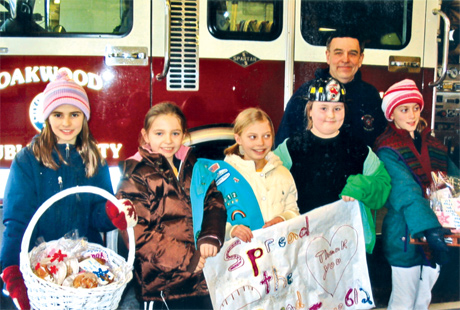 Pictured, left to right: Sarah, Madeline, Molly, Ilaria, Lt. Jim Tovinitti and Sheelagh Jackson. Not pictured, but part of the Troop: Robin Crum and Patty Reymann (leaders), Emily and Bailey, Brianna, and 2 Annas.
---
745 OAKWOOD AVE. $881,900 – Michael D. Maroni to Michael D. & Marissa P. Maroni
704 HARMAN AVE. $629,900 – George M. McGill to George M. & Patricia S. McGill

42 LOOKOUT DR. $459,500 – Lawrence White to Lawrence & Lisa L. White
20 LOOKOUT DR. Robert A. Gillette to Robert A. & Maria V. Gillette
201 E SCHANTZ AVE. $302,500 – Evan United Brethren Church to Kevin W. & Kathleen H. Weaver
444 E SCHANTZ AVE. $292,900 – Sabato & Marie Vacchiano to Sabato Vacchiano
600 SCHENCK AVE. $349,900 – Manoochehr Zoghi to Manoochehr & Afsaneh Zoghi
811 FAR HILLS AVE. $324,900 – George C. Williams to George C. & Amy C. Williams


232 COLLINGWOOD AVE. $309,900 – William Slattery to William Slattery & Maria Gonzalez

600 IRVING AVE. $239,500 – Chad F. Schroeder to Chad F. & Jennifer L. Schroeder

417 E SCHANTZ AVE. $162,000 – Federal Home Loan Mortgage to Ron J. Mescher
332 IRVING AVE. $139,900 – Thomas J. Jordan to Thomas J. & Lori A. Jordan
426 IRVING AVE. $149,900 – Melissa T. Apmann to Lisa M. Kellermeyer & Jill K. Posser

219 VOLUSIA AVE. $425,000 – Jennifer A. Von Fahnestock, Tr. To Kathryn Ann Schubert-Moell, Tr.

112 FAR HILLS AVE. $130,700 – Lara Ware Malatesta to Will C. & Tracy A. Sturgis

50 W SCHANTZ AVE. $231,000 – Thomas J. Wedig to Juliusz A. & Aneta Pereswiet-Soltan Kozak
247 NORTHVIEW RD. $559,000 – Carl M. Traynor to Carl M. & Darcy A. Traynor
501 MAYSFIELD RD. $790,000 – Eric J. Seubert to Eric J. & Virginia M. Seubert
1515 RIDGEWAY RD. $899,000 – Robert B. McIntyre to Robert B. & Sally S. McIntyre
1101 RUNNYMEDE RD. $1,850,000 – Philip J.Sheridan to Philip J. & Jane M. Sheridan
930 HARMAN AVE. $999,999 – Andrew R. Waibel to Andrew R. & Jill S. Waibel
1611 RUNNYMEDE RD. $1,105,000 – David S. Gutridge to David S. & Marcia D. Gutridge

1311 FAR HILLS AVE. $224,000 – Layton A. Hobbs to Layton A. & Sara

37 FORRER RD. $449,900 – Leo F. Lauterbach to Leo F. & Jennifer L. Lauterbach

42 FORRER RD. $399,900 – Benjamin Belveal to Benjamin & Kathleen M. Belveal
46 PARK RD. $564,999 – James M. McGrane to James M. & Jeannine M. McGrane, Co-Tr

115 HADLEY RD. $575,000 – Susan R. Ayers to Melissa D. Corliss & Neil Mason
2320 RIDGEWAY RD. $689,900 – Andrew S. Verey to Andrew S. & Hariklia Verey
PARK RD. $335,000 – William Russell Siedling to George J. & Linda A. Skuns
2700 RIDGEWAY RD. $990,000 – Ran Neiger to Ran & Rena M. Neiger
431 TRIANGLE AVE. $167,800 – Maria Colorito, Tr to Maria & Rita Colorito
409 ORCHARD DR. $139,900 – Candance D. Tolliver to Candance D. Tolliver & Scott R. Parker

209 TRIANGLE AVE. $159,900 – Conrad E. L'Heureux to Conrad E. & Susan T. L'Heureaux

2701 SHROYER RD. $98,000 – Mike J. McKelvey to MikeJ. & Nova T. McKelvey
306 EAST DR. $219,900 – Robert E. Ferguson to Robert E. & Deloris J. Ferguson

1805 SHROYER RD $139,500 – Paul A. Glaser to Paul A. Glaser & Erin M. Fust
18 CORONA AVE. $229,900 – Gary T. Gallion to Gary T. & Beth A. Gallion
256 MONTERAY AVE. $186,900 – Christopher J. Bridgman to Christopher J. & Gordana Bridgman
1516 SHROYER RD. $133,000 – Judith M. Richards to Chad A. & Holly M. Myers
245 FORRER BLVD. $319,900 – Walter W. Taylor to Walter W. & Denise G. Taylor
148 TELFORD AVE. $324,900 – Benjamin P. Guess to Benjamin P. Guess & Rene M. LaForte

325 WILTSHIRE BLVD. $205,500 – Martin S. Doyle to Martin S. & Sacha Jane Doyle
103 E DIXON AVE. $569,900 – Jaqueline A. Hutton to Jaqueline A. & John E. Hutton

216 HARMAN BLVD. $529,000 – August J. Rolling to August J. & Margaret G. Rolling
551 BARRYKNOLL ST. $69,380 – Deutsche Bank Natl. to Todd M. Taggart
3060 HATHAWAY RD. $119,900 – Timothy E. Peyton to Jennifer L. Evans
209 ROCKHILL AVE. $115,000 – James J. Stein to Andrea M & John Wagner

433 ROCKHILL AVE. $117,000 – Scott E. Henderson to Gary S. & Sharon L. Dean
3372 RIDGEWAY RD. - $210,000 – Robert L. Zickler to Janice T. & John G. Driesbach
1618 PROSSER AVE. - $310,000 – RCS Realty Partnership to Orlowski Holdings
1616 PROSSER AVE. $310,000 – RCS Realty Partnership to Orlowski Holdings LLC
1612 PROSSER AVE. $310,000 – RCS Realty Parnership to Orlowski Holdings LLC
1905 COURTLAND AVE. $92,900 - James H. Coyle to Christopher L. Sharp
1420 FLESHER AVE. $48,000 – Donald W. Yearick to US Bank NA

1121 SHARON AVE. $130,000 – Kimberly M. Hard to Nathan J. Utz

3410 OAKMONT AVE. $82,500 – Rodger B. Hohman to Oakmont Ave. Estates LLC
4629 FAR HILLS AVE. $858,000 – Douglas M. Kohls to SKO Properties LLC

4010 STONEHAVEN RD. $138,000 – Diane L. Shade to John B. Heckel

533 CARRLANDS DR. $154,000 – John K. Habel to Gillian M. Diederich & Mark A. Bennett
161 MARCHESTER DR. $102,000 – Federal Natl. Mortgage Assn. to Dominika A. & Nathan D. Graham
1124 EUREKA DR. $57,000 – Wells Fargo Bank Tr. To PHM Properties LLC
1017 ANSEL DR. $48,500 – Countrywide Home Loans, Inc. to Donald E. Henson
1132 ELDORADO AVE. $36,450 – Stephanie Jo Cantrell to Ronald Keith Corbin
2629 WEHRLY AVE. $122,000 – James Faler to William N. & Jeanette H. Rudy
2629 SAN RAE DR $85,000 – Michael McIlvain to Khristina R. Huist

3073 REGENT ST. $89,900 – US Bank NA to Brian W. & Kristin L. Wesche
3205 MIRIMAR ST $109,900 – Douglas P. Brown to Eugene Gerard & Nadya Bochenek
2112 GAY DR. $44,000 – Customized Performance to Columbia Savings Bank


556 TELFORD AVE. $110,500 – Angel J. DeLao to HSBC Bank USA


4900 FAR HILLS AVE. $138,900 – Julie A. Untener to Herbert A. Davis

3225 HARWOOD ST. $51,500 – US Bank NA Trustee to Larry Haskins

3875 KINGSWOOD DR. $90,000 – John A. Johnson to Bank of New York Trust
813 BRUBAKER DR. $112,500 – Jane M. Thomas to Jeff Reynolds

1713 W STROOP RD. $20,000 – Delores J. Hay to Delores & Michael J. Hay

813 SEQUOIA CT. $129,900 – Tammy J. Etapa to Natasha J. Randall

1315 DEVON AVE. $715,500 – Arthur L. Burton to Property Management Solutions
3025 LARUE DR. $89,900 – Jon E. Yankasky to Anne T. Wachs

3145 HOBART AVE. $128,000 – Ronald G. Buckle to Terris Lee Fink
4825 LAURELANN DR. $157,300 – Diana S. Couture to Jessica M. Bishop-Mullen
4432 ACKERMAN BLVD. $92,125 – Nationstar Mortgage LLC to Kevin C. & Jamie D. Ross

4401 OVERLAND TRL. $212,500 – Paul O. Peterson to David B. & Ginger G. Stroop

4482 SILVERWOOD DR. $206,300 – Gary E. Forrest to Jaime L. & Jason L. McCane
4559 BURCHDALE ST. $75,000 – Diori H. Boatman to EMC Mortgage Corp.
3625 LISBON ST. $105,800 – Leonard C. Solinger to Colletee N. Davis
1804 BOESEL AVE. $111,000 – Melissa Demczyk to Brandon & Sharon Beach
4905 ARROWHEAD DR. $110,000 – Jimmy L. Sturgill to Amber M. Tillman
2830 E STROOP RD. $127,000 – Gregory K. Norrod to Timothy J. & Paul Carbino


2914 E DOROTHY LN. $101,000 – Michael E. Burton to Susan J. Cross

3017 GLENMERE Ct. $156,771 – William D. Ahern to Mark T. Shade

4401 FERNMONT ST. $174,900 – David H. Fritts to Jessica E. Steiner

1001 RIO LN. $133,700 – Charles S. Shaltoches, Jr. to Joseph G. Dubinsky
4439 ROYAL RIDGE WAY $462,500 – Carol A. Kemper to Milagros Blanco
ROYAL RIDGE WAY $85,000 – Carol A. Kemper to Peter A. & Deborah M. Luongo
1236 DEVON AVE. $183,000 – H & B Investment Corp. to Daniel P. Meseroll
5328 LANDAU DR. $120,000 – Neil R. Brown to Carl A. Tarlano

3171 SOUTHDALE DR. $115,000 – Kathleen J. Kramer to Nedra Smolka
1465 CROSS CREEK CIR . $162,500 – Shirlely A. Wenzler to Wilbur C. McCloskey