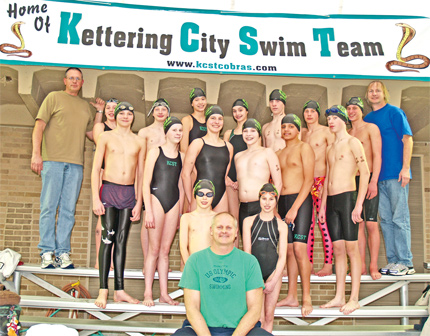 Several Oakwood swimmers have earned a spot on the Kettering City Swim Team's 2008 Short Course Junior Olympic Championship Team. The meet will take place at the Keating Natatorium in Cincinnati Ohio on March 14-16.
Oakwood swimmers pictured include Leah Beyer, Nicole Edwards, Emma Chambers, Jack Chambers and Eleanore Hong.
This will be Eleanore's second appearance this year on a nationally recognized team. In January, the Oakwood seventh grader, was chosen by a poll of swimming experts to represent Ohio at the 2008 Quadrangular All-Star Championship Meet in Indianapolis at the IUPUI pool. She swam against teams from Indiana, Illinois & Kentucky, placing fifth in the girls age group 11/12 50 backstroke and sixth in the Girls age group 11/12 100 backstroke.
Eleanore credits her success this year in part to her friend's support in the water and her coach Dave Back's intense focus on making strokes perfect.
All of the swimmers wish to thank the Oakwood community for their continued support and encouragement.
Murphy McSemek, an Oakwood High School junior, and his American Saddlebred (ASB) Park horse, I'm Remarkable, were awarded the American Saddlebred
3-Gaited Full Mane and Tail Park Horse Open Class Championship trophy by the Tri-State Horse Show Association. The 2007 Annual Awards Banquet, held Saturday, Feb. 16 in Dublin, OH, honored those equestrians who scored the highest points throughout the year in Tri-State horse shows. Murphy competed against horses in Michigan, Indiana and Ohio.
Murphy and his horse currently hold the titles of 2007 Dayton Horse Show Open Park Grand Champion and the 2007 Blue Ribbon Fall Classic Open Park Reserve Champion. The 2008 show season will start for McSemek on April 24 at the River
Ridge Horse Show in Columbus, OH.
"I've been training all winter and can't wait to get out there and show again," Murphy said with a big smile on his face. McSemek and I'm Remarkable train at Kuhbander Stables in Beavercreek. Following his graduation from OHS, Murphy plans on earning his degree in Equestrian Science and pursuing a career in the field.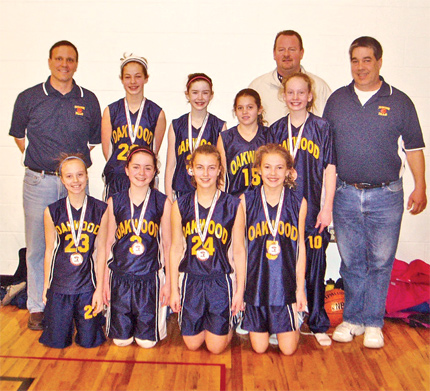 Pictured, left to right: first row: Elizabeth Rogers, Anne Whalen, Maddie Snyder, Abby Coyle; second row: Georgie Murdock, Josie Dayspring, Shannon Greer, Sarah Moulton; third row: Coaches Jeff Snyder, Joe Dayspring, Ted Coyle; not pictured: Kinsey Barhorst, Shannon O'Connor.
The Oakwood Junior Jills sixth grade girls basketball team finished in third place at their end of season tournament. The Junior Jills play in the Dayton metro youth basketball program.
The Junior Jills came into the tournament with the fourth seed and won their first game against Vandalia setting up a showdown with the number one seed, Kettering.
Despite leading by three at halftime, the Junior Jills ended up losing by four. The girls rebounded with wins over Centerville and number three seed Springboro before losing another close game to the Kettering girls to finish in third place.