The Oakwood High School DestiNation ImagiNation Team is state-bound! They qualified for the state tournament at the regional competition March 15 at Sinclair Community College.
Team members are:
Christina Borchers, Dillon Corrigan, Will Reese, Samantha Obermeyer, Tim Zunich, and Jane McGinnis.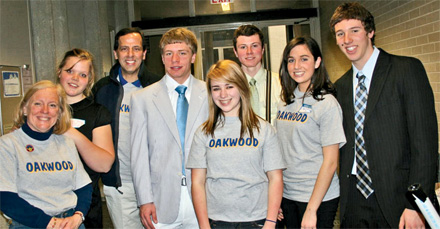 The state competition is next month in Cleveland.
Congratulations and good luck at state!
The Matthew McCarthy Memorial Scholarship committee is accepting applications from graduating seniors of Oakwood, Fairmont and Archbishop Alter High Schools until April 1. The scholarship, sponsored by the Kettering Kiwanis Foundation, is dedicated to a "hardworking student with potential."
"Matthew McCarthy believed that average, hardworking students would someday run the world because of their drive and steadfast determination, and we created this scholarship to honor his memory," said Mary Lou McCarthy, Committee President.
Matthew McCarthy devoted his life to education, particularly the lessons of the Holocaust—eliminating hatred, discrimination and racism while promoting tolerance and acceptance. In 1987, he won the highly prized Yavner Award as Social Studies Teacher of the Year in New York.
Donations have been made worldwide to honor Matthew McCarthy's lifelong commitment to education, culminating with this second annual $1,000 scholarship.
Application forms are available in the Guidance Offices of Oakwood, Fairmont and Alter High Schools for those who plan to attend a U.S. university on a full-time basis. Seniors should have better than a 2.5 grade point average. To be considered, applicants must submit:
1. A personal essay explaining future goals, personal attributes and creativity
2. A letter of recommendation from a high school teacher
3. A letter of recommendation from an employer, community leader or service club advisor
4. A current transcript (unofficial is sufficient)
5. A copy of the FAFSA, SAR or the applicant's parents' filed income tax return
A panel of judges consisting of a Kettering Kiwanis club officer and members of Matthew McCarthy's family will select the recipient. The $1,000 scholarship will be awarded at a Kettering Kiwanis meeting.
For more information, contact Mary Lou McCarthy at (727) 581-6189 or email mccartcomm@yahoo.com
---
Nominations for the Ohio 2007-2008 TOTY™ (Teacher of the Year) are being accepted through April 30, 2008. The announcement came from the TOTY Award™ sponsor, Teachers' Insurance Plan™, a car insurance program exclusively for members of the educational community.
The award will include $1,000 to the winning teacher and a $500 grant to that teacher's school. The Ohio TOTY Award™ winner will also be eligible for the National TOTY Award™ that includes a special recognition and a $2,500 travel certificate.
Teachers, students and parents can nominate any of the state's accredited teachers.
TOTY™ nomination forms are available online at www.teachers.com/toty. To nominate an educator, or yourself, explain in 250 words or less why this teacher should be the Teacher of the Year. Nominees will be judged on their ability to motivate students, their special talents, and their contribution to their school, students or educational community.
Winners will be announced at the start of the next school year.
---
For the third year running, Panera Bread will be teaming up with the Ohio PTA to celebrate Ohio teachers with the Panera Bread Rising Above Award. Panera Bread will be accepting nominations from now through April 1. The annual campaign invites both public and private school students to nominate a teacher that "rises above" the call of duty and proves to be a valuable resource in the classroom.
The campaign awards central Ohio educators in three grade levels: K-5, 6-8 and 9-12. Students are asked to submit a 100-200 word, essay stating why their teacher deserves to be honored with the Rising Above Award. Entry forms and contest rules are available at all 19 Panera Bread bakery-cafes located throughout the greater Columbus area, as well as online at www.paneraohio.com.
One grand-prize student winner per age category, per region, will be selected to receive a $100 savings bond and a $500 grant for his/her school. Winners in grades K-5 and 6-8 will also receive a Via-Panera catered breakfast for their classroom, and for grades 9-12 the student will receive a $25 gift card. Winning teachers will receive a $100 Panera Bread gift card and a special plaque to display in the classroom.