With music, you can dwell in the present, reach back in time as well as take flights into the future. We can hear Bach and Palestrina and, with nearly equal ease, are introduced to Adams and Cage.
The same can be said for performances and performers. We haverecordings to prove that Myra Hess and Arthur Rubenstein were great pianists. And, the legacy of their music and their teaching is very much alive today.
Don Hageman's Soirées Musicales Piano Series has given his loyal audiences an exciting panoply of concerts. Young pianists, on the cutting edge of brilliance, play music of all ages. Established masters bring their own interpretations to the recital experience.
By inviting pianist Ann Schein for her long awaited debut at Soirées Musicales, great legacies continue. Schein has had a career spanning many decades with direct links, teacher to pupil, to Dame Myra Hess and Arthur Rubenstein. Her teachers, she was one of Rubenstein's last pupils, imparted a strength which transcends some of today's adulation of speed and brilliance at the expense of musicality.
Schein is renowned as an interpreter of Chopin, Rachmaninoff and Liszt. Literally hundreds of her recitals and orchestral performances have received rave reviews. Finally, Dayton was able to hear her perform in the ideal setting of Shiloh Church on Hageman's Grotrian piano.
The concert opened with Beethoven's "Les Adieux" sonata and proceeded to Schubert's "Wanderer" fantasy. In both works, Schein demonstrated the power of the piano to delve deeply into the music with bombast-free clarity. The internal rhythms and themes stood out boldly during the abrupt transitions, particularly in the Schubert.
During the Schubert, the best ears in the audience actually heard a piano string break. Schein continued undaunted to the dramatic, and lovely, conclusion of the piece.
At the intermission, Hageman, a noted piano technician as well as pianist, worked to repair the problem. Like a medical grand rounds, he had a cadre of supporters cheering him on as the piano was restored.
After intermission, a new focus was experienced. Playing the works of Ravel, Debussy and Liszt, Schein brought powerful yet delicate mellifluence to the music. In the Ravel 1905 Sonatine, the music was painted with strong glowing colors. Debussy's L'Isle Joyeuse was given a beautiful reading full of technical éclat which seemed so easily accomplished. The cross hand passages flowed with unaccustomed delicacy, well-laced with definitive strength.
The final programmed piece, Liszt's Venetian Tarantella was one of the most "un-Lisztian" readings I have heard. Without the customary theatrics, the wild tarantula-bite dance seemed to be caused by a very gentle and loving spider.
As an encore, a Rachmaninoff prelude capped the evening. Hopefully, there will be an encore performance in the near future.
The Eighth Annual Dayton Jewish International Film Festival opened on April 1st with, perhaps, its finest film. The hard-working committee screened several hundred films to select 21 full length and short subjects to be presented in three venues - the Art Institute, the Neon Movies and The Little Art Theatre in Yellow Springs. The twoweek festival will reach many hundreds of film lovers. Films in French, Hebrew, German, Russian and Dutch with English subtitles share the screen with a half dozen English language works.
Several films examine the plight of Holocaust victims. Others deal with the life and times of Israelis dealing with family, intercultural and interreligious problems.
The opening film Twin Sisters was an Academy Award nominee in 2004. It dealt with the separate lives of twins forcibly separated after the deaths of their parents. One was taken to Holland, the other to Germany. Each experienced the advent of World War II and its horrors. Unforgettable, this sensitive rendering set the scene for what has been, thus far, a display of highly varied excellent films.
Some of the screenings include special moderators. Maestro Neal Gittleman led the discussion of Knowledge is the Beginning. It examined a magnificent experiment, bringing very young symphonic musicians, Arabs and Israelis, together for a harmonious series of international concerts.
Coach Don Donoher and ex-Daytonian theater producer Murray Horwitz will add their insights to films about basketball in the 1920s and the creative process of film-making.
The festival continues through April 13th. For information, call 937-610-1555 or go to www.DaytonJewish FilmFest.org.
---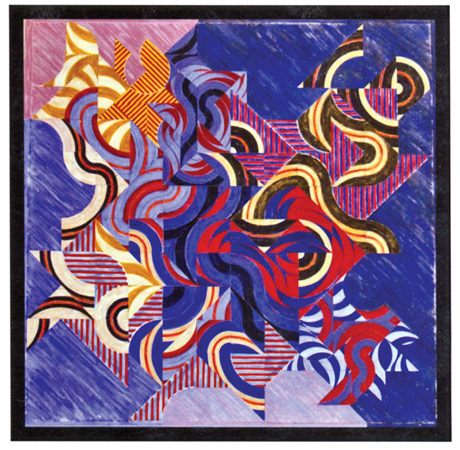 Painting by Alix French.
Sinclair Community College will host a one-day exhibition of paintings by Dayton-native Alix Amador French on April 15. Following the event, the paintings will be on permanent display at Sinclair.
French lived in Dayton for over 60 years. During most of that time she was a highly productive artist. She was one of the founders of the Miami Valley Cooperative Gallery.
Consumed by her creative process, French gave little time or thought to the marketing or selling of her work. She was generous and welcoming to those art lovers who sought her out, and she encouraged and mentored many students along the way.
Following her death in 2006, family members decided to donate a portion of her work to Sinclair to give students and the community an opportunity to study and enjoy her paintings in her hometown.
"These bold, colorful paintings will be a beautiful addition to our campus," said Gorczyca. "We are honored to receive this gift. The artist's family believes that the continued display of Alix's work acknowledges her vision, energy and skill and perpetuates her artistic contribution."
The entire Sinclair collection will be available for viewing at the exhibition on April 15, on the first floor of the Sinclair Center, Building 12 from 10 a.m. to 8 p.m. A free reception will be held from 5 p.m. to 7 p.m.
For more info, contact Marianne Gorczyca at 937-512-2510.
---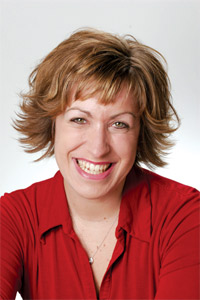 Oakwood's own Katie Pees is coming to the Loft! On Saturday, April 12, she'll be back on stage with her "divine comedy, song and dance" cabaret-style show that includes songs from shows she's been in in Dayton, in New York, and even shows she wishes she'd been in.
Show-titled "Dayton's Divine Miss P," it's the one-woman show she performed in New York to sold-out audiences. This time, she's trying to sell out The Loft Theatre, and for a good cause - to raise funds for the musical programming of The Human Race Theatre Company, in which she's a Resident Artist.
This one-night evening begins with a cocktail and hors d'oeuvre reception at 7 p.m. in the Loft Lobby, followed by the show at 8 p.m., coffee and dessert after the performance, and even later, an after-party at Coco's Bistro. The cost for the evening is just $100, with $65 tax-deductible.
For reservations, call The Human Race at (937) 461-3823.
---
The Miami Valley Symphony Orchestra will present its final two concerts of the season on Saturday evening, April 12, 8 p.m. at Epiphany Lutheran Church, 6450 Far Hills Ave., Centerville, and Sunday afternoon, April 13, 3 p.m. at Shiloh Church on North Main Street at Philadephia Drive.
Among the concert selections will be A Poem of Kangba by Chinese composer Chang-qun Ao. The program will be conducted by Dr. Jiang Liu, Music Director and Conductor of the University Orchestra at the University of Dayton.
---
On Friday, April 11, the Town & Country Fine Art Gallery in Town & Country Shopping Center will hold an opening reception for Art & Soul, a unique, juried art exhibit featuring 30 works by artists with mental retardation who reside in the Miami Valley. The reception will take place from 6:30 to 8:30 p.m., and is open to the public. The majority of the entries will be for sale, with 100 percent of the net profits going directly to the artists themselves.
The Inner I Gallery and Partners for Community Living are excited to be the coordinating entities for Art & Soul. Thanks to funding from the Ohio Developmental Disabilities Council, entries were able to be made free of charge, and artwork chosen for exhibit received free professional framing.
E-mail Jodi Hill, at the Inner I Gallery, at jodi-hill@ti-inc.org or call (937) 376-3996 for more information about the event.
---
Rhythm in Shoes is inviting experienced tap dancers between the ages of 10 and 17 to audition for "Shoe2", a new second company being instituted by Rhythm in Shoes Auditions will be held at 4 p.m., Monday, April 21, in the Rhythm in Shoes studio on the fourth floor of the Metropolitan Arts Center, 126 N. Main Street. Advance reservations are requested.
"Shoe2" will be comprised of a company of eight dancers aged 10 to 17. Young artists will receive training in tap and clogging, as well as body percussion, wooden shoe dancing, singing and traditional English sword dances. They will train two days a week, Mondays and Thursdays after school, with Rhythm in Shoes' professional dancers, at a cost of $90 per month.
The ultimate goal is to enable participants to develop the discipline to master technique, work as an ensemble and see with a critical eye. As a junior ensemble the group will appear with the professional company at the Victoria Theatre for the Young at Heart Series on Nov. 15 & 16, 2008.
For more information call Noreen Willhelm at 226-7463.