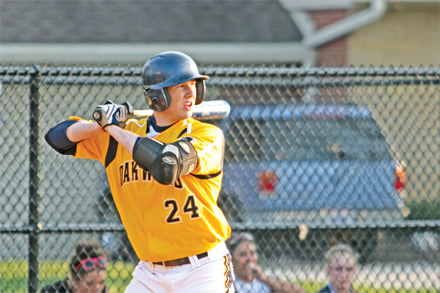 Senior shortstop Andrew Carpenter turned relief pitcher and saved both games against Bellbrook.
The Bellbrook Golden Eagles varsity baseball team came to Oakwood last Thursday with revenge on their mind. Smarting after a tight 5 to 3 loss April 17 at Bellbrook, the Eagles felt they were primed to take the measure of the Lumberjacks this time.
In that earlier game junior pitcher Tyler Philo turned in his best performance to date, shutting down the potent Eagle offense with a tricky mixture of breaking balls, fast balls and good location, scattering six hits and allowed only one run through the first six innings. Unfortunately Oakwood also had trouble with the Bellbrook hurler. Senior Andrew Carpenter had singled in Chris Hardy for an Oakwood run to begin the first inning, but both teams' batters struggled to get something going. Finally in the fifth inning Oakwood strung singles by juniors Justin Reeder and Jack McIntyre and Hardy for one run, and then Carpenter delivered two more with another hit as Oakwood took a more comfortable 5 to 1 lead. Philo remained strong, retiring the Eagles in the sixth, but finally seemed to wear down in the seventh, allowing two runs. Fifth year Coach Eric Oberding called on shortstop Carpenter to come in to close out the game in relief, and the wily senior employed a slight variation on his windup to induce Bellbrook's runner to break off first base, allowing Carpenter to pick him off to end the game without even delivering a pitch to the plate. Hitting stars in that first game also included first baseman McIntyre with two doubles, a single and a run scored as well as Reeder with two singles and a run scored.
In the return match at Oakwood, Bellbrook had the daunting task of facing senior Lumberjack pitcher Josh Parrish. Parrish had finished the season very strong on the mound for the Lumberjacks last year and has had a good season so far, already racking up three wins this year. It was apparent to all that the Lumberjack fans were quite excited about their prospects for a season sweep of their feathered rivals from Greene County. Parrish started very strong, retiring the first five Eagles, but in the second inning he got a 3-2 pitch a little out over the plate and the Bellbrook hitter popped a home run to stake the Eagles to a one to nothing lead. That didn't worry the Lumberjacks however as Parrish still seemed to have good velocity. Unfortunately in the top of the third the Bellbrook bats came to life as they batted around and plated four runs to put a palpable damper on the Lumberjacks' spirit.
Oakwood had not come this far to give up so easily though. Coach Oberding reminded his squad that the game was still early and all they needed were some base runners, and to battle every pitch to keep the pressure on the Eagle pitching staff. McIntyre, Hardy, junior Kyle Kissock and freshman Connor Charbat responded by battling every pitch and amazingly were able to draw four straight walks to open the bottom of the third. That brought up Carpenter with what certainly was one of the key matchups of the day. On a one and two pitch he singled sharply to the right side to plate another run and keep the inning alive. Clean-up hitter Parrish brought in a third run with a fielder's choice and junior Tony Lamb lined a single to center field to drive in two and knot the game at five. The Jacks weren't finished however as sophomore Scott Harman followed with a single for another RBI, and when the dust settled the Jacks had sent 10 men to the plate and tallied seven runs.
The long break seemed to help Parrish reformulate his game plan, and with some special encouragement from his older brother (and personal pitching coach) the Eagle batters were in trouble. Parrish retired 10 straight batters, and along the way chipped in a home run of his own in the fifth, and Charbat scored one more in the sixth inning for a 9-5 home advantage heading into the seventh, and last, inning. Parrish got an out, but when he gave up two doubles and a run Oberding brought in Carpenter to slam the door. The right hander struck out the next batter then induced a pop up to junior Andrew Morris at second base to finish off the Eagles for a final score of 9 to 6.
It has been a satisfying run for these baseball seniors. Carpenter and Hardy have started four straight seasons, and in their baseball career they are seven wins and one loss against Bellbrook, sweeping '05, '07 & '08 while splitting '06. Parrish and Ben Scott (currently hampered with a shoulder injury) made varsity late in their sophomore seasons, Sam Wright and Ben Wallace have been there since start of junior year, and Charlie Danis came on board this year. All have been vital cogs in this peculiarly satisfying string of success against the Eagles, and hope the younger Jacks can continue the string.
---
The USTA and the Virginia Hollinger Tennis Club is hosting a family-oriented Tennis Party/ Demo Day on Saturday May 10 at the Hollinger Tennis Club, 201 Shafor Blvd., Oakwood, from 9 a.m.-12 noon. The USTA TENNIS BLOCK PARTY/ DEMO DAY is a free tennis event open to the public. This activity for a healthy lifestyle will promote tennis, "The Sport of a Lifetime."
The USTA Block Party activities are designed to promote the game of tennis in a relaxed and enjoyable manner. Children and adults of all levels will have a chance to participate in games, drills, contests withing adult and junior interactive tennis zones. The day's events will also include: raffles, prizes, food and refreshments.
Players can also demo tennis rackets provided by the events' presenting sponsor Head Racket Sports. The USTA's newest junior development program QUICKSTART will be showcased as part of the junior interactive zone.
For information about this event call Hollinger Director of Tennis and event coordinator Chris Cubbage at 937-304-6892 or email Cubby@DaytonCenterCourts.com.
---
Saturday the Oakwood High School track team competed in the Kenny Beard Invitational held by the Milton Union High School. The Jills, finishing fifth of twelve teams, were led by Kelsey McDonald who finished first in the 200m dash and the 400m run. In the 4 x 800m relay, Lucy Shafer, Elizabeth Connelly, Rachel Conniff and Ericha Griep ran to third place. The sprint relay team of Bria Meade, Maddy Lehner, Haley Basnett and Karin Mueller also finished third in the 4 x 200m and fourth in the 4 x 100m. Bria Meade was eighth in the 100m dash. Julia Sizek and Elizabeth Connelly were second and third in the 3200m run. Sizek was third in the 800m run only three hundredths of a second ahead of Lucy Shafer who was fourth. Ericha Griep was fourth in the 1600m run.
Peter Hix and Gabe Svobodny crossed the line first in the 1600m and 3200m runs respectively and led the Jacks to sixth place out of thirteen teams. Scorers in the field events for the boys were Jake Mays, who threw the discus and shot put to fourth and seventh place distances respectively, and Chris Mullins and Zach Rodabaugh who were sixth and seventh in the long jump. In the track events, the 4 x 800m relay team of Keith Mueller, Liam Jackson, Chris Wolcott and Tory Tomlinson were fifth. Mueller was seventh in the 800m run. Ben Hogan, Kevin Sharkey, Chris Hawkins and Chris Mullins were eighth in the 4 x 200m sprint relay. Hogan followed with a fourth place run in the 400m run. Brad Achterman, Damian Rudy, Mullins and Rodabaugh were sixth in the 4 x 100m relay. Chris Wolcott was fifth in the 3200m run. The 4 x 400m relay team of Hogan, Sharkey, Mueller and Mullins ended the meet with a fifth place finish.
---
Congratulations to the Oakwood boys tennis who recently defeated Brookville to make them undefeated in the Southwestern Buckeye League with an overall 12-0 record at the start of the second half of the season.
The area coaches' poll for Division II has ranked Oakwood #1 in the area along with Division I #1 ranked team of Butler Vandalia, who Oakwood defeated 3-2 this season.
The SWBL tournament is next Friday with the sectional tournament to start on May 14th. Good luck!
Any girl CURRENTLY in grades 1st-5th that would like to attend the Oakwood Girls Soccer Camp, please be sure to register with Coach Gaydosh by May 30. The camp will be held June 9-13th from 10:00-12:00 down at Old River Fields.
Flyers were passed out to all elementary students. if you have any questions or need a new form, please email Coach Dawn Gaydosh at dawngaydosh@aol.com or feel free to call at 439-0753.
This camp promises to be a lot of fun! We hope to see you all this summer!
Oakwood Football Camp
Incoming 4th-8th graders
June 9th-12th 9:00-11:00am
High School Practice Field
Camp forms are available at both Smith & Harman & Junior High School. Contact Paul Stone @ 307-5818 or 1coach1@sbcglobal.net
DEADLINE IS MAY 28TH
Oakwood Basketball Camp
June 16th-19th
Incoming 4th, 5th, & 6th graders 9:00-11: 00am @ Smith School
Incoming 7th & 8th graders 11:30-1:30 \@ the Pit
Camp forms are available at both Smith & Harman & the Junior High School. Contact Paul Stone @ 307-5818 or 1coach1@sbcglobal.net
DEADLINE IS MAY 30TH
You can also go to www.oakwoodbasketball.tk and download either brochure.
June 16-19

Session 1- Grades 6-8 9 a.m.-11:00 at the PIT
Session 2- Grades 3-5 12-2 p.m. at Smith School
Cost is $60 per camper. Registration forms can be picked up in the High School Athletic Office, Smith School, or Harman School. They are also available on line at Aaron Oakes website: oakes.aaron@oakwood.k12.oh.us
The Oakwood Jills volleyball camp for girls entering grades 6-8 will be held June 16 - 19 from 6 – 8:30 p.m. at the Smith School gymnasium. Registration forms are being sent home through Smith and Harman Schools for girls entering grades 6-7. Girls entering eighth grade can pick up registration forms in the H.S. athletic office. Register before May 15 and receive a $15 discount plus a free t-shirt. Call Kelly Neff (293-4225) with any questions.