Oakwood resident and writer Lisa Cairney was one of four winners of the Erma Bombeck Writing Contest held recently. Her entry, entitled "Appreciating a depreciating state of things," is an "essay on the depreciating aspect of my physical self," and told with a real estate-oriented narrative. She captured the local entry/humor category for her efforts.
"Last year I wrote something that was not humorous," she said, but she did come up with an Honorable Mention in the human interest category.
Mrs. Cairney is a relative newcomer to Oakwood and has lived here for two years. "It's a wonderful gem of a town, we love it here," she said. Lisa and her husband, Lt. Col. John Cairney, are military transfers and Lt. Col. Cairney is to be stationed at Wright-Patterson AFB's AFIT for the next five years. Lt. Col. Cairney is currently based in Iraq and is training Iraqi pilots how to fly planes over there. He is expected to return home this month.
Following is the award-winning entry by Mrs. Cairney…
My body is currently experiencing some changes in real estate and the first to foreclose under threat of eviction has been my lap. I used to have a lovely, flat lap…a perfect spot for resting my hands, balancing a bowl of popcorn, holding a squirming child. I, of course, could barely see it for it lived just south of a beautiful chest which often obscured the view. Now it's a clear shot…straight from nose to padded chin to drooping chest to the place where I used to have a lap. It seems to have fallen victim to my body's suburban sprawl sometime around the birth of my third child.
From time to time in years previous to that, my lap would go AWOL. It would sublet the space to an expansive tummy that needed the space for a temporary tenant. But once the tenant vacated, my tummy would relinquish the lease and voila…there would be my lap. But since the last baby arrived, it appears my lap permanently changed its residence. It packed its bags, changed its address; it's not coming home.
I have done all I can reasonably do to persuade my lap to come back. Diet and exercise…. tummy sucking pants…supportive undergarments…but it is defiant. Wherever it has gone, it appears there is nothing I can do to entice it home…and worse, my depression over its absence has driven me to console myself with sweets which have given my tummy the resources to upgrade…expand onto lap's old lot to open up a new subdivision. I hear there's talk of a joint venture with the thighs to take over the entire south side.
I never even noticed how convenient it was to have a lap until it was gone. I suppose it's that way with most things. We appreciate them most in their absence. And now, I believe that waist and mind are soon to follow lap. They haven't given notice, but I recognize the warning signs. I think they are waiting to see if the market turns around before they decide whether or not to bail, but at least now I can appreciate the time we have left together. Before I know it, they too will be gone, and I don't want to look back with regret. Besides, I'm growing accustomed to this real estate shuffle. By the looks of my chin and chest, everything is moving south, abandoning their old neighborhood. What a blessing it is then that my husband only sees potential appreciated value in my fixer-upper of a heart.
Three Oakwood residents are among the honorees at the Chabad of Greater Dayton's Founders' Dinner. This gala event will be celebrated on Sunday, June 22 at the David H. Ponitz at Sinclair Center. The reception and dinner is scheduled for 6 p.m., with the awards presentation at 7:30 p.m.
Oakwood residents, Dr. Michael and Amy Bloom, will receive the Lovingkindness Award. Known for their kind personalities, they translate their inner feelings into active commitment to and support of community life in Dayton. Both sit on numerous local boards and committees, including Chabad of Greater Dayton.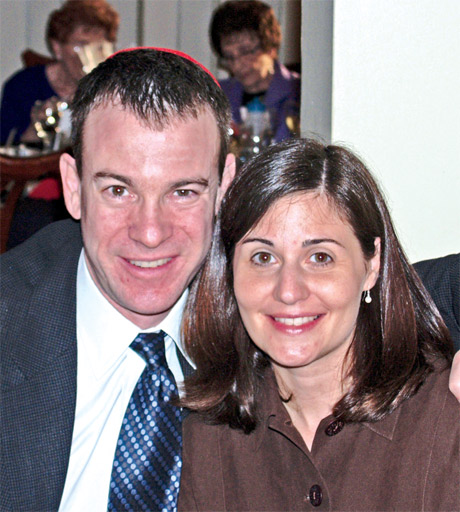 Dr. Michael and Amy Bloom
Oakwood resident, Mr. Larry Skolnick, Executive Director of the Jewish Federation of Greater Dayton, will receive the Community Service Award. He works with energy and insight to fashion a united community by welcoming its diversity and seeking to elicit each person's and organization's unique contribution. Specifically, he has brought a new vision to the Dayton Jewish community.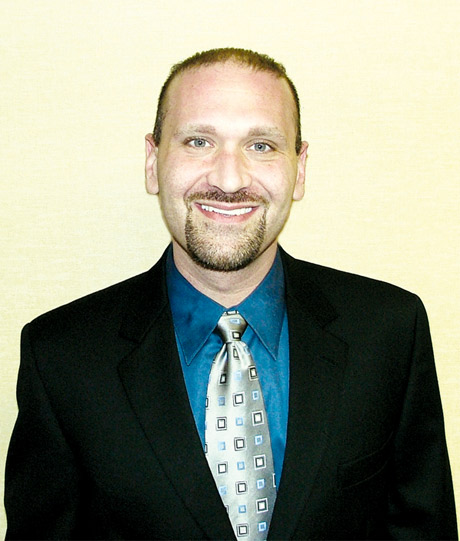 Larry Skolnick
Dr. Kim Goldenberg, past president of Wright State University, together with his wife Shelley, will receive the Crown of a Good Name Award. They are role models, widely admired for their many contributions to Greater Dayton community and beyond. They brilliantly reflect the best of ideals and values in their many positive engagements with the community.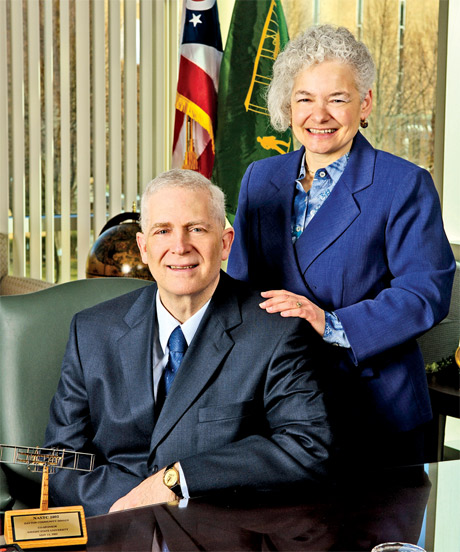 Dr. Kim and Shelley Goldenberg
In each of these dedicated people, there is something of what Chabad stands for and works for. The energy and commitment they show is that same driving force that has been behind Chabad's numerous contributions to life in Greater Dayton over the past fifteen years.
From summer and winter camps for children to the Jewish Learning Institute for adults and the German Association lectures that bring continuing education credits to professionals, from hands-on mitzva projects that tour synagogues and schools to prison counseling-in these ways and many, many more, Chabad's innovative programming is making a difference.
For more information and reservations, and for opportunities to place a tribute in the Dinner Tribute Journal, please log on to www.chabaddayton.com or contact Chabad of Greater Dayton at 643-0770, or by e-mail at chabad@chabaddayton.com
---
Donald and Anna Langhorne 300 Volusia Avenue
Mr. and Mrs. William Frapwell 400 Hathaway Road
Ms. Janet Cavender 4 Spirea Drive/1104 Far Hills Avenue
Jenny McKinnon 405 Corona Avenue
Ruth Etter 35 Hadley Avenue
Mr. and Mrs. Everett Jones 445 Forrer Blvd.
John and Beverly Jones-Arthur 329 Monteray Ave.
Mr. and Mrs. Andrew Wonders 106 E. Peach Orchard
Mr. and Mrs. William Jividen 223 Oak Knoll Drive
Mr. and Mrs. Drew W. Cronenwett 2403 Hillview Avenue
If you know of someone who has enhanced the beauty of our community by either planting shrubs, flowers, trees or with other landscaping improvements, or by making architectural or building improvements (including painting) to existing structures, and is deserving of recognition, we encourage you to take a minute and complete a nomination form (available at the Oakwood Community Center or city building) or simply call the city offices at 298-0411.
---
2572 ACORN DR. 112,000 – Robert M. Lally to John C. Moad
3111 ACKERMAN BLVD. $123,500 – Timothy M. Trimboli to Ann L. Breitenstein
2509 DOROTHY LANE $70,000 – Deborah Borradaile to Daniel J. & Mary M. Shea
2540 HAZELWOOD AVE. $124,970 – Jenna J. Wheeler to Kevin S & Wei M. Davis
2544 ACORN DR. $78,000 – Emily Ording to Charter One Bank
224 CUSHING AVE. $52,500 – Curtis A. Barr to Jennifer M. Duncan
1304 FLOWERDALE AVE. $88,000 – Rick L. Jackson to George E. Coe, Jr.
1525-29 SPRINGHILL AVE. $100,000 – Richard D. Lovely to Steve E. Wegh
1589 SPRINGHILL AVE. $107,000 – Nancy A. Robertson to
Tina L. & Julio Gonzalex
1548 CARDINGTON RD. $97,000 – Bruce H. Bentley Jr. to
Robin D & Karen E. Maddox
1413 SOUTHLYN DR. $119,900 – Vincent Capitl Group to
Rebecca Stachler & Sean Sharp
1440 MELROSE AVE. $90,000 – Daniel C. Granger to Christi M. Gibson
3319 SAGAMON AVE. $165,000 – Kenneth B. Pifer to Mills. & Brian M. Merrill
3408 OAKWMONT AVE. $134,000 – David A. Nortman to
Chase D. & Elizabeth L. Cameron
509 OAKVIEW DR. $124,000 – Lori J. Shirdon to Cory M. & Amanda K. Allen
4001 MEADOWCROFT RD. Debra J. Doughty to Michael M. Massie
1124 EUREKA DR. $95,000 – PHM Properties to David & AmandaTjalsma
2755 SOUTH BLVD. $32,000 – Anthony W. Norvell to Fannie Mae
2909 OAKLEY AVE. $46,000 – Mark I. Ashworth to Wells Fargo Bank
2805 ACORN DR. $104,000 – Ashley D. Clark to Nicole & Wayne Schroeder
2800 WEHRLY AVE. $85,000 – Miriam E. Blume to Kimberly A. Embry
2720 CALIFORNIA AVE. $69,000 – Citimortgage, Inc. to Jason A. Brumbaugh
2720 WEHRLY AVE. $62,000 – Barry G. Hundnall to Deutsche Bank Natl. Trust
3222 REGENT ST. $76,000 – Alicia M. Weimer to HSBC Bank
500 CUSHING AVE. $178,000 – Rickey R. Hartley to Kevin E. & Janice D. Talley
538 WILTSHIRE BLVD $90,000 – Hamdan Properties to Equitable Homes
557 WILTSHIRE BLVD. $100,000 – Hamdan Properties to Deutsche Bank Natl.
550 TELFORD AVE. $105,000 – Bank of New York Co. to Brad Boehmke
515 TELFORD AVE. $79,000 – jP Morgan Chase Bank to Brad Boehmki
617-23 MOSSOAK DR. $195,900 – Timothy D. Seitner to
Ralph W. & Janet C. Larssen
3875 KINGSWOOD DR. $53,500 – Bank of New York Trust to Patrick A. Clark
666 E. DOROTHY LANE $117,500 – Donald R Weisbrodt to Joshua P. Moniaci
2320 ACORD DR. $103,000 – Ina Mae Simmons to David J. & Stacey Claveria
3644 WATERBURY DR. $100,000 – Heather Graham to Brian K. Coons
1012 LINCOLN PARK BLVED. $137,900 – Kendall D. Cobb to
Deron M. & Nicole A. Hughes
1655 AERO AVE. $127,000 – Debra L. Roenker to
Jason A. & Adreienne T. Duplechian
3013 LARUE DR. $52,000 – Anthony W. Feltner to US Bank Natl.
3491 WESTBURY RD. $221,000 – Jeffrey S. Morrow to Alan R. Scherr
1113 BENFIELD DR. $119,000 – Bethany L. Garrett to Lori Melton
4416 WEHNER RD. $118,000 – Jeremy E. Gallagher to
Travis W. Back & Roger Wayne Back
4865 WALDEN LANE $120,000 – LaSalle Bank Natl. to
Calvin D. & Patricia A. Copta
995 PEPPER HILL DR. $173,000 – Richard A. Carson to
William D. & Angela T. Sanders
4733 HIGHGATE DR. $147,500 – Jacque & Sara Schneider to Warren A. Stamps
4709 RENWOOD DR. $165,900 – Gregory J. Hohl to Roy S. & Kelly M. Belcher
933 MALONE AVE. $106,066 – Virginai Schriml to Michael A. Schriml
3311 HIGHGROVE PL. $125,500 – Robert E. Spaulding to
Sean D. & Natalie K. Storms
2788 MOHICAN AVE. $117,000 – Suellen B. Louis to Ronald C. Brandenburg, Tr.
3009 MEADWOCREST LN. $160,000 – Robert H. Johnson to Jennifer Whatley
3432 SOUTHERN BLVD. $703,000 – Scott J. Hadaway to
Eric J. & Ann M. Lundgren, Trs.
766 BIG HILL RD. $227,000 – Linda M. Alexander to Rajesh R. & Dipti R. Mehta
2317 PONDVIEW DR. $150,000 – John R. Moore to Charles R. & Marybeth Fritsch
5089 JAMESWOOD CIR. $250,000 – Arthur A. Thorn to
Jeffrey S. & Ashley A. Downs
1956 E. WHIPP RD. $1,025,000 – Oakcreek Enterprpises to Kettering Aventist Healthcare
4997 WALTHER CIR. $445,000 – James P. Crotty, Tr. to
Lawrence & Shirley M. Zywien
435 TIMBERLEA TRL. $364,900 - Cheryl A. Spaulding, Tr. To Leslie O Parker
2230 PATTERSON BLVD. - $118,000 – Harold F. Doench to Barbara Ann Hardy
5417 LANDAU DR. $92,800 – David R. Byne to John J. & Mary Ann Hemmert
181 CROSSRIDGE DR. $250,000 – Timothy B. Scharrer to Martin Arbagi, Tr.
1489 CROSS CREEK CIR. $147,700 – Kenneth E. Stomps to Eleanor R. Kemp
3170 E. STROOP RD. $109,000 – Bradley A. Travis, Et Al to Robert M. Clontz, Jr.
147 LOOKOUT DR. $400,000 – Darcy N. Walther to Raymond C. Hemm
564 WOODVIEW DR. $220,000 – Peggy A. Longstreth to Aaron & Lesley Jones
167 E. THRUSTON BLVD. $265,500 – James T. Huelsman to Max B. Rubin
15 SHAFOR CIR. $127,900 – John R. Huntsberger to Stephen Large
410 IRVING AVE. $148,000 – James A. Buehler to
William M. & Barbara J. Grothouse
300 KRAMER RD. $339,900 – Price Brothers Company to Thomas L. Castle
36 Briar Hill Rd. $560,000 – Judy Wyatt, Tr. to Stephen L. & Patricia Duning
2525 FAR HILLS AVE. $193,000 – Park A. Studebaker, et al to
Park A. & Susan G. Studebaker
409 ORCHARD DR. $145,400 – Candance D. Tolliver to
Jonathan M. & Lindsey Fulton
358 E. PEACH ORCHARD AVE. $180,000 – Sean D. Delaney to Erica E. Heppner
322 ORCHARD DR. $149,000 – Barbara Ann Spraker to James E. Stefanoff
300 WONDERLY $100,000 – Lavonda E. Fittro to Ruth C. Deddens
355 CLARANNA AVE. $141,900 – Zelma L. Smith to Kevin C. & Dominque A. Teall
306 EAST DR. $200,000 – Robert E. Ferguson to John & Catherine M. Wilson
245 FORRER BLVD. $269,000 – Walter W. Taylor to Erica A. & Michelle M. Knorr
148 TELFORD AVE. $323,000 – Benjamin P. Guess to Jennifer A. Altenburg
306 TELFORD AVE. $242,000 – Greg S. Brumitt to Diane D. & Brent M. Beck
5 GREENMOUNT BLVD. $156,200 – Pearl Giambrone to James O. & Claire Good
There are a couple of areas right in the middle of Oakwood that need attention in this series. One is Elizabeth Gardens, which winds gracefully through the streets of Raleigh Rd., Woodstock Dr., Ashridge Rd. and Devereux Dr. It borders Elizabeth Gardens Park on the west and south, thus giving rise to its name. It was platted by Harrie P. Clegg of the Oakwood Street Railway in 1925. The 27.48 acres were assembled in three parcels: 10 acres purchased from H.E, Parrott sliced off of the 38 acres he had purchased from Henry Long on the south side: part of lot 90 and all of lot 91 of the original plat of Oakwood purchased from Harry I. Schenck: a large 16.7 ac. central parcel purchased from Oliver Gothlin.
It was intended to be exclusive, like the houses designed by prominent Oakwood architect Harry I. Schenck on the west side of Raleigh Rd., but the depression interfered with many plans and in 1928 it was replatted into smaller lots so that most of the building took place in the 1930's. Schenck's house at Harman and Ridgeway was excluded. It also excluded the 1.5 acre tract at Ashridge and Far Hills sold to Mary Long Wiley in 1898, and Elizabeth Gardens Park.
Being on the edge of the moraine, it had a lot of gravel, and was excavated for it early. It had originally been part of Daniel Cooper's patents and became the property of Daniel Garst. A large part of it behind lots 89 and 92 of the original Plat of Oakwood on the south side of Harman Ave. to the section line behind Ashridge Rd. and from Far Hills Ave. to Ridgeway Rd. went through several owners until it came to Oliver Gothlin in 1892. Earl D. Creager, who lived on Harman Ave. in a cottage similar to the one that is still there at 1177, recalled how his father managed a gravel pit in the area of Woodstock. He also recalled how garbage was dumped north of Ashridge.
In 1912, Gothlin leased a part of it to George Remple for farming purposes at $120 per year. Remple lived on W. Dixon Ave. on the southwest corner of the first alley. His heirs lived there until 1967.The plot plan sketched on the lease shows a creek and a spring at about the intersection of Ashridge and Devereaux and prohibits the tenant from plowing across the creek so as to fill it. It further shows a house and a barn with a shed and two chicken houses and runs. This is apparently behind 1.5 acres on Far Hills Ave. and includes the four properties on Far Hills (#1221-1311) which he had sold, leaving an access lane on the north border beside the present Oakwood Manor. Note that as late as 1912, after the formation of the Village, Oakwood still had farms. We saw this in the Houk tracts.
The other area of interest is the original Plat of Oakwood, established in 1872 by Issac Haas, William Dixon, Patterson Mitchell and Gabriel Harmon to which we referred in an earlier article. This is the core of the Village and the city, extending from the intersection of Far Hills Ave. and Oakwood Ave., up the hill along those two streets to the south side of Harman Ave. and Park Ave. Briefly, Haas had bought the 82 acre plot of ground and induced the others to become investors in his dream of creating a subdivision on the hill.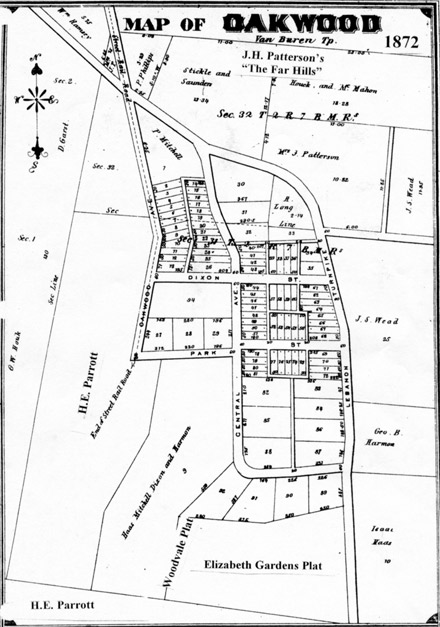 When the original owner who held the mortgage died, and his Administrator foreclosed, Gabriel Harmon came to the rescue and bought the unsold interests of Haas, while the other investors took lots for their investment. Harmon became the owner of most of Oakwood as it stood. Harmon died, leaving the unsold lots to his wife, who died in 1899 and left them to their children in severalty. Her Executor/Trustee sold some parcels, made a friendly partition and deeded the remaining lots to the children, from whom sales can be traced. Things went slowly at first because the concept of Oakwood hadn't caught on.
Lot 1 was sold by Mitchell's heirs to James Peters who built the house at 622 Oakwood as a "spec." house. When Oakwood didn't catch on, he sold it to Harrie P. Clegg who later acquired lots 2 & 3.
Lots 4, 5, 6 & 7 had been sold to various owners who sold to Elizabeth Dissinger, P.M. Harman's niece.
• Lots 8 & 9 were set off by the Trustee to William C. Harman and C.C. Harman
• Lots 10 & 11 were set off to Elizabeth Harman Porter who sold to Elizabeth Stoddard.
• Lots 12 & 13 had been sold by Haas to Dixon who sold to Elizabeth Stoddard.
You see how it's developing. The lots 18 thru 26 were acquired for the Harman Ave. School. Lot 30 at the corner of Harman Ave. & Harman Terrace was set off to Elizabeth Harman Porter and has had prominent owners such as Judge Carroll Sprigg, Frederick Patterson, Minnie Niebel and Charles Shook.
One shrewd investor bought the city building property from the Elizabeth Harman trust in 1919 for $3,750 and sold it to the Village in 1921 for $12,500. Mitchell's estate sold lots 52 – 56 to John R. Fletcher, who moved the house from W. Dixon Ave. to Park Ave. and in 1923 gave it to the School Board for a library, which served it well until 1939 when The Wright Library was erected. The commercial building he erected on Park Ave. still stands.
They alley shown on the original plat which extends from behind the city building to Harman Ave. was vacated in 1923. There was a water tower adjacent to Wright's Hawthorn Hill until Oakwood bought the company, went into the water business and built the tower on Ridgeway Rd.
But enough of this rambling around Oakwood. You've been introduced to the main players and the main parcels. There are about 75 recorded plats with history to them and numerous small plats of divided lots, but you must have feel for how we came to be what we are. From now on let's see what sidelights about people and events we can nose into.