Kim and Terry Adkins of 260 Volusia Ave are happy to announce the engagement of their daughter Tara Catherine House to Matthew John Cavo, son of Al and Susan Cavo.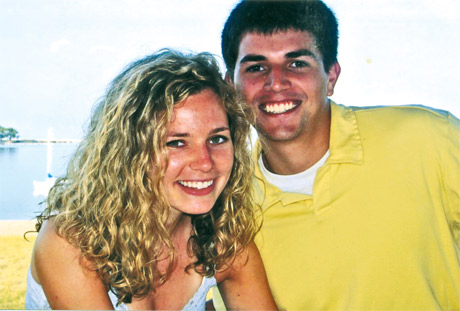 Tara House and Matthew Cavo
Matthew lives in Columbus and is currently a first year medical student at Ohio State School of Medicine. He graduated from New Hartford High School in New York in 2003. He and Tara graduated from the University of Notre Dame in 2007. Matthew graduated a Magna Cum Laude, majoring in chemistry and Tara graduated a Summa Cum Laude.
Tara was also an active member of Phi Beta Kappa Honor Society and majored in psychology and Spanish. Tara is currently employed by Dayton FC Industries.

The two will be wed July 11, 2008 at Basilica of the Sacred Heart at the University of Notre Dame.
---
By Dolores Wagner-Winkler

He lived in Oakwood for 30 years. He lived in Washington Township for three years. Recently he moved to a downtown Dayton condominium only to close it up for a while. On June 6, Ralph Bernstein left the city, his job and his friends to head for Ghana on the west coast of Africa. He is in his 80's and he has joined the Peace Corp. He may be setting a record; the average age of the Peace Corp volunteer is 26.
Ralph and his wife Arlene lived on West Peach Orchard in Oakwood for 30 years. After their five children finished high school and his retirement from the Mead Corporation, the Bernsteins moved to Washington Township. His wife passed away two years ago creating a void that urged introspection.
"I wanted to give something back to the world," he said. He wanted to do something meaningful in this world full of need. The Peace Corp became the answer. And so he applied, which was no easy process.
First, he had to undergo – and pass - physical evaluations by every category of medical specialist. Next was a requirement he found a bit bizarre, if not unnecessary; he was asked to provide his college transcript. Bernstein is a Yale graduate. He was an officer in the Navy. He taught at a Maryland prep school for the Naval Academy; after a long career with the Mead Corporation, he taught for ten years at Sinclair Community College. Currently he was a mechanical engineer for the Montgomery County Sanitary Engineering Dept. "I had my professional engineer's license and sent them a printed copy of my Yale diploma." All these facts didn't matter. They required the transcript. Accepted, Bernstein sold his house in Washington Township, moved to a condominium in downtown Dayton where leaving for over two years would be safe, economical and convenient.
Preparations for his African assignment included taking a battery of shots (he will have more shots to take when he gets to Ghana.), learning one or two of the 70 languages spoken there (he studied Udi from an African pastor of a north Dayton church), and, certainly, preparing his psyche for the physical conditions under which he will live, although he displays no apprehension at all, only quiet eagerness for the adventure to begin.

Plans called for Bernstein to leave Dayton for Philadelphia on June 6. From there the assigned group heads for Africa. For the first three months he will live with a Ghanan family to adjust and acclimate himself to the culture and language. His two-year assignment as a Peace Corp science and math teacher begins after that.
Life will have a bare-essentials kind of simplicity. His transportation to and from his school will be via bicycle, but that's s no problem for this amazing octogenarian since he has ridden marathon miles weekly. His clothing needs are simple. Need a shirt? No problem. Buy a bit of material and have one made by a local Ghana woman for $5. He will sleep under a net to prevent being bitten by malaria-carrying mosquitoes, but will take daily malaria pills, as well.
It is hard to imagine Ralph Bernstein, a quiet, serious-minded man of culture (he has an ardent interest in classical music, for one thing) volunteer for such an arduous assignment, but retirement is not in his blood…and giving his gift of learning and knowledge to those who need it so much is what presses him on.
Godspeed, Mr. Bernstein!
---
Former Dayton Daily News and Journal Herald writer Robert Daley was a longtime friend of Eddie Breen and has written this story to celebrate his 100th birthday on June 10. The following story is a salute to his friend on his centennial birthday. Daley lives in Washington Twp.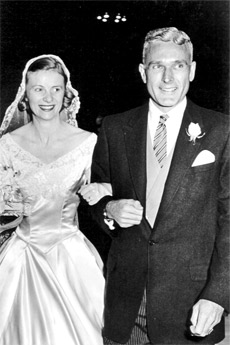 Connie Focke Breen and Edward Grimes Breen on their wedding day in November 1956.
By Robert Daley

Eddie Breen — World War II Hero, former Dayton Mayor, Congressman and County Commissioner — was one of Montgomery County's most prominent public figures. He died in 1991. Had he lived, he would have been 100 years old on June 10.
And he had an Oakwood connection…
Eddie's son, Edward Focke Breen, who teaches in the Dayton Public Schools, tells the story in his book, "Lucky Eddie: Former U.S. Congressman Edward G. Breen and Stories from a Family" to be published by The Local History Company in the fall.
Eddie's father, John Breen, was manager of the Phillips House, Dayton's finest hotel at the time, on the corner of Third and Main Streets in downtown Dayton, across from the county courthouse. Eddie's parents, his sister, MaryLouise, and his brother, John Jr., lived in a small apartment in the hotel.
Since the late 1890s, Eddie's mother, Katherine Beckman Breen, provided food, clothing and schoolbooks to Native Americans in Arizona.
Katherine Breen visited the Indians every year to make sure that all was going well. In 1924, Eddie's father, John, decided to accompany his wife on her yearly visit.
Tired of living in the small apartment at the hotel, the children — Eddie was 16 at the time — decided to buy their parents a house while they were gone. They found a lovely house in Oakwood, 101 Hadley, only one block from the trolley line that ran to downtown.
After choosing the house, the children went to see the family banker. He told them that he had known their father for years and was aware that, one day, he would like to own a home.
The banker agreed to lend them the money, saying he would work it out with their father when he returned. With the help of the Phillips House staff, the children moved all the furniture and personal items from the apartment to the house.
Later, when the three children met their parents at the train station, they told them they had a surprise, drove them to the new house and proudly took them inside. When Eddie's father saw the furniture, as Eddie tells the story, his jaw dropped about a mile."
Without saying a world, he went from room to room, opening doors, turning on sinks, and flushing toilets. The children couldn't tell whether he was happy or not and waited nervously for his reaction. Having completed the tour, Eddie's father said it was the best thing his children had ever done for their parents.
During Prohibition, it was illegal to serve alcoholic beverages but in order to keep some of the customers at the Phillips House happy, Katherine Breen learned how to make peach brandy and dandelion wine. The kitchen at the Hadley Road home was now reserved for making large batches of these prohibited beverages. Little did the neighbors know that the sweet and mild mannered Mrs. Breen was making bootleg alcohol.
The Breens were very happy in their Oakwood home and both Eddie and his older sister used it as a home base during World War II, Eddie as a Captain in the U.S. Army and Mary Louise as a journalist staqtioned at the American Embassy in Berlin.
Mary Louise sent home letters to her mother describing wartime conditions in Germany, which were reprinted in the Dayton Journal Herald. (The Breens have suspected that Mary Louise was actually working for the Office of Strategic Services, the precursor of the CIA.)
Both Eddie's father and mother died at the Hadley Road home. While a Member of Congress, Eddie used the Hadley house as his home address and it remained in the family until 1953.


Women's groups, popular in years gone by, seem to be fading in today's busy society with all the pressures of competing interests and time demands of raising children. But such organizations were instrumental in the growth of Oakwood and contributed greatly to our quality of life in many ways since the beginning of the city and before.
One of the earliest groups was The Oakwood Efficiency League. The name doesn't seem exciting now, but in 1912 when it was started it had grand purposes and a strong organization. A full page in The Oakwood Village Record in 1913 stated it was formed to increase the efficiency of the village – to enlarge "its power of producing intended or desired results." It undertook to be efficient in five areas, each under the chairmanship of an appointed board member. The areas were: Good housekeeping, Enjoyment of Art, Child Welfare, Recreation and Knowledge of Public Affairs. Notable among its founders were Mrs. Fowler Smith, Mrs. George Shaw Greene, Miss Frances Parrott and Miss Dorothy Patterson.
Their discussions resulted in some action such as establishment of playgrounds and parks, the oiling of streets to prevent dust, the establishment of a library, open air concerts, support of cooking, carpentry and endorsement of women for school board and village council positions. Since this was the time of the women's suffrage movement, one can see their shadow in the development of our community. Dues were 25 cents per year and fund raising was done by card parties to support a scholarship fund. One day a week was set aside for charity and later for efforts such as bandage folding for the war effort. They seemed to have moved on to greater things by 1920.
The League of Women Voters was part of a nation-wide movement encouraging women to be active in government and the political life of the country. Founded in 1920, the clubs became established across the country and Montgomery County had one with its Oakwood District Unit. Our clippings' file shows interest in issues such as support for the school levies. A surprising aspect of the 1963 discussion about a levy was the proposal to build a new middle school for sixth, seventh and eighth grades. Many of the meetings, held in homes, were on such subjects as "Know Our City" by Manager David Foell, hazardous wastes, and pros and cons of issue #2. One of the first booklets about our city and its schools and government was one produced by the LWV in 1980.
The Daniel Cooper Chapter of the Daughters of the American Revolution, formed in 1953, is an Oakwood offshoot of the Jonathan Dayton Chapter of the D.A.R. It is interesting to note that both chapters were formed in Oakwood with the older one dating from 1896. The Oakwood chapter has about 100 members and meets monthly to discuss patriotic and historical subjects. Originally it met in the evenings to accommodate working women but it no longer does, which is an unusual reversal of the trends in many organizations.
Women's Literary Club, one of Dayton's oldest (1880's) and most "establishment" clubs has had many Oakwood members through the years. Phyllis Heck remembers her grandmother referring to it as "the smartest women in Dayton" as a subtitle. Many well known ladies such as Marie Kumler, Jane Marlay, Alta Becker and Charlotte Reeve Conover were members. Other Oakwood members included Harriet King, Carrie Lorenz, Mary Legler, Harriet Colvin, Maria Bickam Bender and Ellen Jane Lorenz Porter. They met at The Dayton Women's Club.The papers were assigned in the spring and the ladies agonized over them until their turn for delivery came. In the early years they were memorized and then, several weeks later, critiqued and discussed publicly not only for content but also for grammar and delivery. Later, these high standards were relaxed a bit but preparing the paper for reading was always traumatic.
One of the most active and hard working women's organizations in the area is The Garden Club of Dayton which dates back to its formation in 1922 when Katherine Houk Talbott called a group of women together at Runnymede. They sought the advice of The Garden Club of Cincinnati and organized themselves "to stimulate the knowledge and love of gardening…and to aid in the protection of native trees, plants and birds…." They elected Mrs. Talbott as president, and Mrs. Deeds, Mrs. Fowler Smith, Mrs. Rike, and Mrs. Blackmore as officers. The energy and determination of Mrs. Talbott are legendary and by 1926 she had organized the club for application to membership in the Garden Club of America.
Their growth was rapid and included every prominent family in Dayton and Oakwood. It soon became a source of great pride and pleasure as the ladies strove to personalize their property for exhibits. As they spread the word and formed sub groups, gardening became popular throughout the area and Dayton became known for gardening among travelers and businessmen as they saw such sights as the N.C.R. factory grounds, bridges and parks when they visited here.
One of the early high points was the tour put on for Garden Clubs of America in 1928 when they held a national meeting in Cincinnati. The gardens were photographed and the slides colored, creating a wonderful show which was the subject of the Oakwood Historical Society's annual meeting in November 2007. In recent years they have worked toward the development of Aullwood and Cox Arboretum as well as environmental issues.
A sub group was formed for south Dayton and Oakwood in 1928 under the leadership of Mrs. Delmar Hughes. Known as The Four Seasons Garden Club it has been a source of pleasure to folks who don't have the estates typical of the originating club. They have had projects over the years such as River Corridor Park, identifying trees at Woodland Cemetery and improving the grounds at The Museum of Natural History. This group took charge of the Long-Romspert Homestead of the Oakwood Historical Society soon after it was acquired in 1985 and cleaned up the property, adding flowers and trees to give it the authenticity of a 1800's working farm.
Space doesn't permit tracing the growth of many women's groups which exist for political, social, card playing and even Mahjong, but they're out there. They all represent the varied interests and active life styles of our community. Maybe some other time.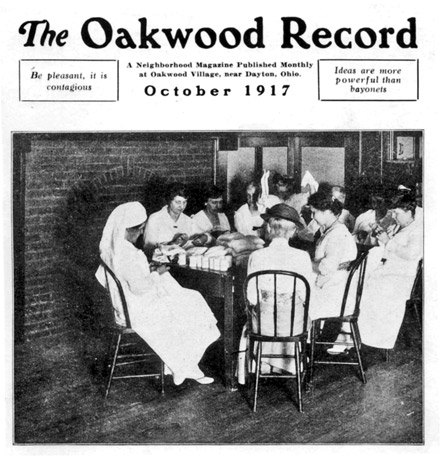 Oakwood Eficiency League wrapps bandages during WWII.
At its annual meeting, The Little Exchange Foundation Board President, Judy Gottman, of Oakwood, presented a check for $10,000 to Madonna Allread, resident of the board of the Children's Medical Center. This donation represents continuing support of the Family Resource Center at the hospital.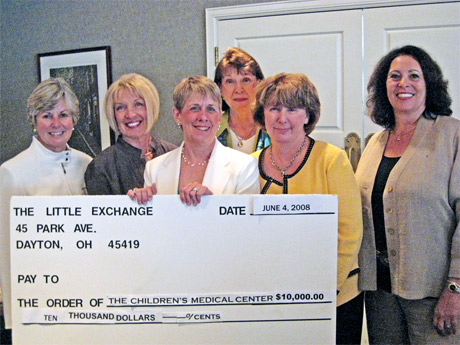 Oakwood residents, who volunteer at The Little Exchange, gather around to present a $10,000 check to The Children's Medical Center of Dayton. L to R: Nancy Kussman, Board Member Kathie Peoples, Little Exchange Board President Judy Gottman, Board Member Marlene Carlile, President of the Board of The Children's Medical Center of Dayton Madonna Allread, Board Member Pat Parrish.
"We are thrilled to again make a significant donation to Dayton Children's. Every time someone shops for a gift at The Little Exchange, they are in fact giving TWICE…once to their friend or family member and once again to Dayton Children's as all of our proceeds go to the hospital," Board President Judy Gottman said.
The Family Resource Center is located at the hospital and serves patients and their families who yearn to educate themselves about various topics such as symptoms, diagnoses, treatments, etc. The center offers Internet research as well as extensive printed material.
Since 1957, The Little Exchange Foundation has donated nearly $1,400,000 to Dayton Children's. The Foundation operates The Little Exchange, a fine gift shop located at 45 Park Avenue (just off Rte. 48 South/Far Hills Avenue) in Oakwood. Staffed primarily by volunteers.
---
Oakwood designers Debbie Basnett, Dana Hookassian and Jean Winham are in charge of interior décor for one of four new homes to be featured June 14 through 29 in the 2008 Homearama. The homes are in the Country Brook North community near Springboro, west of State Route 48 and north of State Route 73.
The women, who own Vintage Scout Interiors, are working with Fortress Homes on an 8,500-square-foot home. Winham said what makes the Homearama such a dynamic event is that attendees with home budgets of any size will be inspired. "People will also see how to artfully arrange rooms and art work and the latest in designer trends," she added. In addition, designers from Vintage Scout Interiors will be on hand to answer questions.
Tickets to Homearama, which is presented by the Home Builders Assn. of Dayton and the Miami Valley, are $10 for adults and free for children ages 12 and under with a paying adult. Tickets will be sold at the Homearama ticket booth. Homearama hours are noon to 10 p.m. on Saturdays, noon to 8 p.m. on Sundays, and 4 to 10 p.m. on weekdays.
For more information on Vintage Scout, call the studio at 937.312.9461.
---
ReMax Team Kooz is proud to announce the addition of its newest member, Ronnie Fondy. Ronnie has been a Dayton resident for 36 years and an Oakwood resident for the last eight when Ronnie and her husband, Michael, who grew up in Oakwood, chose to raise their growing family here.
So if you see Ronnie at the market, the dry cleaner, or playing in the park with her four children, don't hesitate to stop and say hi and get to know their newest Team Kooz member.
---
Harman third grade Brownies flew up to Juniors in a ceremony held at Smith Gardens last week. L to R: Lauren, Katie, Maggie, Carrie, Natalie, Michelle, Alicia, Emily, Sophie, Elizabeth.