Just over a week ago I read an article about an extraordinary teacher from the San Diego, CA area who delayed her own retirement for six years to honor the request of a cancer-stricken father who was one of her former students. Mary Brown had taught all subjects to sixth graders in her early years but then specialized in math at the middle school sixth grade in more recent years.
When her dying former student asked her to stay in teaching until his kindergarten son could have her as his sixth grade teacher, she promised that she would. So much was his admiration for Ms. Brown that he wanted his young son to have that same experience.
The father did die a year later and Brown continued to teach. The man's son is now finishing sixth grade and she is now retiring after MORE THAN FOUR DECADES OF TEACHING! Mary Brown, as do thousands and thousands of teachers, had a real heart for her work, her students, and her profession.
In this case she has received many honors for her teaching. She put real emphasis on helping girls find success in math. She found ways to incorporate nearly all of the academic disciplines as supporting elements in helping her eleven and twelve year olds increase their math abilities. She created a "take-off" on the big Alaskan dog-sled race she called, the IKIDAROD.
Her students used geography, English, math, science, PE and music as her students "pulled mushers in the sand" during this annual event. One man who was in her Class of 1968 described her as being "always the glue that kept her students together. She stressed the importance of loyalty….She is one of the most innovative teachers I have ever had in my life!"
Our Oakwood children have also had just such teachers over the 100 years of our community's history. Please take the time to let them know about your own appreciations. I thank Mary Brown of California for being the "spur" for this column.
---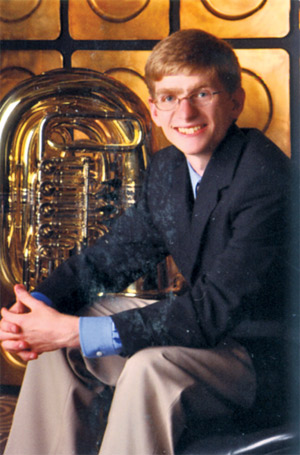 By Sarah Brewer

Patrick Murphy, 17, alumni OHS 2008, is pursuing higher education at Case Western University. Patrick has been an Oakwood Register newspaper carrier for five years. He went to school in Medina, Ohio, before going to Oakwood High School. Patrick has been very involved in the community of Oakwood.
Patrick has been in Boy Scouts since fifth grade, when he lived in Medina. He has continued in Boy Scouts and recently became an Eagle Candidate, Jr. Asst. Scoutmaster. The most unusual part was the bobcat badge, he said. "Your father holds you upside down while your mother puts it on you the right way," Patrick said.
The badge is given before it is earned, once earned it is turned the right way.
In OHS, Patrick has been in band for the past three years. All three years he received a Superior Rating in the OMEA Solo & Ensemble Contest playing Tuba. Patrick was also in the Ohio State University Honors band. In 2006 and 2007, he participated in Academic Decathlon Varsity Level and won various awards. In 2006, he was the highest overall scorer in Ohio. Also in school Patrick kept score for Oakwood volleyball when his sister played and was a member of the Varsity "O," a volunteer club that cleans out the concession stand at the beginning of the season. "The worst part is the popcorn machine," said Patrick.
Out of school, Patrick rows for the Dayton Boat Club Crew Team six days a week. Patrick said his friend Jackie Malone bribed him with a Snickers bar to row and he's enjoyed it ever since. "The funny thing is Milky Way is my favorite candy bar," said Patrick. This year Patrick was a Men's Lightweight Doubles Nation Qualifier. Last year he was a Silver Medal Winner in Men's Doubles at the Midwest Junior Championships.
Patrick also participates in the Oakwood Outdoors Club, of which he is the co-founder. "When my friends and I get together we like to go rock climbing at Urban Crag or go hiking," said Patrick.
When Patrick goes to Case he would like to study engineering. He has done computer consulting and repair as a hobby for the past two years and said he may go into electrical or mechanical engineering.
CLICK
FOR THE
WHO AND WHERE !!
Each year, the Oakwood Rotary hosts a high school exchange student for a full school year. The Rotary program differs from othe foreign exchange youth programs since we try to find three different host families over the course of a school year. That means that each family hosts for about 3 1/2 months.
In mid-August, our new exchange sstudent will arrive. His name is Daniel Leon and he is from Ecuador. Daniel is the president of his class, takes many challenging courses in school and is a great fan of music. He plays four musical instruments: piano, bass, drums and guitar. He is also a sports enthusiast. Daniel is 16 years old and will turn 17 in December 2008.
Hosting a foreign exchange student is a very rewarding experience and affords your family the opportunity to explore other cultures while developing life-long friendships. If you are interested in learning more information about hosting this student, please contact Debbie Hershey at 294-5854 or Terri Rubins at
297-0404.
---
A group of 18 high school students from all over Germany will arrive in Dayton this July to get a "jump start" on their English language and American culture before spending their exchange program in an American high school. Volunteer host families are needed for these German high school exchange students who will participate in an enrichment program this summer that will better enable them to live in the United States for an academic year. The students will arrive July 24 to stay through Aug. 22 with host families in Oakwood and the surrounding area as part of the Culture and Current Events Program, an aspect of the ASSE International Student Exchange Programs.
"They've all had at least six years of English, but they just need a little extra help so they'll have a better year," said coordinator Leah Hunt. Among the students arriving in July will be Julia Keller from Bremen, Germany. She likes soccer, reading and music. "I want to learn something about different cultures. I want to get to know a new school system and totally new way of life," Julia wrote in a high school exchange student application. Another exchange student, Nina Brose from Ostfildern, Germany, likes snowboarding, guitar and baking. "I'd like to find out more about the real American way of life in a family," Nina commented in her application.
Host families may select their exchange student based on a complete profile that includes a photo collage by the student and a personal essay describing his or her interests, hobbies and personality. All ASSE students bring their own spending money are fully insured. Host families provide a separate bed and daily meals to your host daughter or son. You and members of your family are invited to participate in the group activities, parties, weekly excursions and much more!
For more information on hosting a student, contact Leah at (937) 272-3104. For more information about ASSE International Student Exchange Programs is available at www.asse.com