By H.W. Sizek

On Friday and Saturday six Oakwood high School athletes participated in the Ohio High School State Track meet at Jesse Owens Stadium at The Ohio State University.
On Friday under hot, humid and windy conditions the Jills 4x800m relay team of Julia Sizek, Kelsey McDonald, Ericha Griep and Lucy Shafer ran to an seventh place finish. Later in the afternoon, Kelsey McDonald ran the 400m run in 58.81 seconds, fast enough to qualify for the finals on Saturday. The 4x400m relay team of Lucy Shafer, Ericha Griep, Hayley Basnett and Kelsey McDonald finished with the thirteenth fastest time in the semifinals and did not qualify for the finals on Saturday.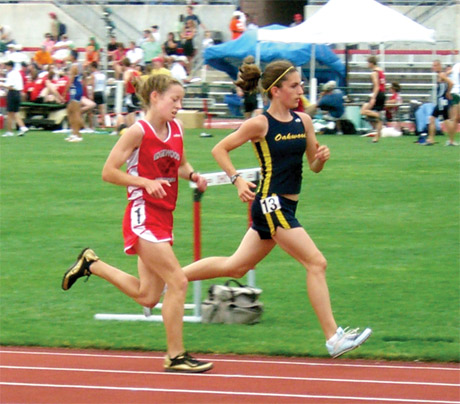 On the final day of the competition, Kelsey McDonald ran a strong home stretch to cross the line in seventh place with a personal best of 58.08 second. In the 800m run, Lucy Shafer ran to a ninth place finish with a 2:19.83. Julia Sizek ran a tactical 3200m race staying with the leaders for the first 1600m and then closing out the race with a strong final 400 meters to finish third edging out the fourth place finisher by four one-hundredths of a second. Sizek ran a personal best 11:14.11 setting an OHS girls record for the 3200m run.
The only qualifier for the Jacks, Peter Hix, ran a great race and was in the top three down the home stretch, but stumbled and fell. He finished fifteenth overall.
The Oakwood High School Track Team would like to thank their coaches, Mark Stiver, Paul Buford, David Dobson, Dean Harmony and Carla Greene for another great season.
---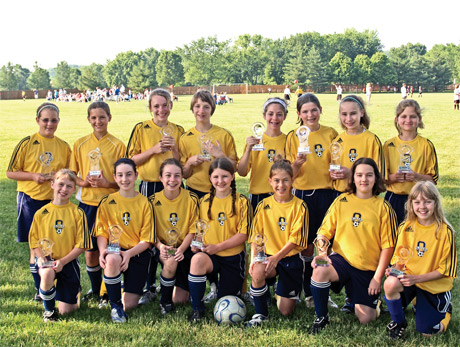 The Oakwood United U12 Gold soccer team finished second place in their division this spring. Here are the team members holding their trophies. Front row: Brooke Preston, Rachel Bloom, Emily Perry, Victoria Ordeman, Selina Williams, Kayla Marrero, Erin Kennedy. Back row: Rachel Neff, Jamie Lauterbach, Annie Stuckey, Sylvie Debrosse, Kayley Radcilffe, Megan Cleary, Kristen Ramey, Anna Shewell.
---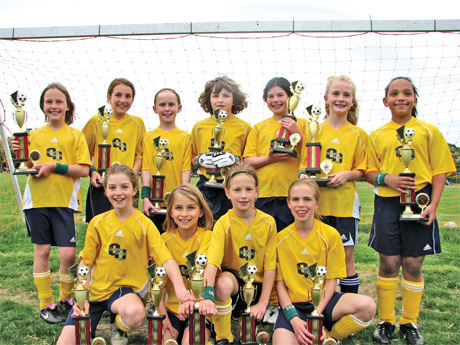 Pictured above is the Oakwood United U10 Navy girls soccer team with the trophies they earned at the Troy Strawberry Festival Soccer Tournament. They made it to the championship, but fell to a team from Fishers, IN, resulting in a second place finish. Not first place, but quite an accomplishment for these girls.
---
Oakwood United U10 boys soccer team won first place in Division 2 of the Miami Valley Soccer Association. The Mutts derived their name from the fact that they include kids from Miamisburg, West Carrolton, Centerville, Oakwood, and the kids range in age from 8 to 10.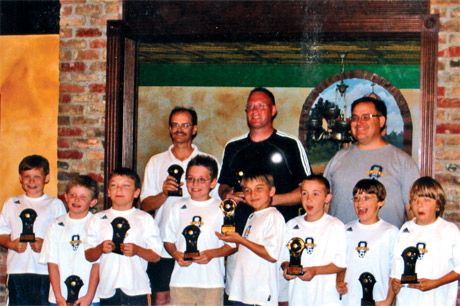 Pictured above left to right: Bryan Reichel, Christopher Anderson, Kyle Campbell, Adam Heyl, Jack Eifert, Justin Hull, Cory Reichel and Jordan Reichel. Coaches, left to right: Head Coach Steve Reichel and Assistant Coaches Steve Heyl and Chris Anderson.
---
Swim lesson registration is next Wednesday, June 11 at 7 p.m. at the OCC. You must be a Gardner Memorial Pool member in order to take lessons and memberships must be purchased PRIOR to the signups on Wednesday night. The staff of the pool will be available to pre-test your child to determine what level of swim lessons is best suited for the swimmer's needs. Testing will be done during adult swim or by arrangement with the manage ment staff of the pool.
Also, Oakwood Centennial banners and flags are now available for purchase at the OCC. Banners are $15 and flags are $20. Show your pride and purchase yours today. Supplies are limited.
---
All future eighth grade players and parents, who might be interested in football are invited to meet the eighth grade football coaches, Nick Berger and Kyle Pflug at the "Meet the Coaches" Night on Tuesday, June 17 at 7: 30 p.m. in the OHS Library.
Athletes will receive the summer schedule, team policies, and contact
information. It will be a short meeting with time for questions afterward. If you are unable to attend, but are interested in participating, please call Nick Berger at 937-552-7923.
---
June 16-19: Session 1- Grades 6-8, 9 a.m.-11: 00 @ the PIT; Session 2- Grades 3-5 12-2 p.m. @ Smith School. Cost: $60 per camper. Registration forms are in the High School Athletic Office, Smith School, or Harman School. Also available on line at Aaron Oakes website: oakes.aaron@oakwoodk12.oh.us
---
The Oakwood Jills volleyball camp for girls entering grades 6-8 will be held June 16 through June 19 from 6 p.m. – 8:30 p.m. at the Smith School gymnasium.
Registration forms are being sent home through Smith and Harman Schools for girls entering grades 6-7. Girls entering eighth grade can pick up registration forms in the H.S. athletic office. Register before May 15 and receive a $15 discount plus a free t-shirt. Call Kelly Neff (293-4225) with any questions.
Most Improved
Scott Harman

Coach Award
Josh Parrish

Sportsmanship
Sam Wright

Most Valuable
Riley Hignite
Ellie Rodebeck

Most Improved
Kailey Nolan

Coach Award
Liz Stoecklein

Sportsmanship
Hayley Biteman

Most Valuable
Ben Williamson

Most Improved
Isaac Hong

Coach Award
Trevor Schumacher

Sportsmanship
David Wang

Most Valuable
Peter Hix
Jake Mays

Most Improved
Kevin Sharkey

Coach Award
Matt Money

Sportsmanship
Damian Rudy

Most Valuable
Julie Sizek
Kelsey McDonald

Most Improved
Lucy Shafer

Coach Award
Ericha Griep

Sportsmanship
Hayley Basnett