Ah! The French. If you thought that these interesting and challenging people had influence only in fried potatoes and eggy toast, look to grand opera for their most definitive mark.
During the greatest era in opera history, the 19th century, Paris Opera was the l'enfant terrible of the opera world. To quote Impresario Evans Mirageas of Cincinnati Opera, "If you could make it there, you could make it anywhere."
There are many examples of how Paris Opera forced Italian and German composers to alter their operas to fit Parisian tastes. My favorite case in point is Wagner's Tannhäuser. To appear in Paris, there had to be a ballet. It was preferred at the beginning of the opera so the audience might linger over the haute cuisine of the day and arrive a bit late.
To satisfy to these demands, Wagner chopped his overture in half and added a voluptuous ballet set in Venusberg, the mountain of the love goddess. Actually, I prefer this Paris version to the Dresden version which opens after the long overture to a procession of very pious pilgrims. I prefer scantily clad nymphs!
Similarly, Paris caused Verdi to add a French version of Sicilian Vespers. The great opera Don Carlo began life as a five-hour French opera complete with ballet. The merciful cuts made for Italy are what we love today.
Gaetano Donzetti yielded to the pressure. His opera, Lucia di Lammermoor was completely rewritten in French. Rarely performed, the French version has some interesting changes in the plot, characters and libretto. Thanks to the spirit of inventiveness of Cincinnati Opera, this version, Lucie de Lammermoor, is the second production of this summer's opera festival.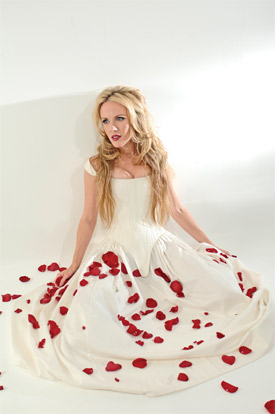 An additional catalyst for the selection of Lucie over Lucia was coloratura soprano Sarah Coburn who had sung the work with Glimmerglass Opera Company. Sarah is a radiant beauty in every aspect. She entered my operatic radar screen in 2006. In successive weeks, she played the pants role Oscar in A Masked Ball and then the mechanical doll Olympia in Tales of Hoffmann.
In both operas, her bright soprano and effervescent stage presence were enthusiastically received. She sings with clarity and great musicality in all of her ranges. High notes, the pride of the soprano, flow easily from her in spite of singing from many interesting stances.
As the tragic Lucie, innocence and loveliness were beautifully expressed by Sarah in both acting and singing. She was the shaft of light which shone through the hate-
filled families grinding themselves relentlessly into the inevitable tragic conclusion.
The opera, based on the Sir Walter Scott novel, is a Northern Romeo and Juliet. Two houses are filled with hate for each other. The inevitable complication of love unites one from each of the embattled families. Even more inevitable is the force of destiny, of tragedy.
This opera, all operas, demand a true ensemble. Evans Mirageas' productions highlight the strength of a compatible and enthusiastic cast. Evans and his staff have selected singers who are vocally excellent, and possess the acting ability to make their characters vibrate with life.
The opera was played on an interesting abstract set with dramatic lighting effects. To make the production authentic, Mirageas and staff selected Francophones, French speaking principles, to raise the level of the language. The conductor, Jean-Marie Zeitouni, gave the proper French feeling to the music. The stage direction by Mark Streshinsky, while not Gallic, emphasized the ambiance artfully.
Two remarkable dancers highlighted each act's overtures and some of the scenes. Dressed as a stag and a doe, they served as personification of the tragic characters. In they end, they die as inevitably as do the lovers.
Mark Panuccio as Lucie's, Edgard was a compelling tragic lover. We'll remembered as Chairman Mao in Nixon in China, Mark is fast becoming Cincinnati's favorite tenor. Since his Cincinnati debut in 2003, he has shed 150 pounds and looks the part of a matinee idol.
His vocal timbre matched the loveliness of Sarah's Lucie in passion and depth of character. Never outmatched, was the very personification of Lucie's suitor.
A pair of Francophones joined the cast from Quebec. Baritone Gaétan Laperrière sang the important role of Lucie's brother, Henri, with real conviction. Bass Alain Colombe, last week's Bonze in "Butterfly," was the chaplain. He served as chorus to the tragic revelation of Lucie's madness and the murder of her groom Arthur on their wedding night.
A delightful addition to the French version was tenor Jeremy Cady as Gilbert, Lord Henri's bloodthirsty and money loving retainer. He had all of the opera's humor as he longed for the opportunity to line his purse by assassinating Edgard or any other paying victim.
Another victim was hapless Arthur, Lucie's designated groom. Sung with good presence but some hesitation by tenor John McVeigh, he never got to enjoy his beautiful bride.
The opera was full of the great music of Donizetti. After the first lines, the French language seemed so flowing and appropriate. Some of the familiar Italian words popped into my memory but never intruded into the musical magic of the evening.
Most of the scenes were completely familiar. Certain opportunities for the composer and librettist came alive in this "do over." In Italy, it takes a forged letter to convince Lucia that her lover is unfaithful. Cleverly, in France, Lucie is undone by a fake replica of the ring given to Edgard as a pledge. Clever and wily those French.
I know that Evans Mirageas will have many triumphs in his tenure with Cincinnati Opera. This may be his crowning achievement. I even found myself shouting bravo! with a definite nasal twang.