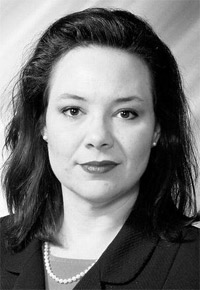 Attorney Christine M. Haaker, a partner in the Dayton firm of Thompson Hine, LLP, will take office as the Dayton Bar Association's 94th President on July 1, 2008. Recently honored as one of the Dayton Business Journal's "Forty Under 40" finalists, Ms. Haaker will be the youngest individual to serve as President of the DBA. Her term runs from July 1, 2008 through June 30, 2009.
Ms. Haaker was sworn in at the DBA's annual meeting on June 6, 2008 along with fellow Board members:
Thomas P. Whelley, II, First Vice President (Dinsmore & Shohl, LLP)

Hon. Mary E. Donovan, Second Vice President (Second District Court of Appeals)

Debra B. Armanini, Secretary (Montgomery County Prosecutor's Office)

Mag. C. Ralph Wilcoxson, II, Treasurer (Montgomery County Juvenile Court)

Chad E. Burton, Member-at-Large (Thompson Hine, LLP)

D. Jeffrey Ireland, Member-at-Large ( Faruki Ireland & Cox, PLL)

Mark A. Tuss, Member-at-Large ( Popp & Tuss)

Brian D. Weaver, Member-at-Large (Montgomery County Public Defender's Office)

Michael W. Krumholtz, Immediate Past President (Bieser Greer & Landis, LLP
---
By Hillary Beyer

The Survivor Stories are a way to connect the people of Oakwood with the Relay For Life, the all-night community event in its second year in Oakwood. At the Relay For Life, teams of family, friends, co-workers, and neighbors take turns walking around the track at Mack Hummon Stadium to symbolize the fight against cancer. At dusk we start the Luminaria Ceremony, where luminarias with the names of survivors we want to honor and those that we've lost to cancer surround the track. We light the candles and then read off every name, as loved ones go to the track to reflect and remember.
Two beacons of light are Addison Earley and Sarah Fiorita. Addison was five when he was diagnosed with leukemia. He was positive through the treatment and has been in remission for a year. He will enter the fourth grade at Smith Elementary.
Cancer can be as hard on the patient's family as it is on the patient. When Addison was diagnosed, Karen Earley's whole life changed. She was at the hospital many days from 8 a.m. to 5 p.m. At home she managed his schedule, including his education, and administrating medication. She lived in fear everyday and watched her son suffer.
Sarah Fiorita was four when she was diagnosed with leukemia. She was a lovely girl who enjoyed playing and ballet.
Kathryn Fiorita gave up working for two years to be with Sarah. She was at the hospital almost all of the time. Kathryn was there for Sarah when she had two bone marrow transplants, staying in Cincinnati for 150 days each time. Kathryn felt like all her deepest fears had come out and were right in front of her.
Michael is Sarah's brother - he donated his bone marrow to her twice when he was only ten. Sarah went into remission three times but unfortunately she lost her battle in November 2007, when she was 6. Kathryn and Michael think of Sarah everyday.
Karen, Addison, Kathryn, and Michael will attend the Relay For Life again this year. Karen and Kathryn say it's their chance to give back and do something positive for the fight against cancer.
So let's celebrate survivors like Addison, remember loved ones like Sarah, and fight back with their families by joining us for the Relay For Life July 11-12. To light the track you can buy luminarias in memory of a cancer victim or in honor of a survivor. They are $10. Go to www.Oakwoodrelay.com or contact Ted O'Connor at 299-5977.
---
The Rotary Fireside Chat meeting for current new members of Oakwood Rotary. The purpose is to acquaint them with the workings of Rotary here and internationally. Host was Doty Pultz, at her home on Far Hills Avenue.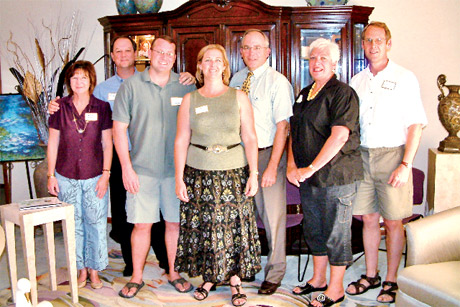 New members from left to right are: Leslie Dixon, Rick DaPrato, Doug Acker, Lara Mercer, Felix McGinnis, Barbara Fletcher, and Rotary President, Norbert Klopsch.
---
The U.S. Local Business Association (USLBA) has selected Dayton Landscaping for the 2008 Best of Dayton Award in the Landscaping category.
The USLBA "Best of Local Business" Award Program recognizes outstanding local businesses throughout the country. Each year, the USLBA identifies companies that they believe have achieved exceptional marketing success in their local community and business category. These are local companies that enhance the positive image of small business though service to their customers.
Since it has been founded in 2001, Dayton Landscaping of Oakwood has offered a unique combination of phenomenal results, unparalleled service and low prices, providing time and time again to be the best value available in lawn care.
Dayton Landscaping is a lawn tree and shrub health care, snow removal, design and landscaping company. Working with nature, it uses environmentally friendly methods to unlock a landscape's natural vigor and vitality.
Pat and Spiro Karabalis are the owners of Dayton Landscaping. Pat lives in the same house she grew up in, in Oakwood. She is a member of the Oakwood High School Class of 1972.
A visit to the website, www.daytonlandscaping.net, will provide more information about the company and it's services.

There were two buildings in Oakwood that no longer exist and which always bring comments when I talk about them in various presentations about Oakwood history. The one no one remembers because it has been gone so long, and the other brings back memories and wistful regrets that it's no longer here. I write of The Old Barn Club and Runnymede Playhouse.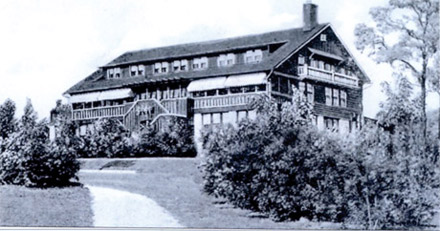 The Old Barn Club
The Old Barn Club stood at the intersection of Patterson Boulevard and Oak Knoll. It was a manifestation of John H. Patterson's philosophy of making the privileges of belonging to a club with many amenities available to the working people of his factory and the community. He had it built in 1907 on 16 acres he leased to the company for the purpose of an officers' club and agents' school. He recently had bought the Coleman and O'Neil farms in the Dorothy Lane area. It was designed by his favorite architect, Louis Lott, in the Swiss chalet style of his home, The Far Hills, with brown stained clapboard siding, wide eaves and porches on several sides.
Local retired accountant and former teacher at Oakwood High School , Bob Pool, has reason to remember it because his grandmother was the manager and cook. He recalls that it was entered by a series of steps to a large sitting room two stories high, around which ran a balcony serving several bedrooms. The sitting room was lit by skylights, and furnished with wicker rockers and high back chairs. There was an alcove with a large fireplace and a player piano. After about five years, membership was opened to the public and a nominal fee for club membership entitled one to golf, tennis, club dances or overnight lodging.
The public was invited to use the reading room, playground, wading pool, sandbox, nursery, volleyball and open fireplaces. There was a natural amphitheater for Sunday afternoon concerts by local artists and a wooden dance pavilion with lights. Sunday meals were open to all and were quite popular. They were cooked by Mrs. Pool using a Model T Huckster Wagon to shop at the downtown street market. Naturally, John H. provided a stable with a water trough for horsemen of the area. The club was open from May to October and was truly a wonderful place to relax.
It became a part of the overall scheme for Hills & Dales Park which Patterson gave to the City of Dayton in 1919 and was referred to in sales brochures for early Oakwood developments as another reason to move to Oakwood. Patterson left it in trust in his Will to his son and daughter "to be used for the sole use and benefit of the Hills & Dales Club or a club with similar objectives." When it no longer served its purpose they could sell it. It burned down in the 20's. A lonely fireplace can still be seen if you look to the south on the entrance road from Oak Knoll which is blocked off.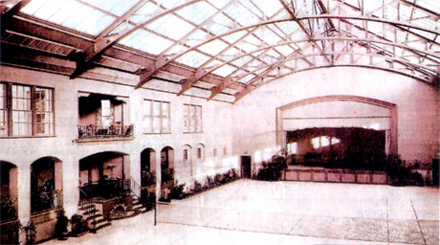 Interior of Runnymede Playhouse
Runnymede Playhouse lives in the memories of many long time Oakwood residents. It earned its reputation as a social/recreation center as well as the site of important research in the development of the atomic bomb. We have written about George Houk and his acquisition of 160 acres of west Oakwood starting in 1856. He started small but, as his wealth grew at the same time his family grew, he added to his house and grounds until it became a focal point of the community. When he went to Congress in 1892, it was given to his daughter, Katharine, and her husband, the very successful civil engineer, Harry E. Talbott. Talbott was the first mayor of the village and Katharine, championing many causes for many years, was a leading citizen.
In 1927, she built the structure at the corner of Runnymede Road and West Dixon Avenue, which will never be equaled and is hard to describe. Centered around an indoor tennis court under a corrugated glass roof, it also featured a stage with a curtain, dressing rooms with Italian marble, two tiers of balconies, a kitchen, a squash court, a greenhouse and a spacious lounge with a large stone fireplace. Entrance was from a cobblestone court yard with large stone gateposts. Outbuildings for maintenance with a carpentry shop and garden support completed the complex. It was directly behind the principal house which is now Katharine Terrace. Mrs. Talbott died in 1935 and her house burned in 1943.
Runnymede Playhouse was for everyone's use, not just the family, and sizeable Christmas dinners and reunions were held there. Mrs. Talbott hosted weekend tennis and squash parties featuring a buffet. It was offered for charity benefits, recitals, dramatic performances and card parties with up to 300 tables. There are pictures of Virginia Hollinger playing an exhibition match with Bill Tilden there. Most memorable to many of us were the Christmas Carol programs presented by Harman School in the 30's and 40's. All the school children, wearing colorful troubadour costumes, paraded in from the squash court.
The playhouse was requisitioned by the Emergency Powers Act in 1944 after it was suggested as a secure site for the development of a component of the atomic bomb by Dr. Charles Allen Thomas. Thomas was a son-in-law of the Talbott's and a Vice President of Monsanto. The challenge was to develop polonium 210 and a triggering mechanism. The project took place at four sites in the area with Runnymede being the key to development of useful polonium.
The Dayton-designed triggering mechanism was for the "Fat Man" A-bomb which was dropped on Nagasaki. After the war, the Dayton units were merged into what we know as The Mound facility. There was a lot of controversy over getting the playhouse vacated, but it was ultimately done in 1949 and 1950. After paying the Talbotts $138,000 for the building and leveling the playhouse to seven feet below the surface it was hauled to Oak Ridge, Tennessee, in trucks. After treatment by the government, the land was given back to the Talbott estate, who offered it to the city for a park with the restriction that it not be used as a playground for children. After due consideration of the upkeep burden, the city refused, and it was ultimately developed into Katharine Terrace and a lot on Runnymede Rd.
There have been periodic fusses over the possibility of contamination at the site, but the government has dutifully examined it in 1983, 1998 and 2005 and each time come up with the conclusion that there is no contamination worth concern. Polonium has a half life of 138 days which means that every 138 day period it reduces its radioactivity by one half. A half life measures how long it takes half of the atoms in radioactive material to dissipate.
The Oakwood Beautification Award Program is designed to recognize residential, business and rental property owners who have enhanced the beauty of our community through the use of flowers, shrubs, trees, and other landscape improvements; or by making architectural modifications or building improvements to exiting structures. Awards are given during the months of May, June, July, August and September. Monthly award winners will be selected by members of the Oakwood Environmental Committee and Property Maintenance Board, and will have a sign placed in their yard to recognize their beautification efforts.
If you would like to nominate a residential, business or rental property for consideration, simply pick up a nomination form at either the Oakwood City Building or Community Center, call the city offices at 298-0411, or email rich@oakwood.oh.us.
If you know of someone who has enhanced the beauty of our community by either planting shrubs, flowers, trees or with other landscaping improvements, or by making architectural or building improvements (including painting) to existing structures, and is deserving of recognition, we encourage you to take a minute and complete a nomination form (forms are available at the O.C.C. and city building) or simply call the city offices at 298-0411.
Mr. & Mrs. Brad Bachman 211 Northview Road

James & Jennifer Back 144 Patterson Road

Mr. & Mrs. Aaron S. Delidow 227 E. Dixon Avenue

Mr. & Mrs. Tom Williams 133 Lonsdale Avenue

Mr. & Mrs. Charles McElligott 236 Telford Avenue

Mr. & Mrs. Daniel Nolan 114 E. Hadley Avenue

Ms. Lauren Beach 216 E. Hadley Avenue

Dr. & Mrs. Christopher Wille 820 Oakwood Avenue

Michael Sanders 447 Wonderly Avenue
By Sarah Brewer

The Garden Club of Dayton has presented Historic Gardens from 1928 to several other garden clubs, historical societies and the Oakwood Rotary Club. The presentation contained glass slides that had been hand painted.
The glass slides had been used by the Garden Club of Dayton to present their gardens in a tour for the Garden Club of America at their annual meeting in Cincinnati in 1928. A few of the buildings as well as many of the gardens are now gone.
"Rubicon" was torn down to build apartments. "Woodvale," on Ridgeway Road, has only a corner of the pool that was once there and still has a garden path. Some of these houses and gardens had visitors. People came to hang out in these beautiful gardens.
Many families in the area hired famous garden designers from out of town. Sam Zerhung designed many Oakwood gardens. Ellen Bittleshipman is well known for designing the Mead family garden and one of few female garden designers. A few of the gardens are still in existence. The Olmsted brothers, sons of Frederick Law Olmsted, famous for designing Central Park and the grounds of the White House, designed around 350 gardens in the Dayton area including the estate at 1150 Oakwood Avenue that is the residence of Mark and Cindy Garner. The home is situated upon what was once the property of Mr. and Mrs. S.S. King, "Shadowbrook."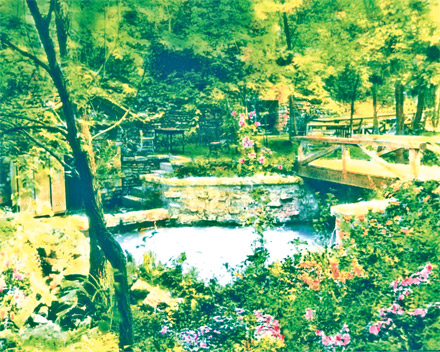 Hand painted glass slide of garden in 1926.
"They would walk down to eat together," Cindy said. The King estate was given the name "Shadowbrook." and the garden that was designed by the Olmsteds slowly got lost in the encroaching foliage over the decades.
Cindy Garner has been uncovering and discovering the remains of one of these gardens. She has been at work with this garden since it's exposure.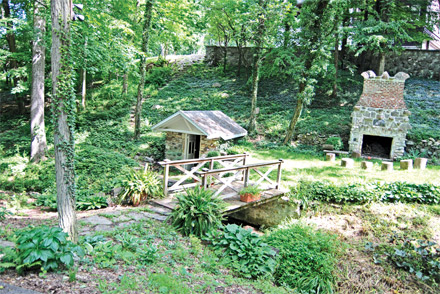 Photo by Rebekeh Brewer
Cindy Garner's garden and springhouse as it looks today.
Cindy lives next to a springhouse. She discovered a pond, originally completely overgrown. She has also found a rock garden, some paths, and uncovered a rock wall. "This has all been a long process," said Cindy.
Her house was built in the craftsman period and the landscape is supposed to be natural, landscape. But these gardens were still tamed.
In the middle of the three houses was a springhouse, which the spring water kept cool. "It was always the same temperature and if they needed anything, milk, eggs, butter, they would walk down to get it," said Cindy. A little more work than the modern fridge.
Cindy's children, Lily and Graham, ages seven and eleven respectively, love the garden and the adventure, she says. Rediscovering this historic garden has been a great adventure for the whole family.
Oakwood has always had a minor case of identity crisis, even before it became fashionable to talk about it. In the minutes of March 5, 1909 the city council had registered no objection to using Oakwood Hills for postal addresses. There was a problem, however; Ohio has three towns named Oakwood, and this doesn't include the Oakwood Village trailer park on I-75 south of Franklin. As a result, as early as 1912 the Dayton postmaster was sending messages to residents through the newspaper, the Oakwood Record, requesting they use Rural Route #12, Dayton, Oh., for their address.
It was in 1913 that a resident asked the village council to consider establishing a system of street numbering in order to identify houses. The population was growing and the use of the RR designation was thought to be uncertain. The council duly appointed one of its employees to look into the matter and after his report in 1914 a numbering system was adopted for platted streets. The numbers generally started at the north border at Irving/Springhouse, increasing block by block in a southerly direction. Unplatted areas continued the use of RR designations until platted and houses were built - all without computers!
Along with numbering houses, a custom of naming residences had come into vogue. Many of the exclusive homes of Oakwood (early families adopted identifiers as a sort of code, which they used in their correspondence, in references in news article, invitations and private letterhead. In directories well into the 1920's, it was common to see references such as "John H. Patterson, The Far Hills". (That 's how his personal stationery read.)
Other homes that were named included the Talbott house (Runnymede); H. E. Parrott house on Oakwood Avenue (Briar Hill); Giddings house on Maysfield (Nasby and renamed by the subsequent owner to Maysfield); Robert Patterson's at 1115 Oakwood Ave. (Woody Knoll); Ann Barney Gorman's home at 1220 Oakwood Ave. (White Oak); the Harrie P. Clegg house at 1204 Oakwood Ave. (Brookhelm); R. H. Grant at 1221 Oakwood Ave. (Brook Ridge); R. H. Dicks at 505 Oakwood Ave. (Roan Lodge); Morris Woodhull at 510 Maysfield (Elmcrest); Karl Mahrt, the stone castle at 505 E. Schantz (Ravenswood); T. P. Gaddis on Runnymede (The Churchill); George Mead's first house at Far Hills and Oakwood Avenue (Cherry Angle); George Mead estate at 1000 Oakwood Ave. (The Little Woods); Mr. Fowler Smith on Southview (Gray Gables); Dr. Everhard at the corner of Schantz and Rubicon (The Calvert); Mrs. C.H. Feltz at 847 Oakwood Ave. (Harman Place); Arthur Nevious at Rubicon and Haver (Westhame); George Shaw Greene on Runnymede (Red Bud); and the best known, the Orville Wright house on Harman Avenue (Hawthorn Hill).
Some of these homes still bear their historic identifications proudly on stone posts, resolving permanently any would-be identity crisis. The danger in using Oakwood as a mailing address is the fact that it can go to Paulding County near Toledo, or Cuyahoga County near Cleveland. In 1960 a local branch manager reported getting 12 or more letters a day which had been missent to Paulding County. Today ZIP codes and optical scanning have virtually eliminated that problem.
---
545 Monteray Ave. $145,000 – Brad J. Barbour to Joe D. Stokes
536 Monteray Ave. $121,900 – Jennifer D. McCroson to Dayn N. Chaney
601 Hadley Ave. $160,000 – William S. All to Theodore G. Rust
3119 Shroyer Rd. $78,000 – Marvin C. Conkle to Brian D Joyce
321 Rockhill Ave. $157,000 – David L. Schmeer to Mathryn M. McDonell
417 Rockhill Ave. $100,000 – Rachel J. Van Sickle to Ken C. Weaver
4204 Flowerdale Ave. $44,000 – James Wetherholt to US Bank Natl. Assn.
4332 Marhsall Rd. $86,500 – Ralph L. Stamm to Amie Spivey
1628 Carrollton Ave. $54,000 – Ryan K. Hilgeman to Universal 1 Credit Union
1588 Bowman Ave. $88,000 – Gregory J. Yetzer to Federal Natl. Mortgage Assn.
1473 Elmdale Dr. $49,000 - Deutsche Bank Natl. to John Syx
1412 Central Park Ave. $80,000 – HSBC Bank USA Tr. To Mellissa A. Demczyck
1412 Central Park Ave. $80,000 – Wells Fargo Bank to Melliss A. Demczyck
2926 Robin Rd. $74,000 – Steven R. Stoehr to US Bank Natl. Assn.
1249 Elmdale Dr. $100,900 – Brina A. Kirby to Sara J. Miller
1289 Elmdale Dr. $88,400 – Thomas A. Jolley to Bethany S. Huston
1200 Devon $103,000 – Phillip R. Cooper to Jeffrey J. Kees
2116 Carol Pkwy. $131,000 – Karen S. Katzenbach to Sarah M. Montemore
405 Carrlands $152,500 – David M. Waizmann to Lesa A. Roaden
620 Oakview Dr. $137,900 – Vera V. O'Neil to Kristopher W. Koch
340 Lewiston Rd. $102,500 – John W. Martz, Tr. To Richard C. Rodesky
340 Lewsiton Rd. $130,000 – 4-Front Properties to Richard C. Rodesky
2505 Circleview Dr. $42,000 – Federal Natl. Mtg. Assn. to William S. King, Jr.
1109 Ansel Dr. $77,500 – Jack C. Davis to Jay Evans
2820 Rushland Dr. $89,900 – Samuel Snellling to Michael M. Bodag
620 Broad Blvd. $118,000 – Helen Ingrid Hall to Meghan A. Bock
3039 Fairway Dr. $128.000 – Cynthia B. Thompson to Marilyn A. McIntosh
3118 Fairway Dr. $104,550 – Kevin D. Johnston to PCHH Properties
1232 Belvoir Ave. $131,900 – Shannon M. Joyce-Neal to Jason D. Vourazeris
4101 Renwood Dr. $135,900 – Christine M. Herlihy to Benjamin A. Putman
4476 Sunray Rd. $70,000 – Douglas J. Lindsey to Deutsche Bank Natl. Trust
514 Wiltshire Blvd. $88,000 – USA Bank Natl Assn., Tr to Wells Fargo Bank NA, Tr.
514 Wiltshire Blvd. $100,000 – Hamdan Properties, LLC to Wells Fargo Bank NA Tr.
557 Wiltshire Blvd. Deutsch Bank Natl. to SEG Property Mgmt. LLC
521 Telford Ave. $88,100 – Angel J. Delao to Denise Swick
817 Stroop Rd. $90,560 – Lloyd J. DeWeese, Tr., to David Lemons
3141 Winding Way $166,000 – Patricia Howell et al 3 to Steven Meyer
1557 Big Hill Rd. $272,500 – William L. Borchers to Paul Eric Street
1616 Rockhurst Ave. $62,000 – Thomas E. Schulz to Huntington Natl. Bank
708 E. Dorothy Lane $99,500 – Virginia A. Woodard to Jake A. Ledbetter
3510 Tait Rd. $68,000 – Jonthan P. Foreman to Federal Natl. Mtg. Assn
2267 Candlewood Dr. $118,500 – Michael A. Schumacher to Robert C. Van Vorce, Jr.
1637 Willamet Rd. $34,000 – Thelma L. Strausbaugh to Nathan M. Burchfield
3016 Hobart Ave. $115,500 – Christine L. Macy to Darren M. Callup
3013 Larue Dr. $57,100 – US Bank Natl. to PHM Properties, LLC
3037 LaRue Dr. $98,761 – Matthew N. Riffel to Monte L. Moser
4833 Sunray Rd. $167,000 – Leslie M. Payne to Sherrie M. Rupert
3600 Valleywood Dr. $94,000 – Gladys F. Jones to Jesse A. Huber
4559 Burchdale St. $105,000 – EMC Mortgage Corp. to Joel Drew Hisle
407 W. David Rd. $190,000 – Michael J. Delwiche to Donald Huff
1125 Big Hill Rd. $217,000 – William C. Kane to Gregory T. Herting
2080 Westlawn Dr $139,000 – Esther E. Poston to Thomas L. Metz
1224 Benfield Dr. $85,899 – Roxanne S. Howell to Bank of New York
4049 Glenheath $143,000 – Richard R. Meyer to Prudential Relocation Inc.
4528 Rean Meadow Dr. $164,000 – Steven R. Markman, Tr. To Ken Kuhbander
924 Shelton Dr. $135,000 – Scott C. Lambdin to Mark E. Benbow
2333 Springmill Rd. $175,000 – Betty L. Hoopes to Patrick G. Ruth
3500 Stonebridge Rd. $1,000,000 – Catherine Kiley to Fred M. Manchur
3162 Bloosom Heath Rd. $245,000 – Randall R. Hilgefort to Bank of New York, Tr.
480 Stonehaven Rd. $405,000 – Marilyn N. Leis to Howard N. Thiele III
5033 Marilake Cir. $216,000 – Gregory T. Hering to Greg S. Brumitt
4652-4658 Croftshire Dr. $320,000 – Ida E. Karnas to Ralph W. Larssen
4682-4688 Croftshire Dr. $320,000 – Ida E. Karnas to Ralph W. Larssen
772 Murrell Dr. $337,500 – Michael R. Berry to Albert a. Stoermer
3123 Sandywood Dr. $163,000 – John B. Bartik to Mark D. Reiter
1548 Doddington Rd. $179,560 – Nicole L. Johnson to Federal Natl. Mortgage
2981 Meadow Park Dr. $154,500 – Jeffrey A. Berrie to Shaun R. Hall
4808 Winding Creek Trl. 4512,500 – Judith A. Cerar to Pamela J. Lakoff
3720 Ridgeleigh Rd. $363,875 – William T. Leakas, Trs, to Ellen K. Levine
266 Tamarac Lane $270,000 – Joseph Edwin Balmer, Jr. to Michael R. Berry
231 Schenck Ave. $350,000 – William L. Jahn to John M. Douglas
321 Schantz Ave $429,000 – Todd Maugans to Molly J. Hall
141 Lookout Dr. $430,000 – Susan Leis Thiele to Russell K. Gore
84 Patterson Rd. $180,000 – Brent W. White to Cartus Financial Crop.
525 Woodview Dr. $210,000 – Edward J. Regan to Mark Makkas
11 Shafor Blvd. $166,000 – Jason D. Bunger to Drumand Louis McLaughlin, Jr.
625 Schantz Ave. $260,000 – Mark A. Tronc to Kelli S. Kinley
120 Park Rd. $445,000 – Peter J. Kuhns to Kurtis P. Sanford
2425 Ridgeway Rd. $615,000 – Fifth Third Bank Successor Tr. To Anibalel E. Urteaga
124 Dell Park Ave. $202,000 – Thomas L. Castle to John W. Howard
98 E. Peach Orchard Ave. $119,500 – Fifth Third Mortgage to Shannon Santel Grant
23 Triangle $136,000 – Barbara J. Kline to Joshua J. Epling
407 Claranna Ave. $63,375 – Jessica A. Osborne to Mark W. Powell
500 Broad Blvd. $114,898 – James A. Gray to HSBC Bank USA Trustee
220 East Dr. $200,000 – Primacy Closing Corp. to William L. Campbell
1950 Far Hills Ave.. $153,000 – Ismael E. Valles to Pamela S. O'Brien
1517 Hathaway Rd. $258,600 – Kelly F. Vanasse to Daniel Pl Lewandowski
2 Lonsdale Ave. $245,000 – Richard L. Trauthwein, Jr. to Kyle F. Oyama
11 Forrer Blvd. $236,500 – AFP Investments LLC to Gregory J. Miles
201 E. Dixon Ave. $415,000 – Frank E. Wenzke to Andrew Cothrel
23-25 Spirea Dr. $172,000 – Lobos Properties, LLC to Bradley H. Fackrell
915 Far Hills Ave. $204,000 – Thomas R. Stansfield, Jr., Tr. To Lois H. Ross
---
Cub Scouts from Pack 101 of Oakwood attended Cub Scout camp June 9-13 at Indian Riffle Park.
Cub Scout camp gives the boys the opportunity to work on their achievements and belt loops as well as promote safety and well being. It's also a lot of fun!!
Front row: Logan, Peter, Theodore; Second row: Jackson, James, Harrison Berke, Ben, Caleb, Aidan, Joshua, Charlie, Andrew, Sam; Third row: Regina, Becky, Shelly, Kim, Celine, Kelley, Jennifer, Samuel, Karen, Zach, Jackie, Daniel, Ben; Bear Parents (back row) - Kim, Celine, Jennifer& Karen; Bear Scouts (left to right) - James, Ben, Theodore & Aidan.
---
Pictured are the Navajo and Mohican tribes of the Oakwood Nation Adventure Guides prior to their canoe trip on Saturday, June 28. We canoed, rafted and even swam a stretch of the scenic Little Miami River north of Waynesville. If anyone is interested in finding out more about us (including how to join) please visit www.oakwoodnation.org