Good news! The sky is not falling! Instead of listening to Chicken Little with his erroneous warnings of impending calamity, I found a much better source to counter some calumnious rumors. These rumors were caused by a few news articles presenting some pertinent facts about the major arts organizations in the Dayton area.
The state of the economy, globally, nationally and locally is a topic of critical importance. We are experiencing more than a hiccup of market forces. Major industries, some critical to Dayton such as General Motors, are in real danger of failing.
Plants are scheduled to close, jobs, in the thousands, are to be lost. The market is down and prices are up. Driving, even across convenient greater Dayton, becomes a concerted decision with gasoline at record prices and rising.
Stepping back from this ubiquitous but important preoccupation with our economic realities, we can also look at our city with justified pride. Dayton has a heart and that heart beats. The rhythms of great classical music pour out of the Philharmonic, Dayton Opera, Vanguard Concerts, Soirées Musicales, CityFolk, Dayton Public Radio and many other active and vital music makers. Dance surrounds us, with DCDC, Dayton Ballet, Rhythm in Shoes, the youth of Gem City Ballet and studios such as South Dayton Dance Company.
We have theaters in every quarter doing interesting plays and musicals. Wright State Theatre is a storehouse of great performances. The Victoria brings Broadway to Dayton. Even if the real Broadway is not what it used to be, we have it here for our enjoyment. The Human Race is a top professional company.
Our performance venues are world-class. The Schuster with its beauty and divine acoustics is a joy. The Victoria is just right for dance and many plays and musicals. The Loft, Theatre Guild and Dayton Playhouse all are first class.
Enough self-congratulations. The thousands of persons who avail themselves of our arts calendar are rich indeed. This brings me to the falling sky syndrome. Not only do we have great, yes I said great, arts in Dayton, they are well managed and are responsible to their art form and to the bottom line of their budgets.
Subscribers and donors to the arts get more than their money's worth. Great entertainment and great inspiration are here, convenient and at bargain rates. When the Victoria Theatre Association made some judicious cuts in personnel and other budget items, it was done to reflect some reduction in revenues.
Ticket sales have drooped - drooped not dropped! Donations are not growing at the desired pace. Fortunately, good leadership from every venue is reacting properly to this situation and the sky will remain firmly in the heavens and not fall about our ears.
My reporter's instincts singled out two outstanding leaders of major arts organizations. Impresario Tom Bankston of Dayton Opera and Maestro Neal Gittleman of The Dayton Philharmonic are incredible assets. The artistic achievements of the orchestra and the opera astound visitors to Dayton with their quality and scope.
Their response to the present pressures is to continue to provide great performances but keep an even more focused eye on the expenses and the marketing of their products. It is interesting to note that subscriptions to both the Opera and the Philharmonic are holding steady. Single ticket revenues have fallen somewhat as patrons are buying less expensive seats. Parenthetically, there are many inexpensive and wonderful seats in the Schuster and the Victoria. Actually, the move by patrons to less expensive seats is good. It shows that the performance is important and so are the costs.
This situation is pandemic, felt in nearly every city and every art form. Opera companies are stumbling. Orchestras are in financial distress, the Columbus Symphony has closed for the foreseeable future. But not here in Dayton!
Without sacrificing artistic quality – just look at the sensational seasons both the Symphony and Opera will present next year – money must be saved, tickets must be sold and donations must be given.
The devoted staffs are stretched even more than usual. Some positions must be consolidated. Important decisions in selecting guest artists and singers are carefully reviewed. The result will still be inspiring music.
As the professionals work diligently to weather this situation, there is an exciting opportunity for the audiences and the supporters of all the arts to do something extra special. As we husband our resources, this is the time when an additional gift, a commitment to buy tickets, participation in the many events which surround our great arts is even more important.
We enjoy these resources at bargain rates. Now is the time for us, the vox populi, to make ourselves heard. Applause, filling the seats and filling the coffers of these worthy organizations, will have greater effect in bad times than in good.
Let's surprise Tom, Neal, Dionne, Dermot, Debbie Blunden-Diggs and so many who perform their labors of love for our benefit. The smile we put on their faces is just a small part of the benefit. We will continue to enjoy, be inspired, and love our arts experiences. And – they will be our arts.
See you at the opera, the concerts, the theatre and the ballet. They will be there for you, I promise.
---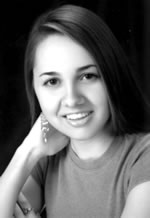 2008 Oakwood High School graduate Georgia Stathopoulos has been awarded the Congressional State Art Award – third placement in 2008. Georgia was also a recipient of two other Congressional awards in 2006 and 2007. In addition, she received a scholarship from Congressman Mike Turner for her 2008 award. Georgia will be attending Ohio University in the fall, majoring in Art and Wildlife Biology and Conservation.
Georgia is the daughter of Gina and Neil Stathopoulos of 348 Peach Orchard Ave.
---
The Dayton Art Institute announced today the appointment of Will South as the museum's chief curator. South has been Curator of Collections for the Weatherspoon Art Museum at the University of North Carolina at Greensboro since 2000. Prior to that, he was a curator at the Utah Museum of Fine Arts at the University of Utah.
"Will South brings scholarly distinction and substantial curatorial experience to the position of chief curator at The Dayton Art Institute. He is known for his ability to communicate effectively with diverse audiences and engagement with his community," said Dayton Art Institute Director and CEO Janice Driesbach.
"A wonderful opportunity has been extended to me to join the team of professionals at The Dayton Art Institute. The building itself and its contents are all the evidence any visitor would need to see the long-term commitment to the arts that exists in Dayton, and I am excited to become a part of this tradition," says Will South. "While I have enjoyed working for a fine university museum for years, the possibilities of working with a larger collection and a broader audience are likewise exciting. My wife and I look forward to settling in, rolling up our sleeves, and serving the community," said Dr. South.
South has a Ph.D. in Art History from the City University of New York, an M.A. in Art History from the University of Utah, and a B.A. in Studio Art from Loyola Marymount University. He is the author of several books and exhibition catalogues including works on American Modernist Stanton Macdonald-Wright and American Impressionist James T. Harwood. He has organized exhibitions on such diverse topics as American Modernism, Georgia O'Keeffe, and Japanese prints.
South will begin his duties as Chief Curator on September 1 after relocating to the Dayton area with his wife, Sara Cogswell.
---
The Kay Smith Memorial Printmakers Show at The Society of Painters and Sculptor's 48 High Street Gallery, in Dayton, from July 13 through July 27th, 2008. A juried show of hand-pulled prints form the area's finest printmakers. Opening Reception Sunday, July 13 from 1-5 pm Gallery Hours: Thursdays and Friday 1 to 4 pm and on Saturday and Sundays 1 to 5 pm. (937) 435-0504.