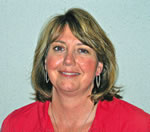 City selects Cindy Stafford as new finance director The city of Oakwood has selected Cindy S. Stafford, CPA to serve as the city's new Finance Director. Ms. Stafford replaces former Finance Director Brad Beachdell who retired on March 30, 2008. Cindy was selected from a field of 41 candidates. She assumed her new duties on June 30.
Cindy Stafford is a Certified Public Accountant with over 20 years of experience in financial services. Over the previous 13 years, she worked as an accountant with the firm of Hammerman Graf, Hughes and Company. During that time, she served many different clients performing a variety of accounting duties including auditing, financial reviews, and federal, state and local income tax returns. Her work also included developing and reviewing internal financial controls for various types and sizes of clients.
During her years with Hammerman Graf, Hughes and Company, Ms. Stafford also served in two other significant capacities. From September 1999 through May 2003 she managed all financial activity for the $121 million Shuster Performing Art Center and Performance Place project. From May 2003 through September 2004, Cindy served as acting Finance Director for the Victoria Theatre Association, Art Center Foundation and Dayton Opera Association.
Ms. Stafford earned a B.S. B.A. degree in Business Administration and Political Science from Ohio Northern University and is an active member of the Dayton Chapter of the Ohio Society of CPAs. She currently serves as a member of OSCPA's Continuing Professional Education Committee.
"I am pleased to appoint Cindy to this very important position within the city of Oakwood organization," said City Manager Norbert Klopsch. "She possesses the professional qualifications, job experiences and talents needed to excel in the job. Cindy has excellent inter personal skills and will be a wonderful addition to our city team."
Oakwood operates a full service local government finance department. As Finance Director, Cindy will lead six city employees in providing services in the areas of income tax collection, accounts payable and receivable, utility billing and payroll. She also has responsibility for developing and managing the city's annual budget currently valued at approximately $16 million and, as steward of the city's financial reserves, overseeing the city's capital investments.
Oakwood City Charter specifies that the City Manager is responsible for appointing all city employees, including department heads. However, department head appointments must have the approval of the City Council. "I am pleased to report that the five-member Oakwood City Council unanimously supports the appointment of Cindy Stafford," said Mayor Judy Cook. "We find Cindy to be an outstanding selection and expect that she will be a very good fit into our special community."
Cindy lives in Centerville with her husband, Kevin, and her three sons, Jon, Nick and Alex. In her free time, she enjoys attending her sons sporting events and reading.
---
The Survivor Stories are a way to connect the people of Oakwood with the Relay For Life, the all-night community event in its second year in Oakwood. At the Relay For Life, teams of family, friends, co-workers, and neighbors take turns walking around the track at Mack Hummon Stadium to symbolize the fight against cancer. The Relay begins with the Survivor Lap, where cancer survivors and their caregivers take the first lap as participants cheer them on. Dolores Wagner, publisher of the Oakwood Register, agreed to tell her Survivor Story:
Q. Could you talk about your cancer diagnosis and treatment?
A. I am a two-time cancer survivor, first in 1988 and again in 2001. As a matter of fact, in 1988 I had just joined the Oakwood Rotary and each Friday after the meeting left for a chemotherapy treatment. I was given two treatment options - a 'heavy' treatment for six months, or 'lighter' treatment, which would take one year. I opted for the lighter method, so never felt sick!
Q. So how are you doing now?
A. I consider myself cancer-inactive; once you've had cancer, you never feel totally cancer free. But it's not so scary to me now because I've lived with it so long. Also, treatments are more site specific and effective. Survivors may actually feel safer than someone who's never had cancer – you are checked regularly and often.
Q. Could you talk about your experience at Relay for Life last year?
A. Well, I was apprehensive at first. I didn't even want to participate. I never wanted to talk about having cancer. But I went, and there I was, one of so many others who had faced fighting and surviving the battle with cancer. It was an emotionally overwhelming experience. The Relay did something else for me. It made cancer seem less threatening, and it gave me added confidence that we can live a long time with cancer.
---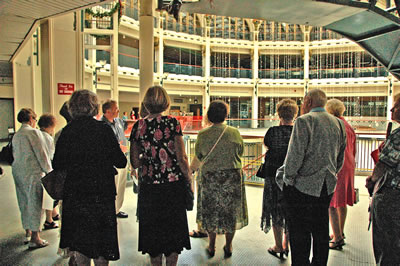 Attendees gaze up at Arcade rotunda
Mike and Rose Morgan, owners of Central Perc in Oakwood, provided elaborate and plentiful tea sandwiches and pastries. The move to save the Arcade took another leap forward on Sunday, June 29 when over 250 guests responded to an invitation to enjoy "Tea on the Terrace" of the beautifully-restored Kuhns Building recently completed by its owners, Oakwood residents Bob and Nancy Schiffler. The tea not only raised dollars and interest in the Arcade, but also offered a chance to tour this historic building which was built in 1902. Photos by Nancy Roach
---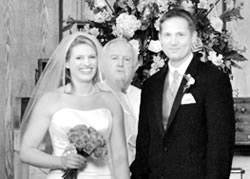 Christina Webb and Brett Williams of Nashville, Tennessee were married at 7 p.m. May 16 at Wrightman Chapel-Scarritt Bennett Center, Nashville, Tennessee.
The bride, daughter of Gretchen and Andrew Webb of St. Augustine, Florida, graduated with a bachelor's degree from Vanderbilt University in 1997 and a master's degree from Boston College in 2002. Christina is employed by Vanderbilt Law School.
The groom, son of Lynn and Garth Williams of Dayton, Ohio, graduated from Oakwood High School and graduated from Vanderbilt University in 1995 with an undergraduate degree and a Master's in Business Administration in 1992. Brett is employed by Aspect Software in Nashville, Tennessee as director of product management.
Fr. Joseph Breen officiated at the ceremony. Caroline Jenkins, Nashville, was the matron of honor. Graham Williams, Columbus, Ohio, was the best man. Bridemaids were Greta Gauthier, Sophie Amer and Tiffany Davis. The reception was held at the Hermitage Hotel in Nashville, Tennessee.
The couple traveled to the Cayman Islands for their honeymoon. They will reside in Nashville, Tennessee
---
The south end of the Far Hills business district has changed a great deal since the 1930's. You may remember that the buses turned around at Dell Park Avenue rather than circling the block at Arrow Wine.
That's because Oakwood didn't acquire the street land from Wonderly Avenue to East Drive until 1956. Recall the discussion of the Wonderly Farm and its partition of the east part (85 ac.) into three parcels for the children of Jacob Wonderly. The west section closest to Far Hills was set off to Elmer, who sold it to Isaac Fallis, who sold parcels to various people, finally selling the south three acres to William James in 1914. James farmed it until 1929 when he built a small two pump Shell filling station at the corner of East Drive and Far Hills Ave. It had those wonderful pumps that you had to fill up the glass at the top by pumping and then let gravity drain the gas down to the automobiles. It also had a rack that stood about four feet off the ground and accommodated a car for greasing, oil changes and maintenance. James operated the station from 1929 to 1949.
James' widow sold 1? acres, including the station and a house, to the city in 1949 to accommodate the widening of East Drive. She sold the rest to the Talbott Corporation in 1950. They built the Dorothy Lane Market in 1953, and after several investors owned the building, it was sold to Norman Mayne in 1983.
The eastern part of the original acreage was sold in 1931 to D.H. Maney and C.G. Fleischman who dedicated Shafor Boulevard between Claranna and East Drive when platting their land. Shafor Boulevard stopped at Brydon Road where it bumped into Clarence Neibel's farm.
The Talbott Corporation bought most of the Wonderly-Claranna block in 1950 for the purpose of building the office building and parking lot which was completed in 1956. The building has gone through several owners including Galbraith of Columbus, a real estate investment trust, and Dayton Properties and became known as the 2600 Building. More importantly, the Talbott interests deeded one half of Claranna Avenue and the part of Far Hills Avenue needed to widen them so that we now have the Far Hills Business District with four lanes through from Dorothy Lane. It was a considerable bottle neck when Far Hills narrowed to two lanes from Wonderly Avenue to East Drive until 1952.
A further impediment to traffic flow was getting from the intersection of Far Hills and Dorothy Lane to the intersection of Shroyer Road and Dorothy Lane. It's hard to imagine but it wasn't a straight shot because Dorothy Lane wasn't there! When entering the Dorothy Lane intersection from any direction, you had to go two blocks north to East Drive, and go four blocks east/west parallel to Dorothy Lane, and turn back to the intersection before proceeding to either east to Wilmington Pike or west to South Dixie. Anna (Wonderly) and Clarence Neibel planned to plat the Brydon Road and Dorothy Lane section of the Neibel farm but the Depression interfered, and they lost their unplatted land to the bank. Developers Walter W. Huber and Alex Simms acquired the area of the planned streets and put them through in 1939 and 1941.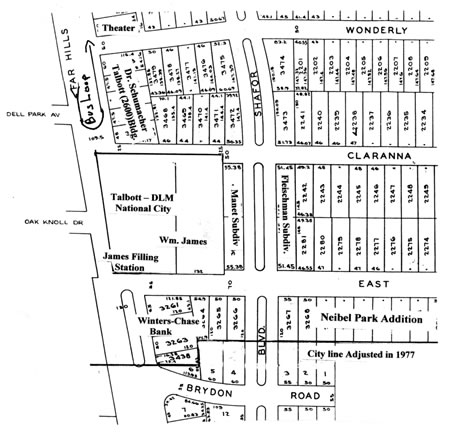 When the Neibels first started building, they held a contest to name the street between Dorothy Lane and East Drive. An Oakwood student submitted the name of the street in Columbus where his grandparents lived. He won with the name Brydon Road. Bob Pool, long time Oakwood resident and former teacher at the high school was their student and he remembers receiving a check for $25 at a high school assembly.
A short lived landmark stood at the corner of Dorothy Lane and Far Hills Avenue where Arrow Wine now stands. The Custola was a stucco one story building with two white Polar Bears on their hind legs standing guard out side. It was a classic drive-in right out of the movies, where cars nosed in and "car hops" came out for orders. Service was on aluminum trays with sliding arms that held them in place against the car door by hooking them over the rolled down window. It's specialty was an ice cream float made with Vernors Ginger Ale. Vernors, like beer, is an acquired taste, but with ice cream, it tastes great. You can still buy Vernors but it isn't the same. There was another Custola for the Fairview crowd on Salem Avenue just beyond Goody Goody, where the Key Bank is.
Custola was run by Claude Avery and went out of business after about two years. It may have been affected by gas rationing. Avery also owned The Coffee Pot Restaurant at 2419 Far Hills, at the corner of Hilltop. In 1941, he opened a restaurant at the corner of Traction Ave. and West Schantz Ave. which later was given the address of South Dixie. It obtained a liquor license in 1946, and began advertising "Fine Foods, Liquors, and Dancing ," In 1947, a new owner, Neil Swafford took over and it became Neil's Bar & Restaurant and later Neil's Heritage House.
| | |
| --- | --- |
| | |
The year 1867 was much in discussion at the Oakwood Historical Society's recent Summer at the Homestead program for elementary children. That was the year the first part of the Long-Romspert Homestead was completed and that was the year the historical society chose to reproduce for the children who participate in the three-day program. The program was based at the homestead in the original summer kitchen, which would have been brand new in 1867.
During the program, the children experienced activities that would have been typical on a farm such as the Long farm right after the end of the Civil War. The children did chores (washing dishes by hand, churning butter, washing clothes on a washboard), participated in handicrafts of the time (braiding rag rugs, scouring wool for spinning), helped prepare and preserve food (peeling and drying apples), and learned a bit about clothing, customs, and manners of the time period. To help the children get into the era, there were aprons and pinafores for the girls and vests for the boys.
For many, the favorite part of the day, however, were the group games played outside on the lawn. Drop the Handkerchief and Blind Man's Bluff were novelties to these modern children, but they had a wonderful time discovering these favorites. Puss in the Corner, Run Sheep Run, and other games also helped them stretch their legs.
Many of the children who participated had recently studied local history as part of their social studies curriculum. Some had also been on a guided tour of the Homestead with their school class and wanted to return for a more in-depth experience. They were not disappointed. Parents whose children attended to program gave it high marks. Their children left their homes in the morning eagerly bound for the Homestead at 9 a.m. and came home at noon chatting about what they had done and learned. According to one parent, "My son enjoyed every element of the program, and I admit this was way beyond my expectations."
. The staff of the historical society is looking forward to offering more programs for children, and future programs are already in the early planning stages. Needless to say, Summer at the Homestead will be repeated next summer since many of the children have already expressed interest in returning; they have work to do on the farm! The program was designed and supervised by Linda and Sarah Pearson.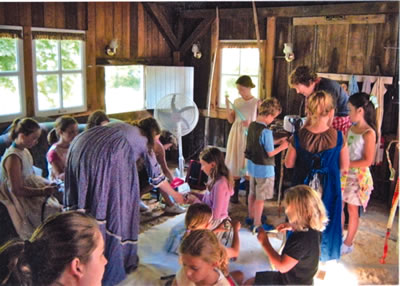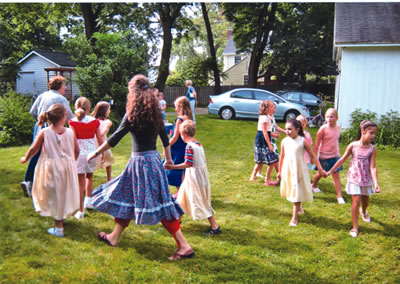 ---
The Oakwood varsity football team held a community service project at Sunrise Assisted Living with a walker & wheelchair wash recently. The team applied a little water, soap and elbow grease and got those units sparkling again.
---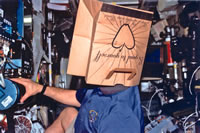 Col. Gregory Johnson hams it up with DLM bag over his head on board the space shuttle
.
Astronaut and US Space Shuttle Endeavour Pilot Col. Gregory Johnson brought his Dorothy Lane Market grocery bag with him aboard the US Space Shuttle Endeavour. The brown paper bag left the earth's atmosphere on March 11, 2008 and traveled in space for 12 days returning the recyclable brown bag back to the planet Earth on March 26, 2008. The independent upscale grocery store chain recyclable bag traveled a distance of 6.5 million miles. Dorothy Lane Market's grocery bags have been to U.S. holiday spots such as Disneyworld, Grand Canyon, and Mount Rushmore. Internationally the bags have traveled all over the world including the North Pole, Mt Everest, and even the Brazilian Rain forest!
Customers can earn a DLM gift card for submitting their photos. We are still debating how much should be given for a trip to outer space!
---
| | |
| --- | --- |
| View of the Mathare Valley Slum | What passes for a sewer |
Fred and Jeri Abrams of Oakwood are at the forefront of a project to rescue orphans from the worst and most dangerous slum in Africa. They both describe their experience with this project as life-changing. Fred, a member of the Dayton Rotary Club and overall project manager for this Rotary International effort, and Jeri, a pediatric registered nurse, have been to Kenya twice helping make this project a reality. They will be heading back again later this year to help plan the next phase of the project and provide assistance to the children already rescued. Both report they cried as they reviewed the life stories of the first of the children moved from the slum.
The slum, Mathare Valley, is where a half million people exist with no or minimum access to water, sewers, electricity, education or healthcare. The slum is home to over a hundred thousand orphans, many of whom lost their parents to AIDS. It is estimated that the AIDS rate among men is 70 percent and many of those believe they can cure themselves by raping virgins – making even 2 year old girls their targets. Rival gangs threaten the residents and the slum was the site of much inter-tribal strife following the December 2007 elections. Many slum dwellers were forced from their shanties to flee the slum while those that resisted were hacked to death by machete-wielding youths.
The first fifteen children, ten girls and five boys aged seven to fourteen years recently left the slum as a result of this Rotary project. These children have experienced deprivation and have witnessed violence beyond the imagination of most Americans. One of the children, 11-year old Susan, had been repeatedly gang-raped by street gangs in the slum. Some like 14-year old Mary and 8-year old Mercy suffer from mental retardation while others like 11-year old Henry and 14-year old Victor have physical deformities.
Members of the Dayton Rotary Club visited the slum in May 2007. Since that time Rotary has initiated and planned a rescue project, obtained both Rotary and private funding and has prepared a sanctuary in the Kenyan countryside to receive and support orphans from the slum. The objective of the Rotary effort is to create an energy, water and food self-sufficient farm where the children can be safely housed, well nourished, receive health care, and attend school. The project supports a non-governmental organization (NGO), Maji Mazuri, that has been dedicated to helping both the slum dwellers and displaced Maasai tribe members for the past twenty years through micro-enterprise, child-care and education. The project is coordinated with the efforts of Maji Mazuri USA in Atlanta and Crosscurrents International in Sidney Ohio, both of whom have been supporting this NGO for several years.
According to Jim Beerbower, the chairman of the Dayton Rotary International Committee, there is strong support of the project from the Rotary District 6670 and a large number of the Rotary Clubs in southeast Ohio. The Dayton Rotary Club serves as the hub of project management and funding while the Nairobi-Muthaiga Club handles on-site financial management. Dayton Rotary is anxious to enlist the support of other religious and community organizations in supporting this worthwhile project.
The current phase of the Rotary project includes installing a wind turbine and solar panels for sufficient electric to run a water pump for irrigation and drinking water, back-up rainwater collection, a barn and animals, bio-gas generation for cooking fuel, irrigation expansion, and outfitting of a dormitory, dining hall, kitchen and classrooms. According to Dayton Rotary project manager Fred Abrams, who visited the site again in February of this year, the second phase will be more ambitious than the first. It will likely include further expansion of dormitory capacity, increased solar cell backup, further irrigation expansion, a formal health clinic, additional adult housing, school expansion and establishment of a vocational training school. To accomplish all of these goals, Rotary will need contributions totaling about $300,000 from Rotarians and the community at large. Community support is essential since Rotary International funds cannot be used for the many construction elements of the project. Fred points out that this is an opportunity to put first hand faces and stories with the results from your charitable contributions; the barn, for example, was the result of a single non-Rotarian contributor in Dayton who wanted to make a difference. There are opportunities to make the clinic, the expanded school and the vocational training school your personal reality for these children.
When people ask "Why half-way around the world in Kenya?" the answer is straightforward. Nowhere in the United States is there poverty, deprivation and inhumanity anywhere close to what the children experience in the Mathare Valley slum. The Dayton Rotarians who have visited the slum report they only thought they understood what poverty looks like until seeing the reality of the slum.
Pictures of the slum and farm as well as further information on the project are available at www.DaytonRotary.com by clicking on the Kenya Project link. Details of how to make a tax-deductible contribution or obtain more information are also on the website.