CLICK
FOR THE
WHO AND WHERE !!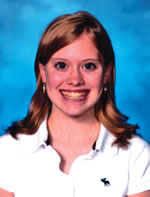 Alexandra Morris has been named a Joyce Ivy Foundation Summer Scholar for 2008. She is one of twenty young women from the Midwest, and the only one from Ohio, who will attend pre-college programs this summer at various Ivy league or equivalent institutions as a Joyce Ivy scholar. The Joyce Ivy Foundation is dedicated to the academic advancement of young women in the Midwest by providing encouragement, counsel, and financial assistance to high school students who have the potential to attend an Ivy league or equivalent institutions.
Alexandra, the daughter of Terry and Camille Morris, will attend Johns Hopkins University on full scholarship for a two week program on Preventative Medicine.
---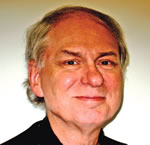 The Oakwood Board of Education is pleased to announce that Richard Grigsby, an Oakwood educator, has been selected for induction into the Sam Andrews Educational Hall of Honor this year on September 19.
Mr. Richard Grigsby taught Social Studies at Oakwood Junior/Senior High School from 1981-2003. Mr. Grigsby also taught one year of English along with Social Studies.
A luncheon will be held at The Mandalay Banquet Center at 11:30 a.m. on Friday, September 19, 2008, where the new inductee, as well as previous recipients of the award, will be honored. The public is invited to attend the luncheon (cost is $15.00). To make reservations for the luncheon, please call or email Sandy the Board Office at 297-5332 or maresh.sandy@oakwood.k12.oh.us by Wednesday, Sept. 3.
On Friday evening, (Sept. 19) at 6:45 p.m. Mr. Grigsby will be available to meet with well-wishers and former students on the Alumni Terrace on the southwest corner of Mack Hummon Stadium. Prior to the start of the home football game with Eaton there will be a brief awards ceremony.
---
The Oakwood Jr. High Office will be open for new student registration weekdays, beginning Aug. 7 – Aug. 19 from 9-11:30 a.m. and 1-3 p.m. Please bring a copy of your child's birth certificate, immunization record, and a copy of your purchase or rental contract to the Oakwood Junior High Office at 1200 Far Hills Ave. If you would like a registration packet mailed to you or if you have any questions, please call Dawne Roeckner at (937) 297-5328.
---
In early June, a special "Ohio's Charter School Program 2007 Report" was issued by Andy Jewell, Education Research Development Consultant for the Ohio Education Association. This annual report uses State Government data and statistics in order to provide unbiased information.
In 2007, there were 310 charter schools with nearly 77,000 pupils who came from 607 of the 610 school districts. This included Oakwood! The charter system was created for the 1998-99 school year and since then Ohio has invested about $2.5 BILLION tax dollars in these schools most of which was taken away from regular public schools like Oakwood. Almost 50 percent of those dollars went to private 'school-management' organizations which have also made major contributions to campaign funds for key legislators.
Key revelations from the report include the following "factoids"!
In 2007, $110 million in state aid was redirected to charter schools and taken from Excellent and Effective public schools.
Charter schools spent per pupil nearly twice as much (26.8 percent vs. 11.8 percent) on administrative costs as did regular public schools.
Charter schools spent less per pupil (59.9 percent) than traditional public schools (65.9 percent) for instruction and pupil support.
Charter school students perform significantly lower on state-administered tests than public school students.
Public school students (80.2percent) are categorized as economically disadvantaged, but only 57.8 percent of charter school students are.
This experiment has now gone on for a full decade. The minimal accountability required of these public-funded but not public-controlled schools has been a major issue for many taxpayers - whether conservative or liberal in their political views. The apparent spending of public dollars on administration rather than on instruction combined with the lower test scores and lower SES enrollments have created a system that many taxpayers resent as poor management of scarce resources—our tax dollars.
Each voter needs to decide whether or not to continue to support the legislators who have created this situation. It is issues just like this that will be strongly considered by me as I vote next November! I hope you will do likewise.
---
Lyndsay Seeny is the teen winner of the Oakwood Centennial Short Story Contest co-sponsored by The Oakwood Register and Wright Memorial Public Library. Her story "Paws for a Moment to Ponder" is featured today. She is a junior at Oakwood High School who enjoys reading, traveling, and music. Centennial activities at Wright Library are sponsored by generous contributions from Sinclair Community College and the University of Dayton. Following is Seeny's winning entry…
Paws for a Moment to Ponder
by Lyndsay Seeny
It was a beautiful summer day in the city of Oakwood and I decided to take a walk through the community. The emerald trees radiated against the gorgeous blue sky as I strolled the shaded streets. My whiskers flowed in the breeze which whispered sounds of children laughing and playing. I leapt through the twinkling waters of Houk Stream. As I walked towards the Wright Memorial Library, my wet paws left footprints on the cobblestone streets. I passed the library where assiduous students were studying for the coming school year. The children were playing at the playground of Smith School, joyfully and carefree, accepting of anyone who wished to join in their games. I pranced down Shafor Boulevard and saw exhausted runners, their blue and gold uniforms radiated the spirit and determination they felt to represent their community well. I arrived at the high school, and watched teachers coming and going from meetings in preparation for the school year. The passion they felt for teaching such exquisite students was evident; it was clear that they would only settle for the best. I pounced on squirrels as I continued down the street towards the splashing and laughter of children and teenagers spending a sizzling summer day at the rejuvenating pool. I walked by extravagant houses, old and full of memories from countless generations. I meandered through the town and marveled at the paramount concern for a close-knit community in which everyone felt they belonged. I walked by Ashley's Bakery, the sweet smell of pastries tickled my wet nose and I couldn't help but purr. I approached the most enormous house I have ever seen. The white house stood at the top of a monstrous hill, a proud reminder of the two brothers who changed the world. I made my way back to my home and returned to my favorite chair. I peered out the window and reflected on my day in the greatest community a cat could ever ask for.