Patterson Park 10U All Stars take 1st at tourney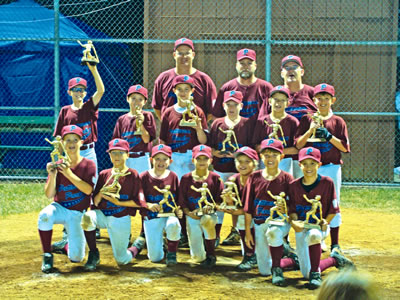 Patterson Park's All-Star Minors team took 1st Place in the 2008 Fairborn Blast Tournament, 10U Division, on June 29, 2008. Pictured are (1st row, left to right) Will Laidler, Austin Overman, Chris Anderson, Mark Lauterbach, Jonny Steiner, Jackson Jennings, Matthew Groeber, (2nd row), Ian Hayes, Luc Fiore, Austin Payne, Jon Thesing, Shawn Steffan, Emerson Hinzy, (back row) Coaches, Mark Groeber, Mark Laidler and Michael Hayes.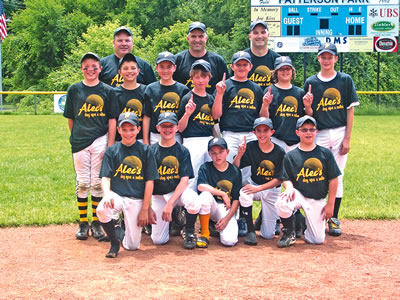 Pictured front row, kneeling, left to right: Peter Stoecklein, Andrew Kadash,
Brock Stechshulte, Ethan Cohen, Jarod Logsdon. Middle row left to right Mike McGinnis, Reid Rupp, Will Byer,Patrick Horine, Nick Clarkson, Alec Mueller, Stefan Stropki. Back row left to right: Coach Ken Stechshulte, Manager Mark Stoecklein, Coach Chris Rupp.
The Patterson Park baseball team sponsored by Alec's Day Spa and Salon won the Patterson Park Major League Tournament on June 22. The number 4 seed Alec's Spa beat the number 2 seed Kettering Health Network 2 - 1. The third time was definitely the charm for the "Spa Boys" in a classic matchup between the best offensive team in the league (KHN - 129 runs scored) against the best defensive team in the league (Alec's Spa - 50 runs scored against).
Alec's Day Spa team efficiently utilized their five hits and two walks. Ethan Cohen scored in the first inning on a passed ball. Andrew Kadash knocked in Peter Stoecklein in the fifth inning in what would be the winning run. Nick Clarkson had a no hitter going into the sixth inning and completed the game with 8 K's, 2 walks and 1 hit. The bottom of the sixth was full of electricity as Alec Spa's relief pitcher Will Beyer was warming up in the bull pen. Nick was backed up by the strongest defensive team in the league that made no errors in the game. Key plays included infielder Pete Stoecklein's back handed catch of Henry Morris' first inning line drive up the middle. Andrew Kadash and Brock Stechschulte made crucial stops with pin point bullet throws to Reid Rupp. Jack Minser and Henry Morris pitched well for KHN.
Alec's Spa beat the number 5, 1 and 2 seeds by a combined 3 run margin with solid defense, pitching, timely hits and tons of emotion. The victory march started in another pitchers dual with Taft's Steven Beal on the mound. Alec Spa prevailed 1-0. The game was full of spectular catches capped with excellent outfield plays by Ethan Cohen and Jarod Logsdon. Alec's Spa beat the top seed Mainline Supply in a semifinal extra inning slug fest with timely hits by Patrick Horine, Mike McGinnis and Stefan Stropki. The final out of the game was a center field cannon throw from Brock Stechshulte to Alec Mueller.
The number 2 seed Kettering Health Network beat number 8 seed Kegelmeyer and number 3 seed Clark Pharmacy to reach the Championship game.
A good year at Patterson Park is concluded. Fall hitting league will start soon. Check www.pattersonparkbaseball.org for registration details.
It does not get much more exciting than the Championship tournament for the Patterson Park Little League, Minors Division. After finishing the regular season, 18-0, the Dayton Orthopedic Institute Giants stumbled with a loss to Jacox, Meckstroth, & Jenkins. In order to be crowned little league champs, the team had to survive a double elimination tournament.
After their first loss of the season, the Giants fought their way back into the finals, but had to beat the Jacox team twice in order to win the tournament. The mighty Giants found themselves as underdogs with the difficult task of beating the same team two times within a few days - and they did just that; winning the final game in dramatic fashion with a score of 12 to 3. When asked who the MVP was for the game, Manager Sam Fiore said, "This is a team, baby - they are all most valuable players." Congratulations to all of the players and coaches for both teams for a fine season and an exciting Championship.
The Oakwood High School Athletic Hall of Fame Committee would like to invite the public to the First Annual Oakwood Athletic Hall of Fame Banquet to be held Thursday, Aug. 21 at the Dayton Country Club (jacket/no denim) beginning at 6 p.m. Cost for the event is $30 for adults and $12 for children 12 and under. Social hours begins at 6 p.m. with heavy hor'devours; program begins at 7:15 pm. To purchase tickets for the event, please send a check made payable to Oakwood Athletic Boosters, and mail to Oakwood Athletic Hall of Fame, 1200 Far Hills Avenue, Dayton, OH 45419 by Aug. 1, 2008. For more information, please contact Mark Hughes, Chairman, Hall of Fame Committee, at (937) 297-5342.
The following individuals will be inducted at the banquet at the Dayton Country Club on Thursday, August 21, 2008.
Dr. Roger Beardmore, Class of 1969
Kate Burton, Class of 1981
Edward Cook, Coach
Bess Hayner, Coach
Dan Howell, Class of 1973
J. Mack Hummon, Coach
Barry MacKay, Class of 1953
Joe (Buzz) Pierce, Class of 1964
John Sauer, Class of 1943
Marisa Tuzzi Maher, Class of 1995
State Championship Track Teams of 1929, 1930, & 1931
The Committee is trying to locate the family members of Dan Howell, Bess Hayner and the 1929-1931 State Championship Track Teams. If you have any information that would help us, please call the Oakwood Athletic Department at 937-297-5342.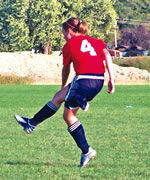 Maddie Hoffman, a student entering eighth grade at Oakwood Junior High, has been selected to play on the ODP Girls 94 State Team. The Ohio South Olympic Development Program was created to foster the development of young players at all ages. Players initially compete at the District Level and then advance to State Team Tryouts. Those players who are selected to the Ohio South State Team then compete at the Regional level. Players selected to the Regional Team represent Region II at the National Level.
Tryouts began in fall 2007 and continued through spring 2008. Players were notified in June as to whether they had made the state team or would be an alternate. Players selected to be on the state team attend the regional camp in Dekalb, Illinois, where competitions and tryouts will continue for possible id to the national pool.
Maddie currently plays for the Metro FC Rapids G 94, the MVYSA spring division first place winners, under coach Paul Carbonaro.
Dayton Boat Club finished its spring season with a fourth-place finish at the US Rowing Youth National Championship held June 13-15 at Harsha Lake in Cincinnati.
The women's 4+ boat, rowed by Molly Bruggeman (Oakwood, CJ junior), Annie Haley (Oakwood, CJ senior), Katie Holtvogt (Centerville HS 2008 graduate), and Moriah Pendergrass (Dayton, Dominion Academy senior) with Abby Meyers (Dayton, CJ senior) as the coxswain, missed a medal by .3 seconds.
DBC head coach Mike Miles of Oakwood reported, "This was the club's first time to be in the grand final at this regatta. The six-boat final was very tight, with the second, third, and fourth-place crews all within a half-second of each other. A last-minute charge from the boat from Newport, which had been in fourth place for most of the race, upended our boat's hope of getting a bronze medal. Our girls made a valiant effort, though, and should be proud of their work."
The other DBC boat in the invitation-only competition was the men's lightweight 2x, rowed by Oakwood High School students Patrick Murphy (2008 graduate) and AJ Montesano (senior) and coached by Dave Sutter. Their boat finished sixteenth in the US, also a club best. Competition in this field was extremely tough, with strong teams from throughout the country in head-to-head contention.
Dayton Boat Club activities continue through the summer. Information about learn-to-row camps and other rowing opportunities can be found on the club web page, www.daytonboatclub.org.
They had a fantastic season and superb performance in the playoffs and championship game on June 25, 2008. In the playoffs, the 2 best teams in the league duked it out 3 times in the double-elimination tournament! Though they finished as league runners-up to Sam Fiore's Orthopaedic Institute team, Brian Hoecht's coaching philosophy developed a great team whose players excelled and, most importantly, had fun!
OCC Soccer Camp (Coach Bill Sellers)
July 28-August 1, 5:00-7:00 P.M.
Old River Sports Complex
All boys and girls from grades 2 - 6
OCC Basketball Camps at Orchardly Park (Coach Adam Woessner)
July 14-18
Boys and Girls
Grades 3-5 9:30-10:30
Grades 6-8 10:30-11:30
Tri-Sports Camp (Coach Andy Seyfang)
July 21-25, 9:30 A.M.-12:30 P.M.
Boys and Girls entering grades 3, 4, 5, & 6.
Intro Sports Camp Week
August 11-15, 9:30 A.M.-12:30 P.M.
Boys and Girls ages 7-10
Old River Sports Complex
Tennis Camp Deuce (Chris Cubbage pro at Hollinger)
July 7-11, 3:30-4:30 P.M. ages 4-6
July 14-18, 3:30-4:30 P.M. ages 7-11
July 21-25, 3:30-4:30 P.M. ages 12-14