Rhythm and Shoes births ShoeFly at CityFolk
By Burt Saidel
Mother Nature was playing its usual tricks with the CityFolk Festival at Riverscape. The 4th of July holiday was a mixed bag of rain, gray skies and bits of sunshine.
After a few false starts on the 4th, we ventured to the festival. Our target, in addition to all conceivable food items, was the appearance of Rhythm in Shoes.This amazing group of dancers and musicians has delighted audiences nationally and internationally for nearly two decades.
RIS does so many things beyond dance. They do comedy, bizarre dance-centered performance art and, oh yes, traditional clogging and tap dancing. They do anything to make their audiences happy and to keep their company alive.
Lately, they have responded to the economic crunch felt everywhere by creating another spin-off company. ShoeFly is a smaller bundle of amazing talent, three dancers and three musicians. They perform in clubs, bars and restaurants and who knows where else.
The core, and heart of RIS are Sharon Leahy and her husband, Rick Good. Rick is the master of traditional music and Sharon is dancer/chorographer/artistic director. Son Ben is one of the music makers and daughter Emma is one of the most beautiful young women in America and breathes dance from every pore.
They add dancer/choreographer/ stunning Gina Burgei and musician Paul Kovac and you have ShoeFly. Now, they have added a student company of darling young persons, Shoe2.
All of the above plus dancers Tina de Alderete, Janet Shroeder and Josh Fossit gave a lively show at the main stage of the festival. Heels flashed, skirts swirled, smiles beamed, banjos strummed. A great time was had by all, dancers and cheering audience.
Summer in Dayton could be synonymous with theater. There are so many festivals to take us away from the heat, or the rain or whatever.
We approach Dayton Playhouse's celebrated FutureFest next week. Their formula, six plays in one weekend, is a sell out. The loyal audience never seems to tire of discussing the plays and making their own judgments predicting the winner. In quite a few years, I've maintained a 100 percent record – my favorite has never won.
This energetic theater just completed Studio 24 - a novel experience bringing together a cast, director, set builders and a supply of No-Doz. They are introduced to the play, stage it, produce it and perform it in one sleepless stretch. Unfortunately, I missed the entire event as well as a partially sleepless night.
Last week, The Human Race presented its own theater festival. Entitled Under Construction: Musicals in Development, the weekend consisted of three musical plays, each given twice.
At the first play, I was cautioned that I could not review these unfinished works but could report on them. I am not certain of the difference but consider this a report.
Each of the works was quite unique. Tinyard Hill and "The Black Crook" Project were conventional musical plays. A Novel Insight was a delightful first-time happening for me.
Under the tutelage of representatives of the Lovewell Institute for the Creative Arts, 20 young persons, ages 13 to 18 wrote, produced and performed their original musical, A Novel Insight.
Their music was performed by a gifted combo. The stage was continually filled with beautiful bright faces full of energy and singing some lovely songs. The plot – well never mind about the plot – it made little difference to the joyous cast and the delighted audience.
The two conventional musicals featured cast members from among the best in the area. Tinyard Hill by Mark Allen and Tommy Newman is a somewhat skewed love story, spanning generations and social and educational classes.
Sterling performances by an all-star quartet of actors helped overcome some intrinsic problems with the book. The wonderful music came from the gifted piano of visiting artist Gillian Berkowitz.
As the lovers, visiting artist Christine Dwyer and WSU senior J.J. Tiemeyer made beautiful music together. Loveable Katie Pees and superstar Scott Stoney were the widowed aunt and her former lover, also a widower and father of the young man.
What was so electric was how effectively each character and each song worked to involve the audience. Katie can sell any song and any character. She made her "down home auntie" vibrate with good humor laced with pathos.
Christine is one of those stage presences that you must fall in love with. Everyone, especially J.J., did immediately.
To see Scott Stoney and young JJ Tiemeyer on stage together was a remarkable experience. Scott is a master of any theatrical challenge. J.J. is a handsome singer, dancer and actor. I realized that he was becoming the next Scott Stoney, also a master of his art.
The third musical "The Black Crook" Project was a hodgepodge of characters, patter songs and unremarkable music. It is based on an actual 19th century play that toured New York.
The recreation by Joseph Thalken, Michael Slade and Mark Campbell was awarded a dream cast. Unfortunately, they did not give such luminaries as Marya Spring, Jamie Cordes, Bruce Cromer, Pat Linhart, Aaron Vega, Jake Lockwood and Claire Kennedy enough good material to match their talents. Add to that Katie, J.J. and Scott from Tinyard Hill and you still didn't have enough to save the show!
Kevin Moore directed the entire weekend with the assistance of WSU grad Michael Rader. These "under construction" opportunities are rich theatrical events. I look forward to them each year.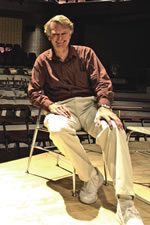 Oakwood resident and Chairman of the Wright State University Department of Theatre, Dance & Motion Pictures, W. Stuart McDowell has won a national essay contest in theatre from the University of Wyoming, carrying a $2,500 prize. According the Associate Dean of the College of Arts and Sciences at the University of Wyoming, the competition included essays from all corners of America. McDowell's essay focused on the theatre practice of German playwright Bertolt Brecht, in an attempt to "dispel the myths that surround Brecht's work, and free actors and directors to stage the work of this playwright, whom many consider one of the most important playwrights of the 20th century."
McDowell is known for his staging of several American and New York premieres of Brecht's work. Two years ago, McDowell staged a successful production of "The Threepenny Opera by Brecht and renowned composer, Kurt Weill with support from the Kurt Weill Foundation presented by Wright State University Theatre. This summer McDowell traveled to Berlin, where he interviewed actors and directors who worked with Brecht for a forthcoming book, */Acting Brecht./* McDowell was a Fulbright Scholar in Germany, and holds a doctorate from the University of California at Berkeley for his thesis on Brecht.
According to McDowell: "Two years ago saw a brilliant new production of Brecht's landmark play, Mother Courage and Her Children starring Meryl Streep and Keven Klein, as well as several important productions of other Brecht works throughout the country. Brecht was a leading opponent of fascism in Europe in the 20th century as well as an exceptional playwright. His outstanding plays need to be seen by audiences worldwide, because they still speak to us today. With my essay on Brecht, I hope to broaden the appeal of Brecht's work, while freeing actors and directors to perform his plays."
The Vandalia Youth Theatre will be presenting "How To Succeed In Business without Really Trying". The show from the authors of "Guys And Dolls" comes one of the most delightfully irreverent musicals of all time. A satire of big business and all it holds sacred, "How To Succeed In Business Without Really Trying" follows the rise of J. Pierrepont Finch, who uses a little handbook called "How To Succeed In Business Without Really Trying" to climb the corporate ladder from lowly window washer to high-powered executive, tackling such familiar but potent dangers as the aggressively compliant "company man," the boss' whiny, nepotistic nephew, the office party, backstabbing co-workers, caffeine addiction and, of course, true love. The play is directed by Oakwood Starbuck's manager Michael Wadham. Cami Brewer, another Starbuck's employee, is the stage manager.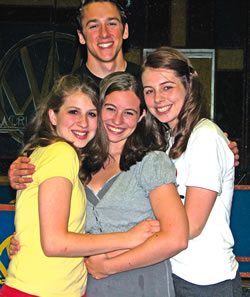 Joanna Draper plays the love interest, Rosemary.
Katie Mauch, Krista Weltner and Troy Gould are
in the ensemble and are featured dancers.
Link Gallery, a new art gallery in the Oregon Arts District and host to a group of Dayton's most notable artists is presenting their new show, 'momentum,' an exhibit of metal sculpture by Michael Bashaw, mixed media paintings by Jeffrey Cortland Jones, and photographs by Joel Whitaker.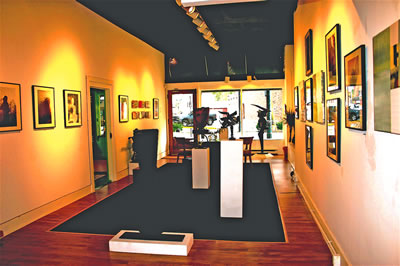 Dates: Thru July 26
Link Gallery Hours: Wed, Thurs, Fri – 5-8pm Sat – 2-8pm
By appointment: 937- 684-3505 937-224-7707

519 East Fifth Street Oregon Arts District Dayton, OH
Giving Strings is to host their 8th Annual Benefit Concert on August 9th at 7 pm at Shafor Park in Oakwood. This non-profit orchestra is composed of both amateur and professional musicians from around the Dayton area. Annually, the orchestra meets to perform a charity concert in which all profits are given to a local charity. A silent auction is also featured on the side of the concert, offering CD's and other donated items for sale. In the past seven years, the orchestra has raised over $30,000. The concert will feature classical favorites as well as a solo performed by the Dayton Philharmonic's Principal Percussionist, Michael LaMattina.
Michael LaMattina began his passion for percussion at age seven, when he took drum lessons with his father in Long Island, New York After he spent several years playing in the Atlanta Symphony Youth Orchestra, Michael attended the Oberlin Conservatory of Music, where he earned his bachelors of music in percussion performance. After his undergraduate studies, Michael earned his MM in 2001 from Cleveland State University. Michael also plays in the Columbus Symphony Orchestra, the Colorado Music Festival, and is on the faculty at Cedarville University. Michael also is a member of the Dayton Philharmonic Trio, which performs numerous educational outreach concerts in the Dayton area. He is married to DPO violist Lori LaMattina.
We still need donations for the silent auction! If you have any questions or comments, or if you are interested in playing in the orchestra, please email Clara Hofeldt at chofeldt@donet.com or call 293-5753.
The Kay Smith Memorial Printmakers Show at The Society of Painters and Sculptor's 48 High Street Gallery, in Dayton, from July 13 through July 27th, 2008. A juried show of hand-pulled prints form the area's finest printmakers. Thursdays and Friday 1 to 4 pm and on Saturday and Sundays 1 to 5 pm. (937) 435-0504.