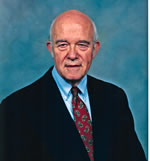 The Oakwood High School Distinguished Alumni Awards were created to honor and recognize those that are outstanding leaders in his or her field, and provide service to his or her community through local, state, national, or international organizations – all while maintaining high standards in personal integrity and character. We will be honoring four such individuals at the first annual awards reception on Aug. 16, 2008. The recipients will also be recognized during closing ceremonies of the Oakwood Centennial Celebration on Sunday, Aug. 17.
While all recipients are extremely successful and accomplished, they excel in unique and meaningful ways, making them a diverse and complimentary inaugural class. The first of those four individuals (in alphabetical order) is Harry G. Ebeling. Harry has been dubbed "Mr. Oakwood" by his wife Martha or "Marty" - and comes by it honestly - as he rises above the rest when it comes to representing and supporting his community. The number of groups and organizations that Harry takes part in is staggering, not to mention the leadership roles he has assumed – ranging from board member to president.
Harry is a founding member of three local organizations – the Oakwood Schools Education Foundation, the Oakwood Historical Society, and Stage Wright Friends (Wright State University School of Theatre) – and is active as a Senior Warden at St. George's Episcopal Church, and steadfast volunteer at the Planned Parenthood Annual Book Fair and Book Loft. His contributions are too numerous to try and recount and are surely not fully represented, but are highlighted by his continued dedication to preserving Oakwood's history, and supporting educational excellence now and in the future.
If you took note of all the organizations and activities that Harry G. Ebeling was or is currently involved in, it is hard to imagine the man ever had time for a career. But after graduating from Oakwood High School in 1950, Harry attended Ohio Wesleyan University, from which he graduated in 1954. He went on to the Air Force where he was a pilot in the Strategic Air Command. Upon completing his military duty, he then attended Ohio State Law School, and graduated in 1959. From there he went to work at the law firm of his father, Pickrel, Schaeffer, and Ebeling Co., L.P.A., focusing on real estate and business law. A respected lawyer as well, he was honored with Barrister of the Month by the Bar Association, and was an active member in the Lawyer's Club.
From the sound of it, the city of Oakwood and surrounding Dayton community has benefited from his retirement. A leader among his peers and a dedicated public servant, Harry G. Ebeling is distinguished from the rest. Giving of his time and his talents, he makes Oakwood a better, richer community for the rest of us. It is an honor that we are able to enjoy the fruits of his labors, be them unknown or published – and an honor to have him as a distinguished alumni. Thank you Harry – Mr. Oakwood.
---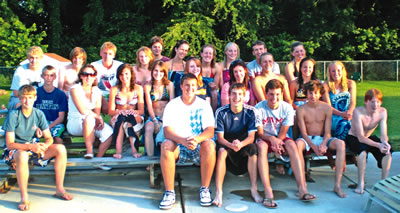 The photo is from the French Exchange students' visit. The students were placed in Oakwood, Xenia, and Beavercreek homes during June and July. They stay with families for three weeks, as the goal of the program is to integrate the students into American family life. The program is coordinated through Vistas in Education and Jennifer Jervis, OHS French teacher. The above picture is from a pool party at Pinecrest Swim Club in Xenia. Hosts include: Katy Bird, Mark Skill, Emma Chadd, Brittany and Stephanie Hemmelgarn, Mason Cammel, Katie Foos, Alexandra Harmony, Haley Pohlman, Evan and Alison Jervis, Marcel and Ben Georgin, Court Wille, Adam Smith, Thomas Sherk, Katie Eloe, Travis Wagner, Joseph Martin, Connie Abner, and Marie Hertzler.
---
The Oakwood Jr. High Office will be open for new student registration weekdays, beginning Aug. 7 – Aug. 19 from 9-11:30 a.m. and 1-3 p.m. Please bring a copy of your child's birth certificate, immunization record, and a copy of your purchase or rental contract to the Oakwood Junior High Office at 1200 Far Hills Ave. If you would like a registration packet mailed to you or if you have any questions, please call Dawne Roeckner at (937) 297-5328.
---
SPARK study shows pre-school counts
By Jim Uphoff Ed.D.
Supporting Partnerships to Assure Ready Kids (SPARK) has been a specially funded initiative in Northeastern Ohio. Its own research results combined with data from many other studies have produced strong results that show that a quality pre-school experience counts in many positive ways. Eight key statements summarize these findings.
95 percent of the brain's capacity is developed by age three, yet only 1.3 percent of Ohio's budget is dedicated to young children.
A child develops the ability to reason by the age of five.
A youngster's brain works on a "use it or lose it" principle, and synapses not used or stimulated early will be discarded.
Nearly 1/3 of children entering kindergarten are 1.5 years behind their peers in development and school readiness.
Children in high-quality programs begin kindergarten socially and emotionally competent to find success.
Children who enjoy high-quality early learning experiences are more likely to stay in school, attend college, earn more money and land a high-skill job.
Society SAVES up to $7 for every $1 invested in quality early education and care via future dollars NOT spent in the special education, juvenile justice and welfare systems alone.
Relationships that are positive, trusting, reciprocal and flexible, and embody pro-social, child- friendly values, protect children against abuse and neglect.
This report in the June, 2008 issue of the OSBA Journal stresses that a few Ohio homes are able to provide these types of quality experiences for preschoolers, but that given our nation's economic and/or social problems way too many homes must rely on more formal early childhood care and programs. Even the children of Oakwood need such quality care whether it be at home or in some other setting.
The major point is that all parents need to be certain that their pre-school children are given the best chances for success and that calls for quality early childhood education and learning experiences whether at home, in a more formal setting, or a combo of both. The foundation for a life of learning is crucial and we owe it to our children to make sure that its "construction" is well-done!
CLICK
FOR THE
WHO AND WHERE !!