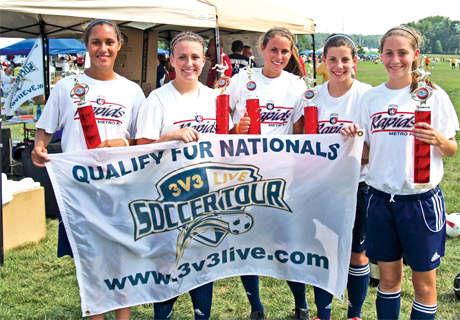 From Left to Right: Briana McConnell (OHS), Rachel Hickson (CHS), Michelle Hodapp (CHS), Rosie John (CHS), Kelly Stone (CHS).
Incoming OHS sophomore, Briana McConnell, along with four teammates from Centerville High School, won the 3v3 Live National title on Saturday, July 26, 2008 at Kings Island. Playing up in the U16 division, the girls went 4-0, outscoring their opponents 32-10. Although they found themselves playing in extremely humid conditions, the girls fought hard, displaying great teamwork and sportsmanship throughout the entire tournament. With this win, the team now qualifies for Winter Finals held in Las Vegas, NV on January 4-5, 2009. Great Job Ladies!!!
---
The Oakwood High School varsity/alumni soccer game will be played on Thursday, Aug. 14 at 7 p.m. The alumni will be playing the OHS varsity team. Any alumni who would like to participate will need to contact Kyle Duwel at 272-4560 or kyle@duwellaw.com by Aug. 10.
There will be a $10 charge to participate which will cover the cost of a T- shirt. Players will need to arrive at the stadium no later than 6:30 p.m. on Aug. 14. Alumni will need to wear shin guards, white socks and dark shorts.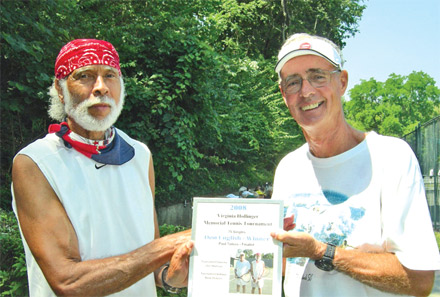 Don Hastings (left) presents an award to Don English, the 75 Singles winner.
The Virginia Hollinger-Keith Donoff Super Senior Men's Tournament finals were held on Sunday, June 27 at Hollinger Tennis Club, Oakwood. The USTA-sponsored Tournament Director was Don Hastings and Referee was Dave Hodson, both from the Hollinger Club.
The tournament name was changed this year to include Keith Donoff's name; he passed away this year and his wife accepted a special Sportsmanship Award on his behalf during a special ceremony on Saturday.
From a field of 50 participants, the winners were:
50 Singles - James Bosse

55 Singles - Stephen Hayden

65 Singles - Tom Cocagne

70 Singles - Vitalis Septua

75 Singles - Donald English

50 Doubles - Bosse/Peyton

55 Doubles - Clouse/Huston

60 Doubles - Hastings/Williamson (both from Hollinger)

65 Doubles - Hodson/Hull (Hodson from Hollinger)

70 Doubles - Hicks/Stephens

75 Doubles - Eaton/Moore (Eaton from Hollinger)
Hollinger Tennis Club's annual Member/Guest Tournament will be held on Saturday, Aug. 9, from 9-11 a.m., followed by a potluck luncheon. Any non-members that would like to play in this tournament please call Chris Cubbage, our Club Manager and Director of Tennis, at 304-6892.
There is a new program for young people offered at Hollinger Tennis Club this year, called Matilda Blue Adaptive Tennis Serving for Autism, which features an interactive, recreational experience for children with autism spectrum disorder and their families. The program was founded by Chris Cubbage who leads the weekly class (see photo). For more information on this program, sign-up forms, and other events at Hollinger, go to our website: www.hollingertennis.com, or call the Club at 937-299-2961.
Half-price memberships for new members are being offered at the Hollinger Tennis Club again this year, effectively immediately. Please contact the Club's Membership Chairman, Bob Reece, at 298-2536. There are lots of activities yet for this season, which ends around Nov. 1, and you can still join a weekly mixed doubles group or daytime league. The Club is located at 201 Shafor Blvd. in Oakwood, and the phone number is 299-2961.
Intro Sports Camp Week
August 11-15, 9:30 A.M.-12:30 P.M.
Boys and Girls ages 7-10
Old River Sports Complex
Patterson Park is now taking registrations for its autumn baseball leagues. Play will run approximately Thursday, August 21 thru Saturday, October 11. Leagues for players 9-11 will be on the Little League fields (60 ft. bases) on Irving Avenue while league for 12-13 year-old players (80 ft. bases) and 14-18 year-old players (90 ft. bases) will be at the "upstairs" facility off the Stewart Street entrance.
Players 9 through 13 may obtain registration materials later this week at www.pattersonparkbaseball.org. For questions, please call Jim Murphy at 298-8473.
Registration materials for players 14-18 will be available soon. Please call Jimmy Chandler at 256-3740 for questions about this age group.
Oakwood High School's Fall Sports will begin on the following
dates and times:

Football – Thursday, July 31 – 7:30 a.m. Practice field

Boy's Soccer – Monday, August 4 –7 a.m. Stadium,
8-10 and 11-1 Old River

Girls Soccer – Monday, August 4 – 7 a.m. Stadium

Volleyball – Monday, August 4 – 4 p.m. East Gym

Golf – Monday, August 4 – 8 a.m. Community Golf Course

Girl's Tennis – Monday, August 4 – 9 a.m.. OCC Tennis Courts

Field Hockey – Monday, August 4 – 7 a.m. Stadium,
5:15 p.m.-8:15 p.m. Irving Field

Cross Country – Monday, August 4 – 8 a.m. Stadium
Hi, This is Scott Herman, head softball coach at Oakwood High School. I want to tell you about some girls that are playing select softball that will surely have an impact on Oakwood softball in the future.
The girls are working hard and are improving their game, but most of all, they are having fun and enjoying the game. The great thing about softball is you can start playing at an older age. There are different levels of play where girls can start playing. E.K.R.C. and K.A.B. C. are two leagues out of Kettering that support that. We have select teams in place if you want to take your game to a higher level.
If anyone is interested in pitching lessons, my email address is bhahah@aol.com.
---
The Oakwood High School Athletic Hall of Fame Committee would like to invite the public to the First Annual Oakwood Athletic Hall of Fame Banquet to be held Thursday, Aug. 21 at the Dayton Country Club (jacket/no denim) beginning at 6 p.m.
Cost for the event is $30 for adults and $12 for children 12 and under. Social hours begins at 6 p.m. with heavy hors d'ouvres; program begins at 7:15 pm. To purchase tickets for the event, please send a check made payable to Oakwood Athletic Boosters, and mail to Oakwood Athletic Hall of Fame, 1200 Far Hills Avenue, Dayton, OH 45419 by Aug. 1, 2008. Attendees will not receive a ticket in the mail; check in begins at 5:45 p.m. at the Dayton Country Club. For more information, please contact Mark Hughes, Chairman, Hall of Fame Committee, at (937) 297-5342.
The Committee is trying to locate the family members of Dan Howell, Bess Hayner and the 1929-1931 State Championship Track Teams. If you know of any information that would help us, please call the Oakwood Athletic Department at 937-297-5342.