Although I have not been a member of the Oakwood Board of Education for the past seven months, my home location across the fence from the athletic fields and general awareness of school district activities has kept me well informed about our system. What follows are just a few examples of what I am sure will make this next school year a very positive and productive one for our pupil performances!
This summer I have watched several "camps" take place just beyond my back fence. Several football camps have involved some of our youngest future players and others worked with the more experienced youth. This past week the Band Camp entertained me with the music and the dedication to quality performance. In fact the band is so focused on improving their skill in music and marching that their student leader for this season is even named Marc Skill, and he is also a solid cross-country and track athlete!
A long-time concern of the Board has been the deteriorating condition of our football visitor bleachers. Years ago my son was helping replace bad boards, but this past summer totally new stands for football and for baseball and softball have been constructed. Elevated a bit so even the lowest rows can see over the visiting players and with a ramp for handicapped access, our system will be seen in a positive light by fans from other schools!
Throughout the summer our district's professional staff have been engaged in many kinds of workshops and seminars designed to improve our students' ability to achieve even more learning. Our teachers and administrators have spent many hours working towards this goal of even better student growth. I salute them all for this dedication.
Finally, last week's issue of the Oakwood Register included a very colorful school report to the community. I found it to be very readable with a clear focus on the people of our school system. To me, it represents the 2008 Board's commitment to effective communications with our total Oakwood community.
Recognition of "stars of the past" via the new Alumni Hall of Honor and Athletic Hall of Honor is another major step forward which will be fully implemented later this month! Thanks to all who have worked to bring these events to life and CONGRATULATIONS to all who are being recognized.
---
Pick up for E.D. Smith School Supply Kits will be Thursday, Aug. 7 from 8 to 11 a.m. Please come to the side door on Telford to pick up your kits. Additional kits for each grade will be available for purchase on a first come first serve basis.
Please contact Sharon Kelly, rxmom@woh.rr.com, with any questions.
---
The Oakwood Jr. High Office will be open for new student registration weekdays, from Aug. 7 until Aug. 19 from 9-11:30 a.m. and 1-3 p.m. Please bring a copy of your child's birth certificate, immunization record, and a copy of your purchase or rental contract to the Oakwood Junior High Office at 1200 Far Hills Ave. If you would like a registration packet mailed to you or if you have any questions, please call Dawne Roeckner at (937) 297-5328.
---
Oakwood Jr. High School will start on Wednesday, Aug. 20. The seventh grade orientation will be Monday, Aug. 18 at 9 a.m. in the East Gym and will last until 12 p.m. There is an orientation for eighth graders new to Oakwood on Monday, Aug.
18 at 1 p.m. in the Jr. High Office.
Oakwood Junior High schedules, with classes only, were mailed on July 24. The final schedules with locker and homeroom assignments along with student packets will be mailed on Aug. 8.
---
An Open House will be held on Monday, Aug. 18 from 6:30 to 8 p.m. Students can meet the teacher and find their new classrooms. Students are also encouraged to bring supplies at that time. Volunteer sign-up opportunities will be available during the Open House.
---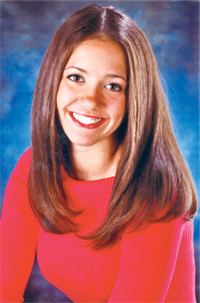 Carly Sellers, a 2005 graduate of Oakwood High School, is the recipient of the 2008 Jane Brokaw Gallup Kappa Alpha Theta Foundation Scholarship.
The Foundation awarded this scholarship in recognition of Carly's high academic achievement, participation in Kappa Alpha Theta activities, and involvement in the community.
Carly, a senior psychology major with Spanish and criminology minors, currently maintains a 4.0 grade point average and has been a recipient of the President's Award in each of her six semesters at Miami University.
CLICK
FOR THE
WHO AND WHERE !!