At an awards ceremony in New York City on Sunday, August 3, Whispers Home was honored as a finalist in The Best of Intima Magazine's prestigious Best Shop Awards. Over 360 stores in the United States participated, with 160 nominations and 25 finalists. Whispers is one of five finalists in the Concept Store category.
Whispers has enjoyed nominations each year since 2004, when Best of Intima began the Best Shop Awards in the United States to honor independent specialty stores across the country. In addition to the five consecutive Best Shop nominations, Whispers was named among five U.S. finalists in the Personal Touch category in both 2004 and 2006.
Wyatt is delighted with this national recognition for her six-and-a-half-year-old boutique. "Our goal at Whispers is to take very good care of every customer. My dedicated, well-trained and personable staff helps makes it all happen," said Wyatt. "I'm fortunate to have great customers and a special team to help fulfill my vision, and this industry acknowledgement is again an added honor."
Whispers opened in November of 2001 in the Shops of Oakwood and prides itself on offering the finest lingerie, Yves Delorme linens for bed, bath and table, and gift items from the U.S. and around the globe.
---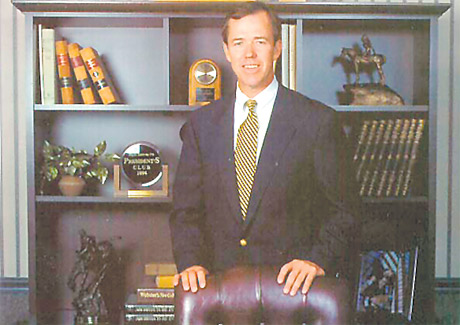 Colin Campbell has received two sales professional awards for the second quarter of 2008 from Prudential One Realty – second place in Ohio for Residential GCI and third place in Ohio for Total Residential Units.
"Colin shares Prudential One's commitment to quality and customer service," said Jeannie Wilkinson, office manager of Prudential One, Centerville. "He is the type of sales professional that continues to grow the company, and increase our presence in the local community."
"Prudential One's focus on the customer and the its goal to provide the best products and services for its sales professionals are what make affiliating with Prudential One Realtors the best choice possible," said Campbell.
---
Gretchen Loper, who has served as principal of Harman school for the past nine years, recently accepted a position with the Sheffield-Sheffield Lake City Schools for the 2008-09 school year. Her last day at Harman will be Friday, Aug. 15.
For the past three years, Ms. Loper has been making the commute between northern Ohio, where all of her family resides, and Oakwood every weekend. Late this summer, an employment opportunity presented itself which made it possible for Ms. Loper to rejoin her family.
"It is time for me to be with my family," Mrs. Loper explained in her letter to Harman families, "I just wish I could pack up all of Harman School and move you up north!"
"A principal with less affection for and commitment to her students and staff would not have chosen that grueling of a schedule for that long of a time. I am very grateful to Ms. Loper for her dedication to Harman" said Dr. Mary Jo Scalzo, Oakwood superintendent.
A public reception for Mrs. Loper will be held on Wednesday, Aug. 13, from 4-6 p.m. at the Harman School Auditorium. Students, parents, and community members are invited to stop by to wish Ms. Loper well.
At their Aug. 11 meeting, the Oakwood Board of Education approved the employment of Ed Bowman as Interim Principal through December while the district conducts a search this fall for Harman's new principal. Mr. Bowman and Ms. Loper will work together this week to ensure that everything is in order for the opening of school on Wednesday, Aug. 20.
Mr. Bowman served as Oakwood's high school principal and then as the Director of Educational Services from 1988-1999. He departed Oakwood in 1999 when he was named the Superintendent of the Greene County Educational Service Center. During the 2006-07 school year.
"I think we are very fortunate that Mr. Bowman is able to assist us again in the role of Interim Principal," Dr. Scalzo said. "He knows our district well and has a proven track record for great communication and rapport with staff, students, and parents."
School families who need assistance prior to the start of the school year should not hesitate to contact Mr. Bowman at 297-5338 or bowman.ed@oakwood.k12.oh.us.
---
By Susan Woessner

I arrived here in Beijing, Monday afternoon after about 20 hours of travel. Austin to Chicago and then a quick 14 hours from Chicago to Beijing. I am writing from the Research Center of the NBC Broadcast Compound at the Olympic Games. The research room does exactly what it sounds like – we are here to support the over 3600 hours (TV and web) that NBC will produce for these Games. There are about 30 researchers assigned here and we are all assigned with a 'mirror' – two people share the same assignment and work 12.5 hour shifts each so someone is always here on call in case something comes up.
The setting is reminiscent of movies that show newspaper rooms of the 30's and 40's. I don't know why that is the image that comes to mind, but there are a lot of work stations in a small space, there is always a phone ringing or the printer going, people hustling and bustling around. Calls come in to "the platform" – a switchboard set up in this room – from any of the many facets of this operation, a producer, graphics, the tape room, a writer etc., and the switchboard determines who can answer that call. Each of the 13 teams of two is assigned a few sports to know in depth and be able to answer questions, develop storylines and check facts.
Until the Games start on 8/8/08 we are to learn as much about the sport as possible: the rules of that sport, how you medal (is it a tournament? is it rounds? if you lose here, what happens then?), possible storylines, history making moments (i.e., if Amanda Beard medals in the 200 breaststroke, she will be the first person ever to win four medals in an individual event). More than anything, they have stressed ANTICIPATION of what might happen next.
Today we're identifying the Opening Ceremonies' flag bearers for each of the 205 federations that will compete here. During the athletes' parade in previous Games, you've seen the name of each flag bearer printed across the screen and then the commentators talk about why that person has that honor or they tell a cute anecdote about that nation. Each researcher has 9 or 10 countries. I have, among others, Botswana, Portugal, Malta, and Comoros. Did any of you know that Comoros is a country? Bonus points if you know where it is! Here is a clue … it was a French colony until 1975 and its name comes from the Arabic 'qamar' which means 'moon.'
So far I have only made it through three of my nine countries. Comoros and Malta were easy. I got a little hung up on the third, Serbia. I am a history nerd and the story was so interesting that I just kept reading. The flag bearer for this nation is 48 year old Jasna ·ekariç. Sekaric is a sport shooter and this will be her sixth Olympic competition. She is a five time medalist over four of her previous five Games including a Gold in '92 and she was named Shooter of the Millennium by the sport's international governing body in 2000.
What is really interesting is that in her six appearances at the Olympic Games, Sekaric has represented four different federations although she has never sought out new nationality. This is a great example of the politics that are so finely intertwined with the Olympics. She has competed for Yugoslavia (1988/1996/2000), as an Independent Participant in 1992, Serbia and Montenegro (2004), and now for Serbia in 2008. You can see the break up of Yugoslavia mirrored in her representation status over the last 20 years. What's more, the Serbian flag will fly in the Olympic stadium for only the second time in history at the Opening Ceremonies. Serbia was last represented at the Olympic Games in Stockholm in 1912! When she was named the flag bearer for her country, she said: "I am very proud and happy to carry the flag, and I think that we are all happy to compete under the Serbian flag after 96 years,"
Susan Woessner, OHS '98, is spending her summer vacation as a research assistant for NBC Sports at the Olympic Games. In her other life, she is a graduate student in social work at the University of Texas, Austin.
---
By Sarah Brewer

After nearly three weeks overseas in Sablino, Russia, Catherine Ordeman, 16, is back in Oakwood.
Mrs. Chris Saunders of the Miami Valley Episcopal Russian Network has been organizing trips to Russia for five years, and convinced Catherine's parents to let her go. "Mrs. Saunders told us it was more of a pilgrimage than a missions trip," said Catherine. After receiving her parents' approval of the trip, she applied for grants from the diocese, carried out fund-raisers, and prepared to go.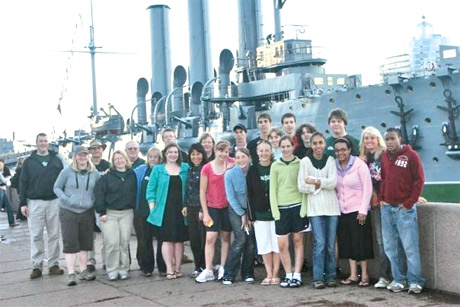 Catherine Ordeman, pictured fifth from left, front row, with MVERN students in front of Soviet-era cruiser Aurora.
When the group arrived in St. Petersburg, Catherine stated that she was surprised by the canals on the river, the low skyline, and the mixed architecture. "The tallest building was probably only ten or twelve stories. The old and new buildings were side by side," she said.
In their four days in St. Petersburg, the group rushed to see many famous places. "On a speed tour of the Hermitage Art Museum we may have only seen a tenth of the collection," said Catherine. The group also visited Simone Cathedral of Catherine the Great, the Kremlin in Nomengrad – a medieval city, St. Sofia's Cathedral– one of the oldest in Russia, St. Isaac's Cathedral, Emperor Paul I's castle grounds, the Leningrad Siege Memorial, and the cruiser Aurora, an icon of the communist revolution. "We wondered how it floated," said Catherine.
When asked about challenges the group faced in Russia, Catherine responded, "the communication barrier wasn't a bad struggle. We had a good translator and the kids knew a little English. If not, they found a way to show you. The biggest difference for us was the food. It was a struggle to adjust."
"In the mornings we worked in the youth center; in the afternoons we split into three groups: art, music, and theater," she said. Catherine was part of the art group. She was the group leader.
The teacher assumed the adult in the group was the leader and seemed to have a problem with Catherine as the leader. "She asked if I had ever taught art before or had taken art at the college level," said Catherine. According to Catherine another distinctive difference between Russians and Americans is a greater respect for elders: "the older person is always respected, not whoever pushes to the top." "The kids we worked with were around the ages seven to twelve. Their teachers drew a line in the sand they were not allowed to cross.
When we would arrive in the afternoons, they were very excited and started to draw their own lines a little past the ones their teachers had drawn," said Catherine.
The group stayed in hotels, which Catherine said were more like hostels. We made a driveway at the youth center, cleaned rooms, almost finished a fence and made space for a garden, according to Catherine. Some of their chaperones had gone on the same trip as Catherine three years prior to this trip. "When the time comes for another trip, I would like to do all this again," said Catherine.
---
By Amy Borgert

There is a saying by Ralph Waldo Emerson,
"Do not go where the path may lead, instead
go where there is no path and leave a trail".
As the fourth nominee for the Oakwood High School Distinguished Alumni Award, the late Frederick N. Young is the trailblazer of this group. A career lawyer and judge, Young was
a great asset, using his skill as a lawyer to help create tremendous and long-lasting resources
for the community.
Young graduated from Oakwood High School in 1950, and continued his education at Wesleyan College in Connecticut where he graduated with honors. From there, he attended Harvard Law School and graduated magna cum laude in 1957. Upon graduation, Young had many offers awaiting him, and interviewed at firms across the country, from Los Angeles to New York. However, his decided return to Dayton to work with his father at the firm of Young and Alexander Co., L.P.A.
Back in his hometown, Young immersed himself in law practice, and soon developed a business law practice. Young wrote an article on corporate separations that was published in the Harvard Law Review, and is possibly the only article in the review written by a Dayton lawyer. It would be this focus on, and the foundation of business law that would lead to his involvement and support several of his other interests that helped shape his contribution to the community.
Young became immediately involved in Dayton politics. He was first a precinct, then ward committeeman, chairman of the local Young Republicans and later was chair of the Ohio League of Young Republicans clubs. In 1968 he began his public service when he was elected to the Ohio General Assembly as a state representative, where he served for eight years. His other political positions include: member of the House Finance Committee and House Local Government and Urban Affairs Committee, the House State Government Committee, chairman of the Standing Subcommittee on Elections, and as a ranking minority member of the House Finance Appropriations Committee in the 110th and 111th General Assemblies. Among his contributions in the political arena, a notable accomplishment was the enactment of a bill he sponsored, that provided for state subsidization of certain qualifying adoptions – those being for handicapped children, or multiple sibling adoptions.
His expertise in law also led to significant contributions in local institutions. He was instrumental in the establishment of Wright State University, being appointed by the Ohio Attorney General as the university's first legal counsel and establishing the organizational structure of the university. He then served as a member of the Board of Trustees, from 1981-1990, and was Chairman of the Board from 1988 to 1990. He also helped Dayton Children's (Children's Medical Center of Dayton) organize to get its doors open. After drafting the merger agreement between Barney Convalescent Hospital and the Children's Hospital Society, he continued to serve as counsel as well as a member of the Board of Trustees and as Chairman of the Board. In addition to helping found these two great institutions, he was involved as a board member for many others, including the Dayton Museum of Natural History, the Senior Citizens Center, the Dayton Chapter of the American Cancer Society, and the Victoria Theatre Association.
After 35 years of practicing law with Young & Alexander Co., Young ran for and was elected as the Second District Judge in 1993. With the help of long-time friends such as Orval Cook, who was Young's campaign manager; and Harry Ebeling, who swore Young in as judge; his position was a community effort that was much appreciated. As he quoted in a newspaper article, "I am excited and honored to have this position, and I have Oakwood to thank for it."
And the feeling is mutual for those that knew and worked alongside Frederick N. Young. The communities of Dayton and Oakwood have benefited greatly from Young's hard work. When he passed away in January of 2006, his colleagues and friends shared accolades, recounting both Young and his wife Joyce C. Young as "icons in Montgomery County and the Dayton region," as well as "fearless fighters for what was right".
For all he accomplished in his career in the fields of law and politics; for the communities of Oakwood, Dayton and beyond; and for the outstanding institutions he helped establish; we thank Frederick N. Young for leading the way. For all this and more, we are happy to honor him as an Oakwood High School Distinguished Alumni.
Please show your support and honor these four outstanding individuals at the Oakwood High School Distinguished Alumni Award ceremony on Aug. 16, 2008.
Beginning at 6 p.m., the ceremony will be held at Moraine Country Club. To attend, call the Oakwood Alumni Association at 298-8711, or email alumni@oakwood.k12.oh.us.
Members of the Young family recently held a family reunion. Four generations have graduated from Oakwood High School.
As part of our Centennial Celebration, we will be adding an additional section to our "Talk of the Town" Cookbook. Do you have a family recipe that's been passed down for years and years? Is there a dish that has been a tradition for generations? Then share it with us and the rest of the community by being part of the Centennial Cookbook Addition. The addition will fit in the back of the current Talk of the Town cookbook and can be purchased for a nominal fee.
If you have a recipe (or two!) that you would like to share, please send it along with a brief description with the age of or family tradition held with each recipe.
Entries can be e-mailed to: occ@oakwood.oh.us or sent in the mail to:
Oakwood Community Center
105 Patterson Road
Dayton, OH 45419

Entries must be received before 5 p.m. on Sunday, Aug. 31.