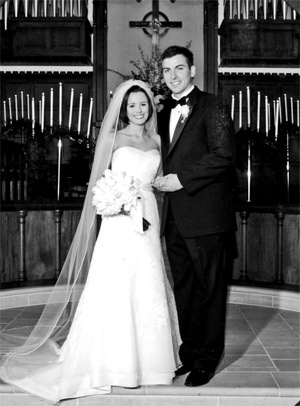 Guy - Berutti

Erin Leigh Guy and Aaron Johns Berutti were married by The Reverend Doctor Douglas Todd DeCelle, March 29, 2008. The ceremony was performed at First Presbyterian Church, LaGrange, Georgia. The reception followed at the Highland Country Club.

The bride is the daughter of Dr. and Mrs. Daniel Kreffes Guy of LaGrange, Georgia and the groom is the son of Mr. and Mrs. Bernard George Berutti, Dayton, Ohio.
The bride is a graduate of LaGrange High School, Vanderbilt University in Nashville, Tennessee, the University of Georgia, where she received a Master's Degree, and the University of Louisville, Louisville, Kentucky, where she received her law degree.
She is an associate attorney at Stites & Harbison in Louisville, Kentucky.
The groom is a graduate of Oakwood High School and Vanderbilt University, Nashville, Tennessee and is Corporate Sales Manager with Wright Medical Technology, Louisville, Kentucky.
Following a wedding trip to St. Lucia, the couple will reside in Louisville.
Wedding__________________________________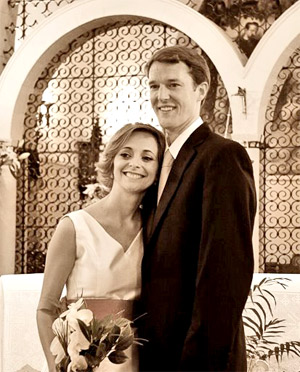 San Roman - Finke

Rafael San Roman and Mercedes Ruiz Gomez of Madrid, Spain announce the marriage of their daughter, Mercedes San Roman to Richard P. Finke.

The couple were married on June 20, 2008 in Madrid, Spain with Rev. Juanjo Aguado, SJ, presiding. A reception was held following the ceremony.

The bride graduated from Universidad Autonomade in Madrid, Spain with BA degree followed up with a MA from Cooperacion Internacional Para DeSarollo. She currently works for the United Nations, in the Development Programs section.

The groom is a graduate of Oakwood High School, graduated from Marquette University with a BA and then graduated from the Fletcher School of Law and Diplomacy at Tufts University with an MA. He currently works at the firm Simon – Kucher & Partners LLC. He is the son of R. Peter and Judith Finke of Oakwood, Ohio.
Ellen Weprin and Bart and Linda Weprin announce the engagement of their son, Andrew Jay Weprin of Manhattan, N.Y. to Meredith Pamela Hochman of Manhattan, N.Y.
The bride-elect graduated from the Hebrew Academy of Albany, and graduated from the University of Massachusetts at Amherst with a Bachelor of Science degree and earned a Master of Arts degree from New York University. She is currently working as a speech language pathologist. Meredith is the daughter of Dr. Sydney and Lorri Hochman of Queensbury, N.Y.
The groom-to-be graduated from Oakwood High School and graduated with a Bachelor of Science from the University of Massachusetts at Amherst and earned a Juris Doctorate from New York Law School. Andrew is currently working as an attorney for the firm Dechert LLP in Manhattan, N.Y.
A wedding is planned for February 15, 2009 in Long Island, N.Y.
Congratulations to the owners of the following residential and business properties:
Mr. Richard Lipowicz 259 Spirea Drive

Mr. & Mrs. Christopher Epley 54 Beverly Place

Mr. & Mrs. Christopher Trout 101 Forrer Blvd.

Ms. Robin Lewis 411 Aberdeen Avenue

Andy & Anne Jones 241 Monteray Avenue

Mr. David Brethen 209 Triangle Avenue

Mr. & Mrs. Daniel J. Gentry 1809 Coolidge Drive

Ervin & Wendi Pavlofsky 175 Park Road

Huffman Travel 2537 Far Hills Avenue
If you know of someone who has enhanced the beauty of our community by either planting shrubs, flowers, trees or with other landscaping improvements, or by making architectural or building improvements (including painting) to existing structures, and is deserving of recognition, we encourage you to take a minute and complete a nomination form (forms are available at the O.C.C. and city building) or simply call the city offices at 298-0411.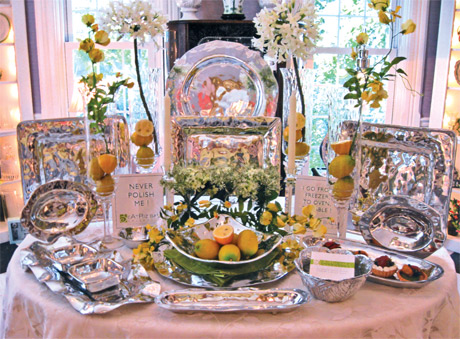 Nancy Kussman designed the winning display of the Beatriz Ball collection of hammered-look metal alloy pieces

The Little Exchange, 45 Park Ave., a fine gift shop in Oakwood that donates its proceeds to The Children's Medical Center of Dayton, has won second prize in a national merchandising competition sponsored by Beatriz Ball.
Volunteer designer Nancy Kussman is responsible for the winning display of the Beatriz Ball collection of hammered-look metal alloy pieces. According to the Beatriz Ball announcement, this display "demonstrates that more contemporary and whimsical pieces are at home in more traditional and elegant surroundings." Beatriz Ball also noted that the eye-catching vignettes of displayed merchandise inspire the imaginative customer to adapt the look for her own home, which is a signature of the merchandising approach at The Little Exchange.
Kussman has lived in Oakwood with her husband Bill for 36 years. She coached the Oakwood High School girls tennis team for four years, has served with the Women's Guild at St. Albert's and was a member of the Junior League of Dayton and Four Seasons Garden Club. She enjoys golf, gardening and being with her granddaughter.
"We are so fortunate to have Dayton Children's to serve the youngsters of our community and I am proud to volunteer at The Little Exchange so that we can offer continued financial support to the hospital," said Kussman. To date, The Little Exchange has donated nearly $1.4 million to Dayton Children's and in recent years, has supported The Family Resource Center at the hospital.
The Little Exchange is located at 45 Park Avenue in Oakwood and is open for summer hours in August on Monday, Wednesday and Friday from 10 a.m. – 5 p.m. and on Saturday from 10 a.m. – 3 p.m. The Little Exchange is closed on Sunday. For information on volunteering at The Little Exchange, contact store manager Judy Washburn at 299-1561.
---
Junior Rotarians Bryan Stewart and Phil Wille lend a hand to annual Lange cleanup day.
Sunny, pleasant weather graced Lange School's annual Work Day, held this year on Saturday, Aug. 9. Sixteen Rotarians as well as five OHS students from the newly formed Interact (a junior Rotarian organization) donated three hours of intense sweat equity to Lange. The group dismantled and removed the old Lange sandbox and shoveled out about five tons of sand in the process! One Rotarian jokingly commented that he didn't realize that they would be moving the Gobi Desert. The group also spread three cubic yards of playground mulch and about six cubic yards of landscaping mulch. There was also a good deal of trimming and painting. The grounds of Lange School are now pristine and ready to embrace our new cohort of Kindergarteners and Pre-K students. Oakwood's commitment to volunteerism in its schools is unparalleled, and Lange's Work Day embodies this commitment. Thank you, Rotarians and Interact students, for your dedication!
By Harry G. Ebeling


Oakwood adopted its first zoning ordinance in 1925 and even then there was no provision for home or neighborhood businesses. In the Depression, a few small enterprises popped up, but there was little enforcement because it was a hard time for everyone and people had to do the best they could to make ends meet.

The Building Code – Platting Manual – Zoning Ordinance was adopted in 1925-6, using a New York consultant. In January, 1927, the first amended map showed business sites at Oakwood and Irving Aves., Schantz and Far Hills Aves., Patterson Rd. and Acorn Dr., Park Ave., Far Hills Ave. and Park Rd., Far Hills Ave. and Aberdeen Ave., Far Hills and Hilltop Aves. and Shroyer Rd. and Acorn Dr. This would seem adequate, but the little incursions came about anyway.

The best known and longest running was Brownie's at 312 Hadley Ave. People who lived in that area always remember it fondly. Bernie Brown bought the lot from Walter Carr, the developer of the plat, and built a house, converting it in 1926 to a mini grocery. It was never a big operation but served as the first convenience store for small items and last minute purchases and meat as well as for ice cream after school. Bernie and Hilda lived in the house with two daughters and a son until 1955. He retired and the pre-existing use expired and the house was converted back to residential use. The children attended school in Oakwood and one daughter sent us the adjoining photo several years ago.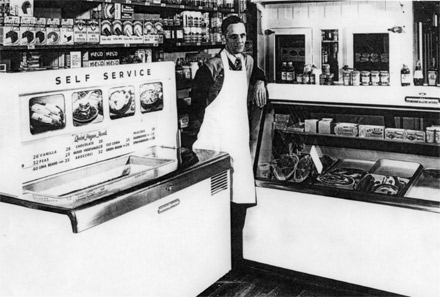 Bernie Brown of Brownies Grocery at 312 Hadley Avenue.
The store at the street car loop at Monteray and Far Hills Avenues is remembered in two accounts. In interviews, folks remember Marge's, which sold candy and snacks. Bill Biddle remembered it as Kellys' fruit stand which burned down July 4, 1926, when the fire works it sold caught fire. It was operated by Mrs. Herbert Kelly, a widow who lived at 301 Triangle Ave., and who also had children in the Oakwood schools.

Mrs. DeCamp operated The Marietta Tea Room in the first block of Dellwood Ave. It catered to tuition students who could get their lunch there. It was a source of
annoyance that Mrs. Kelly, who sought to rebuild after the fire on Monteray, was denied a permit. She wrote a snarly letter to Council asking why Mrs. DeCamp could operate in a residential area and she was denied.

Many services were offered from homes such as Bill Biddle's Radio & Electronics at 249 Peach Orchard Ave., E.J. Gatewood's music lessons at 43 Spirea Dr., John G. Doerfert's bicycle repair at 35 Triangle Ave., Schneider's Subscription Serviee at 257 Wonderly Ave., Mary A. Wall Beauty Shop at 17 W. Schantz Ave., and Dr. Cushwa, dentist, at the corner of Far Hills and Corona Avenues. Doerfert continued to operate until the late 70's when he retired. (See his son's soap box derby racer at Carillon Park)

There are undoubtedly some small ventures operating under the radar screen in today's changing world with Internet connections. Services such as one person accountants, lawyers and realtors are probably there but what constitutes a business becomes a question of interpretation, traffic and complaint.

Tinkerers and inventors have had a place in the residential areas of Oakwood. In the 1940's a group of men, working in a three car garage at 419 Volusia Ave., developed at special projects for use in WW II. One such man, William D. Evans, fresh out of Ohio State University worked on the problem of cloud cover hampering the effectiveness of the Norden Bombsight. A simple attachment of a crosshatch on a blackened piece of glass reflected an image on to a parabolic mirror, thus eliminating the problem. It quickly became a standard part and was ultimately used on the bombsight of the Enola Gay which was the Nagasaki atom bomber. Evans moved to Wayne Ave. after the war where he continued making contributions to aviation such as an automatic parachute opener. He later went into the plastics industry. (Oakwood Register 8/19/1967)

Last week we mentioned the big industrial building behind the Fletcher building on Park Ave. which housed the printing presses of the Oakwood Press in the 30's and early 40's. Mayne Products leased it from 1946 to 1952 where it assembled blower wheels. Bob Mayne tells of Mayne Products, owned by his father, Robert A. Mayne who perfected the double louvered blower wheel in the mid-forties. Used in the heating and air conditioning industries, it claimed to be of superior strength and stronger that any predecessor. Perfected for and with the assistance of Chrysler Airtemp it gave a smoother flow of air with greater efficiency and longer life by reducing vibration and noise. Robert Mayne continued to improve the product and the patents, until at the time of his death in 1960, they numbered 35. And it was produced right here in downtown Oakwood!

Recalling stories about business and commercial enterprises in Oakwood, I must spotlight two which started here, and were immensely successful companies. They weren't actually conducted here but their inventive entrepreneurship deserves mention. Pierce Davies Schenck used the garage behind his house at 414 Oakwood Ave. to tinker with cars in 1907. He had a knack for it and the money to pursue his interest. He followed through by establishing the Speedwell Motor Car Company where the old Delco factory was later built in Edgemont. It was a quality product and successful until the Dayton flood wiped it out and it never was able to come back. Schenck was president of Dayton Malleable Iron Company and he turned his interest to adapting high silicon iron alloy to practical uses. This led to his establishing the Duriron Company, (a name which he coined) in 1917. With the war creating need for the product, it prospered, employing 1,500 men and became one of Dayton's leading industries.