Maestro Neal Gittleman opened the Dayton Philharmonic season with the traditional Star Spangled Banner. He then gave a most non-traditional greeting from the stage, "How many of you are still without power?"
As many hands popped up, even Neal was surprised. It was a full 4 ? days since the intensity of the storm on Sunday. So many, including us, were without lights, hot water, telephones and Internet.
That was the negative side. On the positive side, our neighbors were out, helping and greeting each other. Wherever we went, we felt the same sense of community. Sharing food before it spoiled, opening up bathrooms to shower-less friends and neighbors and a general aura of congeniality are feelings we want to continue. I can, however, do without cold showers and shaving by flashlight.
The concert was just the right thing to add zest to an unforgettable week. Maestro Neal programmed three "unique" piano concerti this season. Unique means that you've probably never heard the music or even know of the composer.
His picks all promised to be crowd pleasers. So far, he's one for one. If the Reds had such a hitter we wouldn't moan at the score in the morning.
The concert opened with Dukas' The Sorcerer's Apprentice. Yes, it is Mickey Mouse laden with pails of water to irrepressible and never to be forgotten music.
The orchestra did not try to avoid the comparison with Fantasia. They played the remarkable relentless but tuneful march to the hilt proving Neal's thesis. It's just great music – enjoy it!
Next came Unique Concerto #1, by Moritz Moszkowski. Maestro Neal led handsome young pianist Richard Dowling on the stage. Dowling sat down at the Steinway and demonstrated digital perpetual motion. The concerto, four movements rather than the customary three, was a combination of nearly everything you have heard from an orchestra and piano.
Brilliant to the extreme, difficult beyond comprehension, it was fun and a bit corny in places. So full of vitality, it could have provided electricity for at least several thousand homes still unconnected.
Unashamedly melodic, nearly each arioso element was accompanied by elegant but frighteningly fast brilliant runs on the key board. We watched the soloist's hands crossing and recrossing, moving to each extreme of the keyboard with ease.
The notes poured from the piano. The music flowed from every section of the orchestra - beautiful music full of vivacity to match the sparks from the piano.
If I were to sum up the concerto, I would say that it had every element of the great concerti. Every element, except it was not one of them. I want to hear it again in live performance. No recording can match the kinetics of the pianist's brilliant movements.
Again, Neal picked a pair of winners. Richard Dowling is a fine pianist and one willing to take a chance and put it on the line. This can lead to some Olympian performances. I hope we hear these from the stage of the Schuster with our fine musicians assisting. The concerto – the jury is still out.
The concert closed with Brahms' Symphony No. 1. This is a work so central to the Romantic era. The history of Brahms and his inability to create a symphony following the earth-shaking revelations of Beethoven's great works is well known.
His attempts turned into sonatas, concerti, the great German Requiem, but no symphony. At age 43, he faced the challenge with his first symphony.
The work, in the spirit of Beethoven, clearly has Brahms' voice. Therein lay the challenge to conductor and orchestra. Brahms' special sound must be heard. Easily stifled, it must be fresh, flowing and yet concise.
Maestro Neal and the artists of the Dayton Philharmonic have mastered the challenge many times. I hesitate to compare performances, but when this marvelous symphony is played better than I heard it on opening night – I want to be there.
Each of the four movements has a special life-force. Every section of the orchestra has passages of brilliance, sensitivity and power. Each nuance must be lovingly handled – and it was.
The second movement envelops the listener in a romantic aura. Solos by oboist Eileen Whalen and flautist Rebecca Andres led the impressive woodwind section in an exposition of those themes and that aura to near perfection.
The final movement has often been a problem for me. It is a very long introduction to a theme, grand, even grandiose and martial. Often, a conductor will lead the listener along the path of the intricate and beautiful introduction to hit them between the eyes when the final theme is launched.
Maestro Neal reads it quite differently. The appearance of that final theme is handled with stunning delicacy. As it builds, it becomes natural, not artificially grafted on to the rest of the symphony.
The spontaneous standing ovation signaled "message received" by the audience. Neal, before even taking a bow, went into the orchestra and lifted Andres, Whalen and principal horn Richard Chenoweth to their feet to receive applause well earned.
It was a great start to what will be a great season. And, soon, everyone will have lights and hot water in addition to beautiful music.
---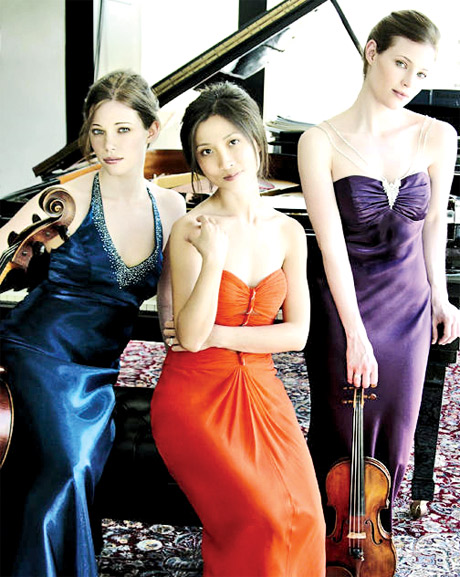 The Claremont Trio
To open its 47th season, Vanguard Concerts presents the return engagement of the Claremont Trio on Friday, Sept. 26 at 8 p.m. in The Dayton Art Institute's NCR Renaissance Auditorium.
Widely regarded as the premier piano trio of its generation, the Claremont Trio is sought after for its thrillingly virtuosic and richly communicative performances. First winners of the Kalichstein-Laredo-Robinson Trio Award and the only piano trio ever to win the Young Concert Artists International Auditions, the Claremonts are consistently lauded for their "aesthetic maturity, interpretive depth, and exuberance" (Palm Beach Daily News).
Celebrating their tenth anniversary season, the Claremont Trio returns to New York's Carnegie Hall and Washington's Kennedy Center and will appear in more than sixty concerts halls across the country.
Twin sisters Emily Bruskin (violin) and Julia Bruskin (cello) formed the trio with pianist Donna Kwong in 1999 at the Juilliard School. The Claremonts are based in New York City and live near their namesake, Claremont Avenue.
For their program in Dayton, the Claremont Trio will perform:
• Piano Trio in G Major, Hob. XV:25 by Franz Joseph Haydn
• Piano Trio in G minor, Op. 15 by Bedrich Smetana
• Piano Trio in F minor, Op. 65 by Antonin Dvorak
Ticket prices are $20 for adults and $15 for students and may be purchased at Hauer Music, Wright State University Box Office, at The Dayton Art Institute on the night of the concert only, or online at www.daytonartinstitute.org. For additional information or tickets, please call Vanguard Concerts at (937) 436-0244 or (937) 512-0144.
---
Open auditions for children's roles in Dayton Ballet's annual holiday production, THE NUTCRACKER, will be held on Saturday, Sept. 27 at Dayton Ballet studios, located on the fourth floor of the Victoria Theatre, 140 North Main Street, downtown Dayton. Children ages 5-12, chosen by audition, will have the opportunity to perform with Dayton Ballet's professional dancers onstage at the Schuster Center, Dec. 12-21.
Audition times are scheduled by age group. For children age 11-12, auditions begin at 2 p.m., age 8-10 at 3 p.m. and age 5-7 at 4 p.m. The audition process will take approximately one hour for each group. Parents should register their children 30 minutes before the audition begins. Girls wear a solid color leotard, pink tights and pink ballet slippers. Boys dress in black tights, white t-shirts and black or white ballet slippers. Experience in ballet is preferred, but not required. PLEASE NOTE: There is no audition fee, no resumes are needed and casting is at the discretion of the choreographer. THE NUTCRACKER children's roles include: Party-goers, Mice, Lambs, Angels and Toy Soldiers.
For additional information about auditions for THE NUTCRACKER, please call the Dayton Ballet School at 937/223-1542.
Performances of THE NUTCRACKER begin December 12th and run through December 21, 2008 at the Schuster Center. To purchase tickets contact Ticket Center Stage at www.ticketcenterstage.com or call 937/228-3630, toll-free in Ohio at 888/228-3630.
---
Visitors to The Dayton Art Institute will enjoy a·muse, a special exhibition of art created by 67 of The Dayton Art Institute's current instructors and students, ranging in age from 5 to 65. Works of art include jewelry, mosaics, sculptures, paintings and drawings.
All of the student work was created in classes held at the museum in 2007 and 2008. A·muse is on view at The Dayton Art Institute from Sept. 1 to Nov. 16. Admission is free
Your guide to upcoming
art and cultural events!
Contact The Oakwood Register for more information!

435 Patterson Rd.
Dayton, OH 45419