Travel back in time to Dayton's most intriguing dining event at the city's oldest building, Newcom Tavern. Following participation in hands-on demonstrations of 19th-century activities at the William Morris House, guests will enjoy a hearth-cooked and historically accurate multi-course supper. Live entertainment and a special dessert will follow the candlelit dinner. A question and answer session with Dayton History's knowledgeable programming staff will conclude the evening.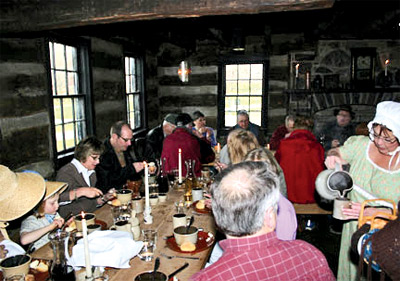 October 3, 4, 10, 11, 17 & 18; start time each night is 6 p.m.
Cost: $45.00/members; $50.00/non-members
Space is limited. Prepaid reservations are required.
For additional information and to make reservations, please contact the Dayton History Department of Education and Museum operations: (937) 293-2841 ext. 107 or email bpicek@daytonhistory.org
Dayton History is Montgomery County's official historical organization. Consisting of Carillon Historical Park, the Archive Center, Kettering-Moraine Museum, Hawthorn Hill and Patterson Homestead, Dayton History brings the past to life to understand the present and inspire the future by collecting, preserving, interpreting, presenting and promoting the region's past.

Dayton History at Carillon Park welcomes people of all ages to experience our region's history. Admission to Dayton History at Carillon Park is $8/adults, $7/Seniors and $5/children ages 3-17. Dayton History members and children under age 3 are free.
Oakwood residents Debbie Basnett, Dana Hookassian and Jean Winham, who own Vintage Scout Interiors in downtown Centerville, are bringing Paris flavor to the Dayton area Sept. 27 for Centerville's Art in the Heart festival. They have aptly named their contribution to the community-wide event "Art in the Heart of Paris—Centerville Style."
"We thought, 'Why not bring a slice of Paris here to our clients in Ohio,'" said Winham, who, like Basnett and Hookassian, has lived abroad and enjoyed the colorful flea markets of France and outlying areas.
The Scouts will have complimentary French-inspired hors d'oeuvres and beverages on hand to whet the appetites of those who have traveled to—or at least yearn to—Europe and experienced its design savvy. Décor inspiration also will be shared.
A wide array of original artwork, available exclusively through Vintage Scout, from the Atlanta area will be displayed and available for purchase that day. The women will showcase American and European vintage items, antiques, furniture, and art; and modern interior accents, lighting, candles and more.
The "Art in the Heart of Paris-Centerville Style" event is free to the general public and will run from 10 a.m. to 8 p.m. Saturday, Sept. 27.
Vintage Scout Interiors is located at 60 N. Main Street in Centerville. For more info, contact Vintage Scout Interiors at 937.312.9461 or visit the web site at www.vintagescout.com. Shop hours are from 10 to 6 p.m. Monday through Saturday.
---
The Department of Leisure Services is again thrilled to announce Oakwood's Sixth Annual Scarecrow Building Contest! The City is hosting this community event in October which is open to Oakwood scout troops, church and school organizations, businesses, individuals and families.
This year we hope to see more scarecrows around the community. This will surely add to the ambience of the community and neighborly cheer throughout the fall season.Registration packets are now available from the Oakwood Community Center business office. Each packet contains the rules and regulations for the program as well as the building guidelines and an entry form to be completed and returned to the OCC for an assigned location.
The building and placement of scarecrows will take place on Sunday, Oct. 12 from 9 a.m. until 3 p.m. Judging will take place promptly at 3:30 p.m. Prizes will be awarded to First, Second and Third place winners and announced at Oakwood's Fall Festival at Shafor Park.
For questions concerning this event, please call the Oakwood Community Center at 298-0775.
---
The MOMS Group of Oakwood will hold its annual Fall Mixer this Thursday, Sept. 25 at 7 p.m. at the home of Susan Nielson, 125 Park Ave. (not Park Rd.). All current and prospective MOMS members are welcome at this first meeting of the new year.
Please carpool if at possible, as parking is limited. Please call MOMS co-president Meredith Spitzmiller at 299-6525 if you have any questions.
Autumn Nights will be the theme of Oakwood High School's 2008 Homecoming
Dance. The dance will be held on Saturday, Oct. 4 from 8:30 to 11:00 p.m. in the West Gym. Tickets are available for $20 per couple and $15 for a single.
The Oakwood Senior High School will hosting an Open House on Wednesday, Sept. 24 at 7:30 p.m. Parent's are asked to please bring their child's schedule with them to the open house. We will be following Monday's schedule.
Parents are asked to meet at the auditorium at 7:30 p.m. An Open House for parents of Jr. High students will be held on Monday, Oct. 6 at 7 p.m. Parents are asked to meet at 7 p.m. in the high school auditorium.
On Wednesday, Sept. 24 at 6 p.m. for parents of senior high students, and Wednesday, Oct. 6 at 6 p.m. for parents of junior high students, the PTO will host a picnic dinner before parents begin following their student's school schedule at the junior and senior high Open Houses.
The dinner consists of a Pine Club burger, chips and a beverage. Tables will be set up at the Junior High entrance on Schantz Avenue. The cost is $6. "We thought giving parents and teachers the opportunity to socialize before parents visit the classrooms would be fun, " explained PTO President Sara Feldmiller. Parents can send in their dinner orders along with their PTO membership form or pay at the door.
Playhouse South will present the return of Another Crazy Night of Improv comedy show on September 27, 2008 at 8:00 pm at the Clark Haines Theater, 3700 Far Hills Avenue, Kettering Ohio. This show in its tenth year with Playhouse South is based on the popular television show, "Who's Line Is It Anyway?"
Come and enjoy a fun night of comedy with our Krazy Knights. The kooky cast of this years show is Steve Voris, Ian Hayes and Mike Frazier of Kettering; Adam Drake of Fairfield; Doug Stover of Miamisburg; Kelley Gardiner of Centerville; William Fulmer of Dayton and Jim Brown of West Carrollton.
This fundraiser for Playhouse South and is under the direction of Mike Frazier and is one night only. Tickets are $10 per person. Please note that this show is rated PG-13. For reservations and more information, please all 888-262-3792 or visit www.playhousesouth.org.
---
The Lutheran Church of Our Savior, 155 E. Thruston Blvd., Oakwood, will be hosting an evening of good, clean humor with the message of faith on Saturday, Oct. 4.
The evening's entertainment will be provided by Charles Marshall, Christian comedian. Charles will share his own personal faith story, as well as make the audience laugh. We all need a little laughter in our lives!
Hors d'oeuvres will be served from 6:15 to 6:50 p.m., with the show beginning at 7 p.m. Tickets are $8 pre-sale and $10 at the door. This event is sponsored by the Health Ministry Team and will be held in the Fellowship Hall. Nursery care and activities for children provided (reservations needed).
Call the church office, 293-1147 for additional information or to purchase tickets.