The 2008 American Cancer Society's Cattle Baron's Ball went off without a hitching post at the Shuster Center on Saturday, Sept. 13 in downtown Dayton. Over $100,000 was raised during the benefit which included live music, an auction, a silent auction and a mechanical bull to ride.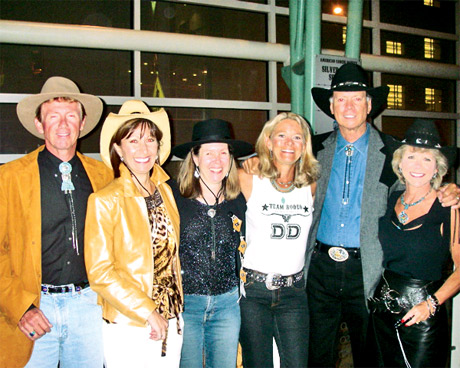 Brian Huffer, Connie Muzechuk, Dr. Rebecca Paessun, Dee Dee Huffer, David and Pat McDonald.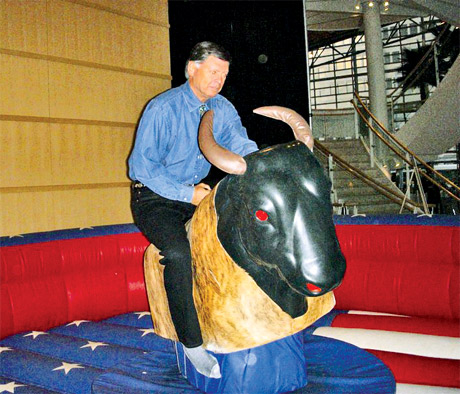 David McDonald takes a ride on the mechanical bull.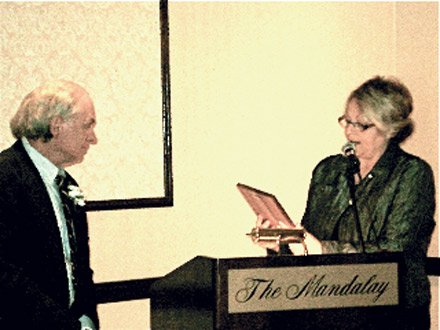 Richard Grigsby listens to accolades read by Dr. Mary Jo Scalzo
On Friday, Sept. 19, surrounded by fellow teachers, school administrators and at least one of his former students. Oakwood High School Junior/Senior High Social Studies and English Teacher Richard Grigsby was inducted into the Sam Andrew Educational Hall of Honor at the Mandalay Banquet Center.
Grigsby's 22-year career was touched on by fellow teachers Jane Leigh, Howard Sales, former OHS principal and Harman principal pro-tempore Ed Bowman, Oakwood icon Charles Campbell and OHS '96 graduate Luke Krueger, among others.
"Is there any way we could clone Rick Grigsby?" wrote Jane Leigh in her letter seconding the nomination put forward by Luke Krueger.
"I really appreciated the freedom to do what we had to do in the classroom," Grigsby said of his tenure at OHS. "I did what I did in my own quirky way and if that resonated with some of my students, so be it."
DBA Foundation board members named

Attorney Susan Blasik Miller, a senior partner with the firm Freund Freeze & Arnold, LPA, has been appointed President of the Dayton Bar Association Foundation for the 2008-2009 fiscal year. She will spearhead the Foundation's efforts through June 30, 2009.
Also serving on the Dayton Bar Association Foundation Board of Trustees for 2008-2009 are:
Jeffrey A. Swillinger, Vice President (Crew & Buchanan)
Robert A. Bostick, Secretary (Robert A. Bostick Law Office)
James G. Kordick, Treasurer (Rogers & Greenberg, LLP)
Hon. Alice O. McCollum (Montgomery County Probate Court)
Jeffrey R. McQuiston, Member-at-Large (Skelton McQuiston Gounaris & Henry)
Richard P. Perna, Member-at-Large (University of Dayton School of Law)
Robert J. Surdyk, Member-at-Large (Surdyk Dowd & Turner Co., LPA)
Bridget A. Tracy, Member-at-Large (Tracy & Tracy Co., LPA)
The Dayton Bar Association Foundation was created as a non-profit, 501(c)(3) charitable organization on July 16, 1984. Through the Foundation, the more than 1,500 DBA members support a wide variety of good works and charitable activities on behalf of the greater Dayton legal community.
---
My family and I want to thank the young men who rang our door bell Sunday and offered their help in cutting up the tree that landed in our front yard. They didn't want money, "they just wanted to help their neighbors." Their parents should be proud of them, as we are proud to be part of this community. From our house they helped a friend on Telford and then continued on through the night. Congratulations! Job well done.
Thanks Again,
David, Jaci, Max Hollmeyer
September is here and as the leaves start to change remember our Johnny Appleseed Street Tree Planting Project!
Several varieties of trees will be available to homeowners at a 50 percent discount for Oakwood residents to plant in the city right of way.
Brochures describing the project and the tree varieties will be available at the OCC late September. Call the OCC at 298-0775 to be put on the mailing list.
The Oakwood Historical Society is collecting photos and stories related to the recent windstorm and power outage. Stories demonstrating community spirit and fun are especially encouraged.
Photos and stories will be stored in the society's permanent archive.Visit the Oakwood Historical Society website at www.oakwoodhistory.org for more details.
One person will be selected at random for a Starbucks gift card. Because that's how we made it through the power outage!
Mackensie Wittmer
Website Coordinator
Oakwood Historical Society
High school students nationwide are invited to participate in the 2008-2009 "Being an American" Essay Contest, which explores the rights and responsibilities of American citizenship. Administered by the Bill of Rights Institute, a non-profit educational organization in the Washington, DC area, the contest offers cash prizes totaling more than $189,000 to both students and their teachers. Top prize winners and their teachers also receive all-expenses paid trips to the nation's capital.
"The 'Being an American' Essay Contest challenges high school students to evaluate American citizenship in light of our Founders and our Founding documents, and by doing so, promises to ensure a continuing national conversation about what unites America and its people," said Bill of Rights Institute President Victoria Hughes. "We urge classroom teachers and school systems across the country to take advantage of this valuable opportunity and explore the values, heroes and legacies that make our country and citizens unique."
To participate, students are asked to share their thoughts on American citizenship by answering the following question: "What civic value do you believe is most essential to being an American?"
The names of the top three prize winners in each of nine regions will be announced at a special Washington, DC Awards Gala in the spring of 2009. The first place winners in each region, and their sponsoring teachers, will receive $5,000 cash awards; second place winners $2,500 and third place winners $1,250. The winning students will explore the nation's capitol, meet contemporary American heroes and national leaders, and visit the Supreme Court, National Archives and other national landmarks. Honorable mention prizes of $250 will be awarded to 63 students, seven from each region.
As in previous years, teachers are encouraged to incorp- orate the essay contest topic into the classroom. Lesson plans meeting state and national academic standards and supplemental materials are available at no charge from the Bill of Rights Institute.
The "Being an American" Essay Contest has a dedicated web site, www.BeingAn American.org, where teachers, parents and others can find complete rules and lesson plans, and is the only place where teachers can submit their students' essays for consideration.
---
The OHS Interact Club is off to a great start! Interact is a new community and international service club for high school students sponsored by the Oakwood Rotary International. This club approved the founding of our chapter this past spring and has continued to show support by generously donating club t-shirts.
If you are interested in joining Interact, look for signs posted around the school and attend our first meeting. If you have questions, feel free to ask any member or Mr. Mitch Miller, Rotary faculty adviser for more information.
---
The Oakwood Board of Education is committed to staying in touch with our citizens. As part of that goal, the school district holds two neighborhood meetings per month. The main purpose of the meeting is to engage in conversation about our schools with our community members.
Neighborhood meetings are a unique chance for residents to meet in a comfortable setting with Dr. Mary Jo Scalzo, Superintendent of the Oakwood Schools, and board members. Dr. Scalzo usually asks one question for community input, but the focus of the rest of the meeting is an open discussion about our schools.
We are looking for Oakwood citizens to host neighborhood meetings in their homes. There is minimal work involved. Your task is to invite your friends and neighbors to attend the meeting and put out a plate of cookies. We do the rest! The available meeting dates and times follow. If you are interested in one of these dates, please contact Sandy Maresh at the Oakwood Board of Education Office (937) 297-5332.
Neighborhood Meeting dates for 2008-09:
9/26 at 9:30 a.m.
10/9 at 7 p.m.
10/20 at 7 p.m.
11/6 at 7 p.m.
12/5 at 9:30 a.m.
1/8 at 7 p.m.
1/27 at 7 p.m.
2/3 at 7 p.m.
2/27 at 9:30 a.m.
3/24 at 7 p.m.
4/21 at 7 p.m.
4/27 at 7 p.m.
5/4 at 7 p.m
---
See nearly 30 vintage aircraft take to the skies above the National Museum of the United States Air Force on Sept. 27-28 during the Vintage Liaison Aircraft Gathering.
The event, scheduled for 9 a.m. to 5 p.m. Saturday and 9 a.m. to 4 p.m. Sunday on the turf runway behind the museum, is free and open to the public. For more information.