What are the elements of a successful art exhibition? The artists, the subjects, the era, the historic values are all key parts of that success. The overriding feature, encompassing all of these special attractions, is simply beautiful paintings.
The Dayton Art Institute mounted its year ending exhibition, Children in American Art, full of beautiful paintings. The works are on loan from the Boston Museum of Fine Arts.
The exhibition is also the maiden voyage of newly appointed Chief Curator Will South. Will led the press tour with verve, delightful humor and a deep knowledge of the works, their place in art history and their intrinsic qualities.
The selections from the voluminous Boston collection are absolute jewels. The paintings span times from colonial America to the near present. They also span the manifest change in attitudes of adults toward children.
Each time period produced artists with widely varied backgrounds. The itinerant painters of the early times in America were basically artisans – working men and a very few women - plying their crafts from town to town, preserving the images of families emerging into the middle class. Few had formal training but used internal resources, a keen eye and the craft of applying paint to canvas, to create fascinating portraits.
The journey of children in art and in the eyes of their adults begins with an anonymous portrait, Robert Gibbs at 4 ?. Dated around 1670, the severe Puritan image of this handsome child clearly showed that he was to be a miniature adult.
Stiffly posed, holding formal gloves in one hand, wearing a heavy dress, poor Robert reflected the attitudes of his parents' generation. "We are born in sin and must plod through life, joylessly, to expunge that original stain from our souls."
What is interesting and compelling is the quality of the painting. Robert was a lovely child. His beauty could not be masked by ritual severity. The artist, perhaps in spite of himself, created a beautiful painting.
Nearly a century passes on the beautifully colored walls of the galleries. A famous artist, John Singleton Copley, painted Mary and Elizabeth Royall about 1758. Here, the two lovely daughters are arrayed amidst the trappings of wealth and ease. The gowns are magnificently painted and there is even the faintest hint of a smile.
Progress!
There is one bona fide example of what Will South named "The Ugly Baby" paintings. William Jennys, in 1803, had an unattractive mother holding a truly ugly baby. I can't imagine anyone accepting that view of their progeny, let alone paying for it.
Moving through the galleries was a real pleasure. The works were appealing, each in a special way. Good painting is as easily recognized as good dance or good music. The curators who selected the works and our staff who arranged them paid homage to fine works of great skill and artistic integrity.
As the styles and attitudes change we find that children become love objects. Mary Cassatt's endearing mother and child Caresse Maternelle, John Sargent's simply beautiful Helen Sears and Winslow Homer's Boys in a Pasture are great paintings, well displayed in a compelling context.
America changed. We see in Benson's 1904 Calm Morning three lovely and privileged children on a boat amid handsome sailboats. It foreshadows the image of the Kennedy clan a generation later.
I could describe painting after painting with the same enthusiasm. The exhibition, at the DAI through January 4th, 2009, is a tiara set with individual jewels. My second visit intensified my enthusiasm for these new friends. It will do the same for
you.
The Metropolitan Opera is one of the great houses of the world. It is, in addition, the greatest force for disseminating opera's art form to the broadest possible audience.
The HD live performances, now beginning their third season, bring opera as a unique experience to the viewer. No substitute for the thrills of a live performance, the films give a close look at the singers, warts and all. Borrowed from TV, the backstage features are also fun, informative and revealing.
This season began with the live performance of the Sept. 22 Opening Night Gala at the Met. The format, quite unique, featured acts from three operas, fully staged.
Verdi's La Traviata, Massenet's Manon and Richard Strauss' Capriccio, were performed. Three very different operas, three languages, three styles all featured, unbelievably, one soprano in the central roles.
This was more the gala opening of Renée Fleming as a musical icon than the Met's season. Fleming deserves all praise. She is a beautiful woman possessed of a great voice. She uses her acting ability along with her seamless vocal powers to beguile audiences the world over.
Dayton will not forget her performance with the Philharmonic in 2006. She deserves to be a diva, an icon or any other praise. More important, her beauty and the cleverness of the Met's General Director Peter Gelb are selling opera to the masses. It is a win-win situation.
It is shameful for me not to mention the other singers who added so much to the luster of the evening. Tenor Ramón Vargas and baritones Thomas Hampson and Dwayne Croft joined Fleming and took other leading roles.
Lucky Ramón Vargas got to be Renée's love interest in "Traviata" and Manon. I'm always happy when a short guy gets the girl but the contrast of Vargas with the towering Thomas Hampson and John Hancock was a bit unsettling.
---
The University of Dayton invites the public to support music students while enjoying an evening of French music, food and comedy. "Café Operetta 2008: A Parisian Cabaret" begins at 8 p.m. Saturday, Oct. 4, in the Kennedy Union ballroom. It will feature the music of Bizet, Massenet and others performed by UD student ensembles and faculty soloists in a candlelit cabaret setting.
Student performances include the university's chorale, orchestra, opera workshop and jazz combo. Faculty performers include singers David Sievers, Maria Ventura, Linda J. Snyder, pianist John Benjamin, saxophonist Willie L. Morris and conductors Robert Jones and Jiang Liu.
The event is the Department of Music's annual scholarship fundraiser. Tickets are $30 for individuals and $240 for reserved tables of eight. Reservations may be made through the University of Dayton box office at 937-229-2545. Ticket prices include appetizers and French desserts. Tea and coffee will be provided as well as a cash wine bar.
Doors open at 7:30 p.m. and the event is open seating. Deadline for reservations is 2 p.m. Friday, Oct. 3. A limited number of tickets will be available at the door. Parking is available in Lot B off Stewart Street or Lot C off Evanston Avenue.
---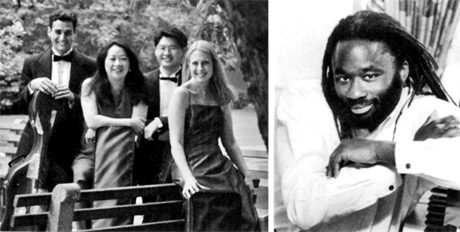 The Daedalus String Quartet will perform on Sunday, Oct. 5 at the First Presbyterian Church, 314 Xenia Ave., (US 68) in downtown Yellow Springs at 7:30 p.m.
The Daedalus Quartet , Grand Prize winner at Banff in 2001, has been in residence at the University of Pennsylvania and the Chamber Music Society of Lincoln Center, and is now the Quartet in Residence at Columbia University. The Daedalus will join with pianist Awadagin Pratt to play Brahms' Qunitet in F minor.
As concerts sell out, phone 937-374-8800 to reserve seats. $18 adults; $6 students.
---
Dayton Opera's 2008-2009 "Love Triumphant" season opener, Puccini's Turandot, is one of the world's most beloved operas as well as the composer's final opera. To help audience members prepare for these exciting performances and celebrate Puccini's 150th birthday, Dayton Opera is pleased to offer Opera Overtures, free-to-the-public talks about the opera's story, history and other entertaining tidbits.
Talks are one-hour long and led by Luke Dennis, director of arts education for Muse Machine and opera guru extraordinaire.
SCHEDULED OVERTURES: TURANDOT (Puccini)
Thursday, October 2, 2008 – 7:30 p.m. Washington-Centerville Public Library, Spring Valley Road

Sunday, October 5, 2008 – 5:00 p.m. Books & Company, Town & Country, Kettering

Wednesday, October 8, 2008 – 7:00 p.m. The Emporium, 233 Xenia Ave., Yellow Springs

Tuesday, October 14, 2008 - 7:00 p.m. Trinity Presbyterian Church, 3211 Lakeview Ave., Dayton
Turandot is a romantic happy-ender opera with just a pinch of tragedy. Set in imperial China the love-struck exiled Prince Calaf risks his life answering 3 riddles in order to win the beautiful but icy Princess Turandot's heart. With Puccini's transformative music and the powerful flame of love, even the coldest of hearts is warmed. This grand and glorious opera features Pavorotti's signature aria, "Nessun dorma."
Performances are Saturday, Oct. 18, 2008 at 8 p.m., Friday, Oct. 24 at 8 p.m. and
Sunday, Oct. 26 at 3 p.m. Single tickets are on sale now and start at $15. To order by phone, call 937-228-3630. For more information about Dayton Opera visit www.daytonopera.org.
The Dayton Association of Chinese Americans (DACA) and the Dayton Opera are joining together to bring a Chinese Cultural Celebration to the Schuster Center prior to all three performances of the Dayton Opera's production of Turandot. The Celebration will take place in the Wintergarden and will feature demonstrations on calligraphy, paper cutting, paper knotting, Mah Jongg, table tennis, yo-yo spinning, story telling, singing and other traditional dances.
---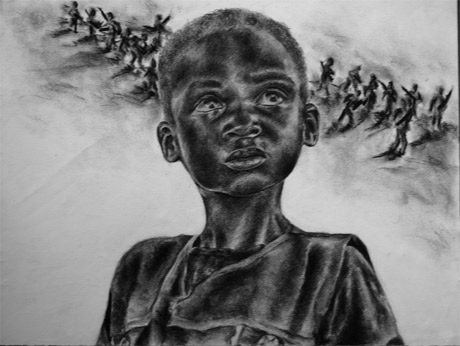 Solitary boy with soldiers in background - Meredith Irvin
For a second year in a row, students at the Oakwood Junior and Senior High have contributed their artistic talent to spread the message of peace for the Dayton Literary Peace Prize event. Peace Trading Cards were distributed at the annual ceremony this past week.
Prominent author Taylor Branch was the literary peace prizewinner who wrote three biographies about Dr. Martin Luther King, Jr., this year's dedication figure. The award recognizes writer's who have made a contribution to peace through published works of literature.
Committee member Karen Bollinger assisted the students of Kim Gilbert, Susanne King, and Kaye Carlile with teaching the ideas of peace. Oakwood students donated their artwork, which was distributed to individuals attending the black tie event held at the Schuster Center. For more information about the Dayton Literary Peace Prize contact Karen Bollinger at karenbollinger@earthlink.net.
Peace sign - Liz Rasmussen (11th grade)
---
The First Friday will be held from 5 to 10 p.m. Oct. 3 throughout the Oregon Arts District on East Fifth Street; the Cannery Art and Design Centre, 434 E. Third St.; the Dayton Visual Arts Center, 118 N. Jefferson St.; and the Dayton Convention Center Mezzanine Gallery. Participating galleries will host openings for new exhibitions, and the newest business to open in the Oregon Arts District ? Jazzy Java, 438 E. Fifth St. ? will present live jazz and feature the artwork of "The Saxtress," Pamela Williams. This new café offers fine coffees, teas and pastries, along with free wi-fi access. Wiley's Comedy Club, 101 Pine St., also is participating in the October First Friday by offering two-for-one admission to its show that night, Mark Fradl joined by Ryan Singer, winner of the Sierra Mist Comedy Contest and heard on the "Bob & Tom Show." The show starts at 9 p.m. on Friday and two can enter for the $10 admission price.
• Gallery 510 Fine Art, 510 E. Fifth St., will show off its expanded gallery space, which includes a workshop area, and feature landscape painter Gregory M. Dearth, raku potter George Armstrong, mixed-media painter Noah Armstrong and new mixed-media pieces by Zachary Armstrong.
• Link Gallery, 519 E. Fifth St., will host "Balance Point," an exhibit of paintings and drawings by Terry Hitt, sculptures by Tess Little, and photographs by Andy Snow celebrating the Dayton Contemporary Dance Company's 40th anniversary. The exhibit ? addressing rhythm, movement, point and balance found in dance and visual choreography/composition ? expresses the three artists' interpretations of the pulse of time and place. A gallery talk and reception will be held from 5 to 8 p.m. Saturday, Oct. 18, at Link Gallery with participating artists and DCDC dancers.
• Visceral, 523 E. Fifth St., will feature artist Doug Fiely with a selection of his boldly composed acrylic canvases. "Personal Glimpses: A Life of Looking" reflects Fiely's perspective on small moments of time worth revisiting.
• Goloka, 521 E. Fifth St., will host "Surrealish" featuring the works of Seth Wade.
• Color of Energy, 16 Brown St., will present "You Are Here," featuring photography, film, installation, prints, sculpture and paintings by emerging contemporary artists from Dayton and Austin, Texas, whose work is inspired by and captures their surroundings. Eva Buttacavoli, director of exhibitions and education at the Austin Museum of Art, is serving as curator. The gallery also will host a curator's walk-through with Buttacavoli, participating Dayton artists and Austin artist Nathan Green at 11 a.m. on Saturday, Oct. 4.
For more on the Oregon Arts District, visit www.oregonartsdistrict.com.
The Dayton Visual Arts Center will present two solo exhibitions: "Lori Larusso: Paintings," works with an enigmatic feel and imagined scenarios, and "Kathleen Thum: Wall Drawings," featuring lushly layered surfaces. Gallery Manager Patrick Mauk will be on hand to explain the processes used by the artists, and guests can sign up for two workshops Thum will lead on Friday, Oct. 17, and Saturday, Oct. 18.
For more on DVAC, visit www.daytonvisualarts.org.
The Cannery Art and Design Centre will present "Nature By Design," featuring photography by Doug McLarty, as well as live jazz with Rick Evans. McLarty's photographs employ unusual and whimsical combinations of familiar elements in nature. McLarty will offer a free workshop, "Developing a Photographer's Creative Eye," from 12:30 to 1:30 p.m. Saturday, Oct. 18, at the Cannery.
For more on the CADC, visit www.canneryarts.com.
At the Dayton Convention Center Mezzanine Gallery, the Dayton Society of Painters and Sculptors will host an exhibit featuring work by the "Three Donnas:" Brinkman, Gibson and Townsend. These pastel and oil paintings illustrate a variety of subject matter and include figurative/genre/portrait pieces, landscapes and still life.
In addition, a variety of entertainment options are available during First Fridays. All the restaurants, retail shops, bars and clubs, Neon Movies, Wiley's Comedy Club and other establishments in the Oregon Arts District and Cannery will be open, and many will offer specials. For example, Pacchia, 410 E. Fifth St., will host a free jazz performance by the Lee McKinney Trio from 9:30 p.m. to 12:30 a.m. and offer 15 percent off appetizers.
Greater Dayton RTA will offer free service on its Wright Flyer trolley between all participating locations. First Friday RTA stops will be scattered throughout the Oregon Arts District, as well as near the Cannery and DVAC. The trolley, will stop approximately every 20 to 25 minutes along the route. The Downtown Dayton Partnership's Web site, www.downtowndayton.org, has a complete list of downtown's arts and cultural amenities, as well as a dining guide, parking map and much more.
Your guide to upcoming
art and cultural events!
Contact The Oakwood Register for more information!

435 Patterson Rd.
Dayton, OH 45419