Weddings_______________________________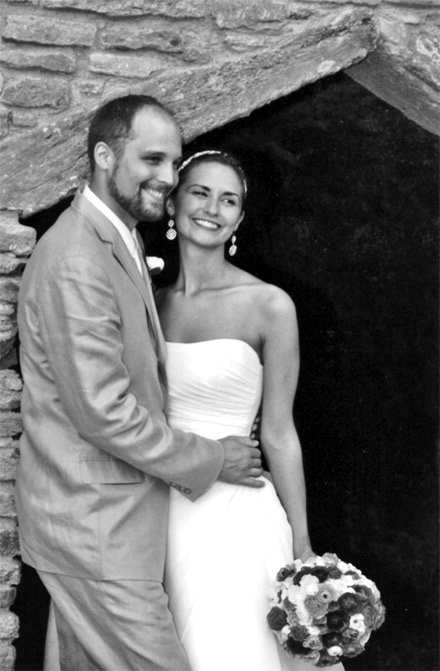 Ed and Chris Kimmich of Oakwood are pleased to announce the marriage of their daughter, Emily Jeanne to Andrew Wesley Neff. The wedding took June 14, 2008 at Pyramid Hill Sculpture Park in Hamilton, with Judge Michael Sage officiating.
Emily is a 1999 graduate of Oakwood High School. She received her bachelor's degree from Denison University in 2003 followed by a master's degree in Art Education from Miami University in 2006. She teaches middle and high school art for Finneytown School District in Cincinnati.
Andrew is the son of David and Bonni Neff of Oxford, Ohio. He graduated from Talawanda High School in 1997 and attended Miami University. Andrew is vice president of Neff Insurance Group in Hamilton.
The couple honeymooned in the Dominican Republic and resides in Cincinnati.
Lisa Jean Margaret Tongue and Jack Raymond McQuiston were married on June 27, 2008 at Our Lady of the Lake Catholic Church in Lake Oswego, Oregon.
The bride is the daughter of John and Nancy Tongue of Lake Oswego. She graduated from Lake Oswego High School in 2004 and Northwestern University in 2008. She is currently a graduate student at the University of St. Thomas in St. Paul, Minnesota.
The groom is the son of Michael and Peggie McQuiston of Oakwood. He graduated from Oakwood High School in 2004 and Northwestern University in 2008. He is a grain merchandiser for the Louis-Dreyfus Corporation.
The double-ring ceremony was officiated by Father Andrew Thomas.
The matron of honor was the bride's sister, Laura Los. The attendants were Anita Bhagavath, Michaela Klein, Gabriela Mendieta and Jennifer Snarskis.
The best man was the brother of the groom, Jeffrey McQuiston. The attendants were Daniel McQuiston, Zachary Denka, Jared Drummer and Nicholas Rizzo.
The ushers were Christopher Tongue and Evan Los.
The newlyweds honeymooned in Anguilla. The couple is residing in Minneapolis, Minnesota.
William Joseph Ross was born on September 12, 2008 to Bob and Becky Ross of Oakwood, Ohio.
Also eagerly awaiting his arrival were proud siblings, Allison and Charlie Ross.
Will's grandparents are Lois Ross of Oakwood and Wayne and Marlene Williams of Port Jefferson, New York.
---
Ohio State Bar Association (OSBA) President Gary J. Leppla has appointed five Dayton-area lawyers as chairpersons of OSBA committees and sections for 2008-2009. The OSBA maintains 42 standing committees and 10 sections, each of which monitors a particular area of law. Committees and sections work to improve the justice system by keeping Ohio lawyers informed about the latest court decisions and regulatory changes. In addition, they comment on bills before the Ohio General Assembly and draft their own legislative proposals to improve existing laws.
Chad Burton has been named to chair the New Lawyers Section. Burton received his undergraduate degree from Miami University and earned his law degree cum laude from Case Western Reserve University. Currently an associate in the Business Litigation Group at Thompson Hine's Dayton office, Burton specializes in resolving complex business disputes, including breach of contract, business torts, products liability, manufacturer/distributor issues, appeals and general commercial litigation. Burton is a member of the Dayton Bar Association Board of Trustees, and past chair and vice-chair of its Young Lawyers Division. He is also active in his community and currently serves on the Epiphany Lutheran Church Council and the Unified Health Solutions Board of Trustees. Burton and his wife, Brooke, have a nine-month-old daughter, Ainsley.
Robert M. Curry has been re-appointed to chair the Real Property Section. Curry is the partner in charge of Thompson Hine's Dayton office and a member of its Real Estate Practice Group. He focuses his practice on commercial real estate transactions, commercial leases, construction contracts, mortgage loan transactions, broker/agency law and condominium law. In addition to being an active OSBA member, Curry belongs to the American College of Real Estate Lawyers as well as the Dayton and American bar associations, and is a fellow of both the American Bar Foundation and the Ohio State Bar Foundation. In the community, Curry serves on the boards of the Dayton Development Coalition, the Downtown Dayton Partnership and the United Way of Greater Dayton, and is serving as chair of the 2008 United Way campaign for the Greater Dayton area. He serves on the advisory council to the University of Dayton School of Law and is a former chair of both the Oakwood Schools Education Foundation and the City of Oakwood Board of Zoning Appeals.
Stephanie L. Dannemann has been renamed to chair the Access to Justice Committee. Dannemann is the Director of Private Attorney Involvement at Legal Aid of Western Ohio, Inc. in Dayton, where she oversees outreach activities and case assignment, and supervises cases handled by pro bono attorneys. She also recruits and supports private attorneys, law students and members of the Pro Bono Legal
Corps in providing legal assistance to eligible clients. She previously served as an Equal Justice Works AmeriCorps attorney with Advocates for Basic Legal Equality. Dannemann received her bachelor's degree from Roanoke College in 2001 and her law degree from The Ohio State University Moritz College of Law in 2004. She co-chairs the Dayton Bar Association's Young Lawyers Committee and belongs to the National Association of Pro Bono Professionals and the Ohio Pro Bono Group.
Charles J. Faruki, of Faruki Ireland & Cox P.L.L. in Dayton, has been re-appointed to chair the Federal Courts and Practice Committee. Faruki graduated cum laude from the University of Cincinnati in 1971 and received his law degree cum laude from The Ohio State University College of Law in 1973. Faruki is a fellow of the American College of Trial Lawyers and a member of the American Board of Trial Advocates. He is a past president of both the Dayton Bar Association and the Dayton Chapter of the Federal Bar Association. He chairs the Bar Examination Committee of the United States District Court for the Southern District of Ohio. In the community, he serves on various boards, and is president of the board of the National Museum of the U.S. Air Force. He is married to Michelle Faruki.
Michael J. Millonig has been named to chair the Elder Law Committee. Millonig is a lawyer in private practice in Dayton, practicing in the areas of elder law, estate planning, and trust and probate. He is an OSBA board-certified estate planning, trust and probate specialist, and has been certified as an elder law attorney by the National Elder Law Foundation since 1998. Millonig is also an inactive certified public accountant.
The Ohio State Bar Association, founded in 1880, is a voluntary association representing approximately 25,000 members of the bench and bar of Ohio as well as nearly 4,000 legal assistants and law students. Through its activities and the activities of its related organizations, the OSBA serves both its members and the public by promoting the highest standards in the practice of law and the administration of justice.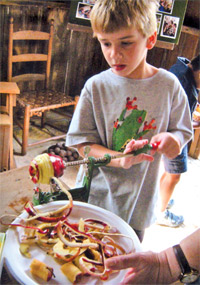 Seven brand new Tiger Cubs took a field trip to learn about Oakwood 140 years ago. According to Missy Wolcott. Tiger Cub Den 4 leader, this was the scouts very first den meeting. The boys and their parents visited the Long-Romspert Homestead, and early farmhouse on Far Hills Avenue and home to the Oakwood Historical Society, to find out for themselves how people lived in the days before electric power. This was a very timely topic since half the boys were still without power in their homes in the aftermath of Hurricane Ike.
The Cubs played old-fashioned outdoor games and saw one of the first people-powered devices to make cooking easier – a mechanical apple peeler/corer. The boys then made their own snack using a modern mechanical apple machine, and shared their snack with their parents. Some things never change. Crisp apples are tasty in any century.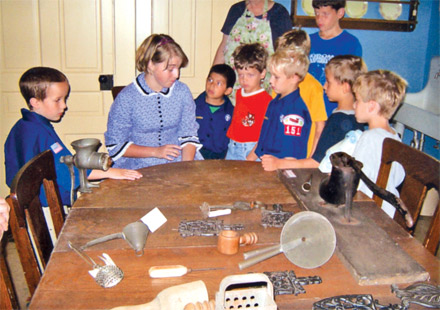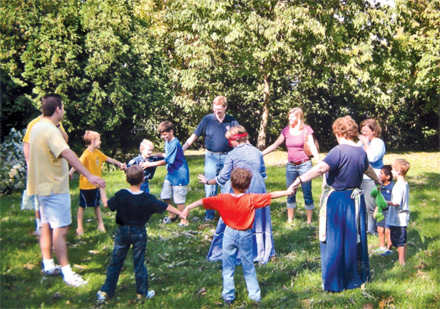 The boys are the newest members of Cub Scout Pack 151, chartered at Oawkood United Methodist Church and are first graders at Edwin D. Smith School. Tiger Cubs are the first level of Cub and Boy Scouts.
The Oakwood Historical Society has begun offering educational tours and programs to children this past year, beginning with the inaugural summer session "Summer at the Homestead," held for third and fourth graders in June.
Interested persons can get information about future programs and program opportunities by calling Linda Pearson at 648-9702 or by e-mailing her at lindapinoh@gmail.com. Further information can also be accessed through the Oakwood Historical Society's website at www.oakwood.history.org.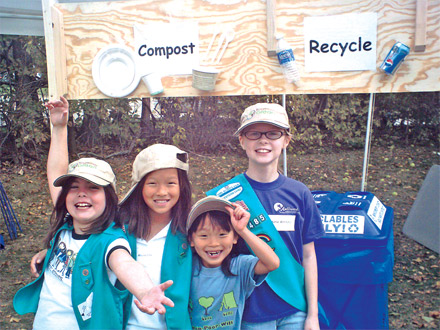 Harman School Junior Scouts Michelle, Alicia, Katie and Daisy Scout Madeline recently participated in a national conservation project called "Together Green" at the annual Apple Festival at Aullwood Audubon Center & Farm. They learned about new recycling and composting techniques and in turn spread the word to festival attendees as they explained ways to make the festival a "trash-free" event. The girls also enjoyed hay rides, dipping candles, visiting the farm's livestock, live dulcimer demonstrations, a sheep herding demonstration, watching apple butter and other apple products being made, and using an apple press to make fresh cider.
As a first tier suburb to Dayton, Oakwood benefits from downtown Dayton's attributes. And it has many, though there is much concern that the city needs help and leadership. The schools need to be fixed. The long-range plan for the downtown needs to include more than giant office buildings that struggle to be rented. Parking needs to invite, not discourage. Small retail businesses need city support, especially to provide for the growing downtown residential communities.
Dayton has much to brag about…music, opera, theater, dance; the Oregon District and the Dayton Art Institute. Art galleries dot the city. The Schuster Center adds architectural drama, Sinclair Community College brings 23,000 students to the core. RiverScape MetroPark provides beauty to the banks of the Great Miami. The downtown is built with appealingly wide streets. We have baseball and river events. There is a lot to praise.
But not enough. From a commercial perspective, it remains bleakly uninspired.
A city is known by its center, not its suburbs. When you think of Cleveland, you don't see Shaker Heights; when you think of Cincinnati, you don't picture Hyde Park; Dayton doesn't conjure an image of Kettering, or Beavercreek or Springboro. Dayton is Dayton and it aches to escape the "dying" image that clouds its name. It's time for Dayton's leadership to come up with creative solutions that can bury that image.
---
By Dolores Wagner

Several weeks ago Forbes Magazine listed Dayton as one of eleven dying cities." It wasn't good news. Local responses ranged from hand-wringing to unrealistic defense of the state of the city, The Forbes article had a depressing effect. But one person had a different reaction. Oakwood resident Bob Schiffler viewed the article as positive. Why? Because, he said, "it was a "wake up call. We were forced to stare the issue of a sick Dayton in the face."
Schiffler has a sound understanding of Dayton's problems, especially downtown, and readily offers his opinion on what components are needed to pull Dayton out of this slumping image. His analysis provides optimism for those who believe that a strong Dayton, especially its downtown, is vital, particularly to contiguous Oakwood. Proximity to the heart of any city usually has a positive impact on a suburb's desirability as a place to live, and on its property values; downtown Dayton should be an asset to Oakwood. From the arts perspective, we are fortunate…within five minutes Oakwood can experience orchestra performances, ballet and opera all in the beautiful Schuster Center, the Human Race Theatre Company, the Victoria
Theatre, the Neon Movies offering films of artistic value, the Oregon District, the Cannery, where local artists exhibit their works, the K-12 Gallery where youngsters develop artistic expression and RiverScape MetroPark, But the bustling streets, retail stores, crowded eateries are missing. The good news is, however, that Schiffler believes Dayton can be fixed. "Other cities have turned themselves around. Dayton can, too."
"A community relies on certain elements for success," he said. "Safety, for one," he said. "That's why Oakwood works. People need to be convinced that safety is not an issue." Then there's the cost of living; certainly Dayton has an edge on costs of living compared to other cities. Finally, Schiffler mentioned the need for a good school system. "It's absolutely necessary." And for Dayton that makes for a sad state of affairs. A report just released by the State makes a shambles of the Dayton School system; of the 30 elements required by the state for ranking how the school is doing, the number completed for Dayton Schools was zero. Zero! By comparison, Oakwood had a perfect score of 30.
Schiffler believes Dayton Schools can be "fixed." "Other communities have done it. It's a matter of good management and creative thinking,." he said. He pointed to the "Kalamazoo Promise," an investment in its schools by business and industry which has increased inner city high school enrollment by 15 percent. "Add to that all the neat things happening here in Dayton," Schiffler said. "There is the Dayton Early College Academy (DECA) educational experiment involving both University of Dayton and Dayton Public Schools, successfully turning around high-risk high school dropouts, Wright State University research projects, Sinclair Community College, a model for community colleges throughout the United States."
As for growing a vigorous "downtown" area to compete with such as The Greene, you need to pepper the downtown with three components - residential, retail and commercial. Schiffler has made a dent in the retail and commercial component; he and his wife, Nancy, purchased the Kuhns Building at the corner of Fourth and Main Streets. It has blossomed into a fully-occupied four floors of beautifully-restored-and-redecorated office and retail space, a resounding message that other downtown Dayton buildings have possibilities.
"There is a market for unique space that feels historic and comfortable," he said. The Kuhns Building offers that, which brings us to an important consideration for downtown Dayton – the revitalization of the Arcade. Adjacent to the Kuhns Building , this historical landmark consists of five interconnecting buildings. Its most dramatic feature is its huge rotunda topped by a great, glass dome 70 feet high and 90 feet in diameter. Two balconies encircle the rotunda, and once housed offices and retail shops. Conceived by Eugene Barney of the Barney and Smith Car Company, it included such innovations as elevators, a power plant and a cold storage plant.
A major effort is underway to "Save the Arcade." The Schifflers have proven that energy and vision can yield remarkable results. Perhaps a revitalized Arcade might be just the kick start to a reborn downtown. After all, Dayton has been inspired by creative minds since the first settlers set foot on the banks of the Miami River. It can thrive once again, Forbes aside.
---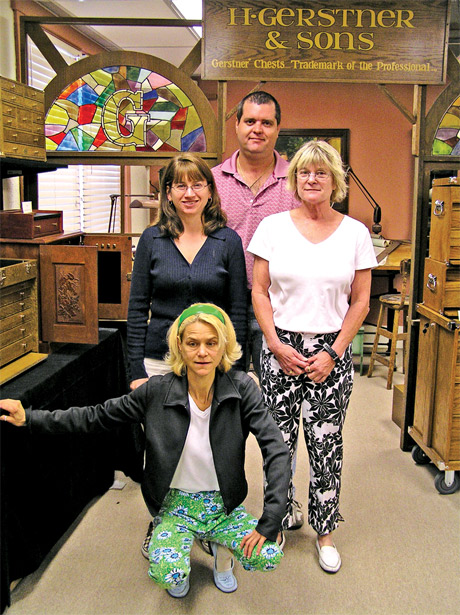 "We're swimming in nepotism," joked Jane Campbell, a third-generation member of Dayton cabinetmaker H. Gerstner & Sons. She and five other family members now run this "treasure chest" of a cabinet company (pun intended). All six grew up in Oakwood and today even live near each other on Grandon, Coolidge and Hadley Avenues.
H. Gerstner & Sons has been in existence for more than 100 years, founded in 1906 by Harry Gerstner. After leaving high school at age 17, Gerstner signed on as a woodworking apprentice with a local company at a starting salary of six cents an hour. Upon completion of his four-year apprenticeship, he received a $100 bonus and was then earning ten cents an hour – top wages for a journeyman woodworker in the Dayton area.
Once a year Gerstner opens the doors of its downtown Dayton factory to the public for its annual one-day sale. This year's sale is scheduled for Saturday, October 4 from 9am to 4pm. Items for sale include the last remaining models of the 100th anniversary collector's chest from 2006 as well as a wide variety of the company's other tool chests, roller benches, workstations, jewelry chests, attaché cases, hobby chests and display cases.
During his apprenticeship, Gerstner began crafting a tool chest – for himself – in his off hours at night. It took a year to complete the chest, but it was so perfectly crafted that a neighbor, captivated by its efficiency, strength, practicality and quality, asked young 22-year-old Gerstner to build one for him. That simple request inspired the beginning of this 102-year-old Dayton company, which is now the only surviving maker of crafted wood tool chests in the United States.
At age 22, Harry Gerstner took the $100 bonus he had received as an apprentice and started his own company – H. Gerstner & Sons. Today the fourth generation of Gerstner lineage holds the reins of the company.
When Gerstner started the company, he had no sons. In fact, he wasn't even married. He decided to name his company H. Gerstner & Sons in honor of his father Herman, who had introduced him to woodworking. He also thought the name sounded more "established" and hoped to someday have his own sons to bring into the business. (Harry later married but, ironically, had three daughters.)
Gerstner was a family business from its inception. Harry's father, his two brothers and two sisters all worked there. Upon Harry Gerstner's retirement, the second generation of this family-owned business took over. During the ensuing years, two of Harry's three daughters and their respective husbands assumed the helm. Eldest daughter Charlotte Gerstner married John A. Campbell, who worked at the company for 23 years from 1938 to 1961. Youngest daughter Harriet Gerstner's husband Harold Leland took over from 1962 until 1976.
Charlotte and John's son, John H. "Jack" Campbell, became the third generation of the family to be involved, beginning in 1976. Jack's son, John S. "Scott" Campbell, is the fourth-generation member of the family to come aboard, currently serving as vice president of operations. Scott's wife, Vicki, also works part time in the company's front office.
And don't look now, but generation five is waiting in the wings. Scott and Vicki Campbell's children, 10-year-old Ian (Scottish for John) and 7-year-old Brenna (both students at E.D. Smith school) have already been put to work in the family business. During Gerstner's 100th anniversary celebration in 2006, they were given the job of putting stickers on the outside of the special catalogue envelopes.
The chests made by H. Gerstner & Sons earned a reputation for quality from the start. The Wright Brothers purchased one of Gerstner's tool chests to use in their bicycle shop. Contemporaries of Gerstner, the Wrights were working on the problem of flight at the same time the young Gerstner was establishing his company. For the 100th Anniversary of Flight, Gerstner & Sons re-released a replica of the Wright Brothers chest. "We're still making it," said Scott Campbell. "It has been redesigned and is emblazoned with a laser emblem of the well-known 'First Flight' photograph. It's very popular," he said.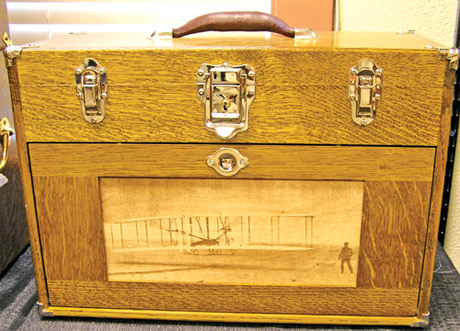 Maintaining quality has always been the number one priority, a directive responsible for establishing the company's solid reputation. "The tool chests were never built to be beautiful, but H. Gerstner & Sons products have a certain 'look,' and their inherent quality has come to be appreciated as a truly 'American' product," to quote from the company's online history.
H. Gerstner & Sons remains a small, family-owned, quality-oriented business, employing just 16 people. Jack's wife, Nancy, and his sister Jane's daughter, Amy, round out the six-member "Gerstner" family team currently running the company. After 102 years and four generations of "swimming in nepotism," H. Gerstner & Sons certainly seems to have found the secret to success – even in today's challenging global economy.