Can't decide if you want to visit a pumpkin farm or go to a tailgate party? Do both at Smith School Saturday, Oct. 11 from 10 a.m. to 4 p.m. Everything one can do at a pumpkin farm will be available: buy pumpkins, cornshocks and straw bales, paint pumpkins, make fall crafts, build scarecrows and play field games.
As for the tailgate element: The bake sale held in conjunction with the festival continues to attract customers who are looking for specialty items not found in a bakery. Beth Groff, the designer in charge, promises items are perfect for tailgate gift giving. HEATER of the Dayton Dragon's as well as Oakwood's LUMBERJACK will mingle with fans and pose for pictures. Members of OHS's band will create its famous rumble and OHS Football, soccer (boys/girls), and field hockey varsity players will conduct skill clinics for elementary school age future quarterbacks, forwards, sweepers and goalies.
Finally, there's the PIG-OUT factor. From 11 to 2:00 the concession stand will serve a Smithwich Lunch, i.e. a smokin' barbeque sandwich complete with slaw, chips and drink. There are a number of other menu items nutritionally designed to make "you run faster, think quicker and look more attractive," according to Maureen McLaughlin, the Smithwich sandwich creator.
For those suffering financial fatigue, know Smith pumpkins are priced so every child leaves with a pumpkin. Bales of straw and corn shocks are also priced competitively.
The Punt, Pass and Pig-out Game Plan:

10:00 - 3:00 Pumpkin Painting,
Crafts & Scarecrow Construction
Corn Hole & Children's Games

11:00 - 2:00 Barb-b-que Smithwich lunch
Artist Peter Berwald and silent pumpkin auction

12:00 - 1:30 Dayton Dragon's Heater and Oakwood's Lumberjack

12:30 OHS Drummer's Concert

1:00 - 2:30 Football, Soccer and Field Hockey clinics, Cheerleader demonstration, Tug of War Challenges, Sack Races and hay-hurdle relays.
This is a WARNING! The Yellow Springs Tale Spinners just increased the FEAR level for the annual Fright Nite at the Clifton Opera House! This program, geared for a Mature Adult Audience will keep you on the edge of your seats, with chills running up and down your spine from start to finish.
Join us for the fifth annual Fright Nite at the haunted Clifton Opera House, Corner of Rt. 343 and Clay Street, Clifton, Ohio on Friday, Oct. 10 from 7:30 to 9:30 p.m.
The ghosts lurking in the walls and rafters may drift by your row of seats. Perhaps you will hear the wail of little Rose, ghost of Cry Baby Farm, or the moans of the unsettled dead wafting down the hill from old Clifton Cemetery. Why the old stagecoach driver, himself, killed as he crashed down the gorge towards the Little Miami River, may rush in to warn of impending danger.
The Yellow Springs Tale Spinners: Shane Dickey, Lisa Holmes, Eric Wolf, Harold Wright and Jonatha Wright have conspired to spin one dreadful and disturbing tale after another.
Admission is $7 per person.
Harman School is holding its fourth annual "Crustaceans for Education" Lobster Sale Oct. 6 - 15. Students are offering live or "steamed while you wait" 1-pound Maine lobsters from Foremost seafood for $15.00 each. You can pick up your lobsters on Saturday, Oct. 25 from 2 - 6 pm at Harman School.
The students are alwo having a Bake Sale on pickup day, so bring some extra money for some yummy goodies.
To order or for more information call Rosie Winger at 238-6581.
---
The Oakwood Band Parents Association is selling caramel apples at the Oct. 10 football game against Milton Union. The sale will fund the purchase of new instruments for the high school, junior high and elementary school band programs.
Freisingers Chocolates of Springboro is donating the caramel apples, so all the proceeds of the sale will go toward the instrument fund. Made with large Braeburn apples and dipped in caramel made from scratch, these apples are a fall treat.
The caramel apples are $4 each and are available in plain caramel or caramel with peanuts. The apples will be on sale by the south concession stand at the Oakwood stadium. Get these delicious treats early—they will not last!
---
In conjunction with the Oakwood Register, Oakwood High School is sponsoring the Seventh Annual Community Coat Drive. Over the past 6 years, hundreds of coats have been delivered to the Salud Clinic,
near Tipp City, which provides free healthcare for migrant workers from Southwest Ohio. The clinic also provides families with food, health education, and clothing.
During the month of October, coats and other winter outerwear can be dropped off at the Oakwood Register at 435 Patterson Rd., in the enclosed porch at 108 Lonsdale, or in the high school main office. Thank you for your support.
Ooze on over to Wright Library's 7th annual Mad Scientists' Lab for a Weird Science Party on Thursday, October 9 from 4:00 to 5:30 p.m. in the Library's Meeting Room.
Human specimens in grades K-5 are invited to dress up as their favorite mad scientist and watch Wright Library's teen volunteers conduct weird experiments at several lab stations. Test some laboratory-created snacks and make a shrunken head specimen to take home! Registration is strongly encouraged and begins on Monday, September 29.
For more information, or to register, call the Youth Services Department at 294-7171.
This fall, teens grades 6 through 12 can choose from a variety of great weekly programs offered at Wright Library! All teen programs are held in the group meeting room downstairs in the Library. Snacks and supplies are provided. Come join us!
Teens can hear about and discuss a different series every Friday at the Library. During September and October, we will discuss series such as The Princess Diaries, Twilight, and The Chronicles of Narnia. In November and December, we will discuss different authors. Homemade cookies and lemonade will be served. No registration required.
Every Wednesday from 4 to 6 p.m., students can drop-in and play Guitar Hero III, Dance, Dance Revolution (DDR), jigsaw puzzles, Uno, Yahtzee, and a variety of other board games. If you wish, you can bring your own!
For a complete schedule of all teen programs, check the library website at www.Wright Library.org
The Wright Memorial Public Library Reference Department, with the help of local Edward Jones financial advisor Bob Collins, will present a program the focuses on the library's collection of financial newsletters and how they can be used to make investment decisions.
The program will be presented at 2:30 p.m. on Wednesday, Oct. 15. Both classes will be held in the library meeting room. No advance registration is necessary. Anyone with questions can contact the library at (937)294-7171.
---
Montgomery County farm tour Oct. 11 & 12

Fall is a lovely time for a drive in the country. In Montgomery County it only takes a few minutes to reach a country road leading to one of the five stops on the 2008 Montgomery County Farm Tour. This drive it yourself farm tour is being held on Saturday, Oct. 11 and Sunday, Oct. 12 from 12 noon to 6 p.m. The tour is made up of five farms located in western Montgomery County, each of which is unique in its own way. You can start the tour at any location and visit them in any order you wish. Fun, educational activities and food will be available at each site.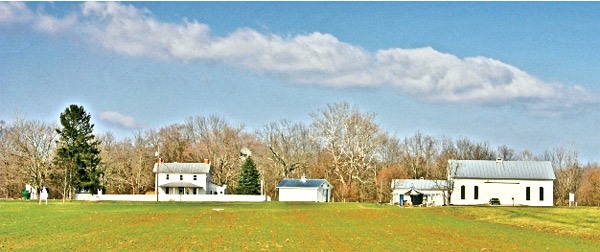 Possum Creek Farm, 4790 Frytown Road, Dayton, is a part of the Five Rivers Metro Parks system. It is a one hundred acre farm with an 1830's farmhouse and an 1886 bank barn. There are demonstration crops, a community garden area and a pond. The farm is becoming an eco-friendly, sustainable, 21st century farm. There are also programs for children and families on the importance of agriculture, gardening, and nature.
The Learning Tree Farm, 3376 S. Union Rd., Dayton, is a 60-acre farm established in 1973 by teachers who believed that hands-on learning experiences are essential to life.The farm has an 1839 farm house, a bank barn and other farm buildings. It has cattle, sheep, pigs, chickens and miniature horses and burros. There are hay fields and re-growth woods to roam. They have multiple hands-on programs offered to schools, youth groups and day camps, all of which meet the Ohio Academic Standards. Some of the programs are Hands on the Farm, Seasons on the Farm, Finding Freedom on the Farm (the Underground Railroad) and Inside the Garden Box (visiting and eating in the vegetable, flower and herb gardens).
The Sycamore Conservation Demonstration and Education Farm, 3225 N. Lutheran Church Road, Trotwood, is a 350 acre farm originally established in the 1790's. The Ohio Department of Natural Resources Division of Parks and Recreation was able to purchase the land in 1979 as a part of Sycamore State Park. The Montgomery Soil and Water Conservation District (MSWCD) has managed Sycamore Farm since 1982. A wagon tour will showcase the conservation practices in use to help conserve our soil and water, including the use of no-till farming, grassed waterways and a wetland. Tour the soils trailer to see what life is like underground and how what each citizen does effects the health of our soil and water. Come learn more about the importance of rain gardens and the health of our streams.Learn about the large new wetland that is to become a part of the community and of its importance to our water system.
Majestic Nursery and Gardens, 2100 N. Preble County Line Rd., West Alexandria, is a farm on the western border of Montgomery County. It's recognized for growing the most diverse selection of pumpkins, gourds and squash. Choose from their extensive display area or directly from the field. Find the perfect garden mum or fall annual, experience the Amazing Corn Maze, or take a hay ride. Learn about how the farm is protected from future development and what it means to be a Century Farm. You can also visit the farm animals or step back in time with the antique tractor and farm equipment display.
T?ken Farm Market on State Route 35, 15725 Eaton Pike, West Alexandria has many home grown fruits and vegetables to choose from. You can take a tour of the orchard, visit their petting zoo, or browse the country barn farm market, loaded with fresh preserves, baked goods and cheeses. Enjoy a scoop of pumpkin ice cream or an ice cold apple cider slushie. You can watch as wild pheasants are released back into the wild and learn about alpaca's and the uses of their fiber.
For more information and a map visit the MSWCD web site at: www.montgomeryswcd.org or call the District office at 937-854-7646, option 4.