Opera has been big in the news the past few weeks -

Opera Guild of Dayton's two editions of the "Bravo" Fashion Show – one Thursday evening, Oct. 9 (when men attended), and the second the following Friday morning for the luncheon version.

Last Saturday Dayton Opera's production of Puccini's Turandot took to the stage as artistically, visually, musically and vocally one of the most exciting opera productions ever presented here.Two performances remain – Friday night at 8 p.m. and Sunday afternoon at 3 p.m.

Karen and Dale Medford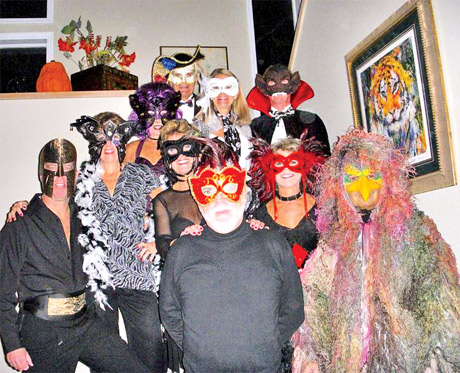 A great time was had by all at the annual AIDS fundraiser Masquerage, held Saturday night at the Foundry. The Kettering-Oakwood contingent included, top row: Tedd Boomershine, Kathy Boomershine, Dee Dee Huffer, Brian Huffer; lower row: Bill McDougall, Jayne McDougall, Sara Woodhull, Clyde Esch, Pat McDonald, David McDonald.
---
The following story is reprinted with permission from the Miami Valley Hospital publication Insider...
"If you're interested in what you're doing, it's not work. "That's the philosophy of Oakwood resident and Miami Valley Hospital physician Kent K. Scholl, MD, which means that this hard-working family doctor hasn't been "working" for the last 53 years! Dr. Scholl's connection to Miami Valley Hospital is a strong one.
"I was born here, and after medical school at Loyola University in Chicago, I interned here, too," he said. After the Korean War, medical doctors were still being drafted. I served in Lincoln, Nebraska, and afterward, I began General Practice here in Dayton with Dr. Byron Stuhlman in 1957. When I started, I did everything – delivering babies, emergencies, all that. It was fun, but I'm glad I don't have to get up in the middle of the night much any more." A hospitalist now manages the care of patients needing admission, but Dr. Scholl still looks in on them throughout their stay at MVH.
"I still have some of the patients I had when I started practice," he said. And, although he's sure his wife would like him to retire sometime soon, he has no plans to leave the patients who have come to depend on him. MVH President and CEO Mary Boosalis adds, "We're very pleased about that!"
On National Doctors' Day, March 31 2009, Miami Valley Hospital will take time to say thank you to all members of the medical staff. Twelve members of the medical staff will also be added to the Wall of Excellence that day in recognition of their commitment to going above and beyond for their patients.
By Jane Healy

Oakwood is missing out by losing our connection with our Sister City Parisian suburb of Le Vesinet. A part of the beauty of our suburb comes from the ideas of the French city we've had as a close tie for several decades. There is much to be learned and exchanges to be made but unfortunately no committee exists that is even corresponding with the committee in the city of light.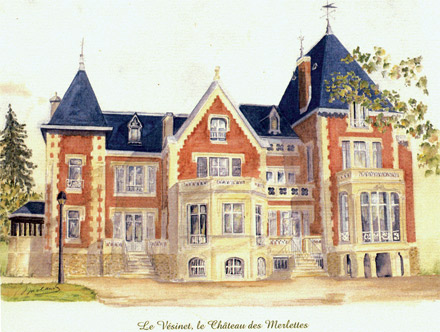 Le Vesinet offers rooms at no expense to our residents in the Chateau Merleutte, only a twenty minute subway ride from Paris. On the other side of the city is the River Seine; a half an hour's walk brings you to the Renaissance Chateau of St. Germaine en Laye, the fabulous palace of the Kings of France before Versailles. One can catch a bus from here for five euros directly to Versailles. It is not far.
The ambiance of Le Vesinet includes homes that are exact copies of the Petite Trianon, homes designed by the famed architect who constructed the art nouveau metro stations of Paris and some of the most interesting and varied architecture in the world. There are over 100 organizations in the suburb; they have many unique ideas. For instance, they have a Municipal Band that plays American jazz and on the large green last month they held a mass garage sale, also serving lunch. Everyone had a good time; you can imagine the French antiques from attics.
They have an interest in exchanging older high school students for two months or the summer; perhaps they could learn English at a local college. They would like for Oakwood to send a representative when they hold their festivities once a year for sister cities. Their invitation has gone unanswered. They would be happy to have any exchanges with the city of Oakwood.
The history of Le Vesinet is interesting. In 1837, the first rail line traveled across the forest of Vesinet and an entrepreneur decided to create a village in the middle of nature. A famous Count Choulot, created the city. Five lakes were constructed with small connecting rivers. All in all this makes for a uniquelybeautiful environment. The suburb is is quite famous in France.
Although there are 6,000 more people in Le Vesinet than in Oakwood, they do not have a newspaper like our wonderful Oakwood Register to report news and events. We should not miss this opportunity that has been given us in uniting with this unusual and fascinating place with its warm and welcoming people. We need committees who will organize in this effort. (Those interested please call the OR at 294-2662 and leave your name to help)
Editors note: Jane Healy is an Oakwood resident

The OHS Traveling Band marched down Harman Terrace the night of OHS Homecoming game. The residents of Harman Terrace asked the band to perform at their "tailgate" before the big game!! What a great way for the band to raise money and a wonderful treat for the neighborhood!
---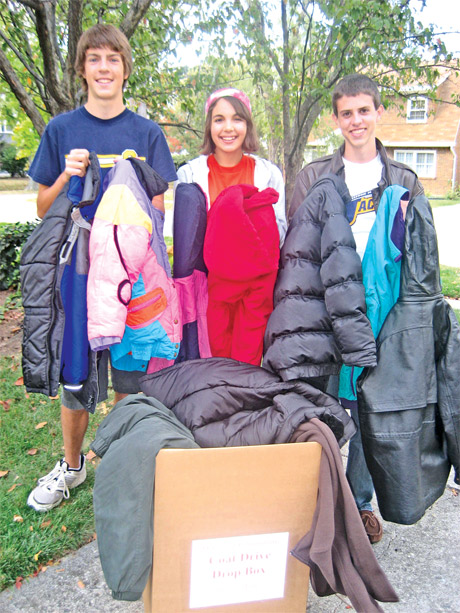 Pictured left to right with donated coats: Timothy Judge, Melanie Ward and Harrison Davis.
In conjunction with the Oakwood Register, Oakwood High School is sponsoring the Seventh Annual Community Coat Drive. Over the past 6 years, hundreds of coats have been delivered to the Salud Clinic, near Tipp City, which provides free healthcare for migrant workers from Southwest Ohio. The clinic also provides families with food, health education, and clothing.
During the month of October, coats and other winter outerwear can be dropped off at the Oakwood Register at 435 Patterson Rd., in the enclosed porch at 108 Lonsdale, or in the high school main office. Thank you for your support!
---
Clothes Go Round, a consignment shop located at 1209 E. Stroop Rd. in Kettering is under new ownership in a newly-remodeled space that now includes a Junior's loft. The shop carries many of the name brands popular today – Talbots, Anne Taylor, Abercrombie and Fitch, Aeropostale among the labels.
After purchasing Clothes Go Round, new owner Nancy Herting purchased Clothes Go Round and updated and remodeled the interior for a bright new look.
The shop takes clothes on consignment, so that whether you want to empty your closet of clothes you have outgrown or no longer want, or whether you want a chance to add to your wardrobe in a budget-wise manner, Clothes Go Round offers those opportunities. It has been in business for over 20 years and has garnered a reputation as an excellent clothing resale shop.
Store hours are Monday through Friday from 11 a.m. to 7 p.m. and Saturday from 10 a.m. to 5 p.m. Their phone number is 299-8650.
---
The City of Oakwood's fall Johnny Appleseed Street Tree Planting Project is now underway. Applications and detailed brochures describing the trees are available at the Oakwood Community Center, 105 Patterson Road, or by mail. Please call the Oakwood Community Center at 298-0775 for a brochure or further information.
This award winning project will offer five trees to homeowners at a 50 percent discount. They include the Eastern Red Oak, 'Green Vase' Japanese Zelkova, 'Ivory Silk' Japanese Tree Lilac, 'Cleveland Select' Callery Pear and 'Pacific Sunset' Maple. The size of the trees will be 1?" diameter. One tree will be allocated for each approved property site. Trees must be planted in the city right of way at the discounted rate and will be wrapped, staked, mulched and guaranteed by the nursery for one growing season. Planting will take place in late November or early December. Homeowners may also purchase a tree at 100 percent of the cost if a second tree is needed or the homeowner wants to plant a tree on private property. All tree varieties were chosen because of their excellent landscape characteristics including fall color, height, rate of growth, shape of tree, texture and landscape value.
For questions about this project, please call Carol Collins or Brian Caldwell at the Oakwood Community Center, 298-0775.