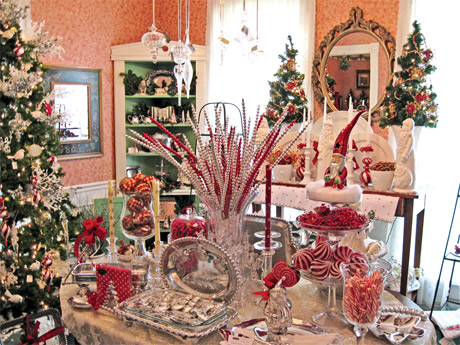 The Little Exchange is all decked out for their Open House.
The Little Exchange is hosting its Annual Holiday Open House on Sunday, Nov. 2 from 11 a.m. until 5 p.m. The Little Exchange, a fine gift shop located at 45 Park Avenue (just off Route 48 South) in Oakwood, donates its proceeds to Children's Medical Center. Since 1957, The Little Exchange has donated more than $1.4 million to the hospital.
Featured at the Open House will be one-of-a-kind items, unique infant and children's gifts, ornaments, decorations, entertaining pieces, See's Candies of California, and gifts galore. Volunteers provide complimentary gift wrap and local delivery. Light refreshments will be served.
Store hours for The Little Exchange are 10 a.m. – 5 p.m. Monday through Friday,
10 a.m. – 7 p.m. Thursday and 10 a.m. – 3 p.m. Saturday. For more information, call (937) 299-1561.
---
The Woodhull Discourses Presents Dr. J. Pittman McGehee, D.D. at St. Paul's Episcopal Church, Oakwood, on Nov. 1 and 2.
Dr. Pittman McGehee will present both his Saturday seminar and Sunday Adult Formation lecture in the Parish Hall at St. Paul's Episcopal Church, 33 W. Dixon Ave. in Oakwood: Saturday, 9 a.m. to 1 p.m.: "Individuation and Mystical Union: A look at the work of Meister Eckhart and C.G. Jung"—Jung regularly quoted Eckhart in
his writings on religion and psyche.
This lecture will be a discussion of mysticism and individuation as seen by a 12th Century mystic and a 20th Century psychoanalyst. In comparing Eckhart and Jung, it will be necessary to compare and contrast themes such as Self, ground, libido, evil, feminine, paradox, and wholeness.
Sunday, 9:30 a.m. to 10:15 a.m.: "Weaving a Worldview"—Taking two stories and two symbols, this lecture will weave a tapestry of a psycho/spiritual worldview that can be a basis for health. Christmas and Easter, Baptism and Eucharist are all we need to contain a balanced and integrated consciousness. Christianity is an undervalued resource for mental health. This lecture expects to remedy that.
Both presentations are free and open to the public.
A Victorian Holiday Tea is the theme for the Opera Guild of Dayton's special event to be held on Sunday afternoon, Nov. 9, from 2 – 4 p.m., at the NCR Country Club in Kettering.
This festive and elegant event will feature a traditional English tea and modeling of authentic Victorian dresses traditionally worn at a high tea. Dayton Opera's Artist-in-Residence Joshua Zink and the Children's Choir from the Charity Adams Earley Academy will treat guests to a selection of holiday songs. The young and "young at heart" will enjoy the Opera Guild's Marionettes.
For reservations and information, contact the Opera Guild at 228-0662, ext. 3090, or Jo Ann Gentry at 293-8890. Price for an adult is $35.00; for a child (ages 5 – 15), $15. You may become a Grand Patron for $50. Part of the adult and Grand Patron ticket price is tax deductible. All fundraising proceeds benefit Dayton Opera and the Guild's education programs.
The Youth Services Department at Wright Library will be having a "School's Out Movie" on Halloween, Friday, Oct. 31 at 1 p.m. Since Oakwood Schools will not be in session, the department will be showing the movie, The Halloween Tree (1973), in the library's meeting room. Join us for the movie and popcorn. The entire family can come!
Based on the book by Ray Bradbury, this full-length animated film tells the story of a group of trick-or-treating children who learn about the origins and influences of Halloween when one of their friends is spirited away by mysterious forces. It features the voice of Leonard Nimoy as the children's guide, Mr. Moundshroud. Ray Bradbury himself provided the voice of the narrator and won an Emmy award for the screenplay.The film is unrated.
The program is free, and no registration is required.
Starting on Nov. 3 and ending on Dec. 15, Wright Library will be offering a series of programs of "Folktales around the World" for homeschoolers grades 1-6 on consecutive Mondays at 1 p.m. Activities including folktales being read to the group, a craft, and a snack based on 7 different countries and regions including Australia, Russia, the West Indies, Iran, Vietnam, Japan, and Brazil. Books related to that day's topic will be available for check-out. Children do not need to live in Oakwood to participate, and parents are welcome to stay. All programs will meet in the Library Meeting Room.
For more information, please contact the Youth Services Department at 294-7171. Wright Memorial Public Library is located at 1776 Far Hills Avenue in Oakwood.
Their web site is www.WrightLibrary.org.
Every Wednesday from 4 to 6 p.m., students can drop-in and play Guitar Hero III, Dance, Dance Revolution (DDR), jigsaw puzzles, Uno, Yahtzee, and a variety of other board games. If you wish, you can bring your own!
For a complete schedule of all teen programs, check the library website at www.Wright Library.org
The City of Oakwood's fall Johnny Appleseed Street Tree Planting Project is now underway. Applications and detailed brochures describing the trees are available at the Oakwood Community Center, 105 Patterson Road, or by mail. Please call the Oakwood Community Center at 298-0775 for a brochure or further information.
This award winning project will offer five trees to homeowners at a 50 percent discount. They include the Eastern Red Oak, 'Green Vase' Japanese Zelkova, 'Ivory Silk' Japanese Tree Lilac, 'Cleveland Select' Callery Pear and 'Pacific Sunset' Maple.
The size of the trees will be 1?" diameter. One tree will be allocated for each approved property site. Trees must be planted in the city right of way at the discounted rate and will be wrapped, staked, mulched and guaranteed by the nursery for one growing season. Planting will take place in late November or early December.
Homeowners may also purchase a tree at 100 percent of the cost if a second tree is needed or the homeowner wants to plant a tree on private property. All tree varieties were chosen because of their excellent landscape characteristics including fall color, height, rate of growth, shape of tree, texture and landscape value.
For questions about this project, please call Carol Collins or Brian Caldwell at the Oakwood Community Center, 298-0775.
---
In conjunction with the Oakwood Register, Oakwood High School is sponsoring the Seventh Annual Community Coat Drive. Over the past six years, hundreds of coats have been delivered to the Salud Clinic, near Tipp City, which provides free healthcare for migrant workers from Southwest Ohio. The clinic also provides families with food, health education, and clothing.
During the month of October, coats and other winter outerwear can be dropped off at the Oakwood Register at 435 Patterson Rd., in the enclosed porch at 108 Lonsdale, or in the high school main office. Thank you for your support!
---
The 12th Annual Senior Holiday Luncheon will be held on Wednesday, Dec. 3.
Space is limited so call the OCC at 298-0775 to reserve your place now. This event is open to all Seniors and includes lunch and entertainment.