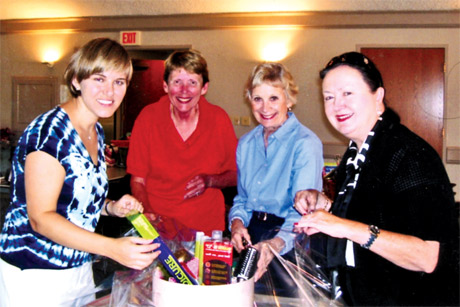 Left to right: Heidi Azaloff, Carol Dickerson,.Marty Ebeling and Lois Ross prepare a gift basket for the Floral Fantasy silent auction.
Members of Pi Beta Phi Alumnae Club are making the final plans for its fifth annual Floral Fantasy. Three floral designers will be sharing their suggestions and techniques on Wednesday evening, Nov. 6, at Parkview Church of the Nazarene, 4701 Far Hills Ave. in Kettering. The program will begin at 7 p.m. Doors will open at 6:15 p.m.
The designers will come from The Flower Shoppe at 1120 Brown St., Furst Florist at 1306 Troy Street and Hills and Dales Florist, 3050 Kettering Blvd. Each florist will produce six beautiful and unique floral pieces and of the eighteen arrangements will serve as door prizes. A limited number of tickets for the event are available at $15,
A selection of raffle items include restaurant gift certificates, personalized stationery items, theater tickets, an ice cream certificate, a Vera Bradley purse and much more. A Silent Auction will feature baskets for Thanksgiving, Christmas, New Years, a Grandmother's Closet basket full of wonderful toys and treats for the kiddies, a Food in a Flash basket and more. Funds raised through Floral Fantasy will be used to aid deserving University of Dayton women in financial need. Funds amounting to $4840 from Floral Fantasy have been given to 20 girls over the past four years.
Tickets may be reserved by calling Carolyn Young at 433-8447.
---
The MOMs group of Oakwood will hold its annual Holiday Showcase on Saturday, Nov. 8, from 11 a.m. to 4 p.m. at the Oakwood High School West Gym. Admission is free and open to the public. Light refreshments will be served, and door prizes will be given away throughout the afternoon. This event features more than 40 vendors offering toys, books, housewares, handmade crafts, décor, handbags, make-up, baby gifts, artistry, candles, body & bath items, jewelry and everything in between! Some items are hand crafted and some items are available through home distributors. It is also a great time to stock up on your Oakwood merchandise from clothes to books. Santa Claus will be on hand as well!
For a list of vendors and a brief description of their businesses, please visit www.momsofoakwood.org
---
A Victorian Holiday Tea is the theme for the Opera Guild of Dayton's special event to be held on Sunday afternoon, Nov. 9, from 2 – 4 p.m., at the NCR Country Club in Kettering.
This festive and elegant event will feature a traditional English tea and modeling of authentic Victorian dresses traditionally worn at a high tea. Dayton Opera's Artist-in Residence Joshua Zink and the Children's Choir from the Charity Adams Earley Academy will treat guests to a selection of holiday songs. The young and "young at heart" will enjoy the Opera Guild's Marionettes.
For reservations and information, contact the Opera Guild at 228-0662, ext. 3090, or Jo Ann Gentry at 293-8890. Price for an adult is $35.00; for a child (ages 5 – 15), $15. You may become a Grand Patron for $50. Part of the adult and Grand Patron ticket price is tax deductible. All fundraising proceeds benefit Dayton Opera and the Guild's education programs.
Nov. 10 brings a representative from the Financial Aid Office at the University of Dayton to the OHS auditorium. This night is especially geared towards parents and students in the 11th and 12th grades. Anyone wishing to learn more about financing college is invited to attend. The Financial Aid presentation will begin at 7 p.m.
---
To support those in the community remember and honor the loved ones they have lost this year, Routsong Funeral Home will again host an interfaith "Holiday Hope and Memories Program" on Wednesday, Nov. 12, from 6:30 p.m. until 8 p.m. at their Kettering Chapel, 2100 E. Stroop Rd. A brief reception will be held immediately following the program. The Holiday Hope and Memories program is free and open to the public. This will be Routsong's 15th year to hold this holiday support event.
---
Innovative InterChange Associates, an Oakwood based company owned by Kathy and Frank Hollingsworth, and the Dayton Racquet Club invite the public to join the Professional Enhancement Committee on Thursday, Nov. 13 for a lunch, presentation and book signing to celebrate the release of Dr. Charlie Palmgren's latest work, The Ascent of the Eagle: Being and Becoming your Best.
Dr. Palmgren is an international consultant to senior management. He conducts workshops and seminars and was a member of the faculty of the Leader Academy in
Belgium. He has been a lecturer at universities and colleges, and a consultant to the White House. Clients include Fortune 100 companies faced with implementing strategic and tactical change initiatives.
Registration and a buffet lunch will begin at 11:30 a.m., with Dr. Palmgren's presentation beginning at approximately 12 p.m. Copies of Dr. Palmgren's book will be available for purchase. Dr. Palmgren will also be signing books in the Westview Room at the Club from 5:30-7 p.m. the evening of the presentation.
RESERVATIONS ARE REQUIRED; please call the Club at (937) 224-4381 to reserve your space.
Innovative Interchange Associates equips people and organizations with the Innovative InterChange process, which wakes them up to their untapped potential. Go to www.iichange.com
---
University of Dayton Professor Dr. John Putka will discuss election results with members of the Republican Council of Oakwood at their Nov. 13 luncheon meeting at the Dayton Woman's Club.
According to President Jan Crosby of Kettering, membership in the group is open to any Republican women of voting age residing in Montgomery County by payment of yearly dues.
The object of the organization is to bring women together for the purpose of advancing and perpetuating the Republican Party's principles and to provide opportunities for political activity and education.
For more information call 395-1216.
---
Are your leaves piling up? On Saturday, Nov. 15, Oakwood Giving will help those who are physically unable to take care of this fall chore. Please contact the high school office at 297-5325 to be placed on the leaf raking schedule.
Starting on Nov. 3 and ending on Dec. 15, Wright Library will be offering a series of programs of "Folktales around the World" for homeschoolers grades 1-6 on consecutive Mondays at 1 p.m. Activities including folktales being read to the group, a craft, and a snack based on 7 different countries and regions including Australia, Russia, the West Indies, Iran, Vietnam, Japan, and Brazil. Books related to that day's topic will be available for check-out. All programs will meet in the Library Meeting Room.
For more information, please contact the Youth Services Department at 294-7171. Wright Memorial Public Library is located at 1776 Far Hills Avenue in Oakwood.
Their web site is www.Wright Library.org.
Artist Hal Sherman will display his portraits of Ohio Indian Chiefs and talk about his work at 2 p.m. on Sunday, Nov, 9 at Wright Library. Sherman is a Shelby County native with a lifelong interest in Native American history and artifacts. He is a self-taught artist whose work has been featured on book jackets, in a PBS Simon Kenton film, and in a Canadian film about the Pontiac Indians. Examples of his paintings may be viewed in the Gallery on the Shawnee Bluejacket Web site at www.shawnee-bluejacket.com.
The program will be held in the library meeting room. No advance registration is necessary. All ages are welcome. Anyone with questions can contact the library at (937) 294-7171.
Wright Memorial Public Library is honored to host Tricia Webber of "Love to Sign" on Monday, Nov. 10 at 10:15 a.m. for a 20 minute program of songs and stories in American Sign Language. The program will teach useful, developmentally-appropriate signs to children age 3 and under, along with their caregivers.
Ms. Webber is a parent, an Ohio certified teacher, and a certified Level 1 Sign2Me presenter. Her website may be found at www.love-to-sign.com.
Mrs. G. will host a "playtime" immediately following Ms. Webber's presentation. Caregivers must attend with the children. No registration is necessary.
Preschoolers ages 3-5 and their parents or caregivers are invited to explore the wonders of shadows at Wright Library on Saturday, Nov. 15 from 3-4 p.m. Cast shadows on the wall, make a shoebox shadow theater, and create shadow puppets!
The event is inspired by Peep and the Big Wide World, a preschool science television series. The event is free and open to the public, but registration is required. Registration begins on Monday, Nov. 3.
For more information or to register, please contact the Youth Services Department at 294-7171
Building wealth with rentals

Wednesday, Nov. 19, 7 p.m.
Mike Butler, a national speaker will be discussing how to build wealth with rentals and how to track them.
Both meetings will be held at Sinclair Community College, Bldg. 12, West 4th at Perry Street. www.GDREIA.com