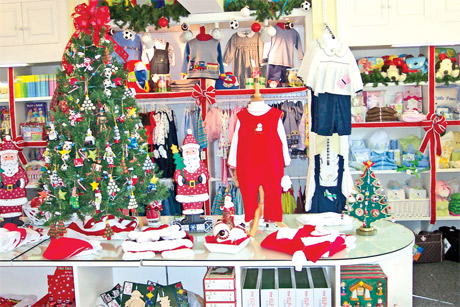 The Little Exchange Foundation President Judy Gottman , and Lois Maher, chair of this year's Holiday Open House announce record breaking sales. The Holiday Open House was held Sunday, Nov. 2 from 11 a.m. until 5 p.m. and in those six hours, The Little Exchange had gross receipts of more than $27,700. The Little Exchange is located at 45 Park Avenue (off Route 48 South aka Far Hills Avenue) in Oakwood and donates its proceeds to Dayton Children's Medical Center. The size of The Little Exchange's annual donation to Dayton Children's largely depends on the continued success of the holiday shopping season.
"Hundreds of volunteers donate thousands of hours to operate The Little Exchange. The success of the Holiday Open House serves as the kick-off to The Little Exchange's Rooms With A Reason," said Judy Gottman, Little Exchange president. Selections of distinctive ornaments and decorations, unique children's gifts and apparel for infants to boys and girls size 4T, See's Chocolate of California, holiday merchandise, teacher and hostess gifts along with great presents for everyone on the
gift list are featured. Complimentary gift wrap and local delivery is provided by volunteers. Chair Lois Maher added, "We are so pleased with the results of the Holiday Open House because it represents so much hard work by so many volunteers and so much support from the community."
The Little Exchange is open on weekdays from 10 a.m. to 5 p.m., Thursdays from 10 a.m. to 7 p.m. and on Saturdays from 10 a.m. to 3 p.m. For more information, call 299-1561 or visit www.thelittleexchange.org.
---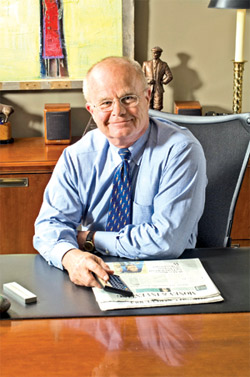 Martin K. "Bo" Brown, a Financial Consultant and Branch Manager at the 580 Lincoln Park Boulevard office of Raymond James Financial Services, Inc., has been named to the firm's 2009 Leaders Council in recognition of providing outstanding guidance and service to the investing public and exemplary professional growth.
Leaders Council honors are presented only to those financial advisors who demonstrate an extraordinary level of commitment to clients through personal service and professional integrity.
Brown, who joined Raymond James in 1983, has more than 25 years of financial and investment experience. He offers a comprehensive range of financial planning and investment services for individuals and businesses.
---
ThinkTV (Greater Dayton Public Television) and CET (Greater Cincinnati Public Television) have announced that the organizations will merge to form a new regional public television and media corporation. David Fogarty, the current president of ThinkTV, will be named President of the combined organization.
Under the new, merged non-profit corporation, ThinkTV and CET will retain their identities and continue their locally based services to the Greater Dayton
and Greater Cincinnati communities with staff and facilities in current locations.
"We believe strongly that in today's non-profit and media environment, a shared regional vision for CET and ThinkTV offers the best opportunity to grow local programming and educational services," said Bryan Dunn, chair of the CET Board. "Shared leadership is an important step in that regional vision, and we are highly confident in David Fogarty's abilities to lead the new organization."
ThinkTV Board chair, John Danis noted, "ThinkTV and CET bring together complimentary strengths. ThinkTV16 and 14 provide the most watched public television service in Ohio. CETconnect .org has developed as an innovative, internet-based community resource expanding opportunities for local content and interactivity. "
ThinkTV and CET are the licensees of public television stations WPTD/16, WPTO/14 and WCET/48, which serve the greater Dayton and Cincinnati communities.
---
MVITA (Miami Valley International Trade Association) announces that it will hold a morning seminar in Dayton covering the Basics of Exporting on Thursday, Nov. 13 at the Marriott Courtyard at UD Arena (Exit 51 – I-75).
This seminar is an introductory program geared for companies considering international trade, companies new to exporting and companies with employees with new responsibilities in international trade. It will address the key issues in selling and shipping internationally.
The program will be presented by a team of experts with practical experience in all of the steps in the export process. This seminar is sponsored by FedEx, Frost Brown Todd LLC and Export Credit Consulting, LLC.
Lunch will be provided for the participants. The fee for the seminar is $75 for MVITA members, $ 95 for non-members and $40 for students.
For more information, call MVITA at 937-226-8482 or e-mail: mvita@earthlink.net
MVITA is a local non -profit organization that promotes international trade, both exporting and importing.
---
Polly Petricola is a superhero. No, she doesn't have the ability to fly or super-human strength; she saves lives by donating blood.
After helping to organize a blood drive at the Oakwood Community Center for five years, Polly has stayed involved with the drive by donating when the Community Blood Center comes back every 8 weeks.
"My husband and I both had medical emergencies where donated blood was necessary to our survival. I am happy to be able to help someone else in need now," said Petricola.
Petricola, the president of AdProducts of Dayton, has donated nine gallons (71 times) through Community Blood Center to help save local hospital patients. Join Polly in donating at the next Oakwood Community Center drive on Saturday, Nov. 15 from 9 a.m. to 1 p.m. Oakwood Community Center is located at 105 Patterson Rd. Anyone who registers to donate has the chance to win one of two pairs of tickets to the Nov. 22 OSU vs. Michigan game!
Required to donate: A picture ID, be 17 years old (16 with parental consent form), weigh 110 pounds and be in generally good health.
---
Halloween began early this year for the children in the 300 block of East Drive. On Saturday afternoon, Oct. 25, fourteen children, some in costume, trekked from house-to-house for fun activities such as caramel apple dipping, stuffing a creepy hand treat, biting donuts on a string, face painting and running egg races. To wind down the afternoon, the children gathered for a story, The Lonely Scarecrow. "Please bring a dish to share" were the instructions for the backyard supper which followed at the home of John and Michele Wilson. A cauldron of chili was waiting for kids and parents alike as the evening wound down.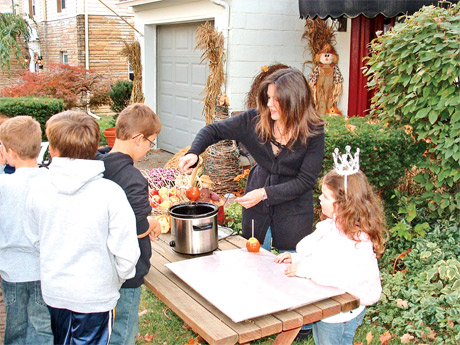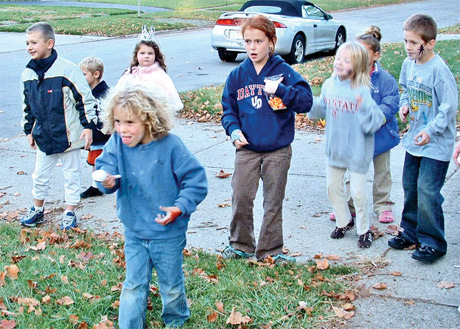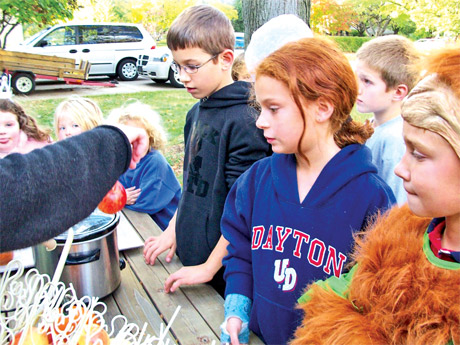 The Dayton Holiday Festival is looking for the area's most creative decorators to compete in the fourth annual Gingerbread Homes for the Holidays Contest on Friday, Nov. 28. Located inside the Old Court House in downtown Dayton, entries will be judged and displayed for public viewing, one day only, during the Grande Illumination and Dayton Children's Parade Spectacular in Lights from 4-9 p.m.
Stir up your icing and imaginations! All ages and skill levels are invited to participate in this free contest by entering a gingerbread house in the Youth (12 & under), Teen (13-17), Adult (18+), or Professional category. Entry forms and a complete list of contest rules are available in PDF format at www.daytonholidayfestival.org. Forms can be submitted to the Downtown Dayton Partnership at 40 N. Main Street Suite 1360, Dayton, OH 45423 or to eaton@downtowndayton.org. Entry forms are due by Friday, Nov. 14.
Get rolling and win dough! Traditional houses, replications of buildings, a purchased kit, or even cardboard are permitted (as long as all exposed surfaces are covered with edible material). First place in each category will receive a sweet prize package featuring a variety of items. Also one amateur and professional house will be selected as the "Best Houses on the Block" and each will win a $500 cash prize.
Contest entries need to be delivered to the Old Court House between 10 a.m. and noon on Friday, Nov. 28. They will be judged from 2-4 p.m., and the winners will be notified by telephone. All contest winners will have the opportunity to be recognized on the Main Stage in Courthouse Square before the tree lighting ceremony at 8 p.m.
For more information on the contest and other Dayton Holiday Festival activities, call (937) 224-1518 or visit www.daytonholidayfestival.org.
Donald & Anna Langhorne, 300 Volusia
Bill & Ann Frapwell, 400 Hathaway
Ms. Janet Cavender, 4 Spirea/1104 Far Hills
Jenny McKinnon, 405 Corona Avenue
Ruth Etter, 35 E. Hadley
Mr. & Mrs. Everett Jones, 445 Forrer
John & Beverly Jones-Arthur, 329 Monteray
Mr. & Mrs. Andrew Wonders, 106 E. Peach Orchard
Mr. & Mrs. William A. Jividen, 223 Oak Knoll
Mr. & Mrs. Drew W. Cronenwett, 2403 Hillview
Mr. & Mrs. Brad Bachman, 211 Northview
James & Jennifer Back, 144 Patterson
Mr. & Mrs. Aaron Delidow, 227 E. Dixon
Mr. & Mrs. Tom Williams, 133 Lonsdale
Mr. & Mrs. Charles McElligott, 236 Telford
Mr. & Mrs. Daniel Nolan, 114 Hadley
Ms. Lauren Beach, 216 Hadley
Dr. & Mrs. Christopher Wille, 820 Oakwood
Michael Sanders, 447 Wonderly
Dr. & Mrs. Byron Epley, 568 Hathaway
Mr. & Mrs. Dave Reed, 275 W. Thruston
Tim & Lisa McCauley, 90 Patterson
Mr. & Mrs. Ken Keller, 27 E. Dixon
Oakwood Board of Education, 1200 Far Hills
Mr. & Mrs. Michael Jones, 217 Corona
Mr. & Mrs. Richard Kipp, 245 Monteray
Ms. Colene Murphy, 244 E. Peach Orchard
Mr. Andrew Denka, Oakwood Corp., LLC, 200 Triangle
Mr. & Mrs. Michael Shane, 301 Fairforest
Mark & Wanda Krebs, 2543 Fairmont
Mr. & Mrs. Dennis Wolters, 240 Grandon Road
Mr. Richard Lipowicz, 259 Spirea
Mr. & Mrs. Christopher Epley, 54 Beverly
Mr. & Mrs. Christopher Trout 101 Forrer
Ms. Robin Lewis, 411 Aberdeen
Andy & Anne Jones, 241 Monteray
Mr. David Brethen, 209 Triangle
Mr. & Mrs. Daniel Gentry, 1809 Coolidge
Ervin & Wendi Pavlofsky, 175 Park
Huffman Travel, 2537 Far Hills
Mr. & Mrs. Thomas Cahill, 509 Hathaway
Mr. & Mrs. Jonathan Brewer, 304 Schenck
Mr. & Mrs. Thomas McGrady, 219 E. Dixon
Ms. Jane Schul, 320 Wisteria
Mr. John W. Harrison, 323 Corona
Ms. Sara Feldmiller, 137 Lonsdale
Mr. & Mrs. Robert Rice, 312 E. Peach Orchard
Ms. Beth Ritzert, 224 East
Mr. & Mrs. Thomas Shafer, 218 Haver
Mr. Robert Smith, 51 Forrer
Mr. & Mrs. Richard Hearn, 1115 Oakwood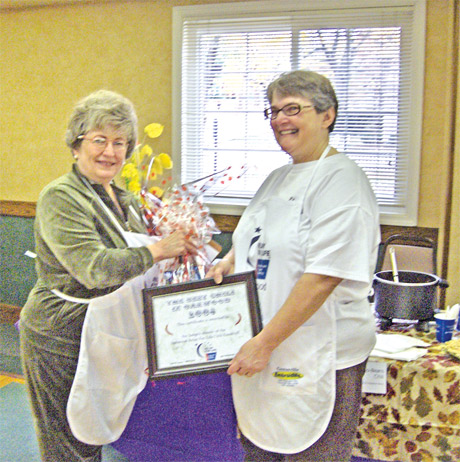 Our people's choice winner, who was selected by the number of vote tickets received was Sharon Stephens' Buckeye Chili. Her Relay team will receive the $56 for 56 votes plus all the donations we received at the door. Each team's entry gets the dollar amount of votes received.
We raised over $400 towards the 2009 Oakwood Relay For Life, which will be held July 10-11 at Mack Hummon Field at Oakwood High School.
Here is Terri's recipe:
3-4 boneless skinless chicken breasts
1 box of organic chicken broth
1 1/2 tsp white pepper
2 cloves minced garlic
3Tbsp canola oil
2 15oz cans great northern white beans
2 41/2 cans chopped green chilies
1 10 1/2 oz can cream of chicken soup
3 Tbsp. jalapeno pepper (to taste) I like it hot
3 Tbsp cilantro 1 tsp salt
Put chicken in glass baking dish, pour in 1 cup chicken broth, cover and bake at 350 deg-1 hour.
Remove chicken, reserve broth. Cut chicken into small pieces and season with pepper. Sauté chicken in oil with garlic 2-3 min. Add reserved broth and all remaining broth and ingredients and bring to boil. Reduce heat and simmer 30 min.
To serve~ ladle chili into bowl and garnish with crushed tortilla chips and grated mozzarella cheese if desired.
The City of Oakwood Holiday Food Drive continues through Sunday, Dec. 14.
Donations will benefit the Red Cross Emergency Food Bank. Collection boxes will be available at the OCC, 105 Patterson Road and the City Building, 30 Park Avenue.
Share your blessings with others.
---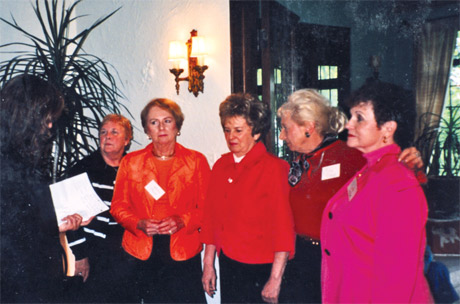 Pictured, left to right: Newly-elected Republican Council of Oakwood officers Mary Lou Nelson, corresponding secretary; Jeannine Phlipot, recording secretary; Judy Stolle, treasurer; Sue Finley, vice-president; Jan Crosby, president.
University of Dayton Professor Dr. John Putka will discuss election results with members of the Republican Council of Oakwood at their Nov. 13 luncheon meeting at the Dayton Woman's Club.
According to President Jan Crosby of Kettering, membership in the group is open to any Republican women of voting age residing in Montgomery County by payment of yearly dues.
The object of the organization is to bring women together for the purpose of advancing and perpetuating the Republican Party's principles and to provide opportunities for political activity and education.
For more information call 395-1216.