It is the pleasure of Tom McClory and Ann Davis of Oakwood, Ohio to announce the engagement of their son Sean Philip McClory to Susan Elaine Schmidt of Columbus, Ohio.
The bride-elect is a 2005 graduate of The Ohio State University and is now a MD-PhD-Medical Scientist candidate at the Ohio State University School of Medicine. Susan is the daughter of Carol and Jim Schmidt of Dublin, Ohio.
The groom-to-be is a 2002 graduate of Oakwood High School, a 2006 graduate of The Ohio State University with a BS in Biochemistry, and is now a Ph.D candidate in Biochemistry at The Ohio State University.
Wedding date of December 13, 2008 in Columbus, Ohio has been set.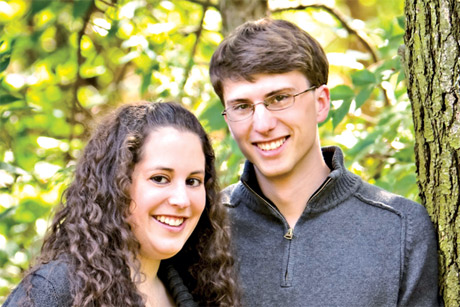 Dr. and Mrs. Gary Youra are delighted to announce the engagement of their daughter, Emily Nye Youra, to Mr. Ryan Daniel Snyder, son of Ms. Ellen Snyder of Oakwood and Mr. Daniel Snyder of Kettering. Emily is the granddaughter of the Honorable William Clark and Mrs. Clark of Centerville, recently of Oakwood, and Mr. and Mrs. Albert Youra of Boca Raton, Florida. Ryan is the grandson of Mr. and Mrs. Robert Oneal of Springfield, and Mr. and Mrs. Eldon Layman of Miamisburg and Tucson, Arizona, and the late Mrs. Layman.
A 2003 graduate of Oakwood High School, Emily graduated from the University of Michigan with bachelor degrees in psychology and applied linguistics. She is currently pursuing a masters degree in community counseling at the University of Dayton. She is employed by the Jewish Federation of Greater Dayton.
Ryan graduated from Oakwood High School in 2002. He holds a B.E. degree in chemical engineering from the University of Dayton, where he is also pursuing his Ph.D. in materials engineering. He is currently a project manager at the National Composite Center in Kettering.
A May wedding is planned. Following the wedding, the couple will reside in Dayton.
David FitzSimmons and Katrina C. Guerry were married in a private ceremony in Florence, Italy on October 5, 2008. The bride has moved to Dayton from Monticello, Florida where she was the Office Administrator for Equals Law Firm in Tallahassee.
FitzSimmons is President and CEO of Historic Woodland Cemetery, Arboretum and Foundation in Dayton, Ohio.
A wedding celebration party was held in Monticello on October 18, and attended by their children, grandchildren and many friends and relatives. The couple now reside at The Greene in Beavercreek.
---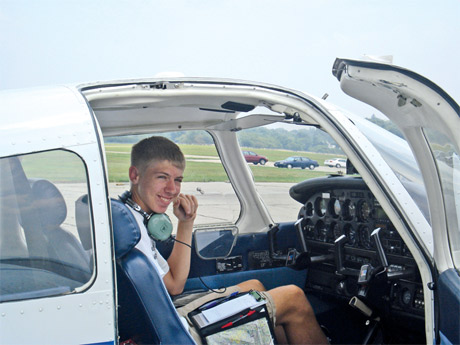 Jon Wittoesch, a senior at Oakwood High School has received his Private Pilot License. He began his passion for flying by completing ground school at Sinclair Community College at the age of 14 and took his first flight with Delta Connection, at Dayton International Airport. Jon later became a member of the Civil Air Patrol program at Wright-Patterson Air Force Base. It was through the Civil Air Patrol Program that he was eligible to receive flight training with The Wright-Patterson Air Force Aero Club. He received over 40 hours of instruction over the summer, completing all requirements to receive his license. Jon will be attending college in the fall of 2009, pursuing an Aviation Science Degree with a concentration in a Professional Pilot Program. Jon is the son of very proud parents, Mark and Ann Wittoesch.
---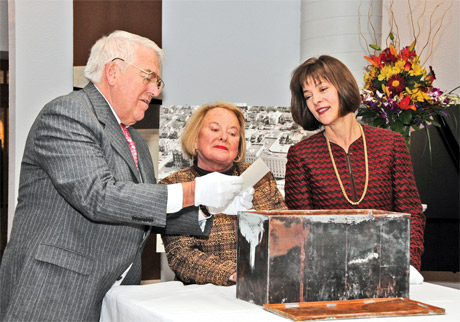 Irv Bieser, sister Cathy Bieser Black and Miami Valley Hospital CEO Mary Boosalis peer into time capsule laid by the Biesers' father, Irving G. Bieser, back in 1951.
Miami Valley Hospital invited Oakwoodites Irv Bieser and his sister Cathy Bieser Black to an opening of a 57-year-old time capsule that was discovered during recent renovation. The Biesers' father, Irving G. Bieser, was president of the Miami Valley Hospital Board of Trustees in 1951 when the cornerstone that contained the time capsule was laid.
Before opening the time capsule, Irv reminisced about his father talking about the contents – including a Bible, a Merck Manual and a list of the board of trustees at the time.
"My father took so much pride in the fact that every cent used for that building came from individuals who made donations," Irv said. "I'm pleased that the reopening of this cornerstone and time capsule could bring back so many happy memories."
The building created around the 1951 cornerstone cost $7.3 million, which translates into more than $42 million in today's costs. It had 507 beds and 11 operating rooms.
With white glove-covered hands, the Bieser siblings and MVH President and Chief Executive Officer Mary Boosalis, also an Oakwood resident, dove into that past as they pulled out the items Irv recalled his father talking about, among others.
Inside were newspapers from the day before the 1951 cornerstone-laying event, brochures from the construction fundraising campaigns, a list of employees, a 1950 annual report, a list of the new building committee, the membership list of the MVH Society, a brief history of the hospital and MVH's charter and constitution.
The audience was invited to take a closer look at the memorabilia after the ceremony Plans are being made to incorporate the cornerstone into the landscape design of the hospitals new 12-story Heart Tower expected to be completed in late 2010.
---
The OHS Class of 1978 is celebrating a 30-year reunion this Thanksgiving weekend. Kick-off begins at Kramers Friday night with a cold quart of beer, a tray of peanuts, and a bunch of people you don't recognize any more.
The main event will take place at the Miami Valley Hunt and Polo Club on Saturday, Nov. 29, at 7 p.m. Tickets may be purchased at $45 each at the door. 1978 Alumni may remember filling out Junior Assembly (JA) dance cards at this location about 34 years ago.
Classmates Lisa Wydman Yeoman and Jill Holland Alexander are combining their talents to cater a full buffet dinner.
The Elderly Brothers will play some good old country rock from the 70's. A couple members of the band, Peter Bradstreet and Rick Fannin, used to play in the Dayton Yellow Springs Band. They played back in the 70's at Sam's Bar and Grill downtown, at the Walnut Hills Bar on Wayne Avenue and the Silver Saddle Saloon on Watervliet Avenue.
Keyboardist Peter Bradstreet's Mother, Mary Bradstreet, used to own the Ice Cream Store on Park Avenue next to The Little Exchange. Kids would stop there after school for a chewy soft pretzel or a bowl of Belly Buttons and maybe hang out in the back room for a while.
So drive out to the Polo Club on Saturday night, 2465 Keystone Club Drive, off Lamme Rd. You might not recognize the drive into the Club as it loops around various developments that cover the field. Once you get back there it is as though time has stood still for the old clubhouse.
Time has probably not stood still for our fellow classmates. A high school reunion, however, is great opportunity to catch up with old friends, laugh at old escapades and not focus too much on being fat, gray or wrinkled, or on the other hand, looking absolutely fabulous.
---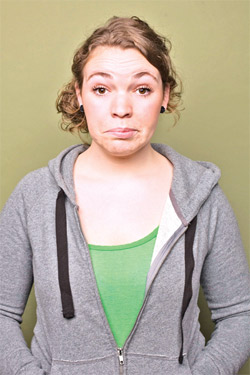 Beth Stelling, Oakwood HS Class of '03, did a stand-up comedy sketch at the Dayton Funny Bone Comedy Club over Thanksgiving while home visiting her Mom, Diane DuVal, for the holiday.
The show is called Future Legends of Comedy and she did a 10-minute set before the headliner.
Beth thought she'd send this update to the Register for people who can't come to Chicago to see her stand-up routine.
If you are living single in Oakwood, its time to join the POSSSSIE: Professional Oakwood Singles in Socialization, Service and Self Improvement Education. POSSSSIE is a newly-formed organization addressing the unique needs of the single population of Oakwood. Did you know that there are over 3,000 single people living in Oakwood? Opportunities are being developed to enrich the lives of single residents including social events, community service activities and personal development workshops.
The first meeting will be held on Monday, Dec. 1 from 6:30 to 7:30 p.m. at the Wright Library in the lower level meeting room. Plans for future events and activities will be discussed. For more information call Kathy at 294-0493.
Everyone needs friends; sometimes institutions do too. Friends want you to achieve your goals and they get involved with your special projects. This best explains why the Wright Memorial Library Board of Trustees views the establishment of the Friends of the Library as a worthwhile community endeavor.
Maureen Anderson, Chair of the library's Citizens' Advisory Group, will host an organizational meeting for the Friends group on Tuesday, Dec. 2 at 7 p.m. in the library's activity room. Attendees will consider a proposed constitution and bylaws, and vote on a prospective slate of officers.
According to Library Board President Beverly Jones-Arthur, "A Friends group will play an invaluable role in promoting the Board's objectives through advocacy, volunteering, and finding ways to support special library projects." Many libraries have Friends groups because they allow more people to be a part of the library community. "There's a natural synergy to it," said Anderson. "Citizens feel more a part of the library which, in turn, makes the library more part of the community."
Anyone interested in being a part of the steering committee directing this start-up should contact Maureen Anderson at 371-6714.
Visit the Wright Library website at www.Wright Library.org.
Starting on Nov. 3 and ending on Dec. 15, Wright Library will be offering a series of programs of "Folktales around the World" for homeschoolers grades 1-6 on consecutive Mondays at 1 p.m.
Activities including folktales being read to the group, a craft, and a snack based on 7 different countries and regions including Australia, Russia, the West Indies, Iran, Vietnam, Japan, and Brazil. Books related to that day's topic will be available for check-out. Children do not need to live in Oakwood to participate, and parents are welcome to stay. All programs will meet in the Library Meeting Room.
The Oakwood Sister City Association is starting a whole new chapter in its charter with an information and membership meeting to be held on Wednesday, Dec. 3 at the Wright Library meeting room from 6:30 to 8 p.m.
Oakwood resident and Wright State University French professor Kristen Halling has recently returned from visiting Sister City Le Vesinet, France, and will be giving a power-point presentation of her visit there. Among the topics discussed with LeVesinet officials is the prospect of re-introducing the student exchange program with Oakwood schools.
---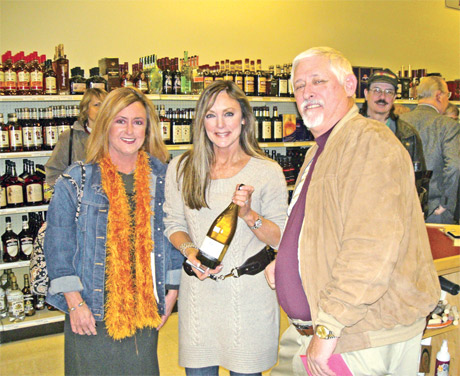 Wine enthusiast Milissa Elsass meets Olympic gold medal figure skater Peggy Fleming and Dr. David Bruce at Arrow Wine. The couple made a stop at the wine store last Wednesday promoting their newest offerings. Fleming is holding a bottle of 2007 Victories Rose, produced by her winery, Fleming Jenkins. Victories Rose is a dry rose, and was created specifically to raise funds for breast cancer research and awareness. $2 from every bottle sold is donated to charities supporting this cause.
---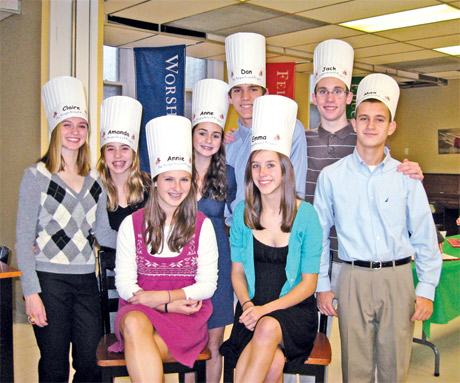 Pictured left to right: Claire Davis, Amanda Winch, Annie Bartlett, Anne Connelly, Dan Fecher, Emma Roll, Jack Chambers and Max Snyder.
On Friday, Nov. 14 The Gingerbread Project held an Open House at Oakwood United Methodist Church. On display were gingerbread houses donated for a raffle, houses representing the various businesses sponsoring the project and the structure built by the eight freshmen students from Oakwood who developed this project. This group raised $2,000 for the Miami Valley Down Syndrome Association. Their structure, which was a summer camp, was entered in a national competition and came in the Top Ten for the teen competition. It will be on display until the end of January at the Grovepark Inn in Asheville, North Carolina.
It would not have been a success without the generous people who donated houses for the raffle: Ashley's Bakery, the Payne Family, Janine McCreary, Katie
Gammell, Samantha Warwar, Erin Riley and Jean Pegg. Also, thank you to the generous sponsors: Library of Design (Jackie Hutton), State Farm Insurance (Angie Barth), Re/Max Victory (Team Kooser and Janine McCreary), M & M Title Company (Anne Ross), Community First Bank (Dave Sherer), The Bead Cage, Xerox (Leah Seymour) and Gander Mountain (Jeff Marr).
By Tanya Noffsinger

The word on the street is that you need some serious cred with people who want to kick it in the kitchen here in Oakwood. Since you've had to downsize and outsource at the North Pole, here's a list, checked twice, for you to deliver to all my readers who know what's up on the culinary scene but may not be quite "a la minute."
1. Do you know Shirley Corriher oh bearded one? Well, she's a chef's chef and a James Beard Award Winner for her new book Bakewise. The over 200 magnificent recipes give you the hows and whys of successful baking, which we know is more precise than cooking. It's $40 and worth it's NaCl. And, I think Shirley has recovered from the loss of the Pillsbury Dough Boy to a yeast infection.
2. Microplane has just released a specialty series—ultimate citrus tool which scores, zests, strips and garnish cuts. At $12.95 it's good for a stocking stuffer; just look for the yellow handle.
3. Now Santa, Mrs. C. may want one of these! They are one of a kind aprons designed by an artist in Amsterdam and they are collector's items. So now that you and the elves are wired, go to www.M-E-K.nl and have them shipped. The toughest task is making up your mind which to buy.
4. For the absolutely irreverent cook you have to get Ken Shopsin's Eat Me: Food and Philosophy. Ken owns Shopsin's Restaurant, a 34 seat mecca in "the Village" in New York City. The recipes are quirky, think macaroni and cheese pancakes, and the prose is entertaining and a lot off beat. Every foodies book collection needs this breath of fresh air.
5. And my bowlful of jelly, the best of all is Alinea by Grant Achatz ($50-10 Speed Press). Well, Grant's just a gastronaut! In his Chicago restaurant's kitchen and on these pages he's got beakers and lasers, air tanks and liquid nitrogen, pictures on edible paper and balloons in which to cook. This dude is truly cooking on more than eight burners but many recipes you can create in your own kitchen. But with this weighty tome we have ushered in a new era of cookbooks and that is the ability to use a code that allows you to interact with a website, just like the college kids do with their web-enhanced texts. Now Santa, if they haven't been too naughty, maybe you could arrange for a reservation and gift card for a special Valentine's Day dinner at Alinea in Chicago.
6. And me, big guy, I want peas on earth and a bottle of Pepto Bismol!. And to all, a good night.
For questions, comments and suggestions contact this columnist at
musicalfeast@att.net
During the holiday season, Sunrise of Oakwood would like to give thanks to the men and women who serve to protect our country in the armed forces.
We have collected empty shoe boxes to fill with non-perishable "gifts", which will be beautifully wrapped by our residents and delivered to Wright Patterson for deployment overseas. If you would like to contribute items such as candy, books, letters, toiletries or wrapping paper-please drop off at Sunrise (1701 Far Hills Avenue) to Karen Haverland's attention.
The deadline for these donations is Friday-December 12, 2008. Thank you for helping us give back to those who give us so much of themselves all year long!
---
Entries are now being accepted for the sixth annual MLK Breakfast Celebration Community Group Contest. Youth in Kettering and Oakwood are encouraged to submit original entries in a variety of categories including: Performing Arts, Visual Arts, Written Expression and Community Service. Deadline for entries is Dec. 17.
The contest makes the Kettering Oakwood MLK Breakfast unique because it engages the youth of both communities. Winners are asked to attend the breakfast, and some are asked to share their entries with the audience. Cash awards are given to grade group winners at the break fast scheduled for Monday, Jan. 19.
Students may submit entries at their school, at the Kettering Government Center and at the Oakwood Community Center. Specific contest guidelines can be found at www.komlk.org.
For more information about the contest, contact Shawn Fry at shawnfry@sbcglobal.net.
---
The title of the column by City Manager Norbert Klopsch in last week's (Nov. 18) issue was originally intended to be "CITY FINANCES AND THE 2009 BUDGET", not "2009 CITY BUDGET SET AT $5.8 MILLION", which is not a correct figure. According to Klopsch, the 2009 Budget includes $5.8 million in anticipated income tax receipts.
Regarding the picture of two women in the chili cookoff article (Nov. 11 issue) the woman on the right was misidentified and is Julie Wallner, who was the Judge's Choice winner. Sharon Stephens was the People's Choice winner. The event raised over $500 for Relay for Life.
The People's Choice award for Scarecrow Row was misidentified in the Nov. 11 issue and was "Yikes!" by the Oakwood Environmental Committee.