Everyone needs friends; sometimes institutions do too. Friends want you to achieve your goals and they get involved with your special projects. This best explains why the Wright Memorial Library Board of Trustees views the establishment of the Friends of the Library as a worthwhile community endeavor.
Maureen Anderson, Chair of the library's Citizens' Advisory Group, will host an organizational meeting for the Friends group on Tuesday, Dec. 2 at 7 p.m. in the library's activity room. Attendees will consider a proposed constitution and bylaws, and vote on a prospective slate of officers. According to Library Board President Beverly Jones-Arthur, "A Friends group will play an invaluable role in promoting the Board's objectives through advocacy, volunteering, and finding ways to support special library projects." Many libraries have Friends groups because they allow more people to be a part of the library community. "There's a natural synergy to it," said Anderson. "Citizens feel more a part of the library which, in turn, makes the library more part of the community."
Anyone interested in being a part of the steering committee directing this start-up should contact Maureen Anderson at 371-6714.
---
Although I had not originally intended to visit Le Vésinet on my recent trip to France, Jane Healey's article in the October 21st edition of The Oakwood Register ("Our Sister City Le Vésinet") gave me a reason to make a detour. After making preliminary e-mail contact with the officers of Le Vésinet's sister city organization, I was deluged with enthusiastic offers of lodging, meetings, dinners and site seeing, despite the short notice and the fact that I was arriving during the long holiday week-end planned around Veterans' Day.
I toured the beautiful town of Le Vésinet and the nearby town of Saint Germain-en-Laye, birthplace of Louis XIV, with the president, vice-president and secretary of the organization Annie Serin, Anne-Marie Laurent and Anne-Marie Borderie, all the while learning about their group's activities and becoming inspired by their terrific energy. During my stay, the committee was putting the final touches on preparations for a trip to Wooster, England, another of their sister cities, where they were to participate in a Christmas fair by making and selling crepes. All proceeds go towards scholarships and event expenses. In addition, le Vésinet's sister city committee recently hosted a group of more than 30 German students and 9 teachers from their German siste city Unterhaching, as well as organizing individual exchanges with sister cities in Spain, England, Germany, Canada and Australia.
I left Le Vésinet feeling excited about all possibilities this wonderful relationship can offer Oakwood residents. Given the non-profit exchange nature of the program, costs of study or travel abroad are reduced to airfare and spending money. Interested residents can host a child, then send their own to the child's family in Le Vésinet. Other options include long or short term group or solo exchanges, one week to two month long family stays in the summer, internships, pen-pals and "e-twinning" with individuals or schools.
I encourage anyone interested in joining the effort to reinvigorate our Sister City program with le Vésinet et Outremont, Canada to attend our organizational meeting on Wednesday, Dec. 3 at the Wright Library from 6:30-8 p.m. Discussion will follow a short Powerpoint presentation based on my trip, and some small door prizes will be awarded to a dozen lucky attendees, compliments of the Le Vésinet Sister City Committee.
Kirsten Halling, Ph.D.
Associate Professor of French
Department of Modern Languages
Wright State University
3640 Colonel Glenn Hwy
Dayton, OH 45435
---
The 12th Annual Senior Holiday Luncheon will be held on Wednesday, Dec. 3. Space is limited so call the OCC at 298-0775 to reserve your place now. This event is open to all Seniors and includes lunch and entertainment.
---
The Patterson Homestead Afternoon Tea Series is starting a new season! The first in the 2008/2009 series will be the 1860s Christmas Tea. Join us at a 19th century afternoon tea party celebrating Christmas at the historic Patterson Homestead, Sunday, December 7, from 2:00 p.m. until 4:00 p.m. Enjoy hot tea, iced tea, lemonade, a variety of pastries, tea sandwiches and desserts inside the Patterson Homestead while being served in period interpreters in 19th century costume.
Learn about the Patterson family history, discover a unique tea set in each period-inspired room, and tour the Homestead's 19th century rooms and the Patterson exhibit room.
The time for the Afternoon Tea is from 2:00 pm until 4:00 pm. The cost for each tea is $18.00 per person per event for members and $20.00 per person per event for non-members.
*If you purchase tickets to more then one Tea Party, you can save additional $2.00 per event! Space is limited. Prepaid reservations are required. For additional information and to make reservations, please contact the Patterson Homestead at (937) 222-9724.
There are still a few tickets left for the OCC's Breakfast with Santa! The breakfast will be held on Saturday, December 13th from 9-11:30am. Hurry in...when they're gone, they're gone! Fees are $8 for members, $12 for nonmembers, and $16 for nonresidents.
There is also space left in the Gingerbread House class being held Tuesday, Dec. 9 from 4-6 p.m. For ages 7-13 and 6 & under with an adult helper. Come decorate a beautiful pre-baked gingerbread house!!! Must register by Saturday, Dec. 6. Fees are $18 for members, $27 for nonmembers, and $36 for nonresidents.
For more information, please call the OCC at 298-0775.
---
The Oakwood Historical Society will be hosting its annual "Holidays at the Homestead" event at the Long-Romspert Homestead on Sunday, Dec. 14, from 1 p.m.-3 p.m.. The Homestead has undergone an extensive renovation over the past eighteen months, transforming it into a house museum, which represents American life from the rural 1860s to the suburban 1920s.
The Long-Romspert Homestead is located at 1947 Far Hills Avenue. Parking is limited behind the Homestead, and side street parking is available.
We look forward to seeing you at the Homestead for treats, tours, music, and a unique, vintage holiday celebration.
Further questions may be directed to Kjirsten Goeller, Programs/Events Coordinator and OHS Board member, at 298-1268 or kjirsten.goeller@sinclair.edu
On Sunday evening, Dec. 14, This year's Holiday of Lights festivities will take place Sunday evening, Dec. 14 at Shafor Park, beginning at 6:30 p.m. Following a welcome by Mayor Judy Cook to those attending, the holiday tree will be lighted.
Entertainment will be provided by "the "Mini Pops" as well as the Oakwood High School Band performing holiday songs and entertainment. This will be followed by the arrival of Santa Claus on the Oakwood fire truck, and a chance for children to talk to him after his arrival. Hot cocoa and popcorn will be served.
Also, this year, there will be horse drawn carriage and wagon rides to take families throughout the community to see the display of luminarias decorating and lining Oakwood's streets. The public is invited and encouraged to attend this community event.
Luminarias are now on sale at the Oakwood Community Center, 105 Patterson Road. The cost is $3.25 per dozen and includes the white bags, sand and 10 hour burning candles. Residents may pick them up at the Community Center during regular business hours until the end of the business day on Sunday, Dec. 14 or until sold out, which ever comes first. The response to this project has been tremendous and residents are encouraged to participate.
Instructions for the placement of luminaria, if placed in the right of way area or the sidewalk area is at every crack in the curb or sidewalk area, or at approximately 5' to 7' intervals.
The 'Lighting of Oakwood' will take place on Sunday evening, Dec. 14 beginning at 6 p.m. Oakwood residents are encouraged to celebrate "community" by participating in this seasonal tradition. As a part of this event, the City of Oakwood and the Oakwood Environmental Committee will place luminarias along the boulevards on Far Hills Avenue, Shafor Boulevard, Shroyer Road as well as the city building, OCC, Smith Gardens, Huffman Park, city parks and other areas around the community.
This holiday lighting event has become a tradition in an effort to brighten the entire community at the onset of the winter season. We hope all can participate and enjoy the efforts put into this project. Any resident interested in helping with this project should call Carol Collins at the Oakwood Community Center at
298-0775.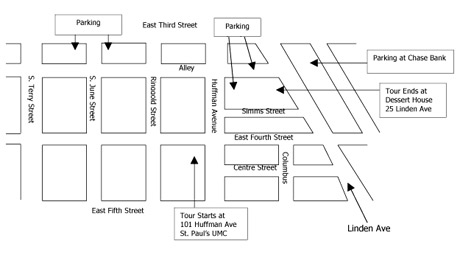 Historic Huffman Neighbor-hood Association and St. Paul United Methodist Church invite you to enjoy the spirit of the season in Historic Huffman this year. The Huffman Holiday Home Tour runs Dec. 12-14 and features eight beautifully restored Victorian era homes and the circa 1884 St. Paul United Methodist Church.
In addition, St. Paul will host a Christmas Concert and Carol Sing on Saturday, Dec. 13 at 7 p.m. The concert is free and open to the public. St. Paul UMC, located at 101 Huffman Ave., also celebrates its 125th Anniversary in conjunction with this year's Holiday Home Tour.
Exclusive Champagne Tour. Tickets are $35 and must be purchased in advance.

Guided Tours are $15. Advanced registration is required. 7 p.m: Free Christmas Concert and Carol Sing, St. Paul UMC.

Self-Guided Tours are $15 and begin at St. Paul UMC, 101 Huffman Ave.
For more information, map and directions, or to order tickets please visit: www.huffmanhistoric.org or call 937-258-0057.
The Huffman Holiday Home Tour is made possible in part by generous sponsorship from Wright-Patt Credit Union and the City of Dayton Office of Planning and Community Development.