Dr. and Mrs. Sanford Wolfe of Centerville proudly announce the engagement of their daughter, Sara Melissa, to James Aland Spector, son of Ms. Judith Aland of Birmingham, Alabama, and the late Judge Louis Spector of Falls Church, Virginia.
The bride-to-be is the granddaughter of the late Dr. David Bernie and Mrs. Helen Bernie of Dayton and the late Harry and Bertha Wolfe of Dayton. The groom elect is the grandson of the late Leon and Leanore Aland of Birmingham, Alabama the late Jacob and Gunessa Spector of Niagara Falls, New York. Sara graduated from Oakwood High School in 1996. She received a B.S. from the University of Illinois in 2000, a D.D.S. from The Ohio State University in 2004, and an M.S.D. from Saint Louis University in 2008, specializing in orthodontics.
James graduated from Indian Springs School in 1994. He received a B.A. from Haverford College in 1998 and a J.D. from The George Washington University Law School in 2002. A May 31, 2009 wedding will take place in Dayton. The couple will reside and practice in Birmingham, Alabama.
Jemella Darnell Goetschell and Joshua Hugh Hammons were married on August 30, 2008 at Mary Nelle's Windswept Farm in Lebanon, Ohio.

The bride is the daughter of Mike and Glenna Baughman of Oakwood and Dudley Goetschel of Kettering. Jemella graduated from Oakwood High School in 2004 and will receive her Bachelor's Degree in Organizational Leadership from Wright State University in March.

The groom is the son of James Hammons of Grove City, Ohio and Paula Hammons of Clarksville, Ohio. Josh graduated from Clinton-Massie High School in 2005 and is currently working for Allied Barton Security in Wilmington, Ohio.

The couple is residing in Lebanon, Ohio.
---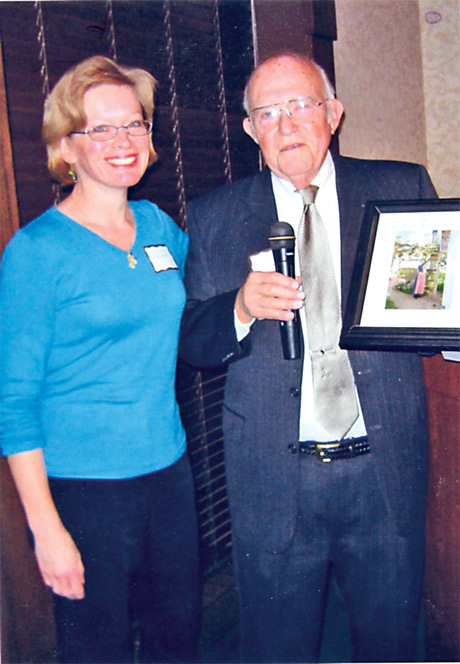 Oakwood Historical Society member Phyllis Miller receives special recognition from newly-elected Secretary Harry Ebeling for her artwork contribution.
The Oakwood Historical Society had its Annual Founders Day Dinner and Annual Meeting on Nov. 19 at the Dayton Country Club. A group of over 40 members attended to hear an enthusiastic report from outgoing president, Harry Ebeling. He recounted the progress this past year in renovating the Homestead to bring it back to close to its original state when Mrs. Romspert gave it to the society.
All board members were thanked for their contribution to the Centennial Celebration, especially Harrison Gowdy and Mackensie Wittmer for their long term help with the made= for-TV CD on the first 100 years of Oakwood's history.
A special recognition was given to Phyllis Miller for her artistic contribution to the Homestead project. The Oakwood Historical Society is already working on Phase II.
Much of the remaining funding will come from the bequest of the late Emil Miller. A grant from the Dayton Foundation is making the completion of an Interpretive Plan a reality. Increased programming for youth has been started by new board member Linda Pearson, who announced a Christmas Holiday at the Homestead.
New officers are: Teresa Prosser, president,; Mackensie Wittmer, vice president; Harry Ebeling, treasurer; Harrison Gowdy, secretary; Board members are: Lisa Kell, Phyllis Miller, Mark Risley, Alex Heckman, Linda Pearson, Marilynn Sheehan, Karen Flemming, and Kjirsten Goeller.
---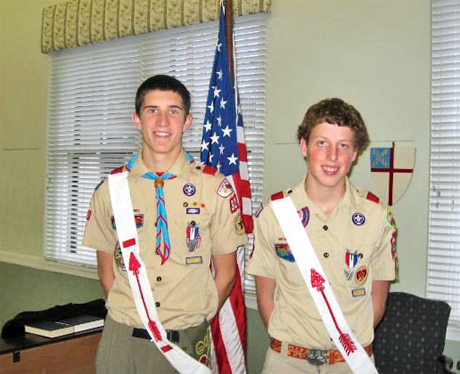 Eagle Scouts Michael Wuebker and Chris Wolcott
Oakwood Boy Scout Chris Wolcott was awarded the rank of Eagle Scout on Saturday, Nov. 21, at a ceremony at St. Paul's Episcopal Church. Wolcott, 17, is a member of Boy Scout Troop 101 and the son of Steve and Melissa Wolcott.
Oakwood Boy Scout Michael Wuebker was awarded the rank of Eagle Scout on Sunday, Aug. 10 in a ceremony at South Park United Methodist Church. Wuebker, also 17, is a member of Boy Scout Troop 320 and the son of Jim and Charlotte Wuebker. These two friends have taken similar, but different paths to earn the highest award in Boy Scouts.
Chris began his trail to Eagle Scout in the fall of 1997 in Pack 151 at Oakwood United Methodist Church as a Tiger Cub Scout while Michael was a Tiger Scout in Pack 101 at St. Paul's Episcopal Church. In February 2002 as Webelos Scouts, Chris and Michael were each awarded the Arrow of Light, the highest award of Cub Scouting. In between, they participated in multiple rocket shoots, Pinewood Derby races, Cub Scout Klondike races, Raingutter Regattas, summer and day camps and the City of Kettering's Pumpkin Launch. They also earned numerous activity belt loops and pins; and all 20 Webelo activity badges plus all four compass points. As Cub Scouts Chris and Michael also participated in numerous community service projects, including Toys for Tots, Scouting for Food, making Christmas ornaments for the Oakwood Public Safety department, and cleaning up Hills and Dales Park.
Chris crossed over to Troop 101 in March 2002 and earned his first rank, Scout, in May 2002. That was followed by the Tenderfoot and Second Class ranks, November 2002; First Class, April 2003; Star, October 2003; and Life, October 2004. As a Boy Scout, Chris earned 30 merit badges, including Railroading, Climbing, Lifesaving, Wilderness Survival and Aviation. The Aviation merit badge sparked his interest in flying and a goal of being an Air Force officer.
Michael crossed over to Troop 320 in February, 2002 and earned the Scout rank in April, 2002, the Tenderfoot rank in July, 2003, and Second Class in August, 2003. Michael began earning merit badges and participating in many camping activities with the troop. Michael completed First Class rank in August, 2004; Star rank in June, 2005; Life in August, 2006 and Eagle in March, 2008.
Leadership positions held in Troop 101 by Chris include, Patrol Leader, Historian, Instructor, Assistant Senior Patrol Leader, Senior Patrol Leader and Junior Assistant Scoutmaster. As a member of Troop 101 Chris attended summer camps at Woodland Trails, Camp Owasippe, Camp Chief Logan, and Camp Birch. It was at Camp Chief Logan in summer 2005 that Chris was tapped out to join the Order of the Arrow, the Boy Scout honor camping society. Also in 2005, Chris completed National Junior Leadership Training, or Bearclaw, as it is known in Scouting. Michael attended summer camp at Woodland Trails with his troop several times and is a Brotherhood member of the Order of the Arrow.
Other Scouting highlights for Chris include attending the National Boy Scout Jamboree in 2005 in Fort A. P. Hill, Virginia; going to London, England with Troop 101 in 2006 to visit their brother troop at Fourth Wood Green; and in summer 2008 going with the troop on a two-week canoe and camping trip to Boundary Waters High Adventure Camp in Eli, Minn.
Michael has served as Patrol Leader and Instructor multiple times in Troop 320 and is currently a Junior Assistant Scoutmaster. For Michael, scouting highlights included popcorn sales, backpacking on the Appalachian Trail in Virginia and two three-week
backpacking trips to Philmont, the Boy Scout High Adventure Reserve in Cimarron, New Mexico.
Chris' Eagle project was to build an outdoor chapel, re-plank an existing spillway bridge and de-algify a pond for Bridgeway Church of the Nazarene in Springboro. He provided leadership to youth and adults who provided 187.50 hours of time working on the project. Chris himself spent almost 60 hours on the project planning and doing physical work. Chris completed the project in November 2007 with the release of six algae-eating grass carp into the pond.
For his Eagle project, Michael led 12 friends and family members to install a brick walkway on the south east side of Harman School in Oakwood. Michael's crew also installed a table and benches for use by the school students, pulled weeds and planted some additional grass and flowers. This group provided 114 man hours on the project and Michael added 90 hours of planning and physical work on the project.
Chris and Michael have been friends since the seventh grade at Oakwood Junior High School when they began running cross country together. They continued to support each other and share experiences of their separate scouting careers. Now they celebrate having reached the rank of Eagle Scout, an accomplishment achieved by only 4 percent of all boys involved in scouting. Congratulations Chris and Michael!
---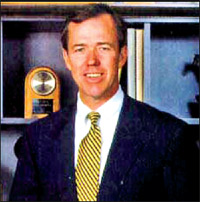 Colin Campbell has received the Sales Professional Award for the third quarter of 2008 from Prudential Real Estate as well as second place in Ohio for Residential GCI.
"Colin shares Prudential One, Realtors' commitment to quality and customer service," said Rob Arnold, President of Prudential One, Realtors. "He is the type of professional, who continues to grow the company, and increases our presence in the local community."
"Prudential One, Realtors focus is on the customer, and their goal is to provide the best products and services for their sales professionals. This is what makes affiliating with Prudential One, Realtors the best choice possible." said Colin.
Prudential One, Realtors has well established partnerships with the best names in the business including One Home Mortgage, a Chase Affiliate, and Title One. Prudential One has also been awarded the J.D. Power and Associates "Highest Satisfaction for Home Sellers Among National Full Service Real Estate Firms."
---
During the holiday season, Sunrise of Oakwood would like to give thanks to the men and women who serve to protect our country in the armed forces.
We have collected empty shoe boxes to fill with non-perishable "gifts", which will be beautifully wrapped by our residents and delivered to Wright Patterson for deployment overseas. If you would like to contribute items such as candy, books, letters, toiletries or wrapping paper-please drop off at Sunrise (1701 Far Hills Avenue) to Karen Haverland's attention.
The deadline for these donations is Friday, December 12, 2008.