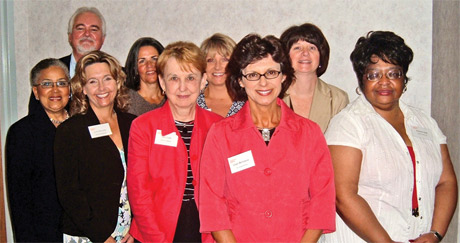 Back row, left to right: Fawn Williams, Teradata Corp.; Dan Foley, Montgomery County Commissioner; Dawn Huff, Battelle & Battelle; John Theobald, Montgomery County Commission Office; Dee Dee Nagel, Oakwood Register; Tom Pope, McGohan Brabender; Susan Gruenberg, Community Volunteer. Front row, left to right: Tammy Vaughn, 4C Miami Valley; Toni Sunshine, McGohan Brabender; Carol Hinton, CEO, YWCA Dayton. Thompson Hine attorneys recognized.
The YWCA Dayton has completed its first Breakfast with the CEO series. The premise of the Breakfasts is to introduce new CEO Carol J. Hinton, who joined the YWCA Dayton in June 2007, and provide a forum for her to update community and business leaders on the mission, programs and services of the YWCA.
Guests learned how the YWCA programs and services provide safe shelter, counsel and hope to the thousands of women and teens and children who seek its services each year. She gave an overview of current YWCA activities as well as the YWCA's future endeavors. Tours of the YW facilities were given following each meeting.
Primary Breakfast sponsors included Boston Stoker, Ashley's Pastry Shop in Oakwood, and Fruit Flowers in Centerville. The Dayton Convention Center and Aramark also supported the series.
The Breakfast with the CEO series was a great success, attracting numerous guests to the YWCA Dayton. The second series will run through September 2009.
For more information about the Breakfasts with the CEO or the YWCA Dayton in general, contact Angie Hoschouer at 937-461-5550 x179 or ahoschouer@ywcadayton.org or visit the YWCA Dayton website at www.ywcadayton.org.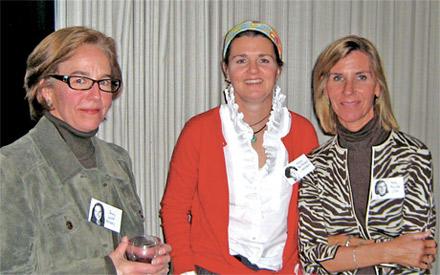 OHS 1978 classmates Jenny Leist Kinsey, Erica Van Brimer Goldfarb, and Molly McCune Cobb celebrate 30-year reunion.
The class of 1978 had a 30-year reunion party last weekend. It was held at The Miami Valley Hunt and Polo club. This was the same location as their first official boy-girl dance, Junior Assembly, complete with "dance cards."
Classmates really came out of the woodwork for the occasion. Traveling from out of state were Randy Riffle, Marge Waizmann, Erica Van Brimer Goldfarb, Wendy McCormick Fleming, Polly Miller Russo, Karen Sherman Mead, Julie Leonard, Edy Nesmith and John Cunningham, The out of town Buckeyes included Anne Stavnitski, Mary Anne Wagner, JC Rupel, Jim Lively, and Gretchen Laughter. Local characters that showed up were Doug Wagner, Chris and Jan Wallace, Ricky Boucher, Charlie Simms, Lilly Garretson Lingle, Sandy Schram Lewin, Keith Cooley, Janice Sagstetter Helms, Tom Hubler, Steve Wyrick, Molly McCune Cobb, Tammi Leasure Meier, Bruce Nagel, Libby Bates Lovett, Jenny Leist Kinsey, Liz Crowe, Paula Creager Powers, Anthony Conard, Mike Wagner, and John Field. The club was aglow in candlelight and the big fireplace crackled as the bar and band swung into full gear.
Lisa Wydman Yeoman of "Let Lisa Cook" put together an outstanding buffet with fellow classmate, Jill Holland Alexander. The meal was fit for a king, and all on a shoe-string budget.
"The Elderly Brothers" band set the mood with some Grateful Dead, New Riders of the Purple Sage, Pure Prairie League, and various other throw backs to the 70's. The main band members Don Snapp, Rick Fannin, and Oakwood's own John Clarke (he and his very understanding wife, India, live on Beverly Place) have no immediate plans to quit their day jobs, however, it is clear they have a great time playing music together.
Most that attended the reunion realized that revisiting with friends from the "old days" could be such a hoot, while many others reported the experience to be downright therapeutic. A great way to jump start the holiday season.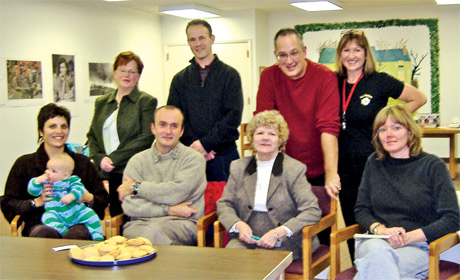 Members of the Oakwood Sister City Association Revival Committee.
The first meeting of the Oakwood Sister City Association Revival Committee was held in the Wright Library Great Room on Wednesday, Dec. 3. Nine people gathered to express an interest in actively participating in short-term student exchanges, hosting visitors, establishing pen-pal or key-pal relationships, visiting our Sister Cities as official or unofficial delegates, etc.
While munching on Madeleine cakes, attendees watched a Powerpoint presentation about the city of Le Vésinet, located 20 minutes outside of Paris in a lovely suburban area. A long-term member of the Sister City organization spoke of reviving the group's "glory days" when the mailing list comprised 300 names, and communications between the three cities were frequent.
Kirsten Halling mentioned that Mayor Judy Cook, Sister City president Bob Hitchcock and members of Oakwood's City Council had expressed an interest in restoring the health of the organization given the scope of the cultural opportunities it can provide for young and old members of the Oakwood community. Discussion ensued about using Le Vésinet's extremely well organized "Twinning Program" as a model for Oakwood's sister city renewal.
During the brainstorming session, participants suggested the following plan of
action: (1) Meeting with and asking help from Sister City past and current officers. (2) Presenting a proposal to the City Council at their meeting in January. (3) Speaking with friends and contacts about joining Sister City. (4) Setting up a web page, a facebook page, and an e-mail distribution list for easy recruitment and contact among members. (5) Sending regular updates and correspondence to Sister City organizations in Le Vésinet and Outremont, Canada. (6) Considering the future possibilities of liaison with Le Vésinet's sister city programs in Germany, Spain, England and Australia, thus opening the organization up to other languages, cultures and interests.
Anyone interested in joining or contacting the e-mail distribution list, please write a short message to oakwoodsistercity@gmail.com.
---
The following lawyers from Thompson Hine's Dayton office were recently selected by their peers for inclusion in the national publication The Best Lawyers in America® 2009:
Stephen J. Axtell, Environmental Law

Wray Blattner,Environmental Law

Robert J. Brown, Labor and Employment Law

Lawrence T. Burick, Banking Law/ Bankruptcy and Creditor-Debtor Rights Law

Richard F. Carlile, Employee Benefits Law

Mark A. Conway, Trusts and Estates

Robert M. Curry, Real Estate Law

Thomas E. DeBrosse, Tax Law

Francesco A. Ferrante, Tax Law

Timothy J. Hackert, Real Estate Law

J. Michael Herr, Corporate Law

Teresa D. Jones, Labor and Employment Law

Mark P. Levy, Intellectual Property Law

Theodore D. Lienesch, Intellectual Property Law

Crofford J. Macklin, Jr., Trusts and Estates

David A. Neuhardt, Corporate Law

Sharen Swartz Neuhardt, Corporate Law

Allen R. Norris, Employee Benefits Law

Joseph M. Rigot, Corporate Law

Joan H. Roddy, Real Estate Law

Arik A. Sherk, Banking Law
---
Coolidge Wall is pleased to announce that The Best Lawyers in America 2009 has bestowed upon the firm, the number one ranking in the Dayton, Ohio region in four different categories.
The categories include:
Real Estate Law
Bankruptcy and Creditor-Debtor Rights Law
Health Care Law
Land Use & Zoning Law
This designation indicates that Coolidge Wall has more listed attorneys in Best Lawyers in the categories identified above than any other firm in the Dayton region.

"It is an honor to have our attorneys recognized by The Best Lawyers in America 2009. The added Firm recognition of being ranked number one in the Dayton region in four different categories is gratifying, not only for us, but for the many clients that we serve," commented Douglas Ventura, President & CEO. "It validates the level of performance and service that is being provided by Coolidge Wall attorneys, as recognized by our peer professionals."
---
By Dolores Wagner

Traffic on Far Hills Avenue from Schantz Avenue north to Springhouse north will soon be back to normal. According to Kevin Weaver, City of Oakwood public works director, all of the direct roadway work should be finished this week, and the barrels removed. "The curbs are in and the sidewalks finished," he said. "We're just doing touch-ups. We should be completely finished at the end of the year."
The work has included four basic changes:
1. The widening of Far Hills to five lanes between Schantz and Springhouse.

2. The addition of a boulevard at Volusia to prevent turning left onto Volusia from Far Hills when heading south.

3. The addition of a traffic signal at Springhouse and Far Hills. Installation of the traffic signal at Springhouse will be completed once the signal equipment has arrived. "We're waiting for delivery right now," Weaver said.

4. The addition of tree lawns on both the east and west sides of Far Hills Avenue from Springhouse to Schantz. A seven-foot wide tree lawn will border the west side of Far Hills; on the east side the width of the tree lawn will vary from seven feet to the sidewalk.
Pointe Oakwood, the housing component of Sugar Camp, is proceeding more slowly. According to Weaver, it will probably be toward the end of 2009 before some housing is in place.
"At this point none of the infrastructure has been started; the developer is primarily moving and preparing the earth which contained foundry sand left from NCR manufacturing operations," Weaver said.
Oakwood has committed $2.75 million to the entire project which includes all of the Far Hills Avenue widening project, the public infrastructure improvements on the commercial portion of Sugar Camp, the roadway to the athletic fields, and finally, a portion of the public infrastructure improvements within Pointe Oakwood.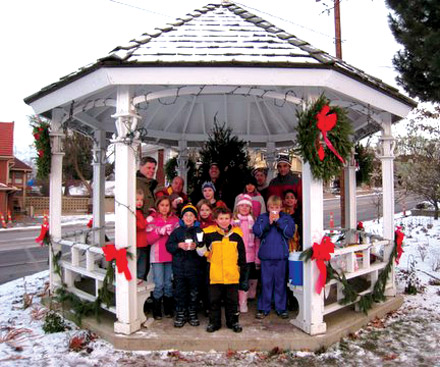 Members of the Oakwood Adventure Guides share a little hot chocolate after decorating the tree in the gazebo on Far Hills and West Schantz Avenue on Sunday afternoon. Children from several tribes handmade the ornaments, which were all designed to be edible for the animals in the neighborhood.
Pictured here are the members of Brownie Group 30031: Bottom row from L to R: Myra, Caroline, Katherine, Stephanie, Sarah, Cameron; Top row from L to R: Maddie, Parker, Kristeni, Natalie, Lili and Cathleen.
On December 2, the Ohio Environmental Protection Agency met with the Smith school's second grade Brownie Troop 30031 to discuss environmental issues, the conservation of our natural resources, the importance of home recycling and Ohio's limited landfill space.
Facts regarding America's solid waste handling practices that were discussed included:
• Americans throw away 12.5 million plastic bottles every hour.

• Plastic comes from oil and glass comes from sand.

• 99 billion aluminum cans are manufactured annually; 39 billion of them end up in landfills.

• One full grown tree can produce 117 pounds of paper.

• Mother's day is the most popular holiday and results in the sale of 141 million cards, all which can be recycled.
Ohio EPA encourages all Oakwood residents to utilize their curbside recycling program.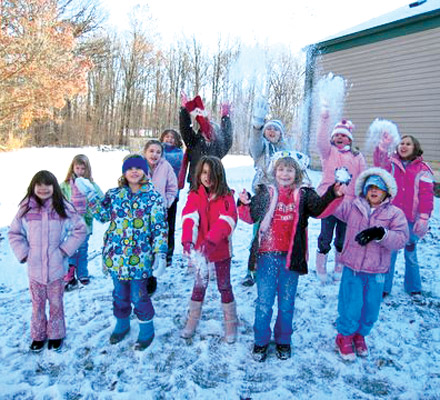 Twelve members of second-grade Brownie Troop 32523 went on their first-ever camp out at Camp Rolling Hills this past weekend. The camp out was originally planned for the fall – but due to the Ike windstorm, it had to be postponed. Though it was very chilly, the girls had a great time on a short outdoor hike in the snow as well as some fun indoor activities, including crafts and a talent show. The girls planned the menu for the weekend and cooked all their own food. The only unfortunate omission from the weekend menu was the traditional S'mores-making over the campfire. That will have to wait for the spring camp out! Photos by Wendy Kordik