Courtney Melissa Lynn of Oakwood, Ohio and Kevin Charles Zartman of Springfield, Ohio were married at 4:30 p.m. on Saturday, July 19, 2008 at Westminster Presbyterian Church in Dayton, Ohio with the Reverend Doctor Sandy McConnell and the Reverend John Neely officiating.
The bride is the daughter of Mr. and Mrs. Hugh Lynn of Oakwood. She is the granddaughter of Colonel and Mrs. Milton Collier of Tuscaloosa, Alabama and the late Mr. and Mrs. Hugh Lynn of Raleigh, North Carolina.
Parents of the groom are Mrs. Mary Manoloff and the late Dr. Stephen Zartman of Springfield, Ohio,. The groom is the grandson of Mrs. Mary Zartman and the late Mr. Charles Zartman of Springfield and Mr. George Falkenbach and the late Mrs. Josephine Falkenbach of Columbus, Ohio.
Given in marriage by her father, the bride wore a Paloma Blanca A-line gown with a strapless sweetheart lace neckline, empire waist, and silk dupioni ruched bodice. The bride was attended by her sister Ashley Lynn of Oakwood as maid of honor. Bridesmaids were Natalie Maddux of Oakwood, Courtney Karn of Columbus, Ohio, Courtney Mercer and Lauren Cripe of Cincinnati, Ohio; and Sarah Zartman of Springfield, Ohio. The flower girl was Sarah Falkenbach of Columbus, cousin of the groom. Brother of the groom Eric Zartman of Springfield, attended the groom as best man. The groomsmen were Matthew Zartman, Michael Groeber, Jake Oakman, David Tulley, Raman Khanna, and Michael Walsh of Springfield and Dylan Wirtz of Columbus. The ringbearer was Christian Kjeldsen of Middlebury, Connecticut, cousin of the bride.
The couple honeymooned in St. Thomas, US Virgin Islands and now reside in Columbus, Ohio.
---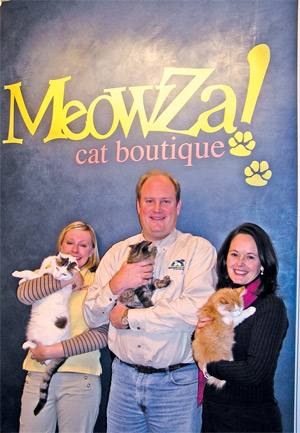 The Dayton Mall has a new novel niche market. Cat lovers will be thrilled by the new feline boutique Meowza, a group effort involving a number of artists, the Humane Society of Dayton and incidentally involving at least six folks with Oakwood connections.
Brian Weltge is director of the Humane Society of Greater Dayton and a 1982 graduate of Oakwood High School. He is credited with starting the store as a fundraising effort for the spay/neuter program as well as the foster care program for kittens. Cat adoptions are another avenue for providing homes to cats looking for owners.
The store sells various cat supplies and themed items, some made by Oakwood resident and hobbyist/artist Amy Gantt. She has been in the business of producing greeting cards, tote bags, teapot prints, gardening accessories with cat-oriented graphics on them. She also has a line of high-end T-shirts with her artwork on them produced by Oakwood residents Vince and Wendy Lewis of Hooper Concepts. The store can count 136 products so far that are sold over the counter. Oakwood resident Alexis Wagner is general manager of the store and is enjoying her new job so far.
Standing around talking with the various folks from Oakwood, who should walk in but Tammy Whalen, who is a board member of the Humane Society and lifelong Oakwoodian to boot. As an added twist of irony, she admits that she is allergic to cats. "I make money for cats," she said. She was in the store dropping off promotional posters for an upcoming fundrais ing gala to be held at the Dayton Masonic Center entitled "Catwalk at the Meowlin Rouge" to be held Jan. 25.
The store is located on the east side of the Dayton Mall walkway adjacent to Sears.
The Cities of Kettering and Oakwood will host the Sixth Annual MLK Breakfast Celebration Monday, Jan. 19, 2009. This year's program will feature the dynamic Reverend Jerrie L. Bascome McGill, Ph.D. Dr. McGill is the first woman ordained into Christian Ministry at Tabernacle Missionary Baptist Church.
McGill's long-term interests touch on matters pertaining to women around the world and African American women in particular. While involved in several community service activities and organizations, McGill is presently devoting more time and energy learning about transformation in individuals and institutions. McGill and her husband, Charles, reside in Dayton and are the parents of two grown children and a foster daughter as well as the proud grandparents to eight wonderful young people.
The Kettering Oakwood MLK Breakfast was originally created by Oakwood Mayor, Judy Cook and former Kettering Mayor Marilou Smith in order to give residents a local opportunity to celebrate Dr. King's ideals. "We have seen the program evolve into a true "Community" celebration, says Mayor Cook. "Our vision of bringing a variety of people together for the same unified purpose has been realized through this event."
The Kettering Oakwood MLK Breakfast, sponsored by Kettering Medical Center Network, will take place on Monday, Jan. 19 from 7:30 – 9:30 a.m. in the Activity Center at Christ United Methodist Church. For ticket information, visit www.komlk.org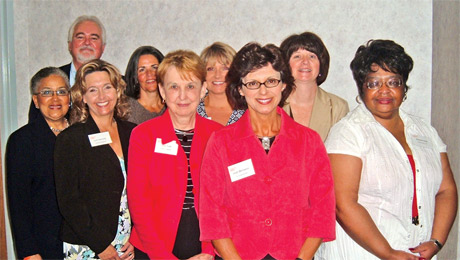 Corrected cutline from Dec. 9 issue... Back Row: Phil Parker, Dayton Area Chamber of Commerce; Susan Kettering, Community Volunteer; Susan Slate, McGohan Brabender; Judge Mary Katherine Huffman, Montgomery County Courts; Front Row: Carol J. Hinton, YWCA Dayton CEO; Lynn Kennedy, McGohan Brabender; Judy Cook, Mayor of Oakwood; Leigh Sempeles, St. Vincent de Paul; Bootsie Neal, Wright Dunbar, Inc.
The YWCA Dayton has completed its first Breakfast with the CEO series. The premise of the Breakfasts is to introduce new CEO Carol J. Hinton, who joined the YWCA Dayton in June 2007, and provide a forum for her to update community and business leaders on the mission, programs and services of the YWCA.
Guests learned how the YWCA programs and services provide safe shelter, counsel and hope to the thousands of women and teens and children who seek its services each year. She gave an overview of current YWCA activities as well as the YWCA's future endeavors. Tours of the YW facilities were given following each meeting.
Primary Breakfast sponsors included Boston Stoker, Ashley's Pastry Shop in Oakwood, and Fruit Flowers in Centerville. The Dayton Convention Center and Aramark also supported the series.
The Breakfast with the CEO series was a great success, attracting numerous guests to the YWCA Dayton. The second series will run through September 2009.
For more information about the Breakfasts with the CEO or the YWCA Dayton in general, contact Angie Hoschouer at 937-461-5550 x179 or ahoschouer@ywcadayton.org or visit the YWCA Dayton website at www.ywcadayton.org.
---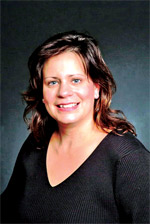 Wendy Kordik of Kamela & Company Realty has successfully completed the REALTOR e-PRO course to become one of a select few real estate professionals to earn the certification offered through the National Association of REALTORS. The REALTOR e-PRO" certification course is specifically designed to provide real estate professionals with the technology tools needed to assist consumers in the purchase or sale of a home.
With more than 70 percent of consumers beginning their real estate research on the Internet, e-PRO certified agents have the experience and expertise to meet the demands of today's buyer and seller.
"The real estate industry has undergone a fundamental change over the past several
years," said Wendy Kordik. "A majority of consumers are taking the time to conduct their own research prior to contacting an agent. In turn, real estate professionals must be knowledgeable of how technology can assist them in serving the needs of the buying and selling public."
Wendy is a member of the Dayton Area Board of Realtors, the Ohio Association of Realtors and the National Association of Realtors. Wendy, her husband Michael and their two children make their home in Oakwood. Wendy is a volunteer with the Boy Scouts of America, as well as the E.D. Smith Elementary School and is a member of the MOMS Group of Oakwood.