The Oakwood varsity wrestling team opened up the season and defeated the Covington Buccaneers at last Tuesday night's wrestling match 53 to 22. The meet started very well for Oakwood as the Jacks won the first eight weight classes including wins by Steve Harrell, Kevin Lee, Daniel Jacobs, Paul Hochwalt, Alex Kooser, Brandon Bustillo, Will LeBoeuf and Josh Hootman. Covington then bounced back by winning the next four weight classes with Ben Raichle and Jake Horlacher winning the final two matches for the Jacks.
There were four junior varsity matches wrestled with each side winning two matches. The Oakwood winners were Buck Powell and Brian Huey.
The pinners for the night were Daniel Jacobs at 119 pounds and Josh Hootman at 145. Alex Kooser and Brandon Bustillo won by technical falls (15 point margin).
The Lumberjacks varsity wrestling team battled well at the 4th Annual Fairmont Classic Invitational this last Saturday at Trent Arena in Kettering. The Firebird event, known for exciting action, is among the most competitive tournaments in the area. It was an intense and busy scene with four matches running simultaneously nearly all day long. The crowd was buzzing with nine teams all competing for top medals including Kettering, Carroll, Eaton, Stebbins, Upper Arlington, Vandalia Butler, Wapakoneta, Western Brown and of course Oakwood. Adrenalin was rampant and there wasn't a dull moment to be found.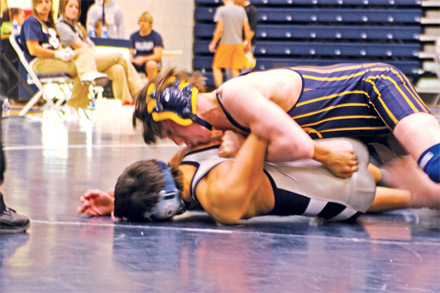 Team captain Paul Hochwalt was champion in the 119 pound class at Fairmont Invitationlal.
The highlight of the tournament was senior and Team Captain Paul Hochwalt who captured first place gold with decisive wins in 5 rounds of tough wrestling during the day. With three consecutive pins followed by a bye and win by tech fall, Hochwalt then wrestled for first place in a nail biter final match against Justin Sage of Fairmont. Sage, a sophomore at Fairmont, was also undefeated but was no match for Hochwalt's flawless execution. Despite wrestling with an ongoing shoulder injury, Hochwalt fought hard with precision and dominated the match emerging handily by decision over Sage 8-3. Hochwalt will certainly be one to watch as the season presses onward.
Other Oakwood placers for the day included sophomore Andrew Raichle at 189 and Junior Jake Horlacher at 285 who both brought home bronze for the Jacks. Raichle, who is returning after a years absence, looked seasoned and fluid as he handled his opponents with confidence. Horlacher, who stumbled in the first round, quickly turned the day around and followed that loss with four consecutive pins to take home a bronze medal in a closely matched bracket. Wow! And another Lumberjack favorite, Senior Daniel Jacobs who is known for his aggressive style, pulled down a fourth place spot at 112 pounds in spite of very tough competition.
Overall the Jacks met some excellent competition and performed well during a very heated day at the second event of their 2008 season. When the smoke had cleared with all said and done, the Jacks finished seventh in team points and left with a fist full of medals for individual performers. The Jacks are now looking ahead to the prestigious Oakwood Invitational this Saturday, Dec. 20 at home in the Pit. Wrestling will begin around 10 a.m. and will continue all day. This will be a fun day with a lot of action. Tickets are available at the door and all are welcome so come out and support our Lumberjacks!
103 Steve Harrell – no
112 Daniel Jacobs - 4th Place
112 Kevin Lee - 6th
119 Paul Hochwalt - 1st
125 Alex Kooser - 5th
130 Brandon Bustillo - 5th
135 Will LeBoeuf - 6th
140 Buck Powell – no
145 Josh Hootman - no
152 Daniel Kendig - 5th
160 Cameron Wedding – no
171 Max Breidenbach – no
189 Andrew Raichle - 3rd
215 Ben Raichle – no
285 Jake Horlacher - 3rd
Football

Offensive Player of the Year
Robby Sherk

Defensive Player of the Year
Joey Lefforge

Scout Player of the Year
Noah Roberts

Most Improved Award
Zach Allex
Golf

Most Valuable Player
Ronnie Stump

Most Improved
Corey Weckerling

Sportsmanship
Michael Galaska

Coach's Award
Ben Miller
Volleyball

Most Valuable Player
Madeson Thompson

Most Improved Player
Breanna Hutten

Coach's Award
Emily Kugel

Sportsmanship
Maya Hughes
Soccer-Boys

Most Valuable Player
Tristan Schnader

Most Improved Player
Ryan McFarland

Coach's Award
Phil Wille

Sportsmanship
Kyle Kissock

Soccer-Girls

Most Valuable Player
Lauren Luther

Most Improved Player
Erin Johnson

Coach's Award
Maeve Harper

Sportsmanship
Liz Dickerson
Field Hockey

Most Valuable Player
Laura German

Most Improved Player
Elisabeth Johnsen

Coach's Award
Amy Beck

Sportsmanship
Lauren Sobol & Sarah Oda

Bess Hayner Award
Laura German
Tennis

Most Valuable Player
Christina Corbean

Most Improved Player
Kseniya Mikitayanskaya

Coach's Award
Kate Berthy

Sportsmanship
Anne Connelly
Cheerleading

Best All Around
Samantha Beasore

Most Spirited
Cathryn Hardy