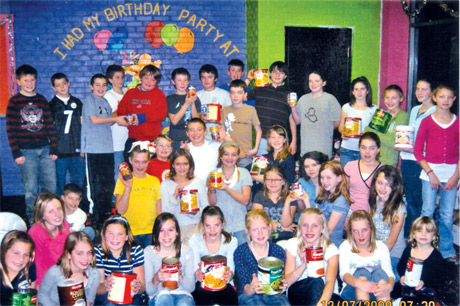 Pictured are the smiling faces of Harman Elementary School's sixth grade class at Skateworld in Kettering celebrating Maggie and Erin Greer's 12th birthday. Over the past six years, the class has provided clothing, soap, towels, blankets, toothpaste and food for the St. Vincent Shelter in addition to supporting the SICSA animal shelter. For the birthday party, each student brought a can of food for St. Vincent's to donate and share their hearts with the less fortunate.
Asa George, anchor of ABC 22 Morning News and the Fox 45 in the Morning shows, visited with Edwin D. Smith students for the Career Brown Bag Lunch held at E.D. Smith Elementary School last Monday. They all learned a lot about the news business from Asa and her head cameraman Lee, who shot footage of the lively discussion which was aired on the morning news the next day.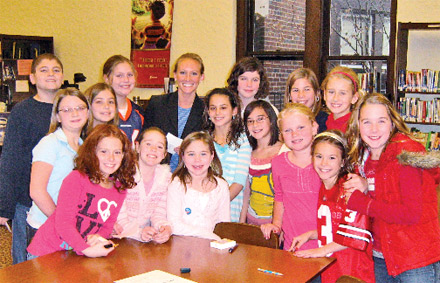 The students included: Erin, Alex, Emily, Grant, Marie, Michaela, Emily and Abby, Claire, Madison, Maggie, Paige, Holly, Sydney, and Kaylee.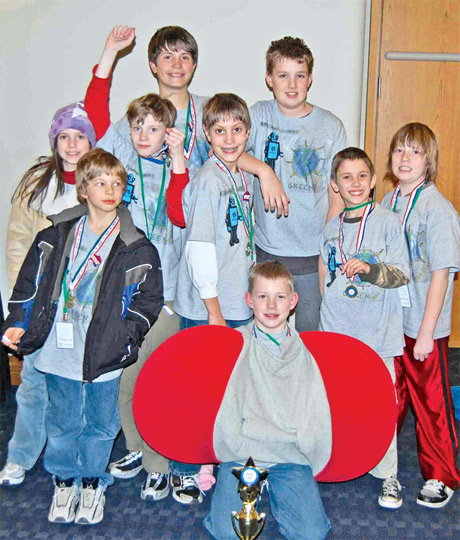 Back Row: Andrew, Henry, Middle Row: Ellen, Joseph, NH, Ian, CP. Front Row: Austin, Ryan (kneeling.)
Boonshoft's First Lego League Green Machine Team was one of twenty teams that competed at Sinclair Community College's first Lego League Regional tournament on Saturday, Dec. 13. With just eight weeks of meeting, this newly formed team won the Programming trophy. This prestigious award is given to the team that shows the best programming abilities by programming their robot in the most repeatable manner. This was a rookie team comprised of four Oakwood students.
Besides building and programming a robot that completed various missions, each team was also asked to conduct a research project on climate change and its affects in our community. The Green Machine team decided to tackle CO2 emissions. They researched the electric trolleys in Dayton (one of five US cities with electric trolleys) and visited the RTA trolley garage downtown.
In addition to emails and phone calls, RTA officials spent two hours talking with the Green Machine Team, answered their many questions, and treated them on a trolley ride around town. The team was surprised at how quiet and comfortable the trolleys are, and they couldn't believe how economical the trolleys can be when they calculated commuter costs of driving and parking downtown.
The Green Machine Team asked RTA what could be done to increase ridership. RTA officials say their best selling point is gas prices. When the gas prices went up recently, trolley ridership went up as well. Once onboard, new riders discovered how affordable, safe, and convenient the RTA transit system is and many are still riding.
From its two-month Lego League assignment, the Green Machine Team learned that riding the trolleys makes cents for commuters and the environment. The team hopes that by spreading the word, Daytonians will take advantage of the electric trolleys in our city, eliminating potentially 50 cars and lots of CO2 emissions per trol ley ride.
The Green Machine Team was coached by Vicki Campbell and mentored by Greg Flaute, Leigh Ann Fulford, and Doug Lapchynski.