Everyone loves violinist Rachel Barton Pine – except, perhaps, the weather gods. Last March she was scheduled to play with the Dayton Philharmonic and arrived just before the snowstorm of the decade. Concertgoers will remember that the orchestra was snowed "out." Rachel gave a solo recital for the hardy audience who did arrive.
This year there was snow, but the problem was record cold. Fortunately for the Philharmonic audience, the concert went off without a hitch and the warmth of the music raised the temperature of the city by several degrees.
Preceding the concert, the youthful talents of the Blackbird Quartet played in the Wintergarden. Last year, these fabulous Oakwood kids found themselves on the main stage as part of Rachel's recital.
Maestro Neal Gittleman had programmed a repeat of the snowed-out concert. It was a special homage to Panamanian native Roque Cordero, recently a Dayton resident. The Philharmonic has, over the past eight years, played several of Cordero's works. I remember them as inventive and exciting.
This concert was to be the Dayton debut of Cordero's Violin Concerto with Rachel Barton Pine as soloist. Maestro Neal states that Pine is one of the few violinists bold enough to play this challenging but rewarding work.
What was to be a grand celebration of Cordero's music became a memorial. He died just three weeks before the concert at age 91. Many members of his family were present at the concert to add luster to his remarkable work.
The concert opened with Berlioz' Roman Carnival Overture. If any piece can shake off the winter blues, the incredibly varied and electrifying sounds took us all into warm, even hot spheres. The ever-changing music was played impeccably by the orchestra.
The Cordero Concerto is a true masterpiece. Full of the most modern tonalities, it is still musical and does not sink into unfocused sound. The first movement alternates between the solo violin and stirring orchestral moments. Often the soloist is playing pizzicato while bowing a melody. Rachel played these passages not as musical "tricks" but as pure music.
The second movement, Lento, was an appropriate elegy for the late composer and was followed by a moment of silence. Both the first two movements ended with a fading note on the solo violin.
There was nothing fading about the final movement. Full of staccato playing by all of the instruments, watching it being played was as enjoyable as hearing the musical exhilaration.
After intermission, the orchestra played the Dayton debut of Sibelius' Symphony No. 7. A single movement, like a tone poem, the music was sweeping and dark but as transparent as crystal. Works such as this are true proof of our great orchestra and conductor's talents.
The final piece was a musical bonbon, Sarasate's Carmen Fantasy. Here soloist Rachel "let it all hang out" using her cleverness as well as her manifold talents. To add even more spice, she entered the stage in a Flamenco dancer's dress replete with a rose in her hair.
I have had the pleasure of hearing pianist Spencer Myer play three times in a year and a half. His debut was made at Don Hageman's Soirées Musicales in May 2007. The following November, Myer was the soloist at the Philharmonic Classical Concert. January 10th marked his return to the Soirées.
Each opportunity to hear young, affable Spencer is a treat. He is one of those rare artists whose appeal is immediate and across a wide range of the audience. The magic of music is so complex but the result, when the magician is in full power, is simple – simply wonderful!
Myer's repertory is wide and deep. We have heard him play challenging works by Mozart, Brahms, Ravel, Barber and Rachmaninoff. In every work there is a clarity and special personality that is never academic, but full of life and joy.
For the Soirées recital, he chose an ambitious program including major compositions by Handel, Chopin, Albéniz, Carl Vine and Liszt. There is hardly a pattern here. Spencer selected music as fully ranging as his great talents.
The recital began with Handel's Suite No. 2. The opening section had such clarity that one could hear a metronomic progression in the left hand while the right hand gushed with joy. Running and laughing, compelling drama and a rhythmic aria marked the rest of the movements.
The Chopin Barcarolle was a familiar theme. Played with lightness yet powerfully expressed, it was heard as if for the first time. A true first hearing, Piano Sonata No. 1 of contemporary Carl Vine, was a complex, almost orchestral tutti.
After intermission, the scene and the music shifted again. Albéniz homage to Spain, Iberia, is the soul of Spain coming from the heart of the piano. Piano Wunderkind of the 19th Century Franz List did the same for Italy with his Venezia e Napoli. It was evoked by our own Wunderkind, Spencer Myer.
Three generous encores later, the audience finally let Spencer leave the keyboard. He is one of the great pianists of our day. He will be here in Dayton many times in the future. That's how lucky we are.
Literature is full of tales of heroes. We revel in their loves, their accomplishments, their trials and their deaths. What about the common man? What about a tale of those so common that we could contrast elegant Dover sole with catfish?
The story of the "catfish class" is what playwright Laddy Sartin evoked in his play, Catfish Moon. Its area premiere is the current offering of the Dayton Theatre Guild, playing through January 25th.
The typical Theatre Guild set is a marvel of authenticity and inventiveness. The scene is a backwater Mississippi lake with an aging pier and a shore filled with real trees and brush. The foliage was donated on December 26th by a Christmas tree farm. Arranged by Wendi Michael, it requires daily watering to keep its needles.
Saul Caplan directed a cast of newcomers to the Guild. His sensitive mixture of comedy and pathos kept the audience engaged in the emerging characters' personae.
And what characters they were. Our anti-heroes were typical caricatures of our "Bubba" images. Donald Smith, Greg Nichols and Leo Geiger adapt their football linemen bodies to the nuances of their parts.
Lifelong friends, they constitute a unique love/hate triangle. Curly has a sister, Betty. She is divorced from Frog and is now having an affair with Gordon. Frog is uncontrollably irate that his best friend loves his wife – even though she is his ex-wife.
Betty, as petite as the men surrounding her life are large, is played by darling Amy Brooks. Using convincing dialogue and more convincing acting, the quartet move through their complex relationships always tied to the lake, the pier and the land.
Continual storms of emotion move through each character. All these mini-crises are dwarfed by Curley's death by heart attack. The play reaches a magnificent climax when the two friends, on written orders from the now dead Curley, give each other a tearful man-hug. I saw tears among the audience, as well.
I still prefer Dover sole but now have an admiration for catfish and for catfish people.
---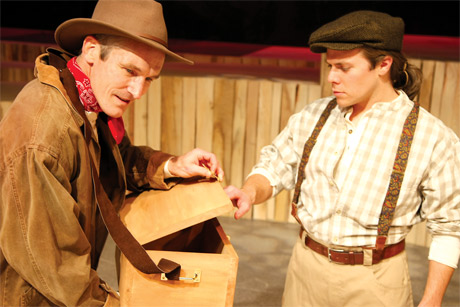 Take one of most the famed legends of all time, move it to 19th century Appalachia, bring in traditional folk and old time gospel style music and a fiery preacher or two, then put two of Dayton's foremost arts groups together for a gala stage presentation – and you've got the essence of Brother Wolf, coming to The Loft Theatre Jan. 29 to Feb. 15.
The Beowulf legend that has befuddled schoolchildren for a few centuries takes on a whole new life with Preston Lane's book and Laurelyn Dossett's music, and the stage of The Loft takes on a whole new life as The Human Race Theatre Company and Rhythm in Shoes combine their talents. This will be just the second production ever of Brother Wolf, and the first collaboration of the two performing groups since they combined with Cityfolk for And That's My Story in 1996 –and it will be the final such dual effort, since Rhythm in Shoes has announced it will dance into the sunset in 2010.
Not only are performers from The Human Race and Rhythm in Shoes joining in the presentation, but the direction is shared as well. Human Race Artistic Director Marsha Hanna is producing director, with Rick Good and Sharon Leahy of Rhythm in Shoes and Scott Stoney of The Human Race also directing.
The collaboration between the two groups is across the board, because Brother Wolf is being done in storytelling, ensemble form – actors, dancers and musicians all help tell the story and play the characters. All the directors except Hanna will perform roles, with Good also one of the instrumentalists.
Brother Wolf himself is played by Joshua Fossitt of Rhythm in Shoes, the evil monster Grin Dell by Human Race Resident Artist Bruce Cromer, and Grin Dell's Maw by Morgan Grahame, recently in the HRTC production of Shenandoah. Ensemble
members Aaron Vega (Five Course Love) and Kelly Mengelkoch (Shenandoah) come via The Human Race, and Kevin Anderson, Ben Cooper, Tina de Alderete, Jessica Jacobs, Carl Jones and Janet Schroeder from Rhythm in Shoes.
Human Race Technical Director Scott J. Kimmins and visual artist Tess Little designed the set, HRTC Resident Artist John Rensel the lighting, and Lowell Mathwich the costumes, with Tristan Cupp producing masks for the monsters. Heather Jackson is the Stage Manager.
Performances of Brother Wolf will be in The Loft Theatre at 126 N. Main in downtown Dayton at 8 p.m. Wednesdays through Saturdays, 2 p.m. Sundays, and 7 p.m. Sunday, Feb. 1, and Tuesday, Feb. 3.
Tickets are available via www.humanracetheatre.org or by calling Ticket Center Stage at (937) 228-3630 or toll-free at (888) 228-3630.
---
On Saturday, Jan. 31 at 8 p.m., two of the premier performing groups in the area, the Gem City Ballet and the Bach Society of Dayton, will join forces to present a choreographed version of J.S. Bach's choral masterpiece, the Magnificat in D. This work focuses on the angelic visitation to the Virgin Mary and Mary's response to the announcement of her destiny to be the mother of Jesus. The graceful ballet by Peter LeBreton Merz, presented here in its world premiere, enhances the dramatic story told through the inspiring music of Bach.
The performance, accompanied by orchestra, will include soloists Andrea Chenoweth, Soprano; Emily Landa, Soprano; Liza Forrester, Mezzo Soprano; Randall Black, Tenor; and Jeremy Kelly, Baritone. The concert will also include several works performed by the Gem City Ballet, including Stuart Sebastian's "…and they were not ashamed."
Local residents involved in this event include Margaret Karns; Dave Grupe; Faye Seifrit; Laura Thie; Kerri Hemmelgarn; Hannah Wagner; accompanist, R. Alan Kimbrough; and music director, John Neely.
This exciting collaboration is the result of a generous grant from the Miriam Rosenthal Memorial Trust Fund.
Tickets for this performance, which will take place at the Victoria Theatre, are available through ticketcenterstage.com, the Gem City Ballet, and the Bach Society of Dayton.

The Dayton Visual Arts Center announces the sixteenth year of REACH Across Dayton. Begun by Paula Recko, Willis 'Bing' Davis (the Ohio Arts Council's choice for the 2009 Irma Lazarus award!) and Tess Little (one of the YWCA's 2009 Women of Influence honorees!), REACH is a celebration of our community in all its wonderful diversity.
This year's theme is Understanding Identity - and who among us has not at some point struggled with the question of "who am I, really?" It's one of the timeless themes for art, of course.
You don't have to be an artist (or a member of DVAC) to participate. We invite everyone to to be a part of the 2009 REACH Community Art Project by making a "quilt block" about yourself. We make it easy by providing the materials and artists to lead the way during three public workshops.
DVAC fiber artists who will be available during the workshops include: Jane A. Black, Debbie Emerick, Winnie Fiedler, Yuki Hall, Gerry Fogarty, Nosha Namahoyta, Christina Pereyma, Peri Irish Switzer and Sharon Weltner.
These drop-in workshops will be held:

Thursday, Jan. 29, 5-8 p.m.

Saturday, Jan. 31, 11 a.m.-2 p.m.

Thursday, Feb. 19, 5-8 p.m. (also hosting a W.O.W. Innovation Collaborative Brainstorming session - more on that later!)

Link Gallery, 519 East Fifth St., Dayton, located in the Oregon Arts District, presents "Unchained II", an exhibit of works by an ensemble of some of Dayton's most notable artists. Included are lithographs, etchings, chine colle, paintings, sculpture, photographs, mixed media, wood, mobiles and glass.
Featured artists are: Julie Anderson, Michael Bashaw, Kaye Carlile, Glen Cebulash, Thomas Chapman, Stefan Chinov, Bob Colaizzi, Peter Gooch, Terry Hitt, Jeffrey Cortland Jones, Erin Holscher Almazan, Tom Keen, David Leach, Tracy Longley-Cook, Kevin Messer, Jim Moser, Susanne Scherette King, Andy Snow, Rachel Stanzione, Jon Swiindler, Jennifer Rosengarten, Marc Suda, Sean Wilkinson, Terry Welker, Joel Whitaker, and Jud Yalkut.
Images range from figurative to abstract. This exhibit will run through Jan. 31.