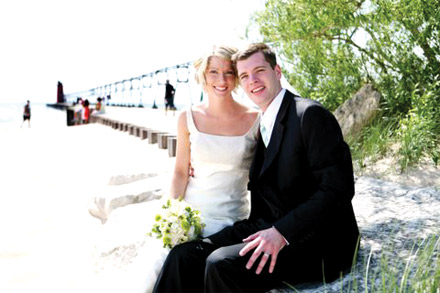 Kimm Renee' Gildea, the daughter of Timm and Pat Gildea of South Haven, MI, and John-Paul Knobel Lohrstorfer, the son of John and Martha Lohrstorfer of Kalamazoo, MI, were married on June 7, 2008. The wedding was held at Saint Augustine Cathedral in Kalamazoo, MI with Monsignor Thomas Martin and Deacon John Lohrstorfer, Jr. (Father of the Groom) presiding. The reception was held at The Foundry Hall in South Haven. The couple honeymooned in Las Vegas and the Grand Canyon. They reside in Dayton, Ohio where John-Paul is a morning news anchor for WHIO-TV.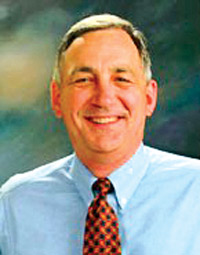 Dan Lohmeyer has been appointed jointly by the Speaker of the Ohio House and President of the Senate to serve a second four year term as a trustee of the Ohio State Highway Patrol Retirement Board.
Lohmeyer is a Principal and Chief Operating Officer for MatchMD, Inc., an Internet-based On Call scheduling, messaging and texting service used in hospitals and large physician practices in Ohio and Texas."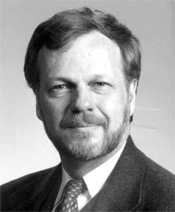 Glenn C. Hamilton, M.D., became the 160th President of the Montgomery County Medical Society during ceremonies conducted at the Society's Annual Meeting held January 17, 2009. He represents the first full-time academic physician as well as Emergency Medicine specialist to hold that position. Dr. Hamilton is the Chair of the Emergency Medicine Department at Wright State University Boonshoft School of Medicine, a position he has held since 1982.
During his inaugural remarks at the Annual Meeting of the MCMS, Dr. Hamilton stated that he has several goals for his term ahead. His primary focus is to enlist physician and community support in helping to develop a disaster-resilient community. He cited the recent electric-grid calamity caused by Hurricane Ike as it passed through southwest and central Ohio, noting that many medically fragile instances could have been averted through better communication and coordination of available resources.
Secondly, he is especially aware of the increasing medical needs in our community, notably among the uninsured and underinsured due to the downturn in the economy, and he recommitted the Society's continued involvement in supporting programs such as Reach Out, which aim to assist patients in receiving necessary medical care.
And, thirdly, he noted that he wants to do everything he can to enhance the relationship between the Medical School and the community physicians, noting that there are significant benefits for all to be had from a strong "town-gown" relationship.
Joining Dr. Hamilton in leadership this year as members of the Medical Society Board of Directors are Evangeline Andarsio, MD; John Haluschak, MD; Samia Borchers, MD; Ramesh Gupta, MD; Paul Gibbs, MD; Walter A. Reiling III, M.D.; Gary Fishbein, MD; Jonathan Velasco, MD; James Pacenta MD; Shachi Rattan, MD; and Timothy Sorg, MD.
Dr. Hamilton completed his medical training through the University of Michigan Medical School, and is Board Certified in both Internal Medicine and Emergency Medicine. Dr. Hamilton resides in Oakwood with his wife, Lynda and daughter, Elizabeth.
Additionally at this meeting, 25 MCMS physicians were recognized as recipients of the OSMA Fifty Year Award, including: Herman I. Abromowitz, MD; Joseph Albrecht, MD; Dennis D. Barber, MD; Bernard L. Berks, DO; Robert Collins, MD; Melvin Crouse, DO; Sunder Goel, MD; Philip Hughes, MD; Alan H. Klein, MD; William J. Marshall, MD; Enrique Martinez, MD; Asuncion Medina, MD; Hassan Mehbod, MD; Hsien-Ming Meng, MD; Charles Moody, MD; Joseph Paley, MD; Emil Peterson, MD; Michael Phillips, MD; G. M. Sastry, MD; Charles Schrimpf, DO; William Straughen, MD; John Taylor, MD: Richard Whitmer, MD; Francis Wright, MD; and Russell Zanowick, MD.
The Montgomery County Medical Society is a professional association representing nearly 1000 practicing physician members locally.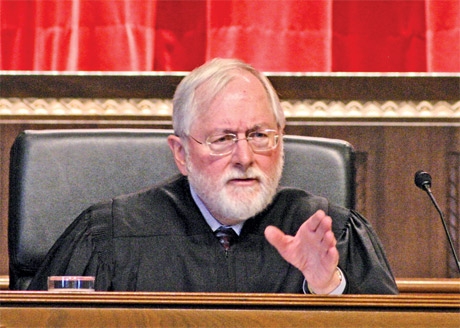 Twenty nine judges will retire by early this year. Among them is Judge William H. Wolff Jr., who will retire from the Second District Court of Appeals on Jan. 31. He has said he won't ride off into the sunset just yet with plans to try mediation and arbitration work. He's also open to accepting assignments to trial and appellate courts. As for his other numerous interests, Judge Wolff said he'll have more time to devote to fly fishing, skiing, hiking, cooking, gardening and out-of-state children and grandchildren.
Just like Judge Wolff, More than half of the retiring judges served on the bench for at least 20 years, either in their current posts or in combination with past service as municipal court judges. Their successors were all chosen in the Nov. 4 election.
Judge Wolff offered this advice to new judges: "I suggest you work hard, don't forget what it's like to be a practicing lawyer, don't take yourself too seriously, and strive for excellence, not perfection. Excellence is expected and attainable; perfection is not." He praised his successor, Judge Jeffrey Froelich, as a distinguished trial judge who enjoys the respect and confidence of the judges he will join. He said he has no doubt that Judge Froelich will make a seamless and effortless transition to the court of appeals.
A member of the appeals court since 1985, Judge Wolff also praised his colleagues, also praised his colleagues, past and present, on the court of appeals. "I couldn't have hand-picked better people to work with."
"I have truly enjoyed the work of judging," Judge Wolff said. "I have countless fond memories of the people I've met and worked with over the years, first as a trial judge and more recently as an appellate judge. I have been blessed with outstanding staff attorneys and with solid staff support. I have, for the most part, enjoyed a good working relationship with the bar. I found that if I respected the job the lawyers had to do, the lawyers respected the job I had to do."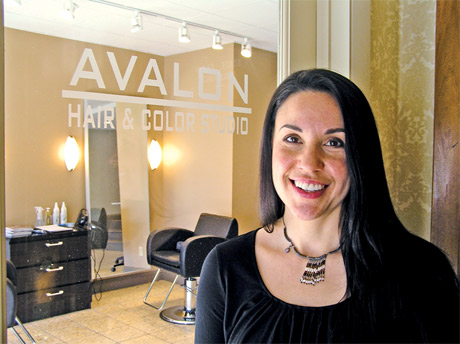 Tamara Stout has been in the hair styling business for 19 years, or as she put it, "since right out of high school." Actually, her experience goes a little further back. Her mother and godmother both were cosmeticians and she started cutting hair when she was 13. "I'm an artistic person so hair is natural to me," she said.
She has opened her own hair salon entitled Avalon Hair & Color Studio at 2451 Far Hills Ave., Ste. 102 in Oakwood. The studio offers a specialized ranges of services such as a shampoo, cut and style package, hair coloring, facial waxing and formal styling featuring updos and hair embellishments. Ms. Stout has been in the area for while. She worked previously at DeLynne's Family Hair Care and before that at the former Technical Styles salon formerly located down the street on Far Hills Avenue.
"Now that I'm in a new space, I hopefully will gain new clients and keep the ones I have now," she said. Her "new space" is elegantly contemporary with black leather styling chairs by Takara Belmont and other accoutrements from IKEA. "I'm hoping to get two more stylists in here as well," she said.
Tamara prides herself on using the finest products for hair and skin. Among the lines she uses are: Logics, Goldwell (hair color), Chi, ghd, Systeme Biolage and d:fi. He is particularly impressed with her newest hair products from Logics, as her clients are calling her up raving about the results.
Opening up her business, she welcomes new clients has current customers ranging from childhood up to seniors. Give her a call at 299-2252 or 299-2227. You'll be in talented, experienced hands.
There's no better way to show you care on Valentine's Day than giving your sweetie a dozen beautiful Valentine's Day cookies or treats. But our treats are special for another reason. 100 percent of the purchase price goes to the Oakwood Relay For Life and the American Cancer Society.
Treats available include heart shaped butter cookies, Buckeyes, chocolate shortbread cookies, chocolate covered pretzels, biscotti, and almond hearts. All varieties are six dollars a dozen or three dozen for $15 dollars which includes delivery to your home. Give the gift that shares your love. And don't forget to order an extra few dozen for school parties. Orders must be received by Feb. 7 for delivery Feb. 12 and 13.
Visit www.oakwoodrelay.com and fill out and order form today!
The St. Vincent DePaul hotel has experienced a 63 percent increase in child and infant residents over the past year. In light of this, the Oakwood Register is accepting donations of items related to infants and very young children: diapers, baby bottles and formula, baby food, layettes, receiving blankets, toddler and infant clothing, etc... Cash donations for the $600-a-week milk bill will also be accepted.
Items can be dropped off Monday through Friday, 9 a.m. to 5 p.m. at the Oakwood Register office, 435 Patterson Rd., Dayton.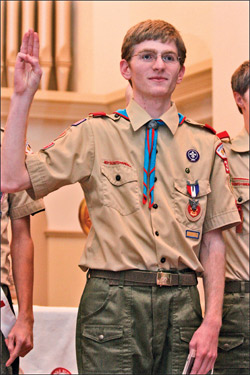 Oakwood Boy Scout Patrick Murphy was awarded the rank of Eagle Scout on Sunday, January 4, 2009 in a Court of Honor ceremony at South Park United Methodist Church. Murphy, 18, is a member of Boy Scout Troop 320 and the son of Steve and Kathy Murphy.
Murphy's Eagle project involved the design and installation of a drainage system for the playground at First Baptist Church in downtown Dayton. The highlight of the project was being surrounded by twenty excited preschoolers eagerly watching their playground being transformed from a flood zone into a usable space. Together with mentors Dwight Mattlock, Tom McClury and Jim Wuebker, and a great crew of volunteers, 77 man-hours were spent planning and carrying out the project.
Murphy's scouting career included tenures in Troop 514 (Medina, Ohio), Troop 236 (Kettering), and Troop 320 (Oakwood), each of which contributed significantly to his scouting experience. A trip to the Double-H High Adventure Ranch in New Mexico, the counterpart to Philmont, was the ultimate test of his wilderness survival skills and a pinnacle event. Murphy's first aid skills have been put to the test at college, where he recently handled the paper cutter partial amputation of a friend's thumb with the cool calm and emergency preparedness expertise learned in scouting.
Now a freshman at Case Western Reserve University, Murphy is studying electrical and mechanical engineering, with a career in robotics as the end goal.
Tiger Cubs from Den 4, Pack 151, based at Edwin D. Smith Elementary School, took a tour of the Oakwood Register last Saturday. The scouts were earning their Tiger Badge in Communications, the fifth award they have completed and allowing them to graduate to Tiger Scouts in February. The Oakwood Register welcomes scout visits ranging from Tiger to Boy Scouts. To arrange a visit please call the office at 294-2662 or email office@oakwood register@aol.com