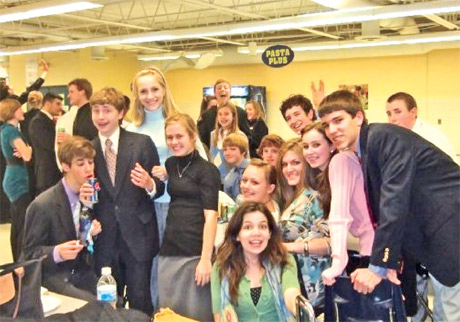 Oakwood High School's Speech and Debate team talked their way to the top the last two weekends at both the Sylvania and Wooster tournaments.
Tyler Rife gave an interesting interpretation of Charlie and the Chocolate Factory in Humorous Interpretation to finish second at Sylvania and third at Wooster. Siobhan Tellez placed second in international extemporaneous speaking at Sylvania while Mason Cammel spoke in Prose and Poetry to finish sixth.
In other speech events at Sylvania, Michael Light (Humorous Interpretation), Kristen Foos (Prose and Poetry), Melanie Ward and Rob Mitchell (Duo Interpretation), Abby Scharrer (Oratorical Interpretation), and Emma Couch (Original Oratory) all were in the semifinal rounds in their respective events. Colin Ward was the third speaker in policy debate at Sylvania. At Sylvania, the team placed sixth overall in a field of 29 teams.
At Wooster, Joanna Draper (Dramatic Interpretation) finished fifth. In debate, Jeff Nagel and Maggie Light-Scotece having had an undefeated record at Sylvania were in a semifinal round at Wooster.
The Oakwood Speech and Debate team is coached by Brianna Doyal and Alex Kordik.
Recently a number of news stories which connected the Arts and Education have drawn attention. I have chosen just a few upon which to focus our attention this week.
The first comes from Leesport, PA (1-18-09) and addresses whether or not elementary MUSIC BOOSTS TEST SCORES.
Eighteen kindergarteners, each with a small violin follow their teacher's directions. A waste of time or a foundation block for future success on academic tests? The school is doing a 4 year study involving 130 K students this year and will follow them for another three years. Other studies have found that music education DOES correlate with other school success.
One of my own graduate students found that not only was music correlated positively with future math success but even more strongly with success in a foreign language! There are relationships and this is one reason our Oakwood schools have kept up their emphasis on music as a part of the curriculum.
The Science Daily (1-20-09) article addresses the physical arts via this headline:
SCHOOL-BASED PHYSICAL ACTIVITY HAS BENEFITS even if it does not help lose weight. The research found that such in-school programs increased the time children spent exercising and reduced blood cholesterol levels. Because physical INactivity has been a key factor behind 1.9 million deaths every year, this effort to help our children avoid such a problem is vital to their future health.
The Las Vegas Sun's editorial of 8-18-08, THE CRAYON SYNDROME, follows with the subhead, "Nevada's schools so broke they can't even provide enough routine classroom supplies." Even with many teachers spending hundreds of their own personal dollars on regular school supplies, the problem has gotten worse all over the nation. The issue has actually gotten down to classes not having the paper, paint, crayons, clay, etc. to enable students to engage in creative artistic learning.
Related to this was a story in USA TODAY (12-01-08) headlined, ADS ON TESTS ADD UP FOR TEACHER. A calculus teacher gives lots of tests but his school was very short of funds. So he found some local San Diego, CA businesses and managed to collect over $350 of the estimated $500 per year for the tests and review work for them. He developed a scale: $10 per ad on a quiz, $20 for a chapter test, and $30 for an ad on a semester exam. The embarrassed school district is not sure he will be allowed to carry out his plan.
Schools and fans of great art will BOTH benefit from what the Seattle Times (1-18-09) article, GOOGLE GETS YOU UP CLOSE, AND VERY PERSONAL, WITH ART. It describes. Spain's Prado Museum joining with Google Earth which will allow schools to zoom into the gallery's main works by such artists as Velazquez, de Goya, and Rubens.
This will take Oakwood's longtime program of "Picture Lady" to an entirely new level.
Ohio's funding for the Ohio Arts Council will take a major cut as the state's budget shortfall will REMOVE $614,131 from the OAC 's FY 09 budget. The bottom line is that dozens of Ohio Arts organizations, many of whom work with schools, will have less money from the state. Consequently, this source of Arts Education for our children will be reduced.
Citizens will need to be very alert to such problems and become very active in communicating with their own legislators as the budget for the next two years is being crafted in the next 4-5 months.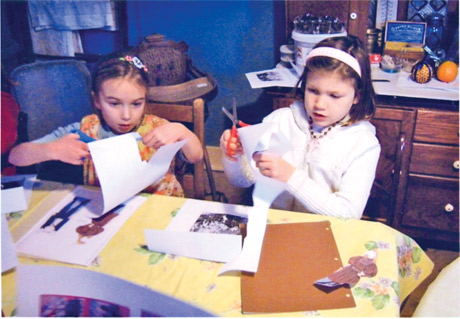 Grade schoolers learn about life in Victorian times at Long-Romspert home.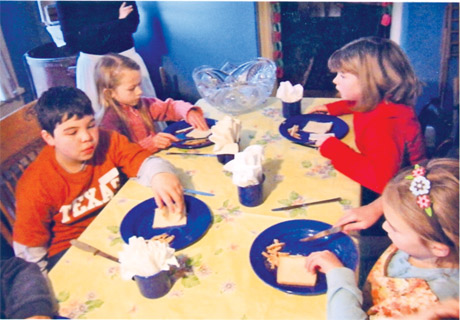 Imagine a winter party held at the Long-Romspert Farm in Oakwood in the late 1800's. There would be no electricity, no running water, and a coal furnace would be heating the home. Snug in the old fashioned kitchen, the daytime party would be held using natural light filtering in from the windows. This was the setting for the latest children's program held by the Oakwood Historical Society at the Long-Romspert Homestead on Far Hills Avenue.
On Dec. 30, children attended either a morning or afternoon session entitled Victorian Winter at the Homestead. Both classes were full of eager children, grades 1 to 5, crowded around the kitchen table working on projects and learning about life in the late 1800's. The children made orange pomanders studded with cloves to
provide a good fragrance in their homes and to help keep insects and moths out of their stored clothing. They also learned about the Victorian love of nature and collections as well as about the fancy scrapbooks many people made to hold some of their collections. The children played old-fashioned outdoor games in the crisp winter air and then made and ate small tea sandwiches while learning about table manners during Victorian times.
Children's educational programs have been a goal for the Oakwood Historical Society for some time. Through this and other programs, the Oakwood Historical Society seeks to provide more opportunities for Oakwood residents to learn about their town's history and the daily life of the early settlers. Information about this and future programs can be obtained through the Society's website www.oakwoodhistory.org or by emailing Linda Pearson (lindapinoh@ gmail.com) or Lisa Kell (charybdismom@yahoo.com), children's program co-chairs, with a request to receive future email announcements.
Jean Boyle, a 2005 Oakwood High School graduate, has been selected as a John Glenn Fellow in the Washington Academic Internship Program for Winter Quarter 2009. This fellowship is granted to individuals committed to public service and thoughtful public policy analysis. The fellowship entails being placed as an intern in an organization that corresponds with the student's major and desire to work in the non-profit, public policy arena.
Boyle has been placed at TransAfrica Forum, which is a non-profit advocacy group for Africans, which works to raise awareness, both in the general public and Congress, about the crisises affecting the countries in Africa. It further works to change US foreign policy to be more inclusive of developing countries.
Boyle works in the public affairs department helping to organize events on Capitol Hill to reflect TransAfrica Forum's mission, and is also researching and writing policy briefs regarding humanitarian issues in Zimbabwe.
Boyle is currently a senior at Ohio State University majoring in International Affairs. She plans on graduating in 2009.