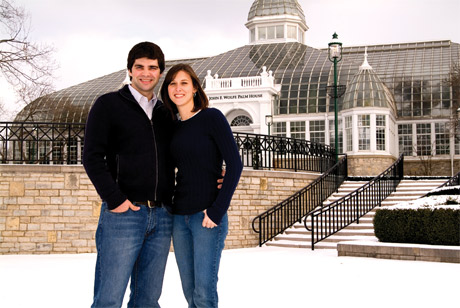 Brenton William Goff and Melanie Jean Kocher in front of Franklin Park Conservatory in Columbus.
James and Lisa Kocher of Beavercreek, Ohio proudly announce the engagement of their daughter, Melanie Jean Kocher, to Brenton William Goff, son of Mark and Karen Goff of Oakwood, Ohio.
Melanie graduated from Beavercreek High School in 2003 and from The Ohio State University in 2008 with a Bachelor of Science degree in Nursing. She is employed as a nurse at Dayton Children's Medical Center.
Brent graduated from Oakwood High School in 2003 and from The Ohio State University in 2007 with a Bachelor of Arts degree in English Literature. He recently graduated from Wright State University with a Masters Degree in English Education. Brent is currently employed at the Dayton Early College Academy in Dayton, Ohio.
The wedding will be held June 12, 2009 at the Franklin Park Conservatory in Columbus, Ohio.
The Oakwood Register would like to apologize for jumping the gun a bit by listing this engagement as a wedding in the print version of this issue.
---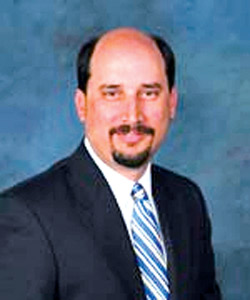 Oakwood Councilman Steve Byington has been appointed as a member of the First Tier Suburbs Council of the National League of Cities (NLC) in 2009. The First Tier Suburbs Council, one of several NLC councils, works to address the unique set of challenges faced by municipalities located outside of central cities and inside the ring of developing suburbs and rural areas.
Mr. Byington is one of Oakwood's representatives on the First Suburbs Consortium of Dayton. "First ring communities across the country are working hard to ensure that our issues and needs are understood by state lawmakers", said Steve Byington. "I am pleased to serve in this important capacity and to represent Oakwood."
The National League of Cities is the nation's oldest and largest organization devoted to strengthening and promoting cities as centers of opportunity, leadership and governance. NLC is a resource and advocate for19,000 U.S. cities, towns and villages, which collectively serve 218 million people.
"Oakwood City Council is very pleased to have Steve serving on this important national committee", said Mayor Judy Cook. "We know he will be a strong voice in the important work of First Suburbs".
---
John L. Green has joined the Dayton office of Thompson Hine LLP as a partner in the firm's Corporate Transactions & Securities and Health Care practice groups. Prior to joining Thompson Hine, Green was a partner and chair of the health care practice group at a business law firm in Dayton.
Before entering private practice in 1998, he was vice president of the operations group and legal compliance officer at Omnicare, Inc. in Cincinnati. Prior to that, he served as secretary, vice president of legal services and general counsel at Good Samaritan Hospital in Dayton.
Green received his J.D. from Ohio Northern University School of Law and his B.A., with a dual major in history and business administration, from Alma College. He is an adjunct professor at Central Michigan University.
"Thompson Hine's Dayton office continues to grow," says Robert Curry, office partner-in-charge. "We are pleased to have John join our already strong group of lawyers. His experience in corporate and health care law will provide clients with legal solutions to help us meet our commitment to deliver excellent client service."
---
Ryan Anloague, a 16-year-old junior at Oakwood High School, is preparing to test for his First Degree Black Belt in Tae Kwon Do this summer at the Asian Arts Center in Kettering Ohio. Anloague started training at the AAC at the age of 12 when his father Philip, director of the Doctor of Physical Therapy Program at The University of Dayton and owner of Orion Physical Therapy Specialists, resumed his Tae Kwon Do training, begun years earlier at Cleveland State University. Dr. Anloague recently tested for his Third Degree Black Belt at the AAC.
Ryan was initially drawn to Tae Kwon Do because of his father's experience but has since found many of his own reasons and motivations to train and continue to advance through the ranks.
"Many of the skills and habits I have learned at the Asian Arts Center and in Tae Kwon Do can be applied to my life at home and in school," said Ryan. "I treat my family with more respect and have become more responsible for things." He cites less fighting with his brother Aric. " I have learned to compromise, to step back and take a deep breath" and is doing more chores without being told.
At school he has applied himself more, and his grades have improved. " I am developing better study habits, becoming more self-motivated and exercising the self-discipline I have learned as part of my Black Belt training," says Ryan. He also describes becoming more self-confident and outgoing as results of his training. He was recently named to the High Honor Roll at school.
As Ryan prepares for his black belt test and for college, "probably the University of Dayton in some sort of media production," he is taking some prep classes at Sinclair. He is also training as an instructor at The Asian Arts Center. For his black belt he has to perform physical requirements, such as learning forms, as well as completing community service requirements. The school is involved with such projects as training inner-city students.
"I want to continue my martial arts training. It will help me to be more focused with my college studies," says Ryan. "If I continue to lead by example, it will help me to be the best that I can be." To fellow students who ask, Ryan explains, "Martial Arts is more than fighting. Its a way of living."
The Asian Arts Center is a nonprofit 501(c)(3) martial arts, fitness and self-defense school serving children and adults in the Miami Valley.
---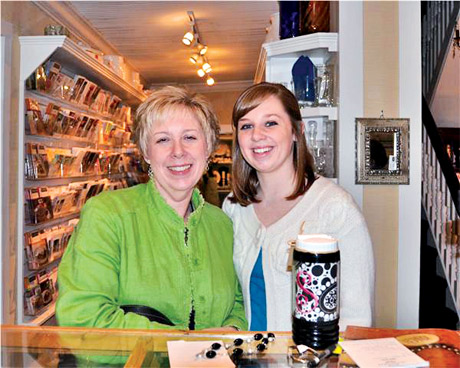 Pictured is Kathy Gareau and her daughter Bridget. Bridget is a sophomore at The University of Dayton. Kathy drove to Dayton from Brunswick, Ohio to attend the Chi Omega "Mom's Weekend".
The Little Exchange Gift Shop in Oakwood hosted a "Mom's Weekend" event for The University of Dayton chapter of Chi Omega on Saturday, Feb. 21. Over 80 students and mothers attended the after hours event.
The University of Dayton students provided refreshments along with pastries donated by Ashley's Pastry Shop located down the street on Park Avenue. Volunteers from The Little Exchange staffed the store, helping with gift selection and providing complimentary gift wrap.
The students and their mothers purchased jewelry, monogrammed items, cross stitch kits with the Chi Omega crest, and gifts for weddings, babies, and other occasions. Proceeds from the gifts purchased at The Little Exchange are donated to The Children's Medical Center of Dayton, with donations over $1.4 million since 1957.
The Little Exchange is located at 45 Park Avenue in Oakwood, just 1 mile south of The University of Dayton campus off Far Hills Avenue/Route 48. The store is open Monday through Friday 10 a.m. – 5 p.m., Thursday 10 a.m. – 7 p.m., and Saturday 10 a.m. – 3 p.m.
For more information, visit www.thelittleexchange.org or call The Little Exchange at 937-299-1561.
---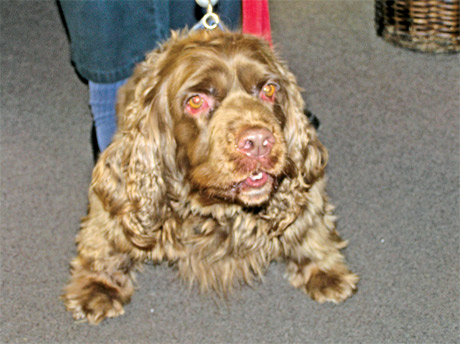 A question often asked of Ren Hefflin as he walks his dog Mercy from his Thruston Road home to the local Starbucks is "What kind of dog is that?" No, she is not a Cocker. She is, however, the niece of Stump, the Westminster Best of Show winner this year. Her mother was in the same litter as Stump. Stump and Mercy are Sussex spaniels.
Owner Ren is a retired Greene county judge who moved to Oakwood a number of years ago in part because the city has such wonderful sidewalks for dog walking. His previous dogs have also been Sussex spaniels.
"Mercy loves everybody" Ren is heard to say watching Mercy as she sits by the entrance of Starbucks.
Her petting rate from the customers to the cafe is nearly 100%.