By Tanya Noffsinger

Do you eagerly await the traditions for your Easter table? The ever-present crowning glory of my vernal spread is always the carrot ring. Somehow it has become a quest to always offer at least one other carrot competitor for consumption. My guests will even vote on the new contender.

These very carrots, upon which we rely, have a lethargic metabolism, but that makes them longer keepers. If you cook them at a low temperature (130-140 degrees F.) it will reduce the softening and will help them stand up to more prolonged final cooking by developing what is called persistent firmness which is an interesting chemical process. Carrots will taste far sweeter (they contain glucose, sucrose and fructose) when they are cooked because the cell walls break down so that the cell contents spill onto the taste buds of your tongue.
Always remember when chopping carrots, cut and then turn 1/4 turn and cut again continuing in this manner. More surface area is exposed thereby releasing more flavor. If you use the packaged baby carrots and they develop a white fuzz, don't be alarmed. The outer cell layer has been slightly damaged due to the cutting and has allowed dehydration The "fuzz" is harmless.
And in the event you are making a carrot cake or bread and the batter turns green, you know immediately that you have put in too much baking soda or haven't mixed it adequately.

(worthy of a carat ring)

1 1/2 cups (3 sticks) butter 2 Tbsps. lemon juice
1 cup firmly packed brown sugar 2 cups flour
4 eggs, separated 1 tsp. baking soda
3 cups finely grated carrots 2 tsps. baking powder
2 Tbps. cold water 1 tsp. salt
1/4 cup bread crumbs

May be prepared the day before...
Preheat oven to 350 degrees F. Cream butter and brown sugar. Add yolks and beat until thick. Add carrots, water, lemon juice, flour, baking soda, baking powder and salt. Mix.

Beat egg whites until stiff peaks form; fold into carrot mixture. Generously oil 3 qt. ring mold; dust with breadcrumbs. Turn mixture into mold. Bake 1 hr. Remove from oven and allow to cool 3 mins before loosening edges with dull edged knife.

Fill center of ring with drained French peas and surround the outer edge with steamed cauliflower lightly sprinkled with paprika.

Honey Glazed Carrots and Shallots

2 lbs. carrots (cut diagonally in 3/4" pieces)
1/3 c. white Port
1 lb. small shallots, peeled, keep ends intact
1/3 c. mild honey
2 Tbsps. unsalted butter, cut in bits
2 tsps. chopped fresh dill
3/4 tsp. salt 2 tsps.chopped fresh chives
1 1/2 cups water 1/4 tsp. black pepper
1 c. chicken broth

Spread carrots and shallots evenly in a 12" heavy skillet, then dot with butter and spinkle with salt. Whisk together water, broth, Port and honey and pour over vegetables. Cover skillet with a lid and simmer over medium heat until vegetables are tender when pierced with a paring knife, or about 20 mins.

Transfer vegetables with a slotted spoon to a bowl and boil liquid over moderately high heat, uncovered, until syrupy and reduced to about 3 Tbsps, about 15 mins. Return vegetables to skillet and gently stir to coat with glaze. Sprinkle with dill and chives and pepper.


Carrot Pie

1/2 lb. bulk pork sausage
1-4 oz. can chopped green chili pepper
2 c. chopped carrots
1 cup shredded Cheddar cheese
1 c. chopped broccoli
3 Tbsps. all purpose flour
1/2 c. chopped onion
1 tsp. Worcestershire sauce
1/2 c. chopped red sweet pepper
1/4 tsp. gound cumin
1 clove minced garlic
1/4 tsp ground black pepper
1-10 3/4 oz. can cream of celery soup
few dashes bottled hot pepper sauce

Your favorite recipe for a single pie crust or a grocery store ready made pie crust.

In a large skillet, cook sausage, carrots, broccoli, onion, sweet pepper, and garlic until sausage is thoroughly cooked. Drain; place in a large bowl. Stir in soup, the 3 eggs, chili peppers, cheese, the 3 tablespoons flour, Worcestershire sauce, cumin, black pepper, and hot pepper sauce. Spoon into pastry-lined pie plate, spreading evenly. Place pie plate on a cookie sheet. Bake in a 400 degree F oven for 30-35 mins. or until set. Let stand 10 mins. before serving. Makes 8 servings.
New executive chef comes to L'Auberge

By Dolores Winkler Wagner

Passion and enthusiasm, all wrapped in a thick, but totally charming, French accent, describes the excitement the new executive chef of L'Auberge has for the art of culinary excellence. Chef Romy Jung, a native of Alsace-Lorraine, a region steeped in culinary tradition, has been appointed to that position by owner Josef Reif.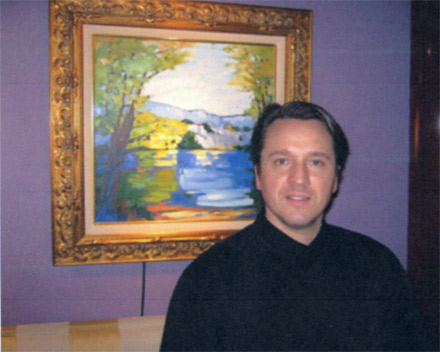 He comes with impressive credentials, and a storybook background of interest in food that began when he was 14 years old. At that time, his father was in the French military but lived in Germany. "My Dad purchased all the food for mess," he said. One day, young Romy was to meet his father at his office. "To be able to go to his office I had to go through the kitchen. I looked up and saw all the pots and pans and cooks and, I knew what I wanted to do! That was pretty much like hitting me with the lightning," he explained in his very French accent.
From that day, he has apprenticed and studied his way to some of the highest positions in the culinary world. At 16 he started an apprenticeship in Binic, France, a fishing village in Brittany. "That's where I started cooking. Every day we would have the boat come in and my job was to clean and cook the fish." As a matter of fact, Chef Romy loves fish and seafood. "You can experiment more and be more creative with seafood and fish."
His apprenticeship continued at 16 under the guidance of a strict, old-school Escoffier chef. "I remember burning things in the oven and the chef was drinking a lot. I got hit on the shoulder every day," Chef Romy said. "I would go to the ice box and cry," But the Escoffier school of French cooking demanded the highest standards, and by the second year of apprenticeship the master chef did not do that any more. "I ended up being one of the best apprentices."
He is recipient of the Certificate d'Aptitude from the Academie de Rennes, and has been associated with some of the best-known, prestigious restaurants in the world, including the Trois Gros in Roanne, France; Daniel Boulud in New York; the Waldorf Astoria's famed Peacock Alley; and the Bellagio Hotel Resort in Las Vegas, Nev. Over the coming weeks, Chef Romy will unveil new menus and ideas that reflect his special culinary interests.
L'Auberge is located in Kettering at 4120 Far Hills Ave. The phone number is 299-5536.