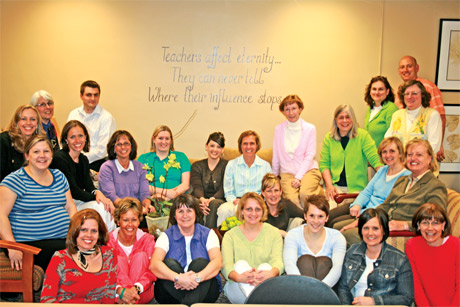 You know how hard it is to get back to work after a week at the beach. The reality of the alarm clock reminds you harshly during the dark hours of morning. Just like the kids, moving slowly to get back into the routine of the school day is upon me. Here it is Monday morning, saying to myself, I can do this. As the clock strikes 8:00 AM, the realization that Spring break is officially over and I walk into my classroom. Then an announcement comes over the PA from Mrs. Bradds, "Teachers, be sure to come down to the lounge for goodies." I thought to myself, that's so nice. A little welcome back from break to raise our spirits a little and get us refocused. As I walked down the steps, I heard the chatter and oohs and ahhs coming from the lounge. I was thinking to myself there must be some good food down there. Then it hits me and my mouth is gaping open. Our lounge has been transformed to a picture out of the Pottery Barn catalog. Personalized touches of staff from the past, heartfelt sayings stenciled on the wall, beautiful fabrics that covered the chairs and pillows, gorgeous paint, lovely spring flowers, fab pictures, painted cabinets, beautiful cork boards, and so much more. I was looking for Ty Bennington to pop out from around the corner at any moment.
While standing in a daze, I was guided over to see the bathrooms. Now you have to understand what they were before….. scary and dark. As quick as you could get in and out was the goal. The bathroom on the right was the worst. That was the emergency only bathroom. Shining before me were two bathrooms that were clean and inviting. A warm olive green painted on the walls with crisp white wainscoting, new silver fixtures reflecting the light from new light fixtures, sink and toilet. The bathrooms are so inviting, that I look forward to using them.
As I walked back into the teacher's lounge, I spied a massaging chair on loan for the week next to the spread of quiches, fresh fruits, muffins and treats. What a welcome back! I was exciting, energized and ready to go! As I settled in my seat with my breakfast before me, it hit me. The parents of Smith are AMAZING! I know what it takes to do an entire remodel. I imaged the hours of aches and pains of stripping, painting, sawing, creating, spreading adhesive, setting new cabinets and sinks, hanging new light fixtures and laying countertop. When you do something from your heart for another person(s), you never realize the impact that you create on others.
Simply saying thank you just doesn't seem to be enough but THANK YOU. I have to say that the teachers and staff that work at Smith Elementary are very lucky to be in a community like ours. I know that I am; and I thank you for being the generous, kind and amazing souls that you are. I know I speak for all the teacher and staff here – our PTO is incredible….. and we can't thank you enough!
Sincerely,
Melody Knostman
Teacher at Smith Elementary