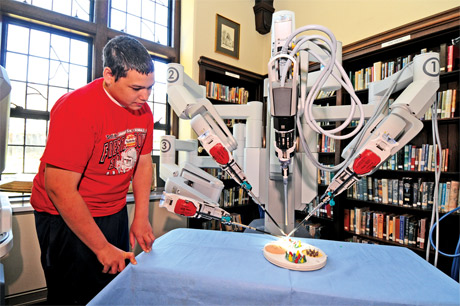 OHS science student Grant Chowayou examines surgical robot.
Advance science students from Oakwood High School will have a chance to test-drive a state-of-the art surgical robot Friday, April 17 when Miami Valley Hospital surgeons bring a replica of the robot they use in surgery to the school. A make-shift operating room will be set up in the school's media center and throughout the day students will be able to tilt, swivel and turn the robot's arms just like real surgeons do when performing real surgical cases. Miami Valley Hospital surgeons were the first in the area to use surgical robotic technology. Today two da Vinci surgical robot systems manufactured by Intuitive are installed in surgery. The robots are used to perform a variety of procedures including colon cancer surgery, radical prostatectomies and gynecological procedures.
Robotic surgical technology allows surgeons to perform very complex operations using a minimally-invasive approach. Surgeons' operate remotely by using controls, much like a joystick, at a computer console. At the operating table, the robot responds quickly and easily, perfectly mimicking the surgeon's movements. Surgical instruments are mounted onto the robot's arms, their fully rotating tips inserted in the patient through small holes. Because robotic surgery is minimally invasive patients experience less pain and a quicker recovery time.
The robot's visit to Oakwood was arranged by Heidi Steinbrink, chair of the school's science department. "Our goal is to get students excited about science," says Steinbrink. "Having doctors demonstrate how robots are used in surgery does just that."
---
Children who will be five years old on or before Sept 30, 2009, may be registered for kindergarten. Children who will be five years old between Oct. 1, 2009 and Jan. 1, 2010, may be considered for early entrance. Parents interested in early entrance may contact Lange School at 299-8730 to request an application and testing information. Children referred for early entrance should participate in Kindergarten Screening.
It is important to note that state law makes Kindergarten a mandatory prerequisite for first grade. All first graders must have successfully completed Kindergarten. Furthermore, state law requires that all entering Kindergarten students be screened for hearing, vision, speech and communication, health or medical problems and for developmental disorders.