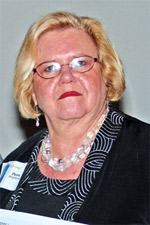 Pam Stephens, an Oakwood resident and the owner of Stephens Insurance Agency, was "drafted" into the Board of Trustees for Hospice of Dayton when the program consisted of just a handful of committed volunteers. A couple of the founding Board members were familiar with Pam's experience in public relations, a talent sorely needed by the fledgling organization. They called upon her to join them in launching an ambitious undertaking –establishing one of the first hospices in the country. Pam volunteered on for the job –a volunteer position that is now thirty years old.
Pam, along with Marcella Hager of Eaton, was honored for 30 years of volunteer service to Hospice of Dayton during a recent volunteer banquet. "In the early days we were a working Board," Pam says. "Everything was 'hands on.' I worked on publicity and started the Speaker's Bureau. We relied on donations for everything. All of the area hospitals 'loaned' nurses in the beginning. When we needed to expand services, we solicited community sponsorship to help underwrite the cost of additional nurses. The Junior League helped us pay for half a nurse and Children's Medical Center helped sponsor the other half. " Once Medicare and private insurances extended coverage for hospice care in 1978, the program had more resources and the number of patients that could be served grew substantially.
The early Board had great camaraderie and included a broad cross-section of the community, Pam remembers. The Board included representatives from every hospital, an accountant, an attorney, a PhD , physicians and people with great community involvement. Did they ever expect that Hospice of Dayton would serve nearly 600 patients across eight counties? These Board members also shared big dreams. "We actually did envision many of the things that have come to pass," Pam says. "We dreamed about not only serving patients in their homes, but being able to have an in-patient facility in a lovely setting that would reflect the serenity and peace we believed should be available for patients at the end-of-life. That's why the building on Wilmington Avenue is so distinctive. The architect tried to reflect the vision we had of a beautiful, restful, waterfront environment."
Pam also involved the members of her La Sertoma Club of Dayton in the "Teddy Bear" project, a program that continues to pair elementary school students with outreach to patients and families at Hospice of Dayton. Students and La Sertoma partner to purchase and deliver Teddy Bears for patients, giving youngsters a valuable volunteer and learning experience and touching the lives of families facing a final journey together. It's a program Pam would love to see grow even more in coming years.
Being involved in the early development and watching the evolution over several decades on the Board, Pam has enjoyed seeing many of those early dreams come true. She would still be serving but for a change in by-laws that delivered the unanticipated result of term limits for Board members. "I miss being on the Board." Pam says, but her involvement with Hospice of Dayton continues as she serves with the Hospice of Dayton Foundation Financial Advisory Committee. "It's a wonderful cause and a great organization," Pam says.
Thanks to Pam and her colleagues on that early Board, Hospice of Dayton has grown to become the organization they dreamed into reality. Hospice volunteers continue to serve critical roles in support of hospice care. Over 450 volunteers and 23 groups support the Miami Valley's largest hospice program performing a wide range of duties including support for patients and families by providing companionship, respite care, shopping, delivery of medications and supplies, pet therapy, massage, beautician and barber services, and gardening. Volunteers also provide Board, clerical and office support, with fundraising events, data entry and serving as Ambassadors helping families whose loved ones are receiving in-patient care at the Hospice of Dayton Comfort Care Center.
---
AJ and Jami Montesano both medaled with Dayton Boat Club at the Hoover Invitational Regatta on April 18 in Westerville, Ohio. AJ, a senior at Oakwood High School, placed third in the Varsity Men's Double. Sister Jami, an Oakwood junior, took home a first place medal in the Junior Varsity Women's Four out of a field of 35 boats from a five-state region. Both scholar athletes have been rowing since junior high school. AJ went on to Nationals last summer as the first men's boat from the Dayton Boat Club program. He plans to row at Ohio University in the fall.
---
Dayton Tea Party one of many across Nation

By Tom Cecil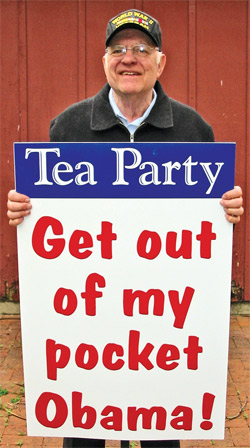 The Tea Party at Courthouse Square in downtown Dayton took place appropriately on Tax Day, Wednesday, April 15. The crowd was estimated at from 5,000 to 8,000 people. The purpose of the tea party was to give local citizens a voice to be heard in Washington by the President and Congress. Truly it was a taxpayer revolt modeled after The Boston Tea Party in Boston Harbor in about 1772. The Colonists' complaint was British taxation on imported tea without representation. Colonists disguised as Indians boarded three British ships and threw 340 chests of tea into the harbor.
The mood of the protestors at Courthouse Square is best reflected by the numerous signs that were hoisted by the crowd. Here are some examples: Give me liberty not debt; all we get to keep is the change; leave my children's piggy bank alone; right is right, wrong is an Obamination; U.S. Congress has sold us out; Obama you're taxing my patience; stop socialism; Socialism doesn't work; no nanny state; RAGE-Revolt Against Government Excess; what would Reagan do?; repeal the pork; inalienable rights – use them or lose them; fair tax; don't blame me, I'm too young to vote; this is change we can't believe in; read my lips, stop spending; impeach Congress; stop mortgaging my future; the idea that a nation can tax itself into prosperity is one of the cruelest delusions which has ever befuddled the human mind.
Six hundred tea parties took place in every state across the nation on April 15th. In spite of cold weather, enthusiasm ran high in Dayton and speakers were interrupted many times with cheers and applause.
The overwhelming question is whether the enthusiasm demonstrated in Dayton and six hundred other cities will have any lasting effect for the future. Both the President and Congress for sure took note of the occasion. Will it have any effect on Obama's march toward socialism, higher taxes and more deficit spending? Hopefully it will. Will members of Congress pay attention? In 2010, all members of the House of Representatives must seek reelection. At the same time one-third of members of the Senate must face an election. Hopefully a Tea Party candidate will run against all members of Congress running for another term.
Redistribution of wealth has been around for a long time but let's remember that the government can only give us money back that it has first taken away.
Obviously there was opposition to the Tea Parties. Rumors were started that it was sponsored by Republicans and rich people. Both assertions are false. Both Democrats and Republicans were part of the crowd. CNN became involved as a runaway reporter not only reported the news but became involved in making news as well. She approached bystanders and, thrusting a microphone in their faces, berated them for their views and poked fun at the Chicago Tea Party. I understand that CNN admonished her, stating that she had gone too far. To the best of my knowledge she has not apologized so far.
I'm glad I attended the Tea Party and will go again if one is organized. Borrowing from Patrick Henry, "I know not what course others will take, but as for me" get out of my pocket, Obama.
---
Oakwood Rotary's Annual "That Day in May" Celebration is scheduled for Saturday, May 16th. This year's parade will move back to Shafor Boulevard.
This years Grand Marshalls will be Joe and Judy Boyle. Joe is retiring July 31, 2009 from the district after 11 years in Oakwood as Principal and 35 years in education. Judy is retiring June 30, 2009 from the school district after multiple years as an instructor.
---
Service/Volunteer Activity: Senior's Spring Yard Clean Up: In this project we are planning to help any senior or disabled person clear their yards of leaves and other debris left over from winter. This activity will tentatively take place on Sundays in May. We are looking for volunteers willing to commit 2-3 hours on a Sunday morning or afternoon.
The upcoming warm weather months will be a great time to participate in POSSSIE: Professional Oakwood Singles in Service, Socialization and Self Improvement Education, especially if you have been waiting to become active with the group! If you would like to participate or if you would like more infor please call Kathy at
974-4951.
---
The Oakwood Rotary wants to thank all those contributing to and attending our first annual community garage sale held April 18. Your support helped Rotary raise over $3,000. This money will be matched by our district and fully support our International Projects for the upcoming Rotary year. The projects you supported involve partnering with WSU to send medical students to Swaziland and to support a Cleft Home in Anhui, China.
Susan and William Wagner
The Oakwood Rotary Club
---
Are you spring cleaning? Would you like to donate to a good cause? Oakwood United Methodist Church is accepting donations for its Rummage Sale. The sale will be the first weekend in May and all profit supports our ministry partnership with the Volga District, Russia. Make arrangements to drop off items or have large items picked up by calling our church office, 293-7279.