The Dayton Council on World Affairs Insights series welcomes Dr. William Shaw on Thursday, May 14, 11:30 a.m. at St. Paul's Episcopal Church, Parish Hall, 33 W. Dixon Ave., Oakwood.
The lecture, entitled "God Grew Tired of Us: The Lost Boys of Sudan," touches on 27,000 boys who fled for refugee camps in Ethiopia and Kenya after civil war erupted in Southern Sudan in the mid-1980's. In 2001, the U.S. government invited 4,000 exiles to immigrate to America, a journey captured in the National Geographic film "God Grew Tired of Us." A portion of the film will also be shown.
Join Dr. Shaw as he discusses the resettlement of the "Lost Boys of Sudan" in the United States and the work of Dr. Jill Seaman, a courageous and dedicated American doctor working alone in a clinic in Old Fanjak, Sudan.
The public is invited. RSVP by May 10, 2009 to DCOWA at 937-620-2352 or amlilly@sbc global.net.
Current Oakwood, Kettering and County GOP office holders will be guests of
the Republican Council of Oakwood. The annual Spring salad luncheon, May 14, will be at the home of Jeannine Philpot. For more information call 296-1194.
The 8th Annual Breast Cancer 5K CARE Walk will be held on Saturday, May 9, 2009. Registration and the health fair will begin at 8 a.m. and the walk starts at 9 a.m. Registration is $10 per student, $15 per adult, or $30 per family. T-shirts and Ty "Divalectable" Puppies will be sold at the walk and are guaranteed to all participants who pre-register with their orders before April 26, 2009.

CARE Walk is a family-oriented event with music and entertainment emceed by Dan Edwards and his son. There is plenty to do and see before and after the walk. New this year: the Breast Cancer Foundation and Breast Cancer Task Force of the Miami Valley will be presenting the awards to the student winners in the Breast Cancer Foundation Video Contest in the Oakwood High School Auditorium immediately following CARE Walk. For details about the contest, go to www.breastcancertf.org.

Participants should be sure to arrive early to allow enough time to visit the health fair booths, enter for door prizes, purchase Laura's pink ribbon cookies and other items for sale, enjoy refreshments, and buy raffle tickets for the larger prizes—artwork from Deck the Walls and an oriental rug from Fazel Rug Gallery. Each prize is valued over $600 and tickets are only $1 each or 6 for $5.

Whispers Home of the Shops of Oakwood is the lead sponsor for CARE Walk once again. Other sponsors are: Miami Valley Hospital, Alley Cat Designs, Asian Arts Center, Blue Turtle Toys, Clark's Mr. Prescription, Deck the Walls, Edwards Entertainment, Fazel Rug Gallery, German Burke Orthodontics, Invoked Projects, KTC/Quail Tennis Club, Laura's Cookies, Learning Tree Farm, Nancy Chifala Design, The Oakwood Register and Standard Register. CARE Walk would not be possible without the generosity of these businesses and organizations who donate time, money, and services each year.

CARE Walk is 100 percent volunteer-driven. What makes it unique is that there are no administrative costs and 100 percent of the proceeds of CARE Walk goes to breast cancer causes right here in Dayton. CARE Walk supports the mission of the Breast Cancer Foundation of Dayton (www.breastcancerfdn.org), which provides mammography and screening services to the underinsured and offers education and awareness programs about breast cancer prevention throughout the Miami Valley.

Pre-registration is encouraged even after the deadline of April 26th as all pre-registrants receive a free gift. Pre-registration helps the walk start smoothly. With 500+ walkers attending each year, pre-registration becomes more and more important.

Registration forms are available in this edition of the Oakwood Register, online at www.carewalk.org, and in the schools, stores, and bulletin boards around town. You may also call 294-3816 to have one mailed to you.



The 2009 CARE Walk Team...



Linda Berutti
Kathy Blossom
Stephanie Borntrager
Nancy Chifala
Amanda Cole
Debbie Creek
Janell Cronenwett
Leah DeAloia
Cynthia Dilgard
Laura Enzbrenner
Mary Beth Evans
Debbie Fannin

Leigh Ann Fulford
Connie Guyer
Kathy Hensley
Karen Hochwalt
Susie Hogue
Julia Judge
Connie Kearns
Linda Klum
Allison Krause
Mary Linzmeier
Gina Lofquist
Denice Moberg

Sandy Mudry
Carolyn Noonan
Amy Redden
Margaret Quinn
Carolyn Reveal
Pam Rickard
Beth Stelling
Barbra Stonerock
Anne Thompson
Ann Whitehair
Tiffany Zimmerman
Rotary silent auction at 'That Day in May'

Don't miss out. "That Day In May" Rotary Silent Auction will take place Saturday, May 16, 2009 along with the rest of the day's activities. The silent auction will take place in the hallway near the Oakwood High School Cafeteria and will run from 8 A.M. to 12:00 P.M.
There are a lot of items to bid on which include lots of gift baskets, Dayton Dragon tickets, Box at Dayton Dragons on August 2, lunch for 2 at Culp's Café, private pilates classes, 90 minute massage, 2 rounds of golf at NCR plus lunch, gift certificates from the Oakwood Club and Pine Club as well as other local businesses, University of Michigan football tickets, I Phone (value - $600), tickets to the Opera and Human Race, handyman services, Doggie Day Care Retreat for one week, 4 rounds of golf at DCC, cash and carry items and lots, lots more.
Saturday, May 16
4 -6 pm
The Long-Romspert Homestead
1947 Far Hills Avenue
Open to the public with advance ticket purchase
$20 per person
Please contact Kjirsten Goeller at 298-1268 or kjirsten.goeller@sinclair.edu
HomeHelpLink be hosting the annual Senior Ohio HelpLink Fair and Seminar on May 16 at Sinclair Community College.
The event will focus on options for seniors, including home care services, respite care services, adult day care, legal and financial services, handicapping home services, nursing homes, assisted living communities, senior housing, funeral planning, and much more. Additional activities will include blood pressure screening, cholesterol and hemoglobin testing, and healthy activities for seniors.
Participants will have an opportunity to talk with companies from Dayton and the surrounding areas, and receive valuable information on caring for seniors from industry experts. Additionally, throughout the day speakers will discuss subjects such as estate planning, dementia/ Alzheimer's Disease, and other relevant topics such as reverse mortgages.
The Fair will be held indoors at the David H. Ponitz Center. Sponsors, exhibitors, and other participants to date include: Global Sales and Event Management, LLC who is helping to organize the Fair, Value Financial, Roberson Law, Department of VA, Dynamic Senior Solution, Crossroads Hospice, Alert-1, American Way V & S, Newcomer Funeral, and Comfort Keepers.
For additional information, including participation costs, please visit www.seniorshelplinkfair.org, or call Jacqulyn Sheridan, 937-321-4969.
---
Alumni join in Cherry Pie Concert May 19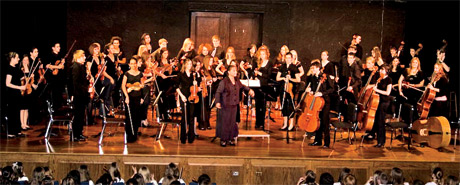 Oakwood Cherry Pie Orchestra members are asking OHS orchestra alumni to join them at this year's concert on Tuesday, May 19 at 7 p.m. This annual concert features the Harman and Smith elementary schools beginning and advanced strings, and the junior and senior high school orchestras.
This will be the 16th time almost 200 string musicians will play Beethoven's "Ode to Joy" at the concert's conclusion. Orchestra alumni know from experience that this is a dramatic, traditional moment the community cherishes.
Alumni may contact orchestra teacher Nan Watson at Watson.nan@oakwood.k12.oh.us and she will put you in touch with a student "mentor" to insure you are concert ready!